Simplify duplication operations.
Automate time-consuming routine operations.
You may need to copy a lot of categories to, let's say, a new website you've created within Magento. With all subcategories and products, category duplication becomes a very time-consuming and tedious task. Let the extension automate this process.
Save a great amount of time.
Spend just a few minutes on extension installation and free up a lot of time, which you can invest in your store development rather than routine tasks.
Accurate duplication tool.

Choose parent category for the category being duplicated.
You can choose which category will be a parent one for the category you duplicate. For example, you would like to copy category 'Chairs' to a different website within your Magento. You can choose which category will be parent for the duplicate in the new website.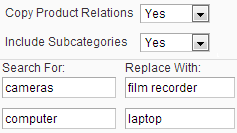 Duplicate all subcategories and keep all product assignments (optional).
Choose, if you need to copy all subcategories of the duplicated category while duplication. You can keep all product assignments in the same way.
Automatically modify category name, description, etc.
It is possible to find and replace content for duplicate categories in name, description, meta keywords and meta description fields during duplication. Words from 'Search For' fields will be replaced with content from 'Replace With' field, you can fill in both fields.
Online Extension User Guide
Questions & Answers
Additional Information
| | |
| --- | --- |
| Compatibility | Magento CE 1.4.x - 1.7.x, EE 1.8.x - 1.13.x |
| Support and Updates | 120 days of free support and updates included |
| Get Support | Contact our support department |
Customer Reviews
Thank you, Amasty!

Review by

Rhonda Morin

What would have taken me weeks to complete took me under an hour. When it comes to Magento and future work I might need, Amasty will be the first company I look to! Thank you!

Rhonda Morin, OSBStores.com (Posted on 3/19/13)

The best module for categories duplicating I have found

Review by

Valentin

First, i would like to thank developer(s) of "Duplicate Categories" extension.

I have looked around to find something like this, and finally i found it.

I'ts a great extension for duplicating categories. I'm using Magento 1.4.0.1 and it just work perfect.
I now can duplicate the whole root category to a new "root category" or to any of the existing "categories" with all sub-categories and product-relations without any problem.

It saved me a lot of time. : )

I would recommend using this module on 1.4 too.
You can first try a demo, if you want to, in 1.4.x.x
contact website: http://amasty.com/duplicate-categories.html

Valentin, sli.communication (Posted on 3/19/13)

Great extension

Review by

wholes16

Andrei installed this extension in our development environment for testing after we purchased the extension for testing. It worked perfectly! He also installed it in our production environment when we wanted to go live. This is a very responsive developer and support is great!

wholes16, Deployment & integrations provider. (Posted on 3/19/13)

Recommended

Review by

ReLF

Great extension! Saved me hours of work today!

ReLF,
Magento Connect (Posted on 3/18/13)

Save some time

Review by

HarryM

Wow has this extension save us some time. Don't know how we could have operated without it. I'm finally getting around to writing reviews and now realise how many extensions we have from Amasty (7 and counting) and we are thrilled with them and their developer who always provides professional helpful and human support.

HarryM,
Magento Connect (Posted on 3/18/13)

Perfect timesaver

Review by

subster

I just purchased and installed this timesaver.

What can I say - It works absolutely flawless. It has been the first extension i've bought which installs without any problems, works without any problems. We are on vServer (not dedicated) and it runs perfectly. Deleting the duplicated categories have not been a problem - i tried everything out.
As always on Amasty Extensions -> No Spaghetti Code in the extension. Other extensions have messed up many things in our store, but never on Amasty's work.

subster,
Magento Connect

(Posted on 3/18/13)
Write Your Own Review
Version 1.1.2
-
January 8, 2013
– Bugfix for incorrect children_count value after duplication which caused categories to ignore expanding.
Version 1.1.0
-
December 19, 2011
– Find and replace functionality for name, description, meta keywords, meta description category fields.
Version 1.0.4
-
September 2, 2010
– Maintenance release - bugfix.
Version 1.0.1
-
January 8, 2010
– Magento 1.4 compatibity.