Adjust your store security level.
To provide security is a key goal for any commerce organization, cause the business usually means large money turnover. It becomes even more significant in e-commerce, due to a lack of live contact with the clients. Spammers and fraudulent orders can cause strong damage to your store, and it will result in bad reputation. With E-mail Blacklist module you can block registration from certain domains or even domain zones, and make your security level higher.
Use options to specify email domains.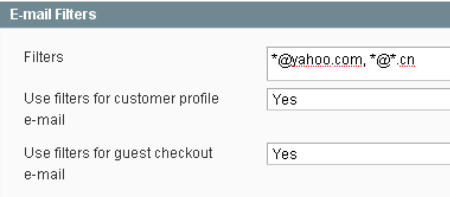 Specify email domains and/or domain zones, which you would like to block
Use any e-mail wildcard masks, e.g. *@*.ru or *@*.ch
Use filter both on registration and guest checkout pages.
Enabling filter for customer registration is not always enough. If you allow your customers to use guest checkout for the reason of increased conversion rate or somewhar else, don't forget it can become a tasty morsel for spammers or hackers. Use e-mail blacklist filter for guest checkout.
Online Extension User Guide
Questions & Answers
Additional Information
| | |
| --- | --- |
| Compatibility | Magento CE 1.4.x - 1.7.x, EE 1.8.x - 1.13.x |
| Support and Updates | 120 days of free support and updates included |
| Get Support | Contact our support department |
Customer Reviews
Priceless!

Review by

Luis

No junk anymore! Cheers, guys!

Luis, Stardom, admin (Posted on 3/19/13)
Write Your Own Review