Make it easy for customers to choose configurable products at your Magento store.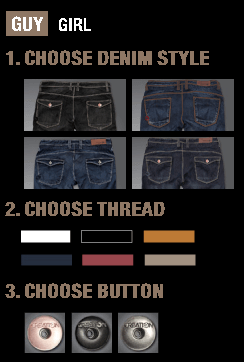 An extremely usable way of configurable products selection.
It's beyond dispute that a website needs to be intuitive and easy to comprehend to reach success in today's highly-competitive business environment. Give your customers all the user-friendliness they can get for selection of configurable products with our extension!
Use images for selection of options of configurable products.
You can enable images for picking configurable products options either alone or together with dropdowns.
Give customers a clear view of the products.
Good images are absolutely self-explanatory and fast to understand, and often don't need to be translated, check
Live Demo
for live example. Product images and content are reloaded based on customer selections, this way customers can see exactly what they've chosen. Make it easy for customers to buy the right products and they will respond with more orders.
Manage images for attribute options.
The extension enables you to upload images for options of all attributes that are used for creation of configurable products. Images can be replaced when needed.
The extension supports unlimited number of attributes.
You can use the extension for configurable products based on any amount of attributes.
Show appropriate data about the products in a nice way.
Reload product images and description according to customer input.
You can set the extension to automatically load images and descriptions (both short and long) of the associated products chosen by customers with ajax. For example if a customer chooses nike brand and green color - the extension will show the images and descriptions of the simple product that stands behind these selections.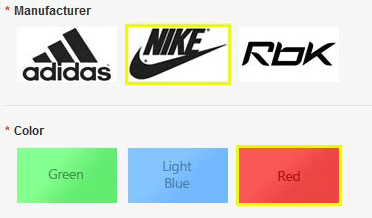 Highlight selections with a colored frame.
By default image selections are highlighted by yellow frame, you can either modify the frame to match your theme or design your own element by editing the extension css file.
Default image for configurable products with no images.
If you haven't uploaded images for some options of configurable products and would like to use a default image for such options, now you can do this.
Let customers reset their selections.
You can enable the 'Reset Configuration' option to enable customers reset their configurable product selections with one click.
Easy to install, compatible with major browsers and image extensions.
Compatible with all major browsers.
The extension was tested and is compatible with current versions of Firefox, Internet Explorer, Chrome, Opera and Safari.
Compatible with zoom and lightbox extensions.
The latest module version is compatible with majority of third-party zoom and lightbox extensions. Of course, it is compatible with our
Lightbox and Zoom
extension.
Works perfectly for color samples and not only.
The extension can be used to toggle colors or values of any other product attributes.
Online Extension User Guide
Questions & Answers
Additional Information
| | |
| --- | --- |
| Compatibility | Magento CE 1.4.x - 1.7.x, EE 1.8.x - 1.13.x |
| Support and Updates | 120 days of free support and updates included |
| Get Support | Contact our support department |
Customer Reviews
can i embed this with pre-created products?

Review by

bik

I really want to buy this product. But i already have all the configurable products created with corresponding simple products. Can i still get this extension working with my pre-made products?
PS: I think that this extension will save me a lot of time. Thanks to the developer. (Posted on 5/12/13)

Thumbs up from Denmark!

Review by

DanishMule

This extension frigging rocks. I myself am a developer and always start projects by looking for pre-made extensions since 9 out of 10 times it will be cheaper (time = money) to buy it pre-made then make it myself.

took 2 minutes 2 install had a small problem but found the answer in the FAQ in 2 secs.

Uploaded and installed and trouble shooted in approx 2 minutes.

great extension, thumbs up from Denmark.

DanishMule,
Magento Connect (Posted on 3/19/13)

Our favorite vendor

Review by

calvinb

Great work what these guys deliver. We use several extensions from amasty and they all work as espected. Aftersales and support is also realy professional and fast.

calvinb,
Magento Connect (Posted on 3/19/13)

Coded very nicely!

Review by

G_Development

Great extension. The code is very well organized and I was able to integrate it with some other custom code very easily. Amasty support was fast and helpful when I had a question about an issue I encountered.

Grow Development
growdevelopment.com/ (Posted on 3/19/13)
Write Your Own Review
you'll be logged in automatically
Version 1.3.0
-
October 27, 2011
– Ability to use a default image for configurable products with no images.
– Improved compatibility with 3-party extensions.
Version 1.0.1
-
March 11, 2011
– Fixed issue with reload of product image for cases when icons are uploaded not for all attributes.