SEO Layered Navigation
The benefits of applying SEO to Magento stores nowadays are countless. Brand awareness, traffic generation, low cost per one attracted visitor, high website positions in organic search results to name but a few. SEO is the tool not to be ignored in the contemporary world.
With this Magento SEO layered navigation module you can easily:
Creation of understandable and appealing links
When customers come to your store from search engines, they need a confirmation that their choice was right, so they look for common words at the address bar and if don't find any, they close the page, which isn't the best result of their visit for you. Now you can have nice-looking and search engine optimized urls like shopby/logitech.html or computers/shopby/logitech.html.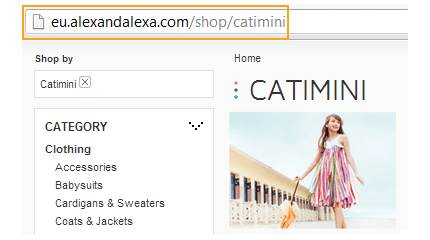 A number of SEO enhancements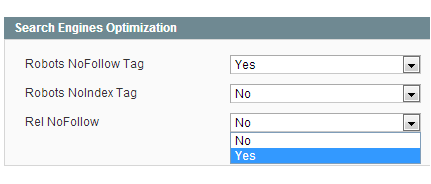 You can choose canonical url structure, set 'noindex', 'nofollow' parameters for navigation pages and more.
Extra short brand urls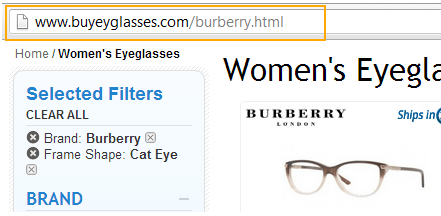 Create clear and nice-looking short links for better display and fast brand recognition. For instance: example.com/canon.html example.com/canon/red.html
Custom meta tags for pages with selected attributes
Let's say you have a page http://example.com/cell-phones/shopby/color-black/manufacturer-htc.html on which color 'black' and brand 'htc' are selected in the navigation. Now you can specify more relevant meta tags for such pages and improve your site rates with this magento seo extension. On top of this you can display custom title and CMS blocks for such pages.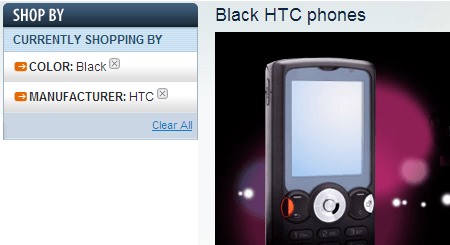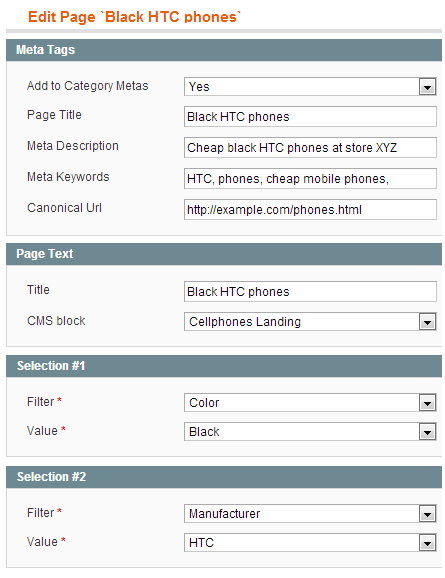 Manufacturer landing pages with logos, descriptions, layered navigation and meta tags
Landing pages are a well-known marketing tool. With the extension you can optimize the brand description and meta tags for SEO and create attractive and easy to use pages with brand logos and left side navigation. Of course, you can also use HTML in the attribute descriptions to beautifully format them. See shopby/logitech
Generate cross-links and show attribute images at the product page
Along with icons for layered navigation, you will also have an option to upload an attribute icon for product pages. The icons will link to the list of all products sharing this attribute option (e.g. some product quality, let's say brand or color), this will create additional cross links, which will make it easier for customers to find similar or matching products and improve your site SEO. Moreover, easy to comprehend icons on product pages will help the customers to make a choice faster and better - http://improved-navigation.amasty.com/amd-phenom-x4-9850-black-ed-2-50ghz-retail.html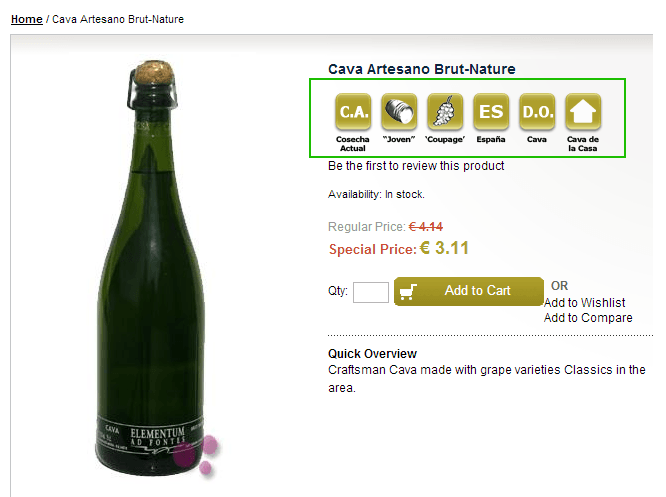 Advanced SEO feature, requires deep SEO knowledge
When there are very many attributes and their values, there's a huge number of possible attribute value combinations and pages accordingly. This may cause google not to index part of pages. You can specify a parameter for urls with multiple attribute values, which also needs to be specified in google account settings. Please be careful with this one :)