Promote specials efficiently.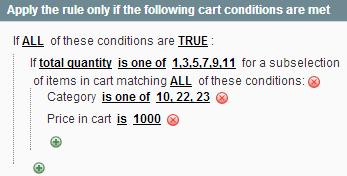 Show relevant promotions to customers.
Standard Magento CMS functionality doesn't allow to create banners according to specific conditions, that's why sometimes it's just impossible to display ads to the right customers. The module comes to the rescue. Display banners with special offers, which are highly relevant for customers' situations. E.g. cart subtotal is less than 50, so show banners saying "Free shipping for orders over 50" or "add 1 more item to get a discount". Such banners will stimulate customers to buy more products and increase your income.
Get more out of upsells.
Set the banners to show only when a customer has already added something to the cart. Find out, which products are often bought together, e.g. suits and shirts. And when customers add one of them to the cart, offer him or her a relevant upsell product by displaying a banner, which is impossible not to notice. The great thing is it will be shown automatically each time the conditions are met. Catch the opportunity to bring your upselling to a new level.
Activate impulse purchases at your store.
You can show product list banners on product or category pages to stimulate customers to add items to cart.
Encourage your customers to purchase more.
To increase average order amount you have to motivate customers to buy another product or the product you need to sell. For example, on shirt pages you can display magento banners saying that customers can get 20% off for a tie with each shirt.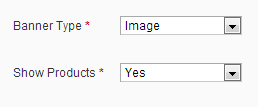 Lists of promoted products.
Make specials more relevant with the list of promoted products added to your HTML-, cms-block- or image banner. Customers will get much more involved in the shopping process choosing the very free or discounted item they prefer.
Clearly inform customers about deals.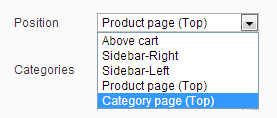 Choose positions for banner display.
Often customers don't accept deals just because they don't know about them. Now they will not miss a magento banner displayed right above the list of items on the shopping cart page, above product description or in sidebar.

Show banners based on product attributes.
When you offer a deal for a particular product or a group of products, it is necessary to display a banner right on the pages of these products to increase conversion ratio. With the module you can display banners based on product attributes, e.g. for all green products or for all monitors with resolution 1920*1200.
Present visual information to customers to make your specials more effective:
According to the latest researches (http://www.billiondollargraphics.com/infographics.html), human brain processes visual information 60.000 times faster than plain text. It means that the decision to make a purchase will appear faster and won't take much time and effort
Take into consideration that 60% of the world population are visual learners, so the proven way to success is to capture their attention and loyalty
Decrease the number of abandoned carts.
Prevent customers from abandoning carts.
Again, according to researches, from 50 to 70% of customers abandon their purchases when visiting e-commerce stores. While there are a variety of methods for recovering abandoned carts, you can still 'catch' customers before they leave your website. Influence your customer's choice with the banners shown based on the shopping cart contents - let them know, that there are specials.
Inform customers about free little gifts.
Use a colorful banner to inform about a free gift, when a customer's order satisfies the necessary conditions. Moreover, give the customer a chance to choose ANY gift he likes from the list above the cart! E.g.one of 4 free nice belts for the trousers which are already added to the cart. Give customers the final decisive reason and they will never leave your web-store without a purchase!
Use in combination with promotion extensions.
Already using
Auto Add Promo Items
and
Special Promotions
extensions for decreasing shopping cart abandonment? Promo banners extension is a great addition to make your promotions visually attractive and a lot more effective!
Summary of banner features.
3 types of banners are at your disposal: upload images, use cms-blocks or format banner with HTML-editor.
Add lists of products to all banners types. In this case customer will see product list under the main banner.
Ability to specify multiple product categories for banner display. This means you can show banners at pages of all products from certain categories.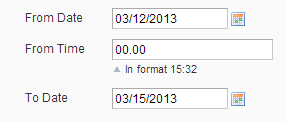 Display banners for products based on the product attributes. E.g. show banners only on pages of products of HTC brand.
Select dates and time for banner display.
Show banners on product, category, any cms page or in shopping cart.
Specify priority. When there are two or more banners for the same position, the banner with higher priority will be displayed at the top.
Choose store views and customer groups for which to display offers.
Create 'smart' banners, which 'review' shopping cart content and appear depending on it - indicate conditions based on subtotal, product quantity, product attributes, shipping address, etc.
Link banners to any page - either to your website or to some other one. So you can promote offers from both your store and other ones. So you can use high-traffic established stores to advertise the new ones you've just started.
Online Extension User Guide
Questions & Answers
Additional Information
| | |
| --- | --- |
| Compatibility | Magento CE 1.4.x - 1.7.x, EE 1.8.x - 1.13.x |
| Support and Updates | 120 days of free support and updates included |
| Get Support | Contact our support department |
Customer Reviews
The coolest extension ever!

Review by

beavum

I bought the extension after reading their newsletter, where they showed some tips how to use the mod. I applied a few at my store, a banner on cart page and on category page, and am very glad! According to GA the number of returning customers has increased by 15% in 1,5 month. Surprisingly high.. thank you Amasty!

beavum,
Magento Connect (Posted on 3/19/13)
Write Your Own Review
special offer on product page
special offer on category page
special offer on shopping cart page
Version 1.0.4
-
May 18, 2013
– Fix for multiple attribute values and products in several categories.
Version 1.0.3
-
February 27, 2013
– Ability to specify multiple product categories for banner display. This means you can show banners at pages of all products from certain categories.
– Ability to display banners for products based on the product attributes. E.g. show banners only on pages of products of HTC brand.
Version 1.0.2
-
January 17, 2013
– Creation of nicely-formatted banners with HTML-editor.
– Display of product lists according to specific cart conditions to customize your promotions.
– Set specific time (not only dates) for banner display.
– Display banners depending on carts' content.