Don't let shipping rates ruin your business.
Adjust shipping rates according to your business needs.
Quite often store owners need to modify shipping rates provided by UPS, DHL or other shipping carriers not to lose money. This can't be done with standard functionality, as the rates are transmitted via carrier APIs in live mode. With the help of the module you can increase and decrease standard rates or override them completely. For example, it is possible to set products from category 'Flowers', which cost less than $20, to be shipped with a $5 surcharge, when UPS carrier is selected and shipping destination is Alaska or Hawaii.

Create extremely flexible shipping rules.
The module gives you a very wide range of parameters, by which you can create shipping rules. The parameters can be used both individually and in combinations. What's more, the extension provides a number of algorithms for calculation of shipping rate surcharges, discounts and overriding. Please read on for more details.
Provide shipping methods with accurate pricing to your customers not to lose orders.
Parcel and LTL (less than truckload) freights are often overpriced by carriers, when there are several products in an order. This leads to unreasonably high shipping prices. Several small products can fit into one package, however UPS (or other carrier) may charge for several packages. The same situation can be with LTL freights, such as a wardrobe for example. Customers would just refuse to overpay for delivery and you will lose money. With the extension you can set a rule that up to three items can be delivered for the base fee of let's say $100 for the truck + $20 for each item, instead of charging for the whole truck for each product. When there are five items it will be $200 for two trucks + $100 for the five items, instead of $600 for five trucks and five products. Use the module to correct the shipping rates and get more orders.
Сreate rules to surcharge, deduct or override live shipping rates, provided by carriers.
Apply surcharge, discount and override actions to shipping rates.
Sometimes you may need to increase or vice versa decrease shipping rates. In other cases you may need to replace current rates. The module provides the necessary actions for all these situations.
Effective algorithms for rate calculation.

It is possible to modify delivery prices both by flat amount and by percent at the same time. In addition you can add a base amount for the whole order. For example, in certain situations you can add $25 surcharge for the whole order and $5 + 10% of the product price for each individual product. Or no discount for the whole order, however 5% of product price discounted off shipping for each individual item.
Modify rates both for individual products and for whole orders.
If there are specific products in the cart, you can increase, decrease or determine shipping rates for the whole order. Let's say surcharge by $5 all orders, which contain items which have long items in them, as it requires a longer box, for example. Also it is possible to apply the actions to individual products - e.g. give 3 euro shipping discount for each camera.
Set conditions for shipping rules.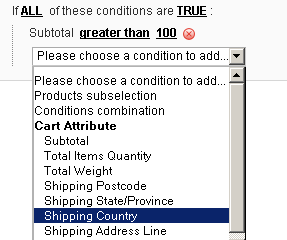 Base rules on order and shipping address data.
Order attributes, such as subtotal, weight, items quantity are available for rule conditions. Also you can set conditions off address line, zip code, state or province, country. E.g. you can surcharge orders with subtotal less than 100 euros and weight more than 20 kilograms, which need to be delivered to California.
Use product attributes for rule conditions.
You can employ all product attributes such as category, brand, SKU and so on. For example, you can set a rule to apply to products from category 'Shoes', of brand 'Gucci', from 'leather' material.
Conditions "starts from" and "ends with".
Especially useful for zip codes, so you can specify that a restriction should apply to all zip codes starting from '123' or ending with 'XYZ'.
new!

Use customer attributes like email, name, etc., for rule conditions.

If you have

Special Promotions Pro

module installed on your Magento, you can use any customer attributes for conditions of shipping rules. Let's say you partner with a company, which has a site example5.com. You can discount shipping rates for all emails with this domain name. You can also create special shipping rules for individual customers.
Choose the way to apply shipping rules in Magento.
new!

Apply shipping rules only when a discount coupon is used.

You can specify a coupon created in 'Shopping Cart Price Rules' section and the shipping rule will apply only when the coupon is used.
Set the order for rules application.
When a product fits conditions of several rules, only the rule with highest priority is applied to the product to make sure shipping rates do not get messed up.

Handling percentage.
This feature is very helpful when you want certain percentage to add or deduct from, let's say, FedEx standard rate, but want to specify the maximum amount, which will be added or deducted by this rule.
Set up rules by store view and customer groups.
You can have separate shipping rules for each store view and customer group. So you can give better shipping rates to your premium customers.
Reduce risk of incorrect rates.
Only one rule can be applied to each product. When a product fits conditions of several rules, only the rule with the highest priority is applied to the product.
Online Extension User Guide
Questions & Answers
Additional Information
| | |
| --- | --- |
| Compatibility | Magento CE 1.4.x - 1.7.x, EE 1.8.x - 1.13.x |
| Support and Updates | 120 days of free support and updates included |
| Get Support | Contact our support department |
Customer Reviews
Shipping Rules / Customer Support

Review by

dariusxxx2013

When purchasing ANY third party software that will be integrated into an existing project the two main concerns for us are 1. will it solve / improve the situation 2. will the CUSTOMER SUPPORT be helpful.
We purchased Amasty's Shipping Rules Extension and it totally rocked the house! PLUS the CUSTOMER SUPPORT was off the hook! We had an issue (and receiving major heat from our client) that developed from our lack of expertise in using Magento and Alex from Amasty got back to us ASAP and solved it immediately!
These guys are the absolute best! If they're reading this...thank you for hitting the mark on all levels!
We absolutely recommend this company!

darius2,0, Magento Connect (Posted on 3/18/13)

Great Extension for Complex Shipping Rules

Review by

amieq

Another great product from Amasty - we always check their site first for extensions when we need them. Well coded, well documented, well supported! We had very complex shipping rules we needed to set up (per product, per category, and per combination of categories) and this extension did the trick! I needed a little help getting the rules right and Amasty replied within a few hours of my support ticket - awesome!

amieq, Magento Connect (Posted on 3/18/13)

Great variety of shipping rules!

Review by

webikadesign

Great extension. Worked on Magento 1.7.0.2 like a charm. I have contacted a company for a support and they respond at the same day. I was looking to create a shipping rules so the system will charge a certain percentage from the total amount, this extension was perfect for it. Thanks.

webikadesign, http://www.webika.com/ (Posted on 3/18/13)

Professional and functional

Review by

Erik

So we hope to use your module to offer separate shipping tables to each customer group on each website. Another problem we hope to solve is to distinguish between packages and letterbox size shipments by separating items using a custom attribute.

Erik Meerhof,
Magento Connect (Posted on 3/18/13)
Write Your Own Review
Version 1.0.5
-
May 2, 2013
– Ability to use customer attributes for rule conditions when Special Promotions Pro is installed.
– Fix for 1.5.x versions of Magento CE.
Version 1.0.4
-
February 28, 2013
– Product attribute conditions for the whole order. E.g. it is possible to apply surcharge or discount for the whole order, if there's a specific product in it.
– Handling percentage - ability to surcharge or discount total shipping cost by percent.
Version 1.0.3
-
December 14, 2012
– Amazing new feature. Now you can specify a coupon created in 'Shopping Cart Price Rules' section and the shipping rule will apply only when the coupon is used.
– New conditions "starts from" and "ends with". Especially useful for zip codes - you can specify, that a restriction should apply to all zip codes starting from '123' or ending with 'XYZ'.
Version 1.0.1
-
August 14, 2012
– Condition option for address line, e.g. you can create rules for addresses with PO Boxes.
– Fix of cache issue for product attributes in the conditions.