The quality of interactions with customers can make or break sales. With no shop assistant in an online store, customers can talk to merchants only via web forms. No matter whether shoppers need to request a call or demo, book some service, or report a problem, they want to fill out a form quickly and with minimum efforts. Merchants in their turn are willing to understand the needs of their customers and improve service based on feedback survey results.
To make such interaction smooth and efficient, we developed the Magento 2 Custom Form extension. This drag-and-drop constructor allows creating forms for various sales and marketing needs.
When running a multi-language store you may face a problem of incorrect order numbering. To solve the issue and provide your customers with high-quality experience, try out our Order Number solution.
Today, we are happy to share with you a range of enhancements that make this module even more powerful.
Magento 2 Custom Form New Features


#1. Create fields with dependency
This new feature allows you to show certain Child fields based on the selected values in the Parent field. This way you can get more precise information from a respondent and at the same time keep the form short and perceivable.
To map such a dependency, go to the Form Creator and click on any field to edit it. In the Dependency section, you can specify an existing field and its particular value that should trigger the appearance of a new question. Say, if a respondent gave you 5 stars for services, a new text field with a question appears:

#2. Answer respondents via the submitted form page
If a respondent leaves some text message in the form, now you can quickly reply to it right on the submitted form page in the admin panel. Rapid answers will both save your time and make customers feel heard.
#3. Extend your form with more input types and fields
Now you can add a Star Rating to let users easily evaluate your services. An 'Address' group of fields will help you collect geographical information, including Country, Zipcode, State, City, and Address.
As a field type, the Country selector can be added alone to any place of the form. To try new elements, open the Advanced tab in the Form Creator menu.
#4. Follow up on a form submission with an autoresponder
To configure the automatic reply message, go to Stores ? Configuration ? Custom Forms ? Autoresponder and pick the necessary email template and email sender. Now, respondents will be instantly notified after a form is successfully submitted.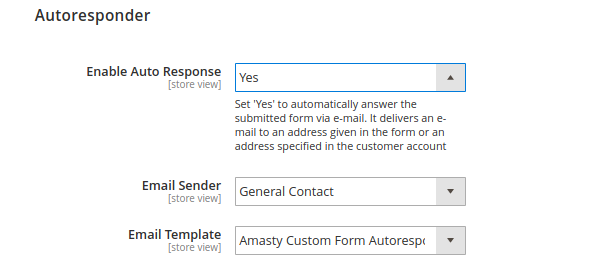 #5. Kick-start with 4 ready-made forms
To quickly create new surveys forms, use 4 templates applicable in 4 common cases: to give feedback, request an order, ask for a call, and book a product. The forms are editable and accessible right after the installation.
#6. View the number of responses on the grid
The Results column assembles info on the number of responses in total, as well as of those answered and pending. To view the feature, please go to Admin Panel ? Content ? Custom Forms ? Submitted Data.
Quick links allow checking responses with a particular status on separate grids as well as view admin answers. Such enhancement makes it easier to track requests and survey results, as well as your staff's timely reaction to them.
#7. Add up to 3 columns in a row to make a form layout convenient
To design a logical and concise form, now you can choose whether to add one, two, or three fields in a row. As before, the Form Creator is based on drag-and-drop manipulations. All you need to do is to click to edit a field and pick One/Two/Three Column in the Layout drop-down.
#8. Delete unnecessary responses
Sometimes respondents send duplicate forms or you no longer need some submitted data. Now you can delete it not only via a mass action on the submitted data grid, but also on a particular submitted data page. Just click on a row in the grid to open the submitted data page and use the Delete button in the upper-right corner.
That's it for today. We are looking forward to your feedback and will be glad to hear your suggestions for more improvements.