The core part of your Magento web store is simple products. Hundreds and thousands of simple products. Technically, they may be part of the configurable, bundle, or virtual products. And when it comes to their presentation it can be rather complex. With the Color Swatches Pro extension, you can make sure all of your simple products are presented in the right and proper way. Make good steps on the way to providing better shopping experience.
EXCEPTIONAL PRESENTATION
Ecommerce has its specifics: customers cannot touch and examine goods in their hands as they do in regular store. Instead while online, they want as much detailed information on products as possible. Manage a vivid many-sided presentation of your goods: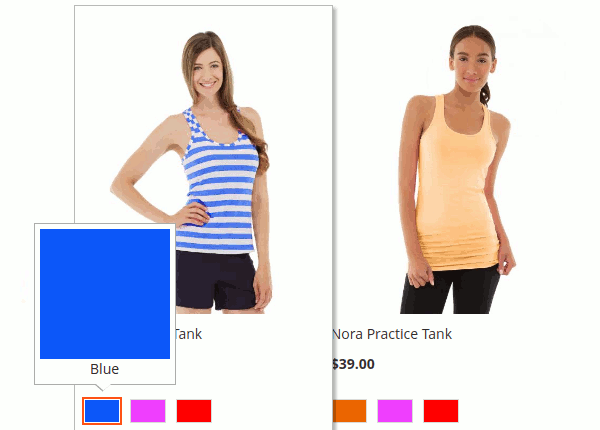 Change main product image on mouse hover
Let your customers switch between product variants simply hovering over the swatches.
Show relevant product info on the cart and checkout pages
Always display only relevant simple product information on the cart and checkout pages.
Use smart page reload
The data as image, price, SKU will be reloaded automatically after customers select a particular option.
Various price display
Shoppers are always attentive to sales and disocunts, they concern about price a lot. It's in your interest to keep all the price details in order and display everything accurately:
Display prices with swatches
Display prices of the simples below corresponding swatches on a parent item page. Also, mark an out-of-stock item as a crossed-out swatch.
Display prices in drop-downs
You can also show prices in drop-downs. Choose whether to show the actual simple product price or the price difference.
NEW | Configurable Preselect
Apply preselect feature to display the cheapest or the first simple item on a product page by default.
Zoom & Lightbox
Highlight the quality of your goods with a must-have option for any product store. To perfectly display the goods with many details and nuances, use lens zoom functionality. Not to overweigh customers' attention - select inner zoom. Also, you can improve shopping experience with neat carousel. And a lightbox to focus customers on particular aspects.
Outside Zoom
Inner Zoom
Lens Zoom
Carousel options
Smart Lightbox
NEW | Image Flipper
Advanced options
Share URLs with custom options
When a customer chooses different item options like (color, size etc.), the product page URL automatically changes. Now it's possible to copy and share such URLs with others or simply bookmark
More items in search result
Suggest more variants to your customers when they search by colors. Associate related colors in one group and let customers find their desired products faster.
Polish color swatches functionality to make it shine
Limit the number of swatches on category pages
Manage the number of swatches displayed under the main product image. In case the number of visible swatches is limited, customers will see a link like More Colors Available.
Enjoy the synergy of two modules: now predefined product options will be displayed on the customized cart and checkout pages. So that your customers will derive pleasure from the shopping process and definitely come back to your store again.
Let customers subscribe to out of stock options of configurable products
In case some of simple options of any configurable product are currently out of stock you can display them and let customers subscribe to a special notification letter. Motivate shoppers to return to your store. Check our Out of Stock Notification extension to use this feature.
Free Labels
You can greatly enhance your web store visual presentation with free Amasty product labels' pack.
Other Features
100% Open Source — Easy To Customize
Follows Magento Code Architecture
Separated HTML/CSS/JS
Simple installation via Composer
* The name "Magento" and the logo are the trademarks of Magento, Inc.
Great features!
I have purchased and installed the Color Swatches Pro extension on my site. It works like described. I very much like the zoom and carousel functionality. Great job!

Amazing support
We are very happy with the extension. It has a lot of useful options. We also appreciate a lot a very quick response time of the support team.
Good Extension & Professional Support
This is a very useful extension for any kind of configurable product that you wish to present. The customer support is unbelievably quick and resolved every single issue I faced instantly.
Awesome sauce!
The module's helped me boost sales. Products to which my clients haven't even browsed are now being sold. Special thanks for the support! I was assisted timely and efficiently.
Stunning - Why not in Core?
Thanks for that free module. It was fixing an issue I always wondered why it is not in Core. Like updating of attributes.

This module fixes it. Easy and quick installation. CSS is clean. Really nothing to complain about really.

Thanks
Thank you, Amasty!
I would like to say thanks for Amasty's developing team, who created a simple, but perfect solution, and also for your helpful and enthusiastic support guys!
Good job, it's pleasant to work with you :)
Write Your Own Review
Version 2.3.5
-
March 22, 2018
– Minor bug fixes
Version 2.3.4
-
March 14, 2018
– New: Added the check for the zoom to be enabled when reloading an image by mouse hover
Version 2.3.3
-
March 06, 2018
– Fixed an issue with minor java script error related to dropdown usage
Version 2.3.2
-
March 1, 2018
– Fixed an issue with the unslick not working for the slow pages when the contend hadn't loaded before java script started working
Version 2.3.1
-
February 23, 2018
– Added the compatibility with the video image type
Version 2.3.0
-
February 19, 2018
– New: added the possibility to preselect the options of the configurable product i.e. the first options or the cheapest simple product
– New: an image flipper feature is added. It allows to quickly view an alternate image on the catalog products listing simply by placing mouse over the product image
Version 2.2.0
-
February 09, 2018
– New: Allows to show the out-of-stock products as crossed swatches. After the version 2.2.0 Magento has removed the out of stock swatches feature - the functionality with crossed swatches. We have implemented this feature in the extension.
Version 2.1.3
-
January 05, 2018
– Fixed an issue with the missing gallery for RTL direction
– Fixed an issue with loading the simple product images at the end of the gallery
– Improved the compatibility with M2.1.5 (image reload with zoom enabled)
Version 2.1.2
-
December 22, 2017
– Minor JS fixes
Version 2.1.1
-
December 07, 2017
– Magento 2.1 compatibility improvements
Version 2.1.0
-
December 06, 2017
– NEW: Added the Zoom (Outside / Inside / Lens) functionality that allows to see every detail of the product
– NEW: Added the Lightbox effect when opening full-size images
– NEW: Added the Carousel to show the product thumbnails
– NEW: Allows to change the main product image on mouse hover
Version 2.0.1
-
October 17, 2017
– New: the feature with displaying the simple products prices below corresponding swatches works for an unlimited number of attributes.
– Minor fixes
Version 2.0.0
-
September 28, 2017
– New: Change the product image on mouse hover
– New: Display the selected simple product options in cart and checkout
– New: Group the associated colors and shows relevant items in the search result
– New: Show simple products' prices in drop-downs
– Magento 2.2 compatibility tested and confirmed
– Compatibility with Amasty One Step Checkout extension
Version 1.1.3
-
March 29, 2017
– Minor improvement
Version 1.1.2
-
March 16, 2017
– Improvement for reloading block of attributes
Version 1.1.1
-
March 10, 2017
– Compatibility with the One Step Checkout extension improved
Version 1.1.0
-
February 15, 2017
– Add SKU for reloadable information when specific configuration selected