Review

What people think of Amasty?
At the beginning of March I bought a module by Amasty Team. After two weeks of tests we found out that the module should be slightly modified to meet our needs. On March, 24 I sent a request with the problem description to Amasty support department. 3 days later I was informed that the necessary functionality had been added! I was really impressed and I do highly appreciate quality services by Amasty company.
It's a well-known fact that additional incentives like free gifts effectively attract customers and increase the number of spontaneous purchases. While default Magento 2 promotions offer rather limited functionality, store owners need an additional tool which automatically adds free products to cart. With the Free Gift for Magento 2 extension online merchants will be able to run various promo campaigns based on free gifting, thus effectively building customer loyalty and selling more.
Promo Actions & Conditions
Get 4 additional promo actions which automatically add free items to cart depending on rule conditions:
Auto add promo items with products
Auto add promo items for the whole cart
Auto add the same product
Auto add promo items with every X spent
Create flexible conditions
Automatically add free gifts with specific products
Provide free promo items with each product that corresponds to rule conditions. Offer deals like 'Buy a backpack and get a jump rope for free' or 'Buy 2 t-shirts and get an umbrella for free'. You can offer several gifts and let customers choose the one they like.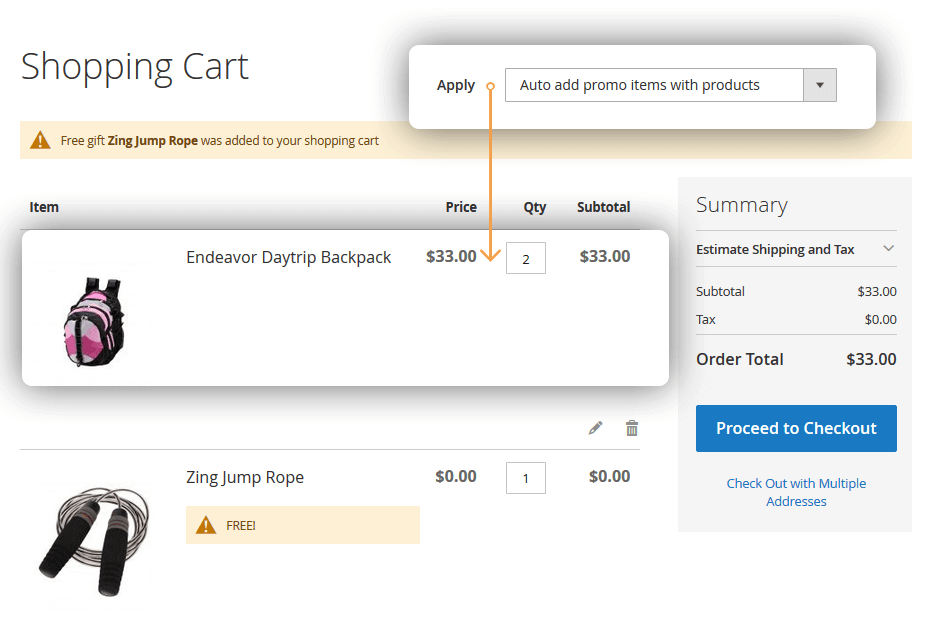 Offer gifts once per order
Provide a free promo product or products once for the whole cart. In this case to get a new gift customers will need to place a new order.
Add to cart the same items as gifts
Automatically add the same product which has been added to cart by a customer. You can create promotions like 'Buy a foam roller, get one free', 'Buy 3 items, get 1 free', etc.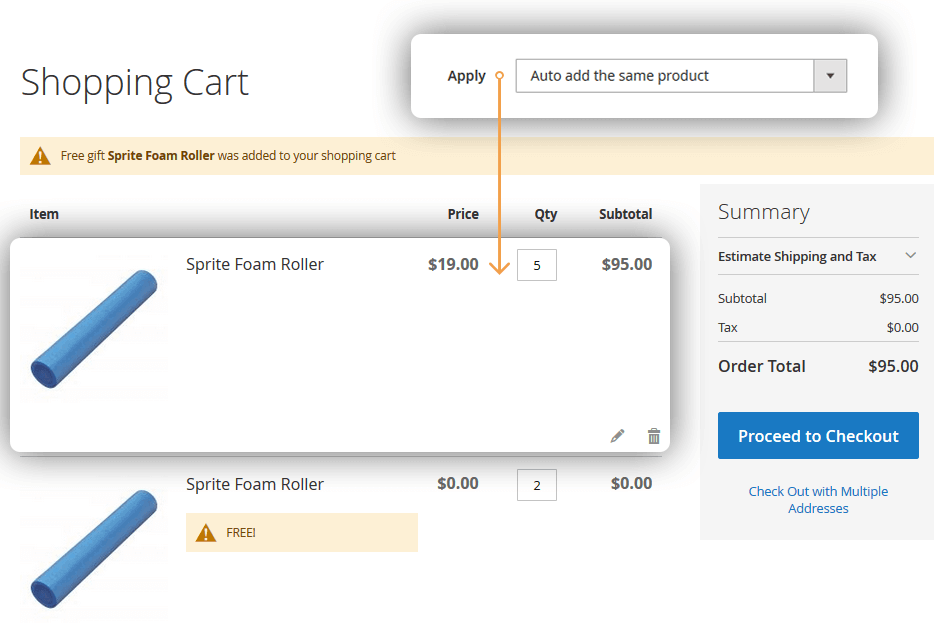 Provide free gifts when a specified sum of money is spent
Add free items to cart when a customer spends a particular amount of money. Motivate shoppers to spend more by offering tempting deals.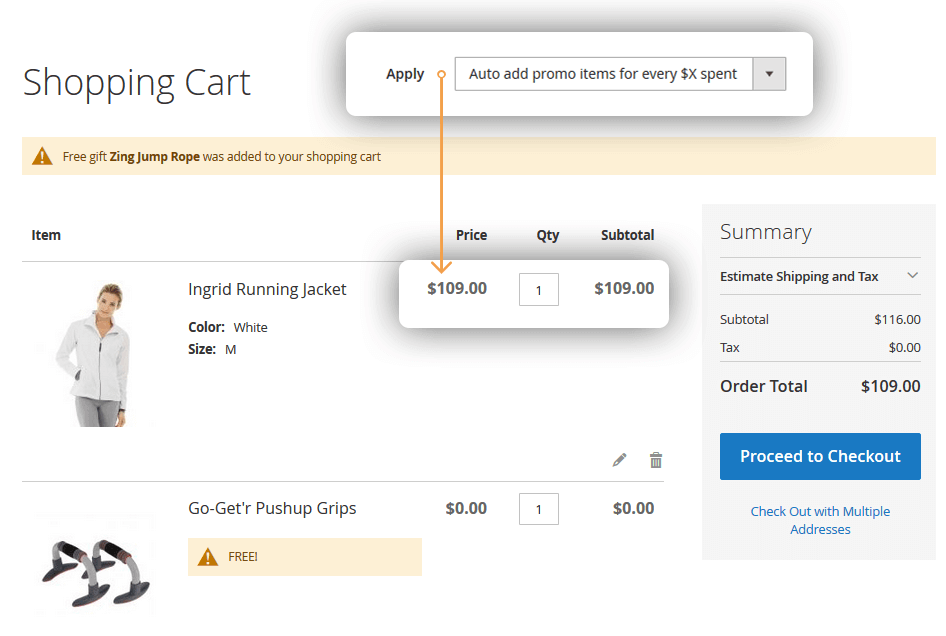 Use conditions for targeted promo campaigns
Adjust promo rules to any specific needs. Create an unlimited number of promotions based on products subselection, shopping cart attributes, conditions and product attributes combination. Enhanced User Experience
Offer several gift products within one promo campaign. Automatically add all gifts to cart or let customers select only one of available promo products.
Let shoppers choose a free gift
Offer configurable items as gifts
Clearly inform customers that a gift is added to cart
Encourage visitors to choose a free promo item during the checkout
Display a popup with free gifts
Show all available promo items in a handy popup on the shopping cart page to let visitors select the gift they like more.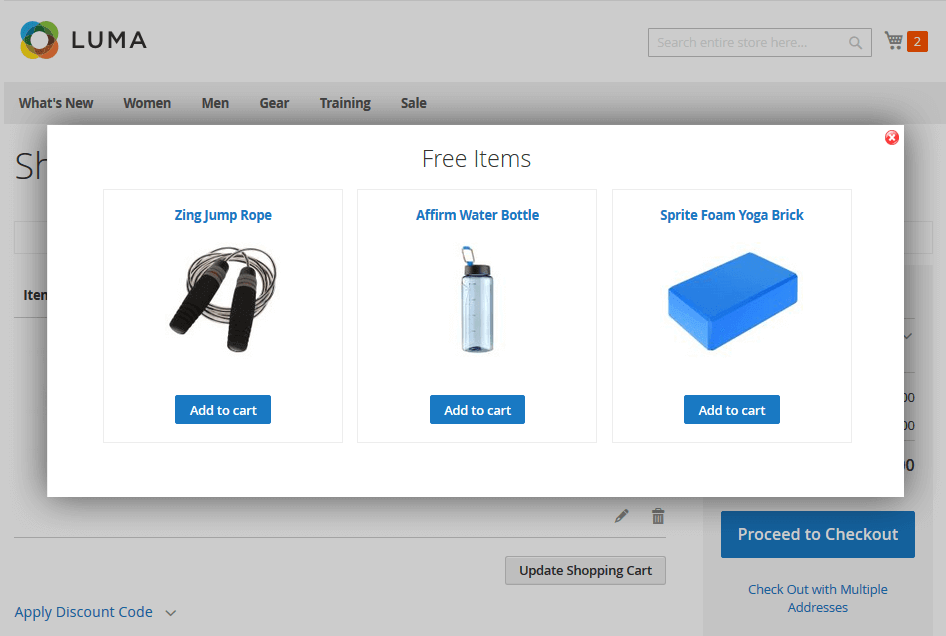 Provide configurable items as gifts
Offer configurable products as gifts and enable visitors to specify product options like color or size right in the popup window.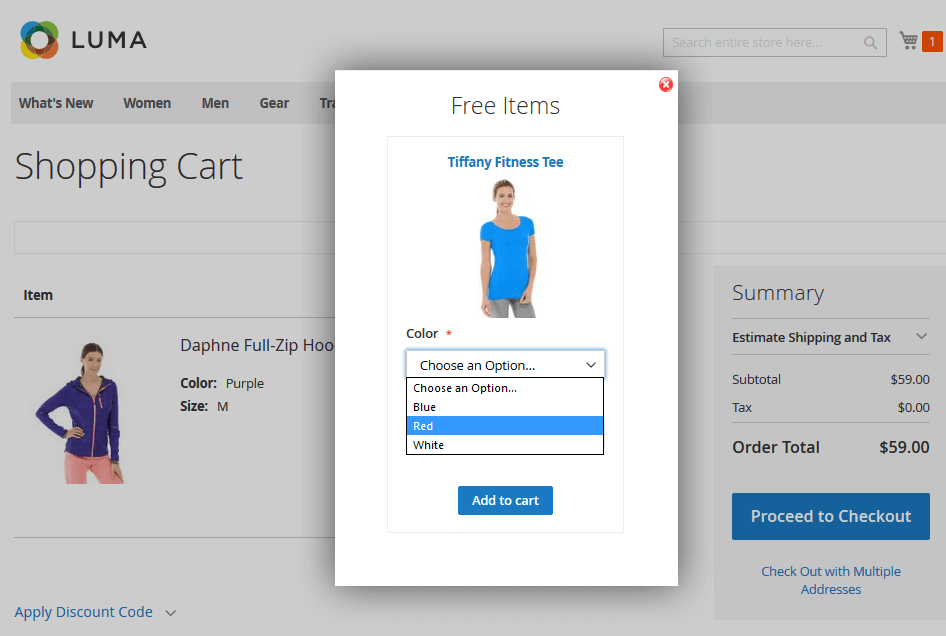 Show free gifts in the cart
Mark promo items with a custom text label to highlight free products on the shopping cart page.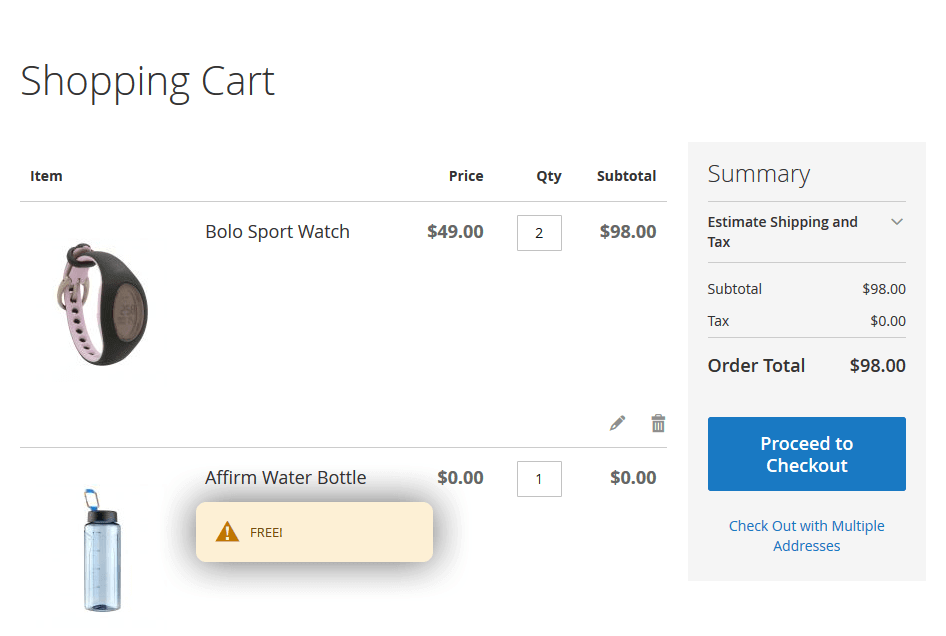 Let visitors add promo items on the checkout page
Don't let customers leave your store without a gift. Remind them about the products they can get for free during the checkout process.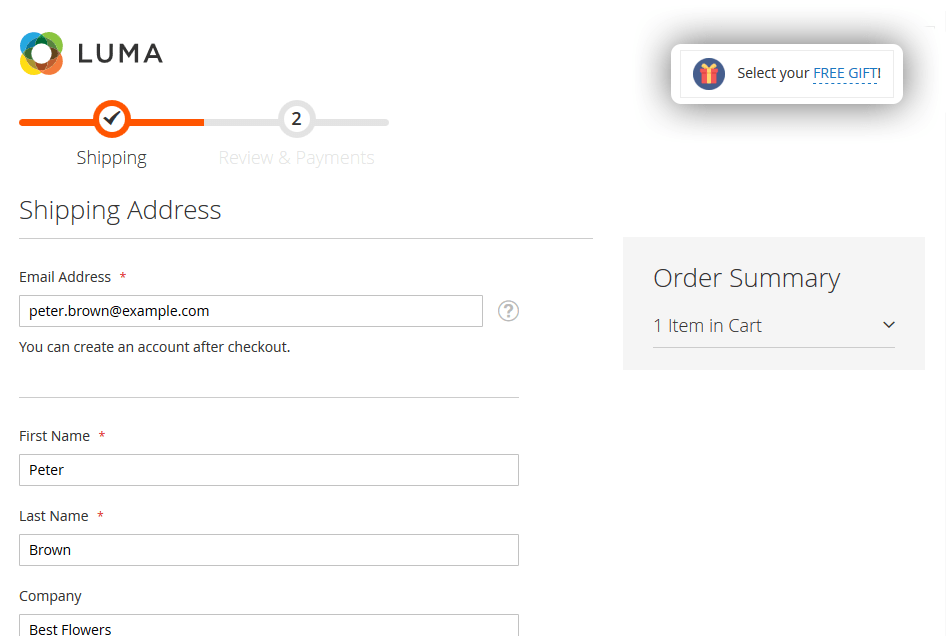 More Options
Discount coupons support
Native Magento 2 cart price rules support
Possibility to skip items with a special price
Stock functionality support
Simple, Configurable, Virtual and Downloadable products support
Different store views and customer groups support
Tax calculation and currency conversions support
Compatibility with responsive Magento 2 themes
Other Features
100% Open Source — Easy To Customize
Follows Magento Code Architecture
Separated HTML/CSS/JS
Simple installation via Composer
* The name "Magento" and the logo are the trademarks of Magento, Inc.
Highly recommend
The module works right out of the box, which was a pleasant surprise. Managed to configure it by myself. Although it has a conflict with my custom Magento theme, the supporters polished my fronted.

Totally satisfied with the module and the support team!
Write Your Own Review
Version 1.2.1
-
October 27, 2017
– Fixed the issue with minicart
Version 1.2.0
-
October 20, 2017
– New: Downloadable products can now be used as gifts
– New: Stock Qty and Weight can be used as conditions
– New: Magento Enterprise edition Schedule feature compatibility
Version 1.1.5
-
October 02, 2017
– Magento 2.2 compatibility introduced
Version 1.1.4
-
August 22, 2017
– Compatibility with Magento 2.1.8 improved
Version 1.1.3
-
June 01, 2017
– Fixed gift message on the cart page
– Sidebar display fixed
Version 1.1.2
-
January 13, 2017
– Internal code improvements
Version 1.1.1
-
November 16, 2016
– Minor fixes and code improvements
Version 1.1.0
-
November 02, 2016
– Added reminder about available promos
– Ability to skip free gift offers for products with special price
– Fixed empty popup window
Version 1.0.6
-
October 19, 2016
– Fixed using rules with "Product Found" condition type
– Fixed availability check for configurable products
– Fixed popup display when coupon applied on the checkout page
– Fixed coupon cancellation on the checkout page
Version 1.0.4
-
September 01, 2016
– Added free gift notification on checkout page
Version 1.0.3
-
August 17, 2016
– Fixed possible error on Admin > Content > Design > Configuration edit page
– Fixed update of coupon uses
Version 1.0.2
-
August 11, 2016
– New feature: banners for the available gifts
Version 1.0.1
-
July 06, 2016
– Compatibility with Magento 2.1