Important: starting in July 2018, page loading speed will become a ranking factor for searche engines.
Why use a cache warmer?
Magento 2 is fast and well optimized for high loads. It offers full page caching and Varnish out-of-the-box. However, there are still a lot of things to be done to make your store as fast as possible. In fact, the store cache is frequently cleared due to a great number of reasons starting from page content updates and ending with cache lifetime expiration. Therefore, to timely cache all necessary pages and provide customers with ultimate shopping experience you need a tool which automatically warms the cache and ensures fast pages load.
To automate the cache warming process and make it invisible for customers, we've developed a special Warmer tool to request pages with outdated cache during the night, when the number of site visitors is minimal. Due to the user-friendly interface and feature-rich functionality, the module can be configured literally in minutes. Simply set up the extension according to your needs and cron will do the rest! As the result, you can see the Warmed Pages Report.

How does the Cache warmer work?
The Magento 2 Full Page Cache Warmer carefully sorts site pages selecting the ones that should be cached first of all and adds them to a special cache warming queue. Once the queue is generated, the cache warmer starts processing it using cron. The pages are generated emulating multiple parameter combinations and then cached.
Fully automated cache warming
Automatically generate a cache warming queue
With the extension a store admin can easily generate a cache warming queue in accordance with the set parameters to keep the cache on the most popular pages warm.
Specify queue generation source
Select the source the links for crawler will be extracted from:
specific page types;
XML sitemap with pages priority;
custom .TXT file with one link per line.
Prioritize pages for warming
Choose page types that should be processed by the crawler. Drag and drop pages to set up processing priority according to your needs. The Magento 2 cache warmer works with 4 different page types:
Home page;
Product pages;
Category pages;
CMS pages.
Exclude pages
Extension settings let you warm the cache of specific pages. Simply specify the pages you need to exclude, thus taking cache warming process over total control.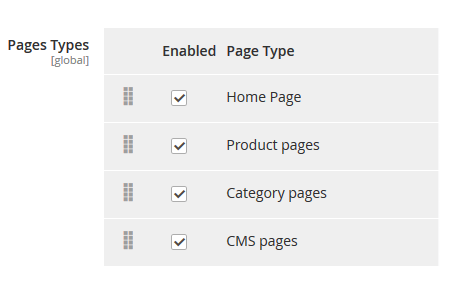 Schedule queue generation
Schedule cron job to generate the cache warming queue depending to your needs. E.g. Run cron every 12 hours.
Schedule specific time for warming
Specify how often the crawler should process pages added to the cache warming queue.
Limit max queue size
Set the max number of pages for the cache warming queue.
Specify single batch size
As soon as the cache warmer processes page URLs in batches you can specify how many URLs a batch should contain.
Advanced Options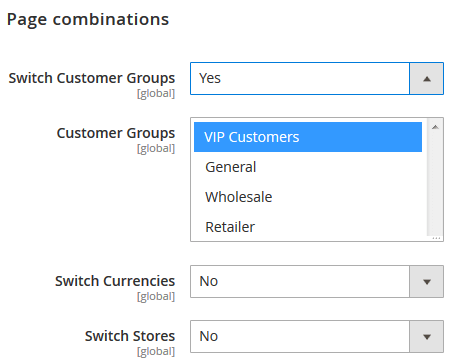 Select page combinations
Choose page combinations for cache warming based on the following parameters:
Customer groups
Currencies
Stores
You can specify either one or multiple values for each chosen parameter.
Auto-update cache with changes
Due to this handy option all URLs of newly created or updated pages will be automatically added to the warmer queue. For example, you edit a product's name or a price and then save changes. Once the product is saved the cache warmer will instantly make the cache for it.
Visual performance reports
Due to visual statistics you'll be able to keep track of the crawling progress. Different data types are carefully arranged in separate tabs:
Status codes;
Warmed pages;
Cache warmer log
Effectively monitor cache warming processes with an informative log grid. Crawled pages are automatically added to the log file together with related information like date, store view, currency, time etc. Debug mode
With the extension you can check whether the cache warming tool works correctly by using a debug mode which shows cache statuses and hints. The option perfectly works on the staging environment with native Magento cache. On the production environment when the Varnish cache is on, the module won't be able to gather and process necessary info. Therefore, the Status & Hints option won't be available.
More Features
HTTP authentication
Enable/disable certificate verification
Provides Google with fresh page versions
Works with Magento 2 Varnish Cache and default File Cache
Custom delay interval for crawler requests
Customizable log size
Higher SEO rankings with faster load time
User-friendly interface & intuitive configuration
Other Features
100% Open Source — Easy To Customize
Follows Magento Code Architecture
Separated HTML/CSS/JS
Simple installation via Composer
* The name "Magento" and the logo are the trademarks of Magento, Inc.
simple and fast
After migration to Magento 2, I bought the extension and came across a crawler queue issue in Magento 2.2. However, the guys fixed it soon and now I'm totally satisfied with the module. I don't need to clean cache manually every time I make changes, the debug mode shows cache is warmed where needed. So, it wasn't a waste of money.
It puts on speed
Fpc is really easy to install and configure. Actually, you can leave the default configuration and set the cache to work. What's more, the support team replies really fast. We had some questions after the installation but they answered to them all in a minute.
Not bad
Either way, the extension works well and the load speed is much faster now. Though, Memcache is not fully supported by the fpg.
Write Your Own Review
Version 1.0.3
-
February 05, 2018
– PHP 7.1 compatibility was improved
Version 1.0.2
-
November 03, 2017
– Fixed issue with crawler queue in Magento 2.2
Version 1.0.1
-
August 25, 2017
– Compatibility with Magento 2.2 introduced