Shop by Brands
Many people are addicted to certain brands. They are not interested in low prices or promotions, they just look for products of particular brands. Store owners have to give them functionality to shop the way they like, otherwise you'll lose this whole customer segment. Empower your store functionality with Magento shop by brand tool.
Create list of all brands in nice alphabetically ordered blocks
Shop by brand Magento module enables you to use this feature also for any other attribute and create list of all models, all available colors, all authors, etc. Such lists are a good addition to the product catalog, as many customers prefer to shop by manufacturer, model, color, etc. See brands collection created with the help of Magento brand slider on demo page.

Display brand logos in navigation block
You can choose from several attribute display modes (images only, labels and images, dropdowns, etc), this way you can set an appropriate look for each attribute. 'Images Only' mode works extremely well for showing brand logos. It's a de-facto standard to show colored icons or brand logos in the navigation. Please see example of brand logos on demo page.

Create unique Brand page
Today a brand is the face of a company. Customers can easily recognize famous manufacturers by their brand logos. Unique Brand Page can represent the necessary information about a brand: logo, description, products. With the help of shop by brand Magento extension each online shop can highlight their most popular brands and share all information about them. Shop by brand Magento feature is widely adopted by many e-commerce solutions. It is possible to limit the number of featured options (brands, models, etc.) and show them in random order. See the example of Brand page on demo page.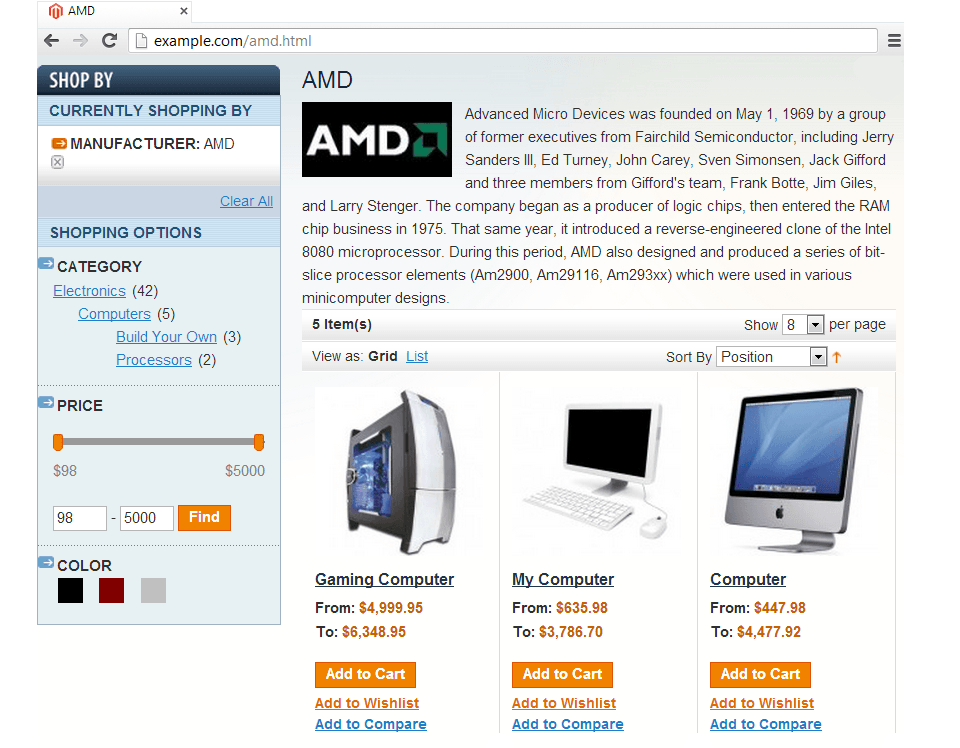 Single select for some attributes
This is very appropriate for attributes like 'Brands', when customers often want to see products of only one brand.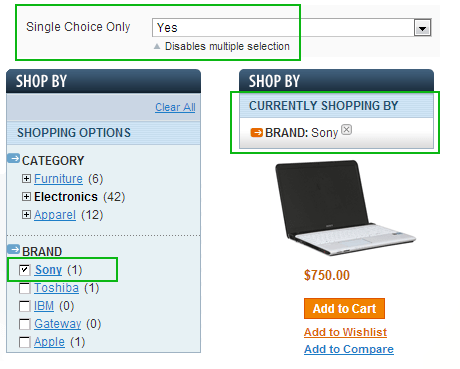 Create nice short urls for brand pages
This will make brand pages easy to access and will also help to display your store on a higher position in organic search.