Magento 1 payment methods
While configuring Magento store you'll need to set up required payment methods. Such payment methods as PayPal All-In-One Payment Solution, PayPal Express, Bank Transfer, Pay On Delivery and Authorize.net Direct Post are of effect in Magento 1 by default. To make configurations of the payment methods switch to the full bead-roll.
To see the list of Magento 1 payment methods navigate to payment methods table System>Configuration>Sales>Payment Methods:

All the payment methods are supplied with a down-drop menu where you can make all the appropriate settings.
Choose your webshop location, e.g.: the United States. In case no location is chosen, a default country will be set automatically: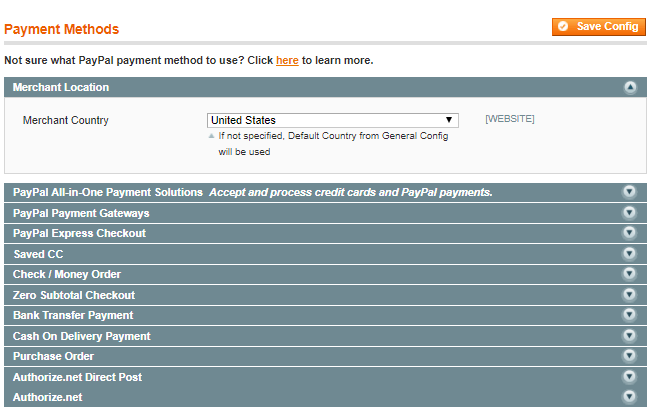 PayPal All-In-One Payment Solutions
Select a secure bundle payment solution from the tab: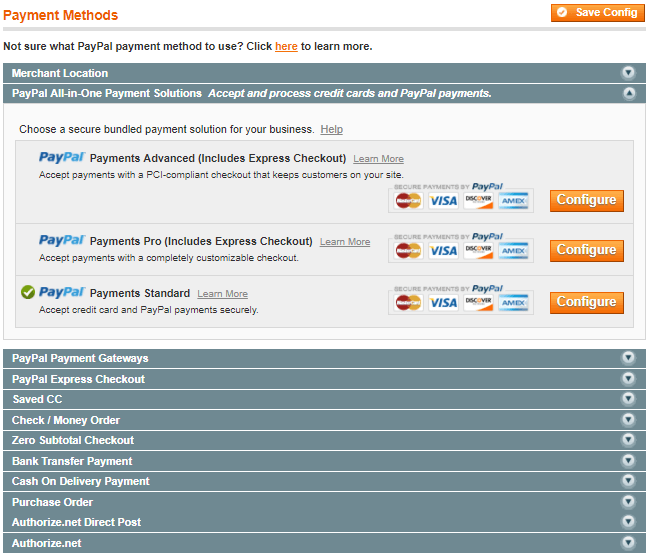 Make relevant settings in the section if you want to use your own merchant account for payments processing: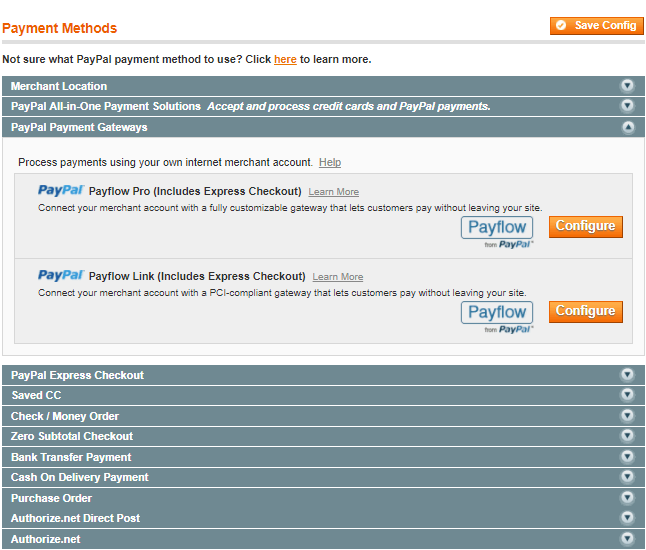 Extend your payment methods with custom payment method or use it as a stand-alone option: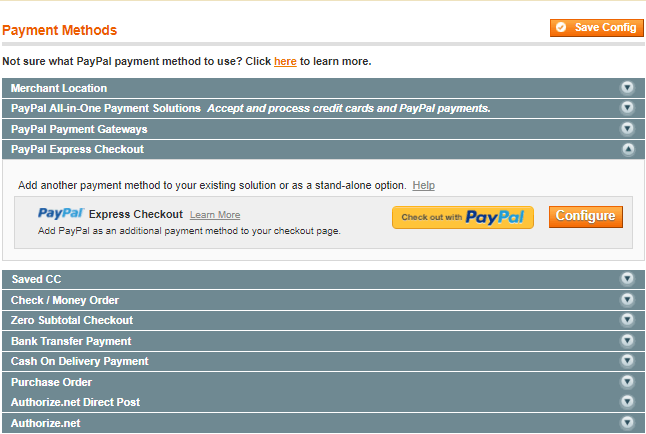 Decide whether your customers can pay by a saved credit card. !Attention: saving customer's' private data boosts your security risks. In this case, it'll be harder to comply with PCI (Payment Card Industry) requirements!: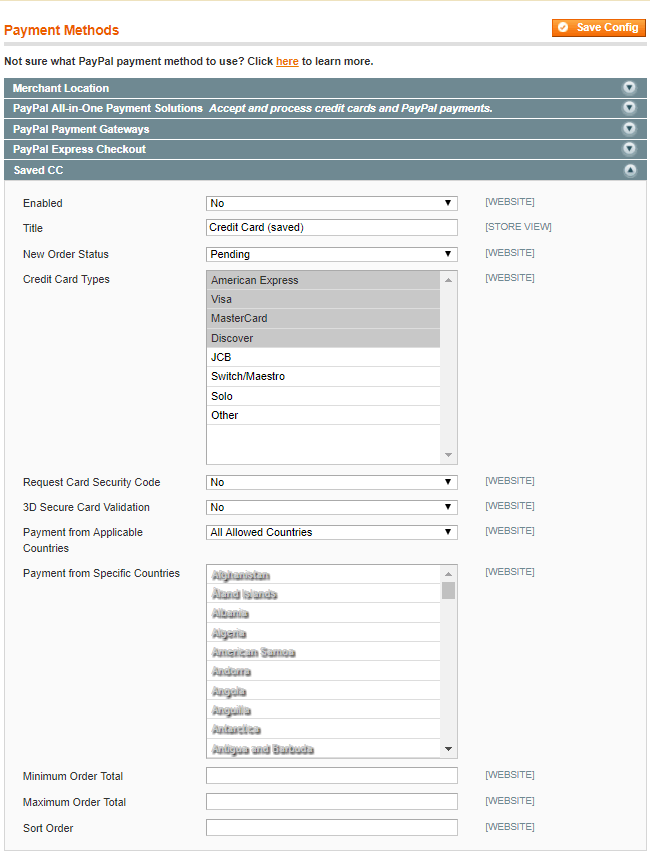 Determine whether your clients can pay by check/ money order: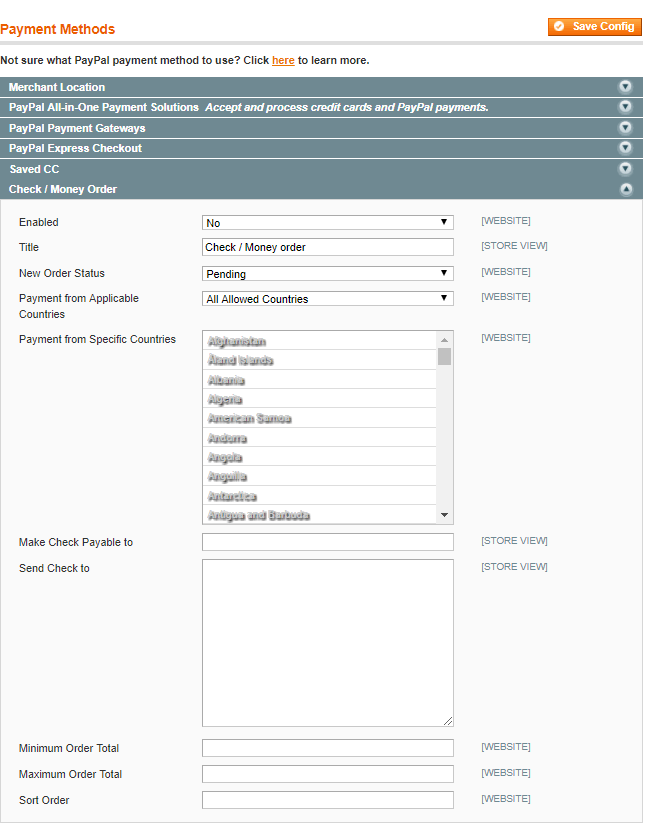 Set up the payment method to run it for the order that has grand total = 0. The case can occur when a discount or a coupon with free shipping fee are applied to an order: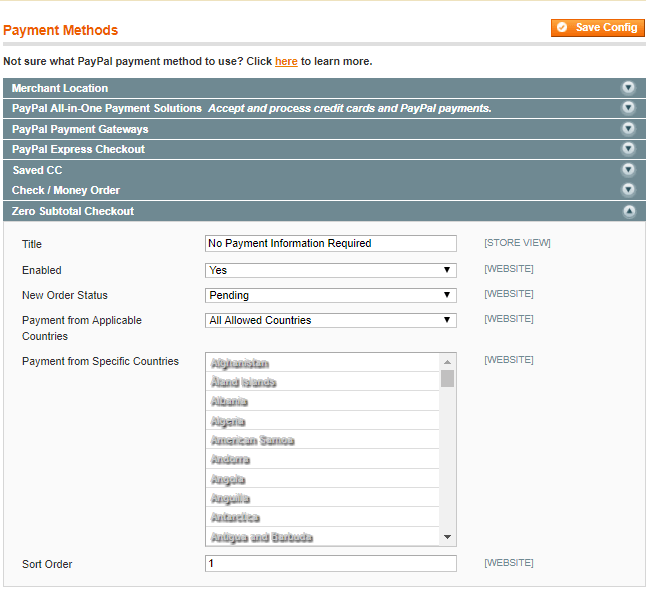 Let your customers pay by transferring payment directly from their bank account to yours: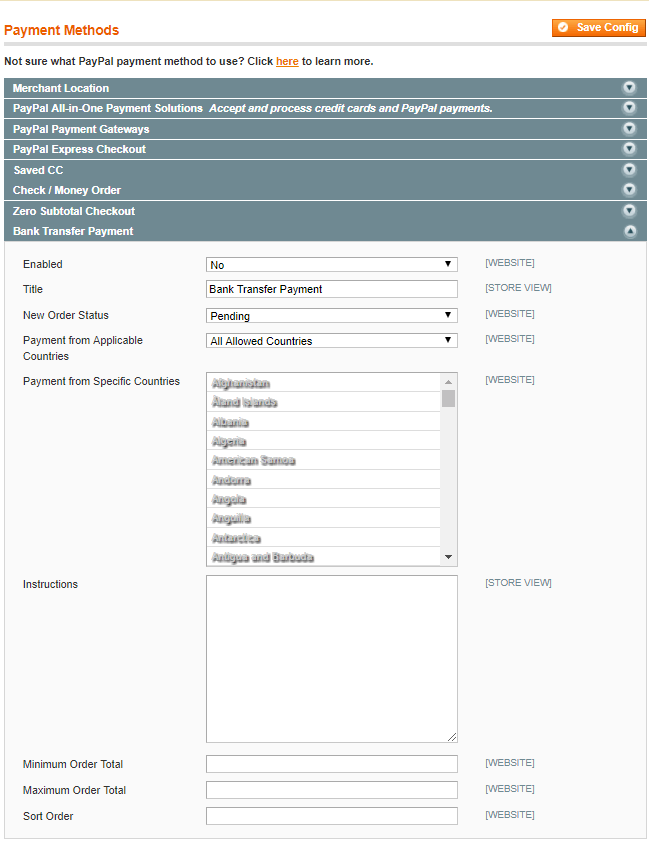 Decide whether your customers can pay with cash at the time of delivery (COD):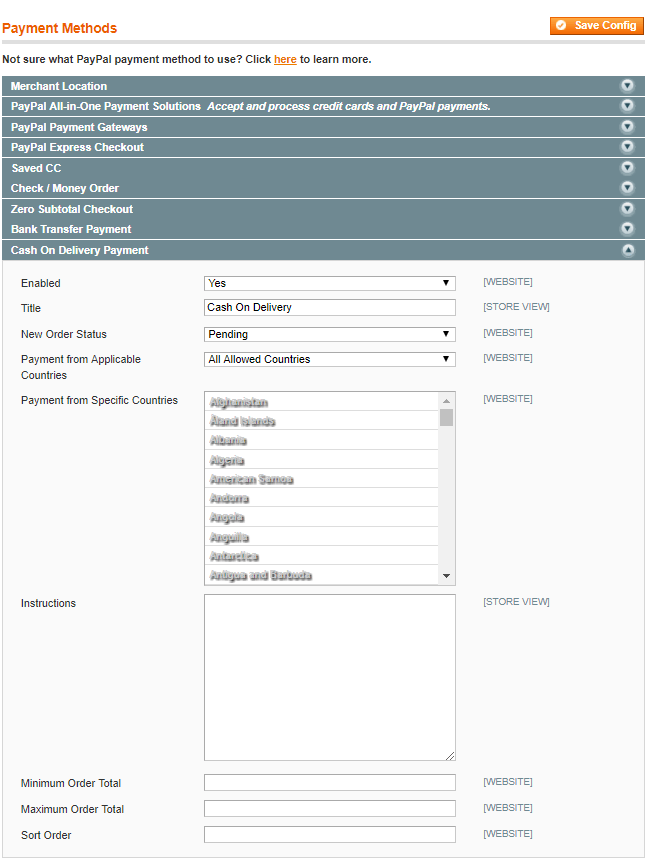 Set the option to 'Yes' if you want your clients to be able to pay by purchase order (PO):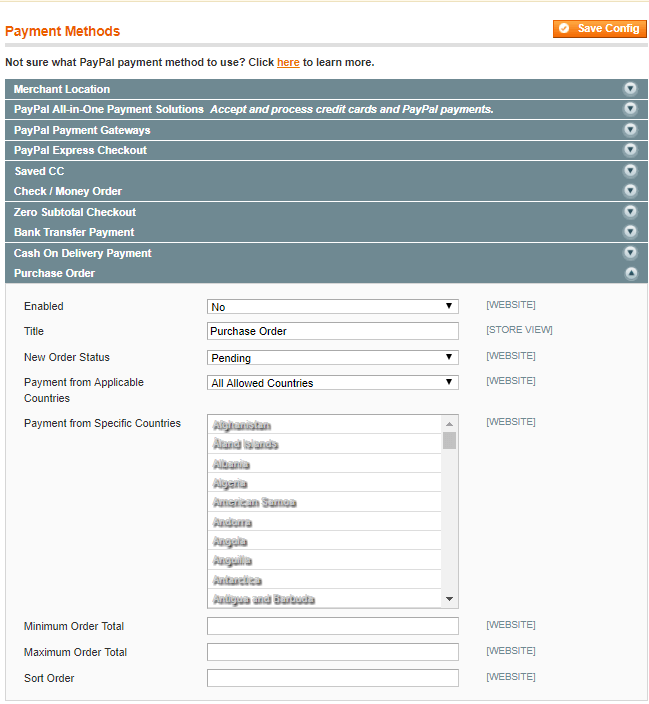 Authorize.net Direct Post
Choose whether to activate the Authorize Direct Post Method within the current settings: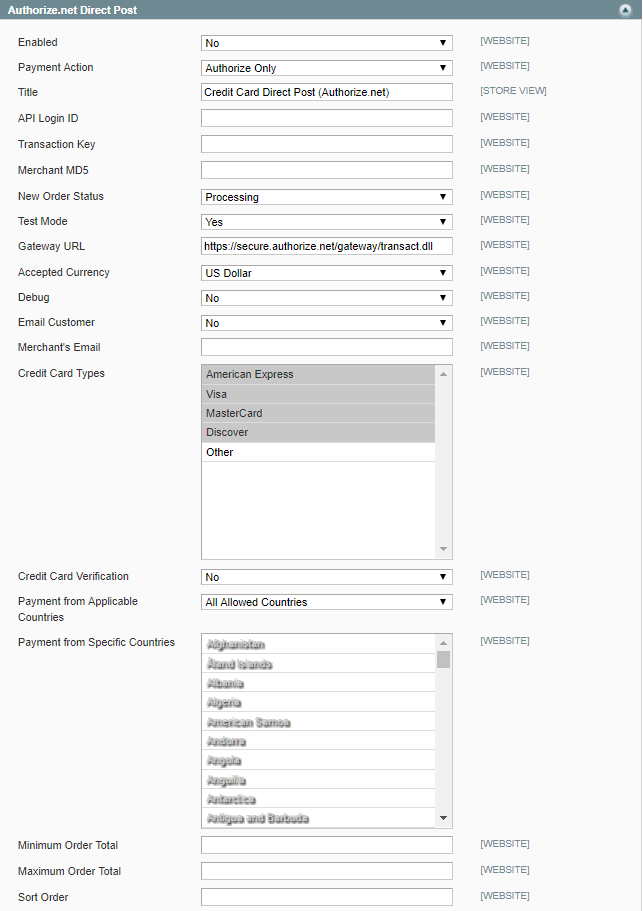 Choose either to disable/enable the Authorize.net payment gateway: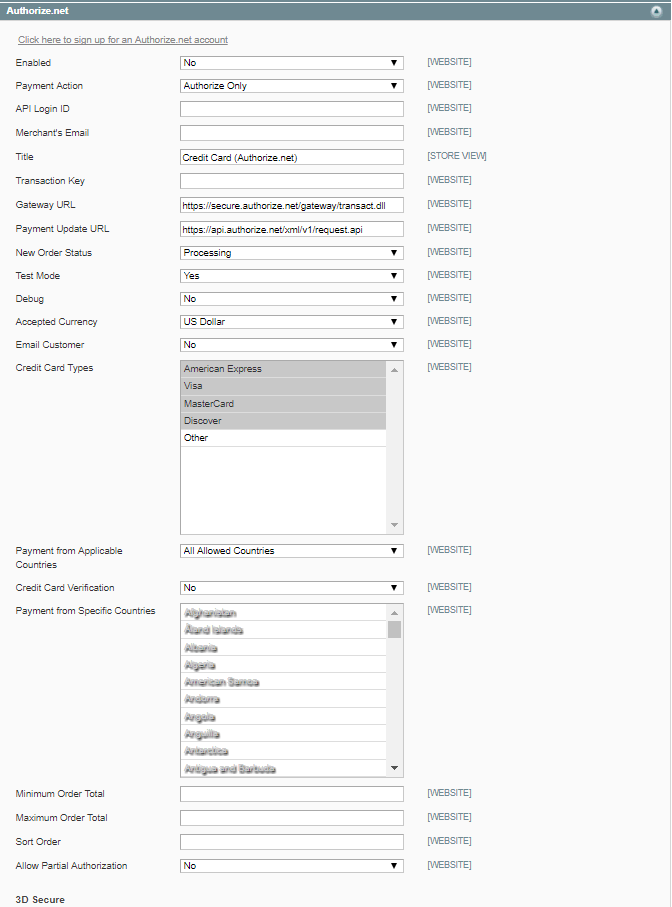 Magento Custom Payment Method
Having checked the tab, you may need to get all Magento payment methods active. For this, navigate to app/code/core/Mage/Payment/Model/Config.php:
To get a list with all active/inactive payment methods use the command:
$allAvailablePaymentMethods = Mage::getModel('payment/config')->getAllMethods();
To learn all the credit cards supported by Magento run the next command:
$allCcTypes = Mage::getModel('payment/config')->getCcTypes().
If you need to set up a custom payment method, you'll have to make back-end configuration setup, namely, create a custom payment method module. Also, a self-made payment method extension can be created to plug in your choice of payment gateway.
Besides, you can extend your Magento payment functionality by implementing the Payment Restrictions extension and Shipping & Payment By Customer Group. With the use of the modules, you can add payment restrictions based on country, state or other shipping regions, as well as block specific methods by customer groups.
Magento payment gateway
To put the process of transactions authorization, funds and customer accounts blocking, etc. on payment provider, you'll need to find a good payment gateway. Any payment gateway offers service charging a fee. Merchants choose gateways to give their customers a possibility to pay for orders without a necessity to enter the credit card numbers, which exonerate you from the responsibility for collecting private data. The credit card details collected by a gateway provider are encrypted during the transmission from a retailer to a credit card company. Besides, the gateways will supply your clients with special financing programs.
However, the process can be complex and can include several steps of data transferring:
A merchant >>>details>>> a payment gateway;
The payment gateway>>>details>>>the payment processor;
The payment processor>>>details>>>a credit card company;
The credit card company authorizes the payment and transmit the funds to the merchant.
Magento payment gateway list includes numerous companies offering the service under various arrangements:
PayPal;
Authorize.Net;
Braintree;
Sage Pay;
Google Checkout;
Amazon Payment;
WePay;
2CheckOut;
Dwolla;
Scrill.
Take a search for a payment gateway provider seriously, as the transmitted payload might include payment details, order items, shipping/billing addresses, customer details, taxes, and API credentials, which compels to implement additional security measures.