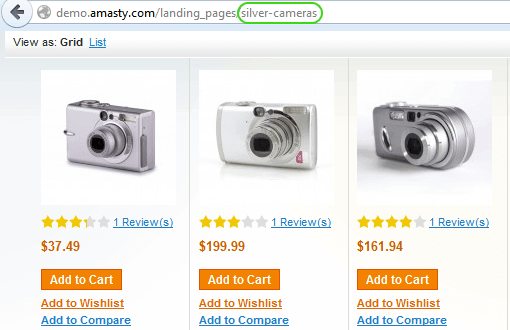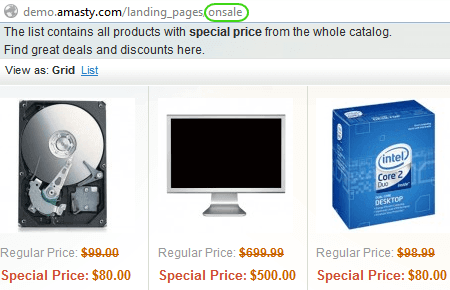 Create SEO-friendly landing pages based on different parameters. Get more unique pages indexed by Google on your site
More pages with unique content
It's not a secret that for successful online store promotion one need to effectively implement SEO for Magento. The module enables you to create landing pages based on different parameters, so that the page content does not get duplicated. This way you get more unique pages indexed by Google.
To implement complex seo solutions in your store use feature-rich SEO Toolkit module comprised of 7 different search engine optimization extensions.
Higher rankings in search engines
Meta tags for each Magento landing page
One of the most effective Magento SEO tips is to specify individual meta keywords as well as meta title and description for pages, so that they are optimized for the content of each particular page. With the Landing Pages tool you can easily do this for each page of your website.
Support of canonical URLs
The extension includes canonical URLs functionality to prevent content from duplication in search engines. Moreover, it supports category URL suffixes. For example, when you define URL suffix .html for your store product and category pages (System -> Configuration -> Catalog -> Search Engine Optimizations), the extension will include .html suffix in the canonical URL too.

Build correct SEO-friendly URL structure
With the extension, you can specify short URLs for the pages, like yoursite.com/page1, yoursite.com/page2, etc. Moreover, it is possible to use a proper URL structure: the sub pages aliases with more precise keywords are devided with the slashes.
Landing page urls in the sitemap
All links to landing pages are added to the sitemap, after the links to CMS pages.
Quick links to frontend
After the landing page is created, quick links to frontend will be automatically added to the 'Landing Pages' grid. So, you can check whether the landing page is properly configured right from your admin panel.
Better sales conversion
Landing pages for new products and products with special price.
Many customers look for new and discounted products. Knowing this, it is a good thing to create special pages for such customers, so that they can quickly find such products without having to endlessly browse through the whole catalog.
Create landing pages for products on promotion
When offering deals for some type of products (e.g. canon cameras with price less than 200), it is very convenient to create a separate page for such items. Customers will be a lot more likely to find such products and follow your offers. So you get more orders and loyal customers. To double effect, you can combine this extension with Custom Stock Statuses!
Advanced filters for landing page creation
Advanced filter enables you to specify up to 30 flexible product attribute conditions and combine them according to your needs.
Get 3 more advanced filters
Now you can manage products display on landing pages even more effectively. Filter products by:
Maximal, minimal, and final price;
Attribute sets;
Product SKU.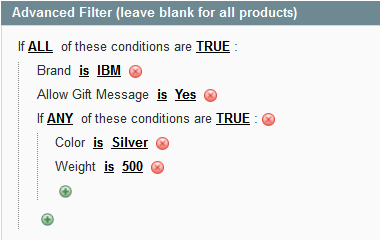 Create pages based on attributes and categories.
You can create Magento landing page templates based on a category and any combination of attributes. E.g. you can show products from phones category of HTC brand and black color.
Easily create landing pages based on search results
Now the creation of landing pages based on search results has become as easy as it can be. Simply specify the word to filter out the products containing this word in any part of the text. There is no more need to specify any other additional symbols.
Show configurable products in the landing page filter results
Since now when we filter the products for the landing page by some attribute, parent configurable products are shown in the filter results.

Improved sorting option for product list management
Manage product list on landing pages more extensively with the help of improved default sorting option. This feature enables you to choose products on such criteria as "New", "Best Value", "Most Viewed" and others. Such landing pages arouse a keen customers' interest and can notably scale up your sells.
Select products from multiple categories
Now you can choose multiple categories from which the products will be displayed on a particular landing page. This easy-to-use feature will help you to carefully fine-tune your landing pages and launch even more effective promotion campaigns.
Fully automated product display
Let's say you have a landing page for new products. The page will automatically update its content and will show new products once you add them to your catalog. This works for all attributes combinations.
Additional features
new!

Specify the custom design theme for each landing page.
Show summary products rating and the most attractive product price on the bottom of the landing page with Google Rich Snippets module.

new!

It is possible to import and export landing pages in .csv format.
You can display only the products which are in stock on landing pages.
You can choose 1, 2 or 3-column layout for landing pages and customize it.
It is possible to include CMS-blocks above and under the product list on landing pages.
Support of Magento multi-website structure.
Full compatibility with Improved Navigation and Improved Sorting extensions - products on landing pages will be filtered and sorted by these two modules.
Product questions

Can I create different landing pages for different store views?

The extension supports multi-website structure, so you can create different customized landing pages for separate store views. All you need is to make changes in the general settings. Read on to see the screenshot.

Read the FULL answer

Can I add some text to my landing page for better SEO?

Yes, you can change landing pages. There are two fields – Top Description and Bottom Description – where you can insert text that will be displayed on your landing page.

How can this Landing Pages module detect new products to display them?

There are 2 possible algorithms: 1) use magento default attributes "new from" and "new to" or 2) set the new period in the module setting and use product creation date.

Can I display products from multiple categories on my landing page?

Yes, the module allows for displaying products from more than one category on a landing page. Read on to see the screenshot.

Read the FULL answer

Can only particular SKUs be displayed on a landing page?

Yes, with the use of the advanced filter you can set up the condition so that only one SKU of a single product will be displayed on a landing page. Read on to see the screenshot.

Read the FULL answer

Can I use a range for a price attribute?

Yes, sure. For this, you need to make relevant changes in the advanced filter. Continue reading to see the screenshot.

Read the FULL answer

Does this module work correctly with the "Enable Flat Categories and Products" option?

Our Landing Pages module works well with the Flat Categories and Products option. But in case there are still any issues our support managers will fix them for free.

Is it possible to import Landing Pages?

Yes, with the module you can import/export landing pages in .csv format. Continue reading to see the screenshot.

Read the FULL answer

Is this module compatible with custom navigation extensions?

Our Landing Pages module is fully compatible with default Magento navigation and our Improved Layered Navigation.

How to change a sort order on a landing page?

If you need to change sort order, please paste this code into the "Layout Update XML" field on the Design tab: <reference name="amlanding_product_list_toolbar"> <action method="setDefaultDirection"><string>desc</string></action> </reference>

How to set noindex, nofollow tags on the landing pages?

Please paste the following code to the Layout Update XML field on Design tab: <reference name="head"><action method="setRobots"><meta>NOINDEX,NOFOLLOW</meta></action></reference>
Other Features
100% Open Source — Easy To Customize
Follows Magento Code Architecture
Separated HTML/CSS/JS
Simple installation via Composer
* The name "Magento" and the logo are the trademarks of Magento, Inc.
Useful extension
A very useful extension to make landing pages for sales, nyew products etc. We had some conflict on a landing page. We asked Amasty support to check if there was a mistake. They found the mistake that was caused by something that had nothing to do with the Amasty extension and gave us hints of how to solve the problem. We are very happy customers.
Works as described, great support
This extension works perfectly, the developers even managed to add an extra function that I requested almost immediately. Very impressed with the support.
Exactly what we needed!
This extension is exactly what we were looking for. We recently moved away from another shopping cart platform and found that one of the few areas Magento lacked was building landing pages for displaying products from multiple categories without actually creating a new category. This extension allows us to build SEO and Marketing optimized landing pages with ease.
Landing Pages - gut für SEO, gut für Kunden
Nach langem Suche habe ich nun diese Extension ausprobiert und positiv überrascht. Alles was ich umsetzen wollte, habe ich mit dieser Extension realisiert.
Ich habe Themengebundenen Seiten erstellt und für Kunden optimiert und Kunden haben jetzt mehr Überblick.
Also wer an SEO denkt, sollte an diese Extension blick werfen.

Amazing support
When the Module together with another one we bought from Amasty was showing strange behaviour we thought it had to do with the modules themselves. Apparently it was something edited in the core (unbelievable right?) by the company that worked for this client before us, but Amasty was the one to point this out to us.
Their support is amazing.
Products always work as intended!

Nice product
I have been using this module for a while and have chosen it because it has all the features I need. At the moment of the purchase I compared it with several other modules and it was the winner.
I can complain about only one thing. I also use Amasty Layered Navigation and once when the modules were updated they caused a couple of issues together. However, the team solved the issue within 3 or 4 hours, and now everything is running smoothly. Just a friendly request – I wish such things never happened=)
batman707
Magento Connect
Not bug-free but still good
I'm using that extension from April. I looked it at earlier but I needed support of individual meta data per page, and as soon as that function was added, I bought that module.
The extension makes it really handy to create seo-optimized landing pages. We need that as we create promo pages quite often in our gifts store. We create seasonal individual pages with gifts for him, gifts for her, gifts for children, new gifts, etc. Landing Pages also lets set default sorting by price or best value which is very convenient.
As such pages are temporal, they need to be redirected when promotions end. It would be great to have a redirect option on the general tab in addition to the page status. For example, there could be 4 options in the drop down: enabled, disabled, 302 redirect, 301 redirect, and once I choose one of the redirects, there appears a field for the destination URL. I hope to see that function in the next updates.
But anyway, the extension is great. It's not bug-free, of course, but still does its job well.

junior_49,
Magento Connect

SEO for PROs
There was a little problem with the navigation on the landing pages, the support fixed it very quick. everything works well! Thank you Amasty
Great extension. Excellent support
Really handy extension to make multiple updates to products quickly.
Top notch, super fast and efficient support means I can buy Amasty extensions with confidence that any problems will be resolved quickly.
If you update products in your store, this is the extension you need!

Skyman,
Magento Connect
Advanced SEO tool for your e-store!
Allows easily create relevant landing pages for any purposes targeting them for all audience types. The only thing I regret is that why I didn't install it much earlier :)
New tools are great!
Thank you, guys, for you constant updates! The advanced filter you've recently added is just great, it really makes my work easier and opens various opportunities for specifying flexible product conditions!
Quick support - great job!
Your support works amazingly. Had I written a ticket they answered me immediately and helped to set all the configurations needed. Thank you so much!

Kumar Ahtam,
Magento Connect
Solves tons of SEO headaches
This module is definitely worth the price I've paid. I've been looking for an effective tool for long time and now, I'm glad I've bough this one. It makes magic things with my SEO.

webster_nick,
Magento Connect
Great extension.... as usual!
Want to thank Amasty for this extension. It expands our seo possibilities and allows show customers the most relevant pages. Conversions grow. Really :)
Neat Navigation and good integration
I've just installed your extension, I hope it will solve all my SEO issues. Actually the Layered Navigation works pretty well with this module.
One problem
Hi, Great extension guys, have purchased it with Improved Layered Navigation. One problem - cannot get Improved Layered navigation to work with Landing Pages, it is not picking up right URL and simply takes you to a list of original category (if clicked on category), rather than filtering out landing page's products.

Miroslav Kosteckij,
Facebook
Write Your Own Review
Backend
Create and edit landing pages
Version 1.11.1
-
January 23, 2018
– Performance improvement
– Fixed an issue with the landing page URLs like test and test/test
– Other improvements
Version 1.11.0
-
November 30, 2017
– NEW: Allow / in the URL structure
– Compatibility with the SeoShortUrl
Version 1.10.2
-
August 17, 2017
– Allows the color swatch on the landing page for the color conditions
Version 1.10.1
-
June 20, 2017
– Consider children in "Is on Sale = yes" condition
– Compatibility with Amasty Improved Layered Navigation short urls
– Minor improvements
Version 1.10.0
-
November 29, 2016
– Possibility to specify custom design (custom theme) for particular landing page
– Notice message added in case root category is not anchor
Version 1.9.1
-
November 09, 2016
– Code review according to Magento MarketPlace requirements
Version 1.9.0
-
October 25, 2016
– Possibility to include/exclude attribute used for landing page creation to/from the list of the layered navigation filters (when Improved Layered Navigation extension installed)
Version 1.8.9
-
October 11, 2016
– Fix for configurable products and flat catalog option
Version 1.8.8
-
October 07, 2016
– Updated code for category rules
Version 1.8.7
-
September 06, 2016
– New feature: duplicate landing page
Version 1.8.6
-
July 29, 2016
– Compatibility with Layered Navigation improved
– Fix for 404 error status for invalid filter page
Version 1.8.5
-
June 14, 2016
– Possibility to import/export pages
Version 1.8.4
-
May 05, 2016
– Compatibility with 3d party Ajaxcatalog extension
– Fix for RWD responsive theme
Version 1.8.3
-
November 27, 2015
– Option to use layered navigation index to show parent products. E.g. when we filter by color, we want to show not just simple products, but the parent configurable product.
Version 1.8.2
-
November 06, 2015
– Better support for configurable swatches
– Compatibility with Improved Layered Navigation's feature: Categories Multi-select
Version 1.8.1
-
October 28, 2015
– Compatibility with Magento swatches in navigation
Version 1.8.0
-
October 07, 2015
– Option to select multiple categories for landing page
Version 1.7.14
-
September 20, 2015
– Compatibility improvement
Version 1.7.12
-
August 26, 2015
– Option to see and open landing page final URL right from the admin grid
Version 1.7.11
-
July 16, 2015
– Better compatibility with 3rd party extensions, because added the same initialization like on category view page (global variables/events)
Version 1.7.10
-
July 10, 2015
– Magento 1.9.2.0 security fix
Version 1.7.7
-
June 09, 2015
– Optimization for multiselect-type attributes
Version 1.7.6
-
May 19, 2015
– Added filter for maximal, minimal, and final price
Version 1.7.3
-
April 30, 2015
– New filter condition by Attribute Set
Version 1.7.1
-
April 22, 2015
– New conditions for SKU attribute
Version 1.7.0
-
April 02, 2015
– New flexible conditions - ability to select several attributes and combine them similar to shopping cart rules.
Version 1.6.4
-
October 31, 2014
– Support of Catalog price rules for On Sale pages
– Improved filter option to create landing pages based on particular search results
Version 1.5.3
-
August 11, 2014
– Minor bug fix for "or" condition
Version 1.5.0
-
July 11, 2014
– Ability to set default sorting for the landing page
– Ability to use either AND or OR logic for attribute conditions.
Version 1.4.2
-
June 03, 2014
– Pager optimization
Version 1.4.0
-
April 25, 2014
– Code refactoring and optimization
Version 1.3.0
-
March 23, 2014
– Possibility to specify title, description and upload image for each landing page
Version 1.1.0
-
February 04, 2014
– Special Price date support
Version 1.0.9
-
October 29, 2013
– Improvements in advanced filter
Version 1.0.8
-
October 18, 2013
– Bugfix.
– Multiple select attributes "is, is one of".
– Condition "contains".
Version 1.0.7
-
September 10, 2013
– Canonical tag support.
– Support of category settings.
Version 1.0.6
-
July 17, 2013
– Advanced filter for product attributes.
Version 1.0.5
-
June 12, 2013
– Links to landing pages added to the sitemap, after the CMS pages.
Version 1.0.4
-
May 14, 2013
– Ability to import landing pages from a csv file.
– Bugfix for httpS and categories in layered navigation.
Version 1.0.3
-
March 18, 2013
– Ability to specify new products by the date of creation.
– Bugfix for layered navigation.
Version 1.0.2
-
February 15, 2013
– Compatibility with older Magento versions.