Take advantage of naturally generated content
What influences customer decision making? How do store visitors determine which products to purchase and whether to purchase them at all? In most cases they rely on other customers' feedback.
That's why an easy-to-use Magento review system allowing online shoppers to share their opinion about the products they buy is a real 'must have' for any online merchant. Moreover, customer reviews are a fertile ground for highly relevant naturally generated SEO content.
With the AJAX Reviews extension you can add a handy Magento review form to product pages and enable store visitors write and submit reviews without full page reloading. Easily send responsive post purchase emails to encourage customers leave more reviews and increase your store credibility.
Effectively manage reviews display
Display Reviews wherever you need
Improve your Magento and add review form to product page at any place. Advanced customer reviews tool enables you to choose where to display the feedback form tab:
Standard place;
Additional product info tab;
Custom place;
It's also possible to disable the reviews tab at any time you need.
Provide customers with tips on how to write a review
Help customers write helpful product reviews. Display customizable pop-up window with review tips and specify the text for a button label.
Enable customers to vote for reviews
Improve the quality of product reviews by letting store visitors vote for them. This small, but very helpful feature will encourage customers to write informative reviews, thus creating useful high quality content on your product pages.
Display social buttons
Want to draw more traffic to your store? Let customers spread the word about your products in social networks. Place social buttons under each review so that one can easily share product comments with others.
Automatically save non-submitted review
In case a customer closes the pop-up window with a non-submitted product review, it will be automatically saved. When the pop-up is opened again, all previously written information will be in its place so that the customer won't have to write a new product comment.
Thank customers for their reviews
With the advanced reviews tool you can enable the display of a 'Thank you' dialog window. Specify the text that will be placed in the window as well as the button label. In case the review is positive, an image with a thumb up is added.
Specify the number of reviews per page
Specify how many reviews will be displayed on a product page at a time. To see a new portion of reviews customers will need to click the Load More button.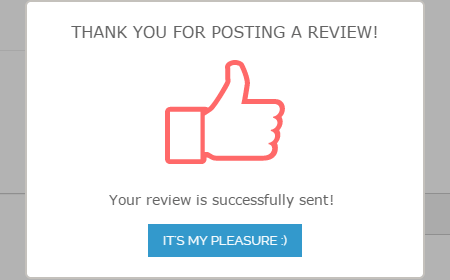 Advanced style settings
Gravatar icons support
What is gravatar? It's a globally unique avatar which is uploaded on the Gravatar service. This image is displayed when a person leaves a comment in a blog post or a product review. The extension supports gravatar service and allows using its icons for product comments. If a customer doesn't have a gravatar, a default icon will be displayed instead.
Choose rating figures
It's possible to choose either stars or hearts as rating indicators. You can also specify the color of rating figures to match your online store theme.
Custom label for first review
You can specify your own label text that will be displayed on the button for the first review.
First name letter as an icon
This type of avatar enables you to display the first letter of a customer nickname as an avatar icon. The module also allows using the mixed type of avatar display. It means that when a customer doesn't have a gravatar on Gravatar service, a letter icon will be displayed instead of the default image.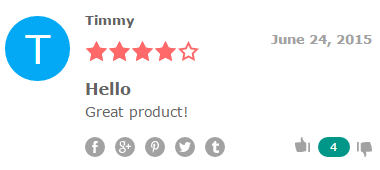 Send notifications and triggered emails
Inform admins of pending reviews
Easily notify admin users about newly submitted Magento ajax reviews that should be approved. The default email template includes a link to the corresponding product in your store, the review text and the 'Approve'/ 'Reject' buttons. Therefore, it's possible to approve or deny product reviews right from your email box.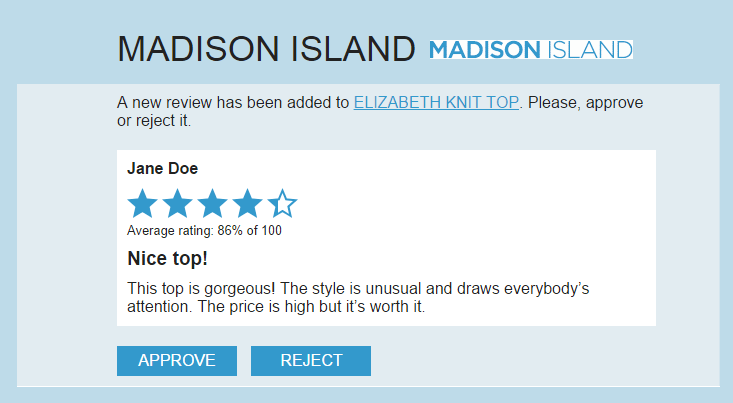 Send triggered post purchase emails
The module enables you to send a notification, which suggests leaving a review in a few days after the order is complete. Extension settings allow you to:
Select one or several order statuses that will trigger the emails dispatch;
Define the number of days after which the notification will be sent to a customer;
Specify the interval between sent notifications if a customer ordered more than one product;
Send emails for one item from different orders: if a customer buys one and the same product several times, he/she will receive only one email;
Customers will be redirected to the reviews page after clicking the 'Review this item' button right from the email template.
Handy emails preview
Use quick email preview option to check the email before sending it to a customer.
Send emails to previous customers
Send triggered emails to customers who'd made purchases in your store before you installed the extension. It will definitely increase the number of reviews on your product pages.
Send a test email copy
Before sending follow-ups to customers, you can send a test copy to your email to check how it looks. This easy step will help you detect any mistakes or inaccuracies and immediately correct them.
Advanced Options
Ability to send customer notification for any order status
Ability to cancel a customer notification
Automatic post-purchase mails cancellation after order cancellation
Automatic post-purchase mails cancellation after item return
Automatic mail cancellation if a customer already left a review
Default 'Waiting for sending' filter for mails after purchase
Rating display in Google with Rich Snippets extension
Ability to add rich snippets markup
A link to leave a first review next to a product name
Custom text display: upper case, lower case
Color icons for non-Latin nickname letters
Therefore, if you are looking for an easy way to generate more content for your online store on Magento, add a review form to product pages and the results will not slow to arrive! You can also send review reminders to get more feedback from your clients.
Product questions

Why are reviews and a form not displayed on the page?

Check the display settings, go through different variants. If the 'Custom Place' setting is selected, make sure you have made the necessary changes in the page's code. See whether reviews are displayed on the page having disabled our extension, maybe your theme doesn't support reviews.

Why are there no stars in the rating?

You might have forgotten to set up ratings in Magento. If you want to create your own custom rating, which is to be displayed in catalog lists on a product page, go to Admin Panel>Catalog>Reviews and Ratings > Manage Ratings. Then click the 'Add New Rating' button and configure the default rating values in keeping with your needs.
Other Features
100% Open Source — Easy To Customize
Follows Magento Code Architecture
Separated HTML/CSS/JS
Simple installation via Composer
* The name "Magento" and the logo are the trademarks of Magento, Inc.
Easy to customize
Cool module! I like that the style of the ratings is easy to customize, so there wasn't any problem in integrating the colors with our theme.
If there is a review reminder feature, the extension would be much better, so please consider adding it.
Must have extension for any shop!
This extension works very well and it is a very useful tool to get customer reviews. Gives all the features explained in the description. However I faced a little issue with mobile device display but the support team helped me quickly to fix it.
Really impressed with the extension and the development team. Keep up the good work. Looking forward to see innovative improvements.

Pretty good plugin
The plugin meets all my expectations. It ran right out of the box without any additional tweaking. All features work as described and the app navigation is clear and quite intuitive. It's definitely a worthy purchase! The only thing is that there is no manual or demo on the page so I had to contact support before purchasing the app as I didn't want to buy a pig in the bag.
Write Your Own Review
Frontend
see a reviews block on the product page
Version 1.3.5
-
March 02, 2018
– Fixed an issue with the review notifications being sent to the same recipient
Version 1.3.4
-
February 28, 2018
– New: added the translation for the email template
Version 1.3.3
-
June 19, 2017
– Fixed Magento compatibility issue
Version 1.3.2
-
October 25, 2016
– Fix wrong review count
Version 1.3.1
-
July 27, 2016
– Minor localization changes (sending date, labels, default values)
Version 1.3.0
-
July 22, 2016
– Option to send one review reminder per order, not per each product
– Option to allow review products only for customers who purchased this product
– Now the module shows reviews from simple products (in case they can be purchased individually)
– at the parent's configurable product page.
Version 1.2.5
-
January 11, 2016
– Compatibility with Magento security patch