Don't know how to encourage customers to buy more? Simply show them relevant related products which are usually viewed or bought together with the item they've already selected. Due to the Automatic Related Products Magento Extension you'll be able to display special blocks with cross-sells, up-sells and related items based on customer purchase behavior. A specially developed algorithm lets you show necessary items in each particular related products block.
Key features
Display blocks with related, up-selling and cross-selling items;
Show products depending on the number of views or purchases;
Hide products with zero and negative stock quantity;
Configure flexible rules for products display;
Display related and up-selling items on product pages;
Specify the time period for stats data gathering;
Replace manually added products with the ones generated automatically;
Manage the number of products displayed in each block;
Easily manage products display
Automatically define related products and display them on product pages
Configure settings for related products display
Show up-selling products based on specific parameters
Manage up-selling items display
Show cross-selling products on a shopping cart page
Fine-tune cross-sells display
Motivate customers to buy more
Show blocks with related, up-selling and cross-selling items
With the Magento related products tool you can place cross-sells, up-sells and recommended products to separate blocks to show a wider variety of items. Display cross-selling products on a shopping cart page to boost spontaneous purchases.
Display store items based on customer behavior
Due to a special algorithm the module automatically defines which products are frequently viewed or purchased together with the chosen one and displays corresponding results in each Magento associated products block.
Relate products without views or purchases
Promote products that attract less views and generate less sales. Use the special 'Product Currently Viewed' data source to effectively display items without the history of interactions based on various conditions, including the category, brand, and price.
Configure settings to show relevant items
Set time period for data collecting
To accurately gather statistics for products display specify the time period basing on which the products will be shown. The auto related products system for Magento will filter relevant items and show them to customers.
Exclude out of stock products from display
The Related Products Magento module lets you hide out of stock items from display to show only the products that can be immediately purchased, thus significantly improving customer experience.
Show products based on views and purchases
Flexible extension settings enable you to choose whether to display related products either viewed together with chosen items or bought together. Set an order status for 'bought together' products to make statistical data maximally precise.
Replace manually added products
Due to automatic matching of up-selling, cross-selling and related items, you don't have to relate them manually. Apart from that, you can replace manually related products with the ones matched automatically.
Fine-tune conditions for up-selling and related products
Category based conditions
You can display products from any category or from the same categories with the chosen items. The auto related products Magento module also lets you exclude items from specific categories if necessary.
Configure brand conditions
Show relevant up-selling and related products depending on their brand for highly targeted results.
Price conditions
Configure price conditions for up-sells and related products to show a rich variety of products in each Magento related products block. E.g. Use 'higher price' option for up-sells and 'same' or 'lower' price for related items.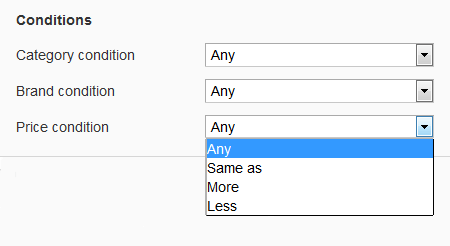 Other Features
100% Open Source — Easy To Customize
Follows Magento Code Architecture
Separated HTML/CSS/JS
Simple installation via Composer
* The name "Magento" and the logo are the trademarks of Magento, Inc.
Appreciate your time and effort!
We had to hide products with negative stock quantity manually, which is rather pricey and fruitless. With the Amasty extension we get things done even without admin's help. Besides, the customer support is always online and in touch. Appreciate your time and effort!
Great job!
I've run Automatic Related Products for a week already and can say it saves time and money spent on my webstore correcting. It really does well, as we exceeded the sales plan twice.
Must Have Extension
An absolutely competent team of developers. After expanding my shop with more than 7000 item numbers, Automatic Related Products is a Must Have. Purchased installation along with extension and Amasty was quick about installing. It's an extension that does not make the shop slow - so will definitely recommend it to all webshop owners - it's not to be missed.
Write Your Own Review
Version 1.4.0
-
March 12, 2018
– New: added the 'Product Currently Viewed' data source. It allows you to display products without views or joint purchases history. You can configure the automatic display of products from the same category, from the same brand, and based on their price.
– New: added the 'Show related products only for Out of stock' option. Now, you can display related products only for those items that are currently out of stock.
Version 1.3.7
-
February 12, 2018
– Minor code improvements
Version 1.3.6
-
February 05, 2018
– Minor changes in code architecture for Magento Enterprise version
Version 1.3.5
-
January 23, 2018
– Fixed an issue with showing related products in Magento Enterprise
Version 1.3.3
-
November 03, 2017
– New feature: ability to show only products from categories is added.
– Fixed issue with empty collection for manually added products.
Version 1.3.2
-
March 31, 2017
– Few minor fixes and improvements
Version 1.3.1
-
November 24, 2016
– Current product excluded from the list of purchased together products