Equip your website with a powerful content marketing tool
Blogging has become an essential part of any successful online business. Today it's one of the best ways to draw massive targeted traffic to your website. Therefore, due to a properly run blog you can easily keep your customers informed about company products, promotions and sales as well as to receive customers' feedback in the comments.
With the Blog Pro Magento extension you can easily create informative blog posts spicing them up with catchy images, videos and other types of visual content. Effectively moderate blog comments, customize blog posts layout and make your content SEO-friendly.
Improved blog usability
Responsive template design
Responsive Magento blog design lets store visitors read posts on all types of gadgets. Due to the convenient off-canvas menu, they will be able to easily use blog search option as well as to take advantage of numerous blog widgets.
Informative widgets
Handy widgets will help you draw customers' attention to useful information about your blog on Magento and store items. Choose as many different widget blocks as you need and place them in different places on the blog pages.
Available widget types:
New products link;
Category block;
Recently viewed products;
Recent posts;
Recently compared products;
Recent comments;
Tagged posts;
Link, block;
Category link;
Product link;
Orders and returns;
Archive Sidebar block;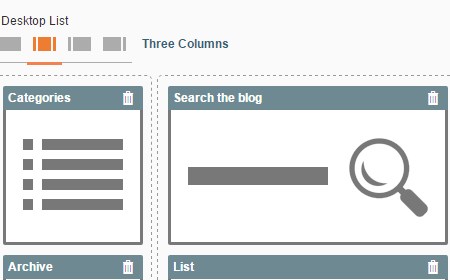 Layout constructor
Flexible Magento Blog extension settings allow you to arrange desktop and mobile blog posts according to your specific needs. Use the constructor option to arrange blocks on the main blog page as well as on blog post pages. You can drag, add, delete, and interchange the position of the blocks. The layouts for mobile version are defined in the same way.
Custom blog layout
When editing the layout of the main Magento blog pro page choose either "List" or "Grid" layout type. In case you select the "Grid" type, you can also specify the grid width for each particular post.
Manage tags display
Use attractive 3D cloud of tags on blog post pages. Customize cloud display by specifying its:
Size;
Color Scheme;
Text Color;
Customize 'Recent Posts' block
Blog for Magento allows you to specify how many recent posts you want to add to the block and choose whether to display short content for each post. You can also define the maximal number of characters allowed for a short post.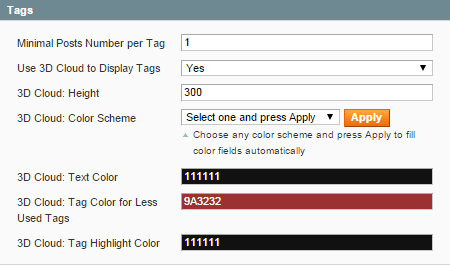 Go social
Quality content definitely deserves to be spread. Why not help your blog readers easily share your posts with friends in social networks and draw massive traffic to your website? With the Magento blog module you can display sharing buttons on each blog post page.
Easy blog management
Handy WYSIWYG Editor
Blog Pro extension lets you keep all necessary tools at hand to quickly edit any blog post you need. The intuitive dashboard, dressed in clear icons, will help you enrich your text content with an accurate table or a list.
Fast image upload
It's difficult to imagine a good blog post without images. Blog Pro extension allows uploading pictures in different ways:
Upload images through the AJAX window;
Select them from the images uploaded for previous posts;
Use 'drag-and-drop' option.
Effective Comments Management
No blog is alive without customer feedback. Due to comments you can gather priceless information about your customers and potential clients. The Blog Pro tool enables you to easily edit all comments and reply to customers right from the admin panel. You can also use the 'auto- approve' feature to automatically approve all new comments.
Set any blog author as default
This feature is very useful for those who have one major blog writer and doesn't need to specify a new author for each blog article. Apart from that, you can also enable links to the author's account pages in such social networks as Google+, Facebook and Twitter.
SEO optimization
A well thought-out content optimization will definitely improve your positions in search results, thus attracting more potential customers. With the advanced blog Magento editor you can specify meta titles, keywords and descriptions for the whole blog, each particular blog post, category or a blog post tag. You can also add blog content (posts, categories, archives, tags) to the sitemap and create special SEO-friendly URLs for each blog post.
Manage search settings
It's possible to define which type of search should be used in your store's blog.
Here are the options you can choose from:
Built-in search engine is preselected by default. It's a resourceful but powerful solution; offers synonyms to the customer's search request;
Fulltext Search uses MYSQL algorithms; corrects typos automatically;
MySQL LIKE Search is the fastest type of search that works with the exact matches. If visitors are mostly searching your store for particular models, this type of search would be the most suitable.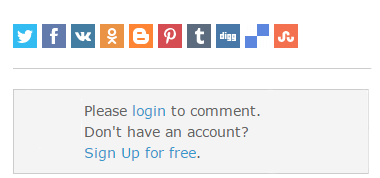 Allow guest comments
If you want to motivate blog readers get registered on your website, you can disable guest comments. In this case customers will be asked to log in or create an account.
Schedule blog posts
Easily schedule posts to automatically publish themselves according to your publication plan.
Send email notifications
Notify blog administrators about new comments and added blog posts. This option will help timely moderate all blog comments, filter spam in your blog and keep your blog content under total control. With the extension you can also send email notifications to customers to inform them about new comments or replies left by other blog readers.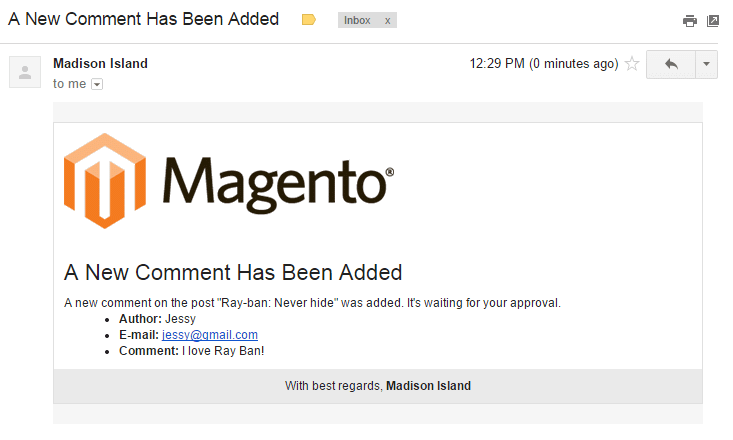 Advanced extension options
Blog Pro Magento editor offers a rich set of options to make your work with blog posts as comfortable as it can be and provides your customers with the best user experience.
Please click here to see the full list of extension features
Built-in spam and fraud protection with Google Invisible reCaptcha
The Magento Blog Pro extension comes with the built-in Google Invisible reCaptcha module that protects your comments form from spam and frauds. Benefit from the most advanced security tool and boost your store security.
Product questions

Does this blog extension integrate Magento with another CMS like WordPress?

No, the extension doesn't offer Magento WordPress integration. However, you'll manage to add a blog within Magento, which eliminates any requrement for an additional website installation.

Is this Blog Pro mobile-friendly?

Yes, our Blog Pro is absolutely mobile-friendly. The extension offers 4 layout types: desktop layouts for the main blog page and for a post page and the same ones for mobile devices.

Can I customize the layout of the blog?

Yes, with the use of the extension your blog inside Magento can be highly customized. This means you can choose one of the four layout types, as well as the number of listed posts on the homepage. Read on to see how to make all the settings.

Read the FULL answer

Can I preview articles before posting them?

Yes, sure. Only this way you will be able to achieve the formatting you need.

Is it possible to have multiple authors on my Magento blog?

Yes, an author can be stated in post settings:

Will blog posts URLs be added to my XML sitemap automatically?

Yes, as we don't create a separate blog sitemap, but add posts to the website sitemap.

Read the FULL answer

What widgets can be added to my Magento blog?

There is a number of useful widgets you can display on your blog for different reasons. Continue reading to see the full list.

Read the FULL answer

Can I add a snippet of latest blog post to the site pages?

Yes, the extension allows for adding a widget with latest blog posts to any page of a store. Read on to see the examples.

Read the FULL answer

Can I import blog posts from another blog?

Yes, it's possible to import your previous blog posts if you used to have a blog on WordPress. Read on to see the settings.

Read the FULL answer

Can I add a blog URL to my main top Magento navigation?

Yes, you can make a blog URL visible in the footer using a special option. Continue reading to see where to find it.

Read the FULL answer

How do I add a link to my Blog to the Footer?

You can add a link to your blog to the footer using the 'Footer Menu Integration' setting. Read on to see how to make it.

Read the FULL answer

How to hide the blog pages from search engine crawlers to avoid duplicate content issue?

Some of your posts may be included in multiple categories and have several tags. That's why different category and tag pages can posses the same content that search engines mark as duplicated. Hide these pages from indexation to avoid this problem.

Read the FULL answer
Other Features
100% Open Source — Easy To Customize
Follows Magento Code Architecture
Separated HTML/CSS/JS
Simple installation via Composer
* The name "Magento" and the logo are the trademarks of Magento, Inc.
Excellent Extension
This extension just excellent! I suggest to every one. It's easy to use, has a very nice fronted design and includes the all meta options you need for your page. The Amasty team also helped me to install this extension. Could not say nothing wrong about the product 100/100!
Good and easy
Ok, I'll be the first to write a review.
First of all, this is my first Amasty extension so my experience with this company is based entirely on it.
I had a blog on my site previously but used CMS pages for that which is not a way out at all. This extension makes it really easy to manage posts and in general makes a blog similar to a blog but not to just some random pages on an eCommerce site.
Configuration is easy, it took time to set up the options. I had a problem on installation and even send a note to Amasty support, but then managed to solve it myself by clearing cache.

Write Your Own Review
Version 2.2.1
-
February 26, 2018
– Minor code improvements
Version 2.2.0
-
February 08, 2018
– New: now, the module comes with the Google Invisible reCaptcha extension built-in to protect custom forms from spam and fraud
Version 2.1.8
-
October 10, 2017
– Compatibility with security patch SUPEE-10266 is added
Version 2.1.7
-
October 05, 2017
– Minor fixes
Version 2.1.6
-
May 22, 2017
– Redirect issues fixed
Version 2.1.5
-
April 12, 2017
– A number of general improvements
Version 2.1.4
-
March 29, 2017
– Security enhancement
Version 2.1.3
-
February 27, 2017
– Compatibility with the XML Sitemap extension improved
Version 2.1.2
-
February 21, 2017
– Few minor fixes and improvements
Version 2.1.1
-
November 21, 2016
– Minor code refactoring
Version 2.1.0
-
September 20, 2016
– Two new search options added: Fulltext Search; MySQL LIKE Search; in addition to built-in search engine
Version 2.0.9
-
July 19, 2016
– Fix for caching pages when posts have same URL key (on different stores, for example)
Version 2.0.8
-
May 19, 2016
– Possibility to specify "canonical" URL tag for blog post
Version 2.0.7
-
January 18, 2016
– Minor fix for admin URLs
Version 2.0.6
-
November 05, 2015
– Fixed issue with previewing post in the backend
Version 2.0.5
-
October 27, 2015
– Admin routing patch (SUPEE-6788) compatibility