Protect your store data with a reliable backup system
There is nothing more effective than a timely backup when it comes to your site data protection. Regular Magento backups prevent you from any data loss and are essential for your online store security. But the Magento backup process itself may become very time and effort consuming.
With the Cloud Backup extension you can protect files by copying and storing them on a local server, so that they can be quickly accessed and restored at any moment. Moreover, the cloud tool visibly streamlines the backup process by enabling online vendors to schedule tasks and run them automatically.
Easily back up your store database
Send offsite backup via FTP and SFTP protocols
Use flexible backup settings
Use one of two modes to delete files
Keep information both in a log file and in
AmazonS3 and Box.com storage support
Google Drive support
Indicate suffix for backup files
Possibility to enter login/password for servers protected by Apache
Flexible settings
This advanced cloud extension allows backup of the whole Magento database as well as the backup of particular files. With its highly adjustable settings you can define data parts that should be backed up. Apart from that, the module examines how much free space on the disk you have before starting to back up your data.
Specify the parts for backup:
Entire store database;
Particular tables;
Certain files etc.
Multiple steps functionality
Multistep option enables you to set the Magento backup intervals or steps either manually or with the help of cron. This feature will be extremely helpful for those merchants who set short time periods for script execution on their servers. Thus, by specifying the appropriate step time for the backup you prevent it from interfering with the script execution process.
Upload files to the cloud without splitting them;
Use manual or cron mode;
Specify any step intervals you need.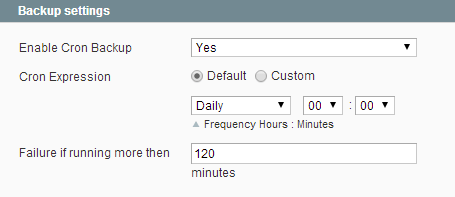 Schedule automatic backups
Easily schedule onsite and remote Magento automatic backup. You can adjust cron settings so that it will make backups every day, week, month or just once. After you specify all the necessary settings the module will automatically start making backup copies on specified day and time.
Create unlimited number of Magento system backup tasks;
Receive email notifications on backup completion;
Specify cron settings for each individual profile.
Remote backups
The Cloud Magento backup extension also supports offsite online storages for your backups. To start Magento cloud backup just synchronize offsite storages with your computer and that's it! Now you'll be constantly receiving updated backup files on every computer you need.
The module supports
AmazonS3 Storage;
Box.com Storage;
Google Drive.
Old backup files deletion
You can remove outdated backup Magento files either with the Rotation or with the Old files option. The former deletes old files after the number of backups exceeds the set number. The latter removes old backups after a particular time period. It's also possible to choose whether to completely delete old backup Magento database or remove only the backup record, but keep all the backup files.
Choose the type of files deletion;
Delete files completely or partially;
Use flexible deleting settings.
Other Features
100% Open Source — Easy To Customize
Follows Magento Code Architecture
Separated HTML/CSS/JS
Simple installation via Composer
* The name "Magento" and the logo are the trademarks of Magento, Inc.
dropbox tutorial
Extension is excellent
Please update dropbox tutorial.
A good solution for the need
We needed offsite backups - and this is the best. The challenge with this extension is the configuration with your third-party cloud provider. Amazon and Google's interfaces are developed by engineers, for engineers (Amazon being the worst). I finally got my Google Drive configured - but it GOOGLE complained a lot about the URL the app wanted to connect from. If you're a novice to Cloud storage and automation, I have to imaging Dropbox is going to be the easiest. The manual could use some clarification on a few things (WHICH cron feature is what) - and why you'd want to chunk-out the file - if at all. In the end, (and once my cron was working with Magento's 1.9.2.2 update forcing cron.sh be employed) this Extension fired-off last night at 2am, and in 36 minutes had my entire site backed-up to a Google Drive - and will do so every night going forward. I'm a happy camper.
Difficult to configure
It appeared to be a not easy-to-configure plugin. Not only it refused working out of the box, but actually it was difficult to properly set up according to the manual. I'd suggested the developers to make the navigation more intuitive. This will reduce the number of support requests as well. If there were a separate rating for support - I'd give them 5 stars, but the extension is not so perfect.
High quality
Ideal to store my data in amazon. I've been running this module for 6 months - and not a single issue appeared since than. The support is also very professional and helpful, so, I highly recommend this module and this merchant to everyone.
Expensive tool and services
When I needed support, I was told that I had to pay to prolong my support and updates subscription. Not only the module is rather pricey, it requires constant investments, too sad...

The module itself is not bad and I'm quite satisfied with it though...
Works nice
Actually, I was hesitating whether to install this very extension, as other developers offer similar tools with similar options. Finally, I've chosen this one. Should admit, I'd hardly cope with all these settings without the support assistance.

I've running it only for 2 weeks, so it's difficult to make any conclusions, but at the moment I have nothing to pick at.
does what it says
It is a very good extension. Works without mistakes, you can set up everything and it will be working by itself.
Once I had a trouble when I saved backup files into the folder where Magento stores its backup, but my mistake was explained by support, even though it was my mistake.
Not 5 stars, but 4, just because I also would like to see a fast restore feature... Don't know if that possible though.
a must have
I worked on several Magento projects and always suggest the owners to install his extension from the very beginning to provide backup. It works with relatively big databases without hesitation. You just need to set everything up once and all the backup process is fully automated. Nice product.
Write Your Own Review
Version 2.1.0
-
November 29, 2017
– Dropbox support is temporary disabled
Version 2.0.9
-
February 09, 2015
– Separate CRON job file to run backup without Magento initialisation
Version 0.1.0
-
December 01, 2014
– Tested with the latest Magento CE 1.9.0.1 release