Screenshots:
Show configurable product options in a handy matrix
Enrich your color swatches functionality with an easy-to-use Product Matrix extension. Automatically generate a special matrix form which displays all available simple options of a configurable product. Thus, letting wholesalers add to cart multiple child products in one go. Hide out of stock items, display old prices and choose the products for which the matrix should be generated.
Display matrix based on product attributes
The product matrix tool for Magento automatically creates a handy table based on the last product attribute. Due to the option, customers can instantly add multiple child products to cart in a couple of clicks. To show the matrix for a particular attribute simply change your attributes order by placing the necessary attribute last.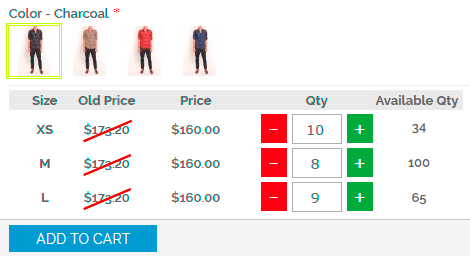 Hide out of stock products
Remove all out of stock product configurations from the matrix to let visitors see only relevant information. This way you'll significantly improve customer shopping experience and raise their satisfaction.
Add 'Old Price' column
If you offer products with discounts and want to draw customers' attention to a bargain price, include old prices in the matrix to highlight the difference between old and discounted prices.
Show matrix for specific products
With the Magento product matrix extension you can show a special table either for all or for specific products to effectively regulate the matrix display.
Display available amount of products
To engage customers even more, you can display the amount of available inventory. Hurry up shoppers and let them knoe that the product is popular and much-in-demand.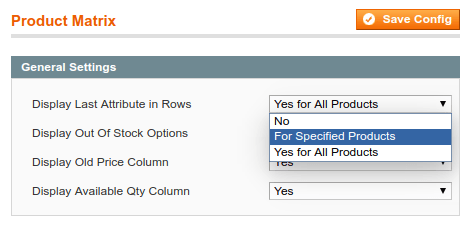 Expand Color Swatches Pro functionality
The module perfectly works with the
Color Swatches Pro
extension and lets you exploit swatches functionality to the full.
Other Features
100% Open Source — Easy To Customize
Follows Magento Code Architecture
Separated HTML/CSS/JS
Simple installation via Composer
* The name "Magento" and the logo are the trademarks of Magento, Inc.
Version 1.0.4
-
March 06, 2018
– Fixed an issue with the product can not be added to the cart from the wish list
Version 1.0.3
-
December 01, 2017
– Added the Display Available Qty Column setting
– Fixed an issue with the incorrect qty for the out of stock products
Version 1.0.2
-
October 13, 2017
– Minor fixes
Version 1.0.1
-
September 27, 2017
– The "Qty available" column was added