Screenshots:
Increase customers' satisfaction
Overwhelming majority of free gift receivers admit that they are more likely to buy products in a certain online store after getting a free gift. Therefore, when receiving free promo items customers get significantly satisfied and the effectiveness of your promo campaigns rises. This is an easy and very effective way to increase clients' loyalty and prepare fertile ground for future revenue boost.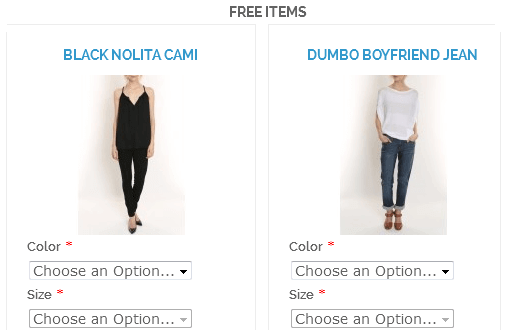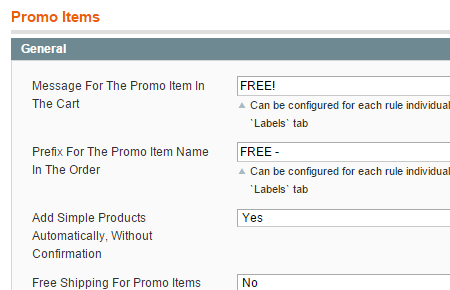 Create tempting promotions with free gifts and discount products. Inform customers about promotions with popups and catchy banners.
Let customers know they get products for FREE
While customers tend to ignore irritating traditional ads, promotional products are much more difficult to miss. Unlike TV commercials or magazine ads, free product samples seem to be a more credible promotional tool allowing clients try items in real life. By creating catchy messages for free items visible on the cart page, you clearly indicate that customers get a FREE gift, which is obviously a nice surprise for them.
Offer customers configurable products as free gift
If you choose a configurable product as a free gift, customers will be able to select product attributes or required custom options which are displayed on a handy pop-up window in the cart. Besides, the extension supports bundle products.
Choose whether to use free or paid shipping for promo items
Admin is able to set up whether the promo items will shipped for free or not. This is vitally important in case of delivering heavy-weight or dimensional goods.
Virtual products support
All online merchants selling virtual products have a great chance to create tempting promotions with the Free Gift extension. The module fully supports virtual products enabling you offer them as free gifts.
Responsive Magento themes support
The extension is designed to be fully compatible with responsive Magento themes. It meets the requirements of widescreen, tablet and mobile view.
Specify whether to add multiple promo items to cart or only one product
In case you use these actions:
Auto add promo products for the whole cart;
Auto add promo items with products;
you can choose whether to automatically add all specified free items to cart or let customers select only one item.
Downloadable products support
Software, e-books, images, music or video – any type of content that can be packaged into files and downloaded now can be offered to the customers as a free gift.
Automatically add downloadable items
Now you can automatically add downloadable products to cart as free gifts without asking for customer confirmation.
Advanced tax calculation for promo items
Easily enable/disable tax calculation for promo products that are offered with discounts to set tax policy according to your specific needs.
Unique prefixes for each promo rule
Now you can specify unoque promo items prefixes displayed for orders in the admin panel. With the option you can create a separate prefix for each particular rule.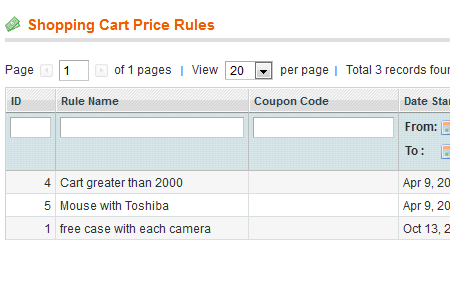 Draw customers' attention to particular products
Easily adjust flexible rules to your needs to promote new products by letting customers try them for free. You can also raise popularity of certain products by automatically adding them to cart. This will help you effectively regulate the sales of particular products and unload your stock.
Promote new products
Raise sales rate of less popular items
Manage your stock inventory
Form customers' loyalty
This Magento free gift extension allows you to provide clients with numerous gifts in one order. Create unlimited number of rules per shopping cart and amaze your clients with numerous free promo items automatically added to their carts in case customers meet the conditions of several promotions at once.
Easily adjust flexible rules to your needs
Enable numerous gifts in one order
Build customers loyalty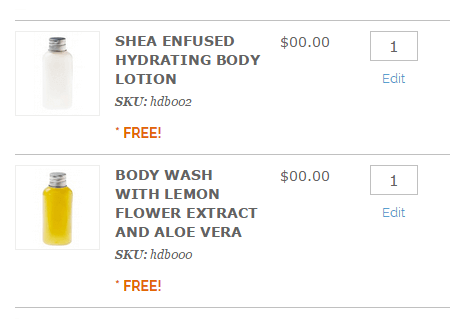 Offer promo items with discounts
Now you can offer not only free promo items, but the items with discounts as well. Flexible extension settings allow you to easily specify the discount type and amount and display both prices (original and promo price) on the shopping cart page and in the popup.
Display Popup on Checkout Page
The option allows you to offer free gifts to your customers not only at the Shopping Cart page but also during the checkout process. With this option you get an additional opportunity to give your customers a positive shopping experience and increase loyalty.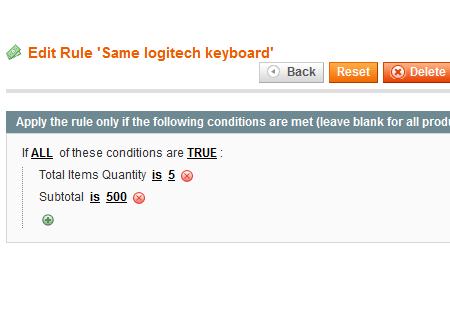 Take advantage of tempting promotions
Create various types of promotions based on subtotal, product quantity and other cart attributes to encourage visitors add more products to cart. For example: 'Free mug for orders of 4 or more products'. Set promotions based on:
Cart subtotal
Total items quantity
Total weight
Payment method
Shipping method
Shipping region
Stimulate customers to buy more
With Magento free gift product extension you get 4 new discount rules, which provide customers with free items either per shopping cart or per product/product group level. It gives you the opportunity to:
Regulate the number of promo items added to cart with each product
Automatically add to cart the same items as customer places to cart
Automatically add gifts for every $X amount spent (For instance, you can set a rule so that a customer will get a free T-shirt for every $500 spent. It means that if the cart subtotal equals to $1000 – the customer will get 2 T-shirts (one for each $500 spent).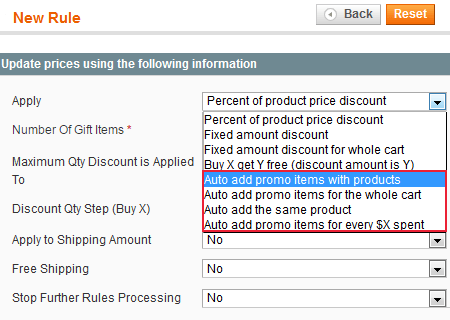 Avoid doubling of the bonuses
Some products may be used in promo rules and as a part of free gift conditions at the same time. You can enable the option to apply only promo rules. For instance, according to a promo rule, customers buy a bag and get a mug for free. With the option enabled, if customers get a bag for free, they will not have a mug as a free gift.
More Advanced Settings for the Rules
More detailed settings available for the rule "Auto add promo items for every $X spent". For $X value, you can add taxes in calculations. You can also use your web store or base currency to calculate row subtotal.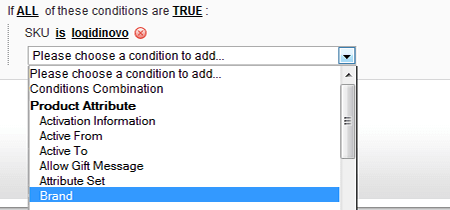 Wisely manage your budget
It is not a secret the magic power of the word 'Free' is great, and customers will rather choose to get a free 10$ gift than a 15$ discount. Thus, providing customers with free gift with purchse is not only beneficial for your brand awareness, but for your budget as well.
Set particular brands and products as promo items
Regulate the number of promo items per shopping cart
Show clear way how to get promo items
Let your clients know what they should do in order to get a Magento free gift or an item with a discount. Now with the help of catchy banners and labels placed on product pages it will be impossible to miss any promo offer.
Use promo banners placed either on top of the page or above 'Add to Cart' button
Specify additional text and display it together with banners or instead of them
Display the list of promo items right on the product page

new!

Allow or deny auto adding gifts for admin orders
Show promo banners either basing on a current product added to cart or on the whole shopping cart

new!

Enable Promo Banners for each role separetely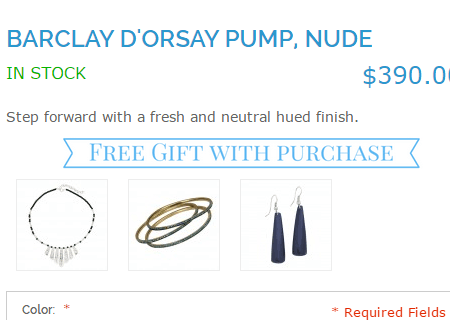 Find more ways to increase customers' satisfaction
Use store credits as gifts
If you have the Store Credit extension from Amasty, you can combine the functionality of both modules and present store credits as gifts for your customers. It's a good way to increase clients' loyalty and motivate them to return to your store for new purchases and pleasant bonuses.
Other Features
100% Open Source — Easy To Customize
Follows Magento Code Architecture
Separated HTML/CSS/JS
W3C Validated Code
* The name "Magento" and the logo are the trademarks of Magento, Inc.
Worthy extension
I love this extension. I wanted to let my customers choose from a few free products as my shop caters for men and women, so they should be able to choose relevant gifts.
The module worked awesome for this.
However, I emailed support with a few suggestions and they answered me only a week later. I wish they did it faster.
Little module - big deals!
Customers do like discounts but free items they like even more that's true. We've just fall in love with this little module - just set the conditions and voila! Shoppers are happy to get free gifts we are happy to provide them with presents without any additional effort applied.
Boosts our conversions
Yep, customers have started buy more since we activated the plugin. We are totally satisfied with the results and hope to double our conversions by Christmas.
It really works :)
Our customers were really amazed when noticed they could get more than one free promo item per shopping cart. This feature seems to really work, as the sales rate of products involved in promotional deals are rapidly growing!
Must have module!
You know, guys? That's just what I've been looking for on Christmas Eve! As soon as all stores start their holiday sales, we also want to surprise our customers with nice gifts. Thanks to this module we've already launched some free items campaigns and have got a lot of positive reviews. Well done, Amasty :)

P.S. Now we know for sure how to quickly unload our stock :)
Write Your Own Review
Version 2.6.0
-
September 29, 2017
– New: Stock Qty and Product Weight attributes are now available to use in Conditions
– Improved compatibility with Special Promotions and One Step Checkout extensions
– Tax\VAT calculation improved
– Number of minor fixes
Version 2.5.2
-
August 07, 2017
– Older Magento versions compatibility improved
Version 2.5.1
-
July 11, 2017
– New option: apply next based rules on gifts added with the current rule or not
– Internal improvements for products with custom options
Version 2.5.0
-
June 27, 2017
– New feature: show gift on cart inside page block. Now you are able to set up show gifts in pop-up or on the cart page
– Fixed bug when try to create rule with valid Promo Items Discount value
Version 2.4.5
-
June 13, 2017
– "Skip if special price" logic was fixed
Version 2.4.4
-
June 12, 2017
– Stability improvements
Version 2.4.3
-
June 01, 2017
– Minor fixes
Version 2.4.2
-
May 18, 2017
– Banners logic was simplified
Version 2.4.1
-
March 15, 2017
– Field renaming for better understanding of rule's setting. I.e. for some rules the setting "Discount Amount" is renamed to "Number of gift items".
Version 2.4.0
-
February 27, 2017
– New feature to enable/disable Promo Banners for each rule separately
– Now ignores spaces when filling in "Promo Items" field with SKUs
– Now final (discounted) price is taken into consideration, when filtering products on category pages
– Fix for incorrect calculation for "Calculate Tax For Promo Items" in general settings
– Fix for grand total incorrect calculation when in Promo Item Price tab the value of Promo Items Discount is bigger than the price of free gift item
– Fix for error on getting gift when in Promo Item Discount field the value is set with characters other than numbers
– Fix for incorrect banner activation on product page (Validate condition based on = Cart) when product does not satisfy rule conditions
– Fix for automatic pop-up opening didn't work with empty value in Select Promo Block (System -> Configuration -> Promo items -> Popup)
– Fix for notification on successful adding of free gift on product page after page reload
– Fix for products that are "out of stock" or "disabled" could be shown on banner
– Fix for Store View was no taken into account when creating order from Admin panel
– Fix for Free gift was given with activated setting "Do not Offer Promos for Products with Special Price = Yes"
– Show reminder if gift is "out of stock"
– Fix for gift item was added automatically if this item is not free
– Added extra free gifts if bundle product is added through admin panel
– Fix for label "Prefix For The Promo Item Name In The Order" wasn't added when adding item by admin panel
– free gift is given for bundle product with special price and activated setting "Do not Offer Promos for Products with Special Price = Yes"
Version 2.3.14
-
December 07, 2016
– Fix for banner bug, in case when first child product in configurable was out of stock
– Added ability to include/exclude tax, and calculation is now based on store/base currency for rule "Auto Add Promo Items for every $X spent"
–Fix for missed CSS file path
Version 2.3.13
-
November 14, 2016
– Correct handling of tax
Version 2.3.12
-
October 18, 2016
– Added hints for attributes usage
– Added warnings about possible wrong configuration
Version 2.3.11
-
September 19, 2016
– Now it is possible to add Store Credits as a gift, if the Amasty Store Credit extension is installed.
Version 2.3.10
-
September 12, 2016
– Allow/deny auto adding gifts for admin orders
– JS minification fix
Version 2.3.9
-
August 17, 2016
– Minor fix for generating URL for cart update page
Version 2.3.8
-
August 11, 2016
– New option: Add Downloadable Products Automatically
Version 2.3.7
-
August 04, 2016
– Option to show banners from all matched rules or show one banner only.
– Minor fixes
Version 2.3.5
-
August 01, 2016
– Fixed auto-adding gifts when customer removes main product from the cart multiple times.
Version 2.3.4
-
July 29, 2016
– New setting added. How to validate rules - for the current product only or for the whole shopping cart.
Version 2.3.3
-
July 28, 2016
– 3-d party checkout extension compatibility
Version 2.3.2
-
July 26, 2016
– Fixed banners display when the free gift is out of stock
Version 2.3.1
-
July 13, 2016
– Option to show offers based on current product only or whole shopping cart content
Version 2.3.0
-
July 01, 2016
– Tax calculation for not free promo items
– Option to set prefix for the promo items per each rule (previously it was a global setting)
– Stability improvements
Version 2.2.11
-
May 11, 2016
– PHP 7 compatibility and minor improvements
Version 2.2.10
-
March 09, 2016
– Minor improvements
Version 2.2.9
-
January 18, 2016
– Compatibility with Magento EE Gift Cards and stability improvements
Version 2.2.7
-
November 27, 2015
– Now it is possible to reward customer for each $X spent with conditions (previously the module took into account all products)
– Small stability improvements
Version 2.2.5
-
November 13, 2015
– Fix for discount on invoice
Version 2.2.4
-
October 20, 2015
– Downloadable products support
Version 2.2.2
-
October 07, 2015
– Show "Banners tab" for 'Auto add with products' and 'Auto Add the same product' actions only
– Minor improvements
Version 2.2.0
-
September 22, 2015
– Option to automatically add free items as well as items with discount
– Ability to show gifts on product page
– Ability to show labels and banners to highlight products with gifts
Version 2.1.0
-
August 25, 2015
– Add store view selector to shopping cart rules
– New setting "Show Popup on Checkout Page"
– Better Full Page Cache compatibility
Version 2.0.9
-
June 11, 2015
– Setting to open free item popup automatically on shopping cart page
– Compatibility with Full Page Cache
– Popup window now works on mobile devices
– Fixed reorder for orders with free gifts
Version 2.0.8
-
May 12, 2015
– New action: Auto add gifts for every $X amount spent
Version 2.0.7
-
April 08, 2015
– Option to disable error notifications when you add main products to the cart, but there is no free gift available in the stock.
Version 2.0.6
-
March 13, 2015
– Url placeholder in notification text
– Add session message only for non-ajax requests
– Magento 1.4.1 compatibility fix
– Minor fix related to required options