Take product tags over total control
The Import Product Tags module offers a list of brand new features enabling online merchants easily import and export cloud tags as well as create informative SEO- and user-friendly urls. Equipped with the advanced tag manager one can fill store pages with relevant product tags, and create clear urls to win Google's appreciation.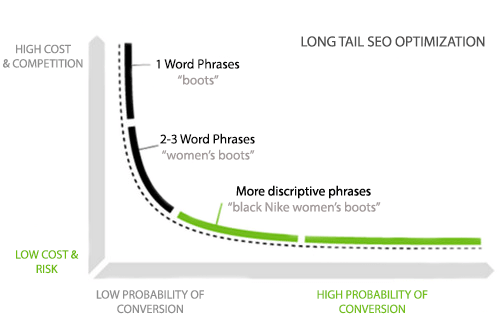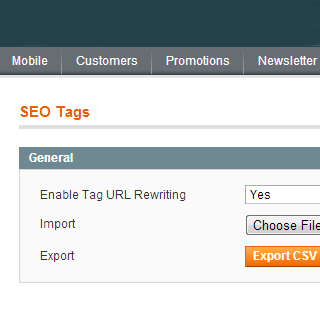 Enjoy quick import and export of tags
Default Magento functionality doesn't allow admin users to add new product tags to the tag cloud themselves. They can only moderate the ones offered by customers. Import Product Tags enables admin to easily import and export the list of all necessary Magento product tags in CSV format just in a few clicks. Now, using appropriate tags, you can optimize your pages for long tail search requests, thus visibly boosting your site traffic.
Create the cloud of Magento product tags according to your needs
Draw massive traffic to your store
Easily import/export tags in bulk
Generate SEO-friendly URLs
Short, but comprehensive urls make your online store attractive not only to customers, but to search engines as well. Due to this Magento tags manager it's possible to create pretty short urls containing just relevant info that is easy to perceive and to share with others. Moreover, you'll significantly improve your SEO rankings by generating urls, corresponding to popular search requests.
Generate attractive URLs
Improve you store rankings
Make store more SEO-friendly
SEO optimization is not just about top positions in search results. It's also about SEO-friendly navigation, attractive short urls, relevant Magento tags and many other aspects. That's why SEO activities presuppose a rich set of additional tools to be installed.
Other Features
100% Open Source — Easy To Customize
Follows Magento Code Architecture
Separated HTML/CSS/JS
Simple installation via Composer
* The name "Magento" and the logo are the trademarks of Magento, Inc.
Handy and easy to use
Managing product tags with the help of this module is just a piece of cake. All I needed to get a huge work done was simply a CSV file. I'm running a multistore with multi language option; so when it came to adding tags for all store views, I've just exported tags from one store - translated them - and imported to another store. Nice and simple. Totally recommend the tool.
Good tool when you make it work
The main idea of tags is to organize products better and improve customer navigation. Every so often I revise all product tags, change some of them, add synonyms or translations. I'm trying to make the store more seo-friendly and user-oriented each time I review the tags. Sticking to this approach was quite time-consuming, before I have found the tool to manage tags properly. Just 4 stars because the installation wasn't smooth and gave me a couple of tough hours.
Good extension but also need to be improved
I bought this extension a week ago, it works very well for my magento 1.9.2.4. It really makes the product tags url seo friendly now.
But the title, meta description for tags page are not seo. It will be perfect if there is an option to customize the meta title/description for tags page, especially for tags list page...
Good mod for reasonable price
I found this addon via Google search and must ad mit that it's a cool thing - I can add product tags manually! Yes, it really works, and I hope due to this feature visitors will be able to find relevant products much faster.
The installation passed without any issues, besides I liked quick work of support guys who helped me to configure the extension.
Write Your Own Review
Version 1.0.9
-
December 26, 2017
– Added the ability to import tags without the associated customer
Version 1.0.8
-
February 09, 2017
– Fix for URLs on a tag page (product list by tag) in case when using URL rewrites
Version 1.0.7
-
January 10, 2017
– Fixed CSV import (columns, empty lines)
Version 1.0.6
-
November 16, 2016
– Fix for columns order on the import
Version 1.0.5
-
December 24, 2015
– Fix for SQL query syntax error
Version 1.0.4
-
December 09, 2015
– Minor bugfix: using table prefix for 1 missed query
Version 1.0.2
-
November 05, 2015
– Admin routing patch (SUPEE-6788) compatibility