Easy way to boost sales
No one will argue that well thought-out product visualization is a much more powerful marketing tool than plain descriptions. Indeed, quality images speak louder than words. Therefore, by providing customers with the possibility to carefully examine products from different angles before adding them to cart, you will significantly boost your conversions and cut down the number of product returns.
Due to the Magento photo gallery extension merchants can create catchy photo galleries just in a few clicks. The feature-rich module offers a number of advanced options that will definitely improve your product pages performance and make them more user-friendly. Now customers can browse product thumbnails, full-sized pictures and enjoy watching Magento product images slide shows to get more information about the products they are going to purchase.
Assign pictures to different albums;
Take advantage of multiupload option;
Place product photo gallery on separate pages;
Let customers upload/ remove product images;
Link albums to particular products;
Use SEO-friendly URLs;
Specify meta data for albums and pictures;
Let customers review uploaded pictures;
Flexible album settings
Adjust album settings to your specific needs
Flexible extension functionality will help you quickly specify the settings for each particular Magento photo album for better site performance and page optimization:
Assign albums to particular products;
Specify unique URL key;
Hide albums from certain customer groups;
Choose the store for album's display;
Specify full and short descriptions;
Add meta keywords and descriptions;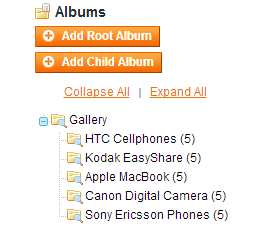 Multilevel album structure
With the Magento image gallery extension you can create as many photo albums as you need. The multilevel structure enables you quickly add new albums without spending hours on specifying numerous flexible album settings.
Simply create one Root album with all necessary settings adjusted to your needs and voila! All child albums will inherit the necessary settings from the parent album. You can also specify all settings for each child album manually.
Advanced display settings
Numerous options will help you easily fine tune albums display.
Specify:
Display mode and order - for elements displayed on album page;
Album view page settings - information that will be displayed on the album page;
Photo view page settings- information displayed on the image page;
Photo listing settings - the settings for album image list display;
Custom design settings - choose the layout to be used for album pages (1 column, 2 columns etc.);
Image size settings - the settings for album image sizes and child image sizes;
Advanced image options

Multiupload option
Multiupload feature will reduce the time spent on adding numerous pictures to your Magento media gallery and assigning them to different albums.
You can upload multiple pictures in the following ways:
Upload package file (ZIP archive containing images) from your computer;
Create from directory - images will be taken from the folder on your server indicated in "Directory';
NOTE! Some servers may have limitation on operation time, so you have to pay careful attention to the uploaded image sizes and amount.
Quick image management
Magento media gallery extension will also enable you easily:
Sort images by different parameters;
Set image display order within album;
Change image status (enable/disable);
Remove images;
Easy-to-set image options
The image options list includes settings almost identical to the album settings. While editing pictures you can:
Assign images to different albums;
Specify unique URL key;
Show images to particular customer groups;
Display images only for particular store view;
Specify full and short descriptions;
Specify meta keywords and description for the photo view page;
Take advantage of customer generated content
Add visual testimonials to product pages
Let authorized customers easily upload, edit and remove the pictures they upload. In case a customer uploads the image from a particular product page this image will be automatically assigned to the corresponding product. Due to this advanced Magento image gallery tool you get a great opportunity to increase customers' loyalty and push up your sales as shoppers always tend to trust "real life" pictures more.
Let customers speak up their mind
Enable store visitors review your product images. With a customer review feature you will not only increase your store reliability in customers' eyes, but get priceless customers' feedback that can be used to improve your products and services' quality.
More options to fine tune your albums
Support of different store views;
Set the date of album renewal;
Thumbnail optimization for quick site loading;
Easily customize extension with separated HTML/CSS;
Set albums' order on the frontend;
Configure breadcrumbs;
Start a slideshow automatically;
Copy images and move them from one album to another right from the backend image grid;
Other Features
100% Open Source — Easy To Customize
Follows Magento Code Architecture
Separated HTML/CSS/JS
Simple installation via Composer
* The name "Magento" and the logo are the trademarks of Magento, Inc.
well thought out
Many handy options like thumbnails size which shows that the extension on the whole is well thought out.
I had a few complications while trying to introduce Photo Gallery to my custom theme but my developer managed to solve them, so I didn't need to contact Amasty support.
Nice photo management tool
Useful plugin if you are really determined to keep all your photos and images perfectly ordered. It may seem really frustrating at first sight. The module has lots of options and possibilities, it takes some time to figure it all out and set up in a proper way.
When managers understood all the intricacies, things got faster. Anyway, this tree album structure, creating urls, assigning albums to products, etc. are rather difficult. We had to contact support and ask a lot of questions. The techs were really helpful. They clarified all tricky moments, and checked the set up for us.
Now when the plugin is running, it saves time and provides nice-looking galleries. But I have to mention that module should be better documented, more detailed instructions are needed. Be ready to quickly contact support or put some effort in getting this thing to work.

Worth every dollar
I have over 2000 of product pics, and managing them was always a nightmare. It's a very boring and time-consuming task. Managers just went nuts. This module required us to make a huge work only once: planning general structure of product galleries, choosing keywords and that sort of things kept us busy for a while. Now managing photos is very easy for both, customers and staff.
Also the module is very customer-oriented. They said it helps to increase customers' loyalty, and so it does! Buyers browse through the gallery longer now, some upload their own product pictures to share experience.
We had to get a few adjustments made but still happy with the module.
You need some time to discover all features the module offers
Installed the module about a month ago. You know, its functionality is awesome! Although it took us a couple of days to fine tune all its endless settings (as the demo isn't available yet), but now we spend less time on photo editing.
Tree album structure is a cherry on top of the cake - it helped us get away with monotonous album management. When you sell apparel – no product without a decent image is purchased, therefore this feature-rich app really made our life easier.
JuneJan,
Magento Connect
nice but hard to set up
The most powerful side of this extension is also a headache. On the one hand it has lots of settings so the galleries look and are used exactly how you want it to be. On the other hand, it takes a couple of days to set everything up - and it looks like this: setting - I wonder how it looks when I enable it - I enable it - I go to the store and find the changes it does - decide whether I want it that way - repeat, repeat. Or find the combination you need.
So thanks to very patient Amasty support - I'm not a Magento developer so sometimes I may ask questions that appear to be stupid to most of the skilled Magento users.

Write Your Own Review
Backend
you'll be logged in automatically
Version 1.2.6
-
November 30, 2016
– Fix for redirecting to gallery page
Version 1.2.4
-
June 09, 2016
– Compatibility with Full Page Cache improved
Version 1.2.3
-
March 20, 2016
– Minor improvement