Optimization Service
for Magento 2
Place your website at the top of Google rating and drive more traffic to your store. Get remarkable store performance with the high-level Magento 2 code and images optimization by Amasty service. We provide:
Search engine rankings boost
Minimal page loading time
Flawless webstore performance
Page speed improvement
Reduced load on the server
Mobile view optimization
Challenge
Page speed and loading time is a decisive moment before making a purchase. According to the statistics, about 60% of visitors will leave your webstore and jump to the competitors if the page doesn't load in 5 seconds. Each one-second delay reduces the number of views by an average of 12%. Another crucial criterion is search ranking position, as the majority of visitors get to your website via search engines. If your position is too low, your potential revenue losses may become significant.
Solution
To prevent the loss of customers and get a higher ranking position, your store must have a highly optimized structure. JS, CSS and HTML code optimization, images lightning and improved loading strategies can be successfully implemented with the help of our Google Page Speed Optimizer extension. But if your store requires an individual approach, Amasty service is here to help. We also help clients whose server capacity is not high enough. As a part of the service, we perform optimization on our server to keep your site stable.
How will you benefit from an optimized store?
Drive more traffic due to the higher position on a search results page
Get more conversions and reduce bounce rate with extra fast page rendering
Build loyalty by providing customers with the minimum loading time
Boost conversions with flawless
store performance
The main goal of Magento 2 Optimization Service is to provide extremely fast and stable store pages performance. Within the service, Amasty team finds an individual solution according to your site architecture. We select and customize the most suitable strategies and methods to achieve:
Images compression without server load: extremely useful for servers with low capacity and shared hostings, as we use our server for optimizing images


Advanced code optimization: custom merging, minifying and bundling, tailored to your store


Fully automated process: optimization proceeds remotely and does not affect store performance at the moment


No errors and data loss: the optimization is performed by certified PHP engineers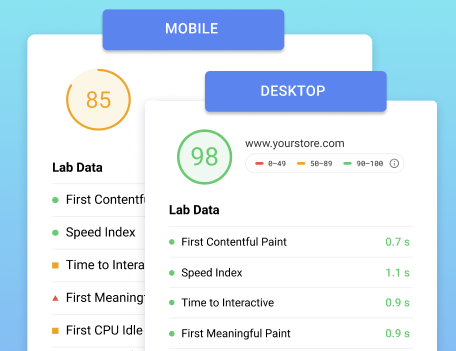 Optimization of the Code Structure
Code Minifying
Optimization service reduces the Magento 2 code by 10-20%.
It includes JS, HTML and CSS code compression without any impact on the content. It excludes extra line breaks, whitespaces, block delimiters and comments so that a web browser could process the content faster.
JS/CSS Merging
Code compression algorithm puts all external JS and CSS files into a single file. This file is cached, and a browser will not load the same file twice. This structure reduces the number of generated queries and, as a result, speeds up page loading.
JS Bundling
Due to advanced JS bundling options, all JS files are combined into a few bundles. After downloading these bundles for each page, the number of server requests will be reduced to the minimum. It is also possible to exclude particular pages and scripts from bundling.
JS Moving to Footer
Particular JS scripts have an enormous weight, and not all of them are necessary for the correct page rendering. Moving such render-blocking parts to the page bottom will force web browser to load more important parts first.
See the results of optimization in action!
Click the button to check Google PageSpeed Insights score of the optimized web store. See the
demo
to explore the general performance.
Optimization of the images
JPEG, PNG and GIF compression
Magento 2 site optimization service applies compression strategies suitable for you: we reduce the image size, but you can choose the preferable JPEG image quality to save (80, 90
or 100%). The weight of GIF and PNG media files is reduced
by up to 67% without noticeable quality loss.
WebP format converting
WebP format is a great solution to improve site performance
as its weight is 26% smaller than that of PNG files. With the WebP tool package, we make smaller in size WebP copies of
all your images to save space on your server and cut down
the loading time.
Automatic resizing
To adjust image display on mobiles and tablets, two strategies are possible: crop or resize. If an image is cropped, a part of the image is cut. If you choose to resize, image proportions will be saved, but the resolution will become smaller. Amasty team applies the one that suits your web store better.
Resolution adjustments
As the high resolution of images is not critical for mobile and tablet shopping, the service includes the creation of images in smaller resolutions to deliver the content faster and improve the customer shopping experience. It positively affects Google rank as well.
Other Features
100% Open Source — Easy To Customize
Follows Magento Code Architecture
Separated HTML/CSS/JS
Simple installation via Composer
* The name "Magento" and the logo are the trademarks of Magento, Inc.