Reports for Free Gift (Add-On)
for Magento 2
See the efficiency of your promo campaigns in one click with Reports for Free Gift for Magento 2 add-on. Get actionable insights on how special offers impact sales to timely manage your marketing strategy and save money.
Get a full overview of promotion effectiveness
on a handy dashboard
See detailed reports on sales with/without rules
Know the exact number of promo items per order
Use only as an add-on to Free Gift extension
Challenge
To build a successful shop that generates stable income, a business owner applies various marketing techniques to stimulate sales. But with Magento 2, it is challenging to track the direct impact of promotions on sales. Without knowing
how much revenue was generated from a certain promo campaign, a store owner might spend lots of money on inefficient offers that don't grow sales.
Solution
With Reports for Free Gift add-on, store admins can easily gather all necessary information for promotion effectiveness analytics. This way, you can timely notice changes in the way customers use special deals, and modify your strategy without revenue losses. The module provides admins with a detailed breakdown of promotion effectiveness. Learn more about the direct impact of your promos with easy reports.
What benefits do you get for your store
Know how your rules perform with easy-to-use free gifts reports
Save big money by timely adjusting unprofitable promotions
See in one click the impact promotions make on your store
Get powerful insights into rules' performance
Know how your promotions impact sales in a glance! The Reports for Free Gift add-on provides admins with easy-to-understand graphics and automatically compares the average value of check with rules, to checks without rules applied. Now you can carefully perform the promotion effectiveness analysis without spending lots of time to check orders and other data.
Manage gift items stock based on reports data
The add-on allows gathering highly useful insights for you to have full control over your business. For example, if you see that some rules result in significant revenue growth, you might want to restock the gift items. Smart reports help to precisely calculate the stock amount based on an average number of promo items per order. In case rule leads to unprofitable deals, simply abort the rule or twist the settings for better results.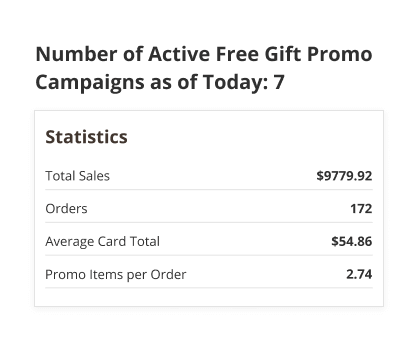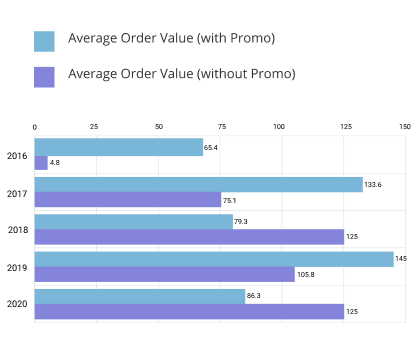 Measure how promotions influence your business
On a dashboard created by Reports for Free Gift add-on, store owners can easily overview how their special offers perform. See a full breakdown by periods to know exactly how many orders were placed, and how many promo items per order you gave away. Also, you can now get vivid proof of how free gift campaigns impact your average cart totals.
Receive the most up-to-date reports
Get cart price rules performance data for any given combination of store view, customer group and time span. Just in one click, the Reports add-on equips you with accurate stats on the performance of your free gifts offerings. It works even for large shops with huge product catalogues and lots of orders. This way, you can receive valuable information on what customer groups and store views are the most engaged with your promotions.
Boost the revenue with smart promotions
The add-on works only with Free Gift for Magento 2 extension. Increase average order value and increase customers satisfaction by letting shoppers select a free gift among available promo items.
Other Features
100% Open Source — Easy To Customize
Follows Magento Code Architecture
Separated HTML/CSS/JS
Simple installation via Composer
* The name "Magento" and the logo are the trademarks of Magento, Inc.
Good extension and support
I have purchased Reports Add-on. First of all, it was clear but then I faced some difficulties with updating the statistics. Amasty support helped with my issue fast, so I am satisfied and can recommend it to others
Are you looking to add specific functionality for this extension or want to acquire a reliable development partner altogether? With custom development services by Amasty, you will receive high quality and cost-effective solutions developed by Magento professionals according to industry's best practices.
2.3.6, 2.3.6-p1, 2.4.0-p1, 2.4.1, 2.4.1-p1, 2.4.2
You can always download the recent version free of charge from your account
Installing an upgrade is easy — check now
My Downloads
Version 1.0.1
Last Update: Feb 19, 2020
Fix we solved the problem with incorrect calculating Average Card Total without promo