One Step Checkout

|

v3.1.3
Screenshots:
It's not a secret that a short and clear way from product pages to the checkout greatly improves customers' satisfaction. According to GetElastic.com research, one-page checkout boosts the sales rate by almost 22% leaving multi-step checkout numbers far behind. Thus, simple alterations to the check-out process that make it less time-consuming will significantly increase the number of sales via your website.
Take this little step to get huge enhancements
Whole checkout process on a single page
All 6 standard Magento checkout steps now on 1 page! Also you can choose layout for the checkout page – 1, 2 or 3-column one. Make Magento one page checkout correspond to its name.
Google Address auto suggestions
The extension has an integration with Google Address Suggest. Registered and guest customers can easily and properly set their location in the first address line with Google auto suggestions. When customers choose a needed location in a drop-down, other location-related fields (State, Zip, etc) are filled automatically.
Auto Log to hasten checkout
There is a new Auto Log field below the header on the checkout page. By your email, it automatically defines whether you are already registered or not. The login process, either it is succeful or failed, doesn't demand reloading of the page. As well as email address checking.
High checkout page performance
With the significant performance improvement customers can see the checkout page faster. Now particular checkout sections are instantly reloaded while other sections can be loaded later by request with AJAX. Therefore, there is no more need to wait for the full page reload each time customers insert data in a particular section.
Responsive design for mobile devices
Get a step closer to customers and amaze them with a new catchy responsible design available on mobile devices. Let visitors easily complete their purchases while on the go.
Configurable checkout page heading and title
Get better SEO rankings by editing one of the most important elements of on-page optimization. Include main keywords in the title, heading, and description of your checkout page. Furthermore, the description field allows you to provide your customers with an important information on various issues concerning taxes (e.g. VAT) or any other payment peculiarities specific for your state.
Increase trust level to your store
In order to engender confidence to your store you need to make checkout process clear and understandable. Often people are scared by uncertainty of when money will be deducted from their account. With Magento One Page checkout extension customers will see all checkout steps on 1 page and they won't have any doubts.
Convenient One Step Checkout for guests
Don't force people to register, when they want to make a purchase. On the checkout, to purchase as a guest, a customer only needs an e-mail. A password field is shadowed, as many customers greatly dislike to sign up. There is also a handy switch to a tab for the registered users.
Intuitive checkout process for usability and user experience improvements
Following usability trends, stores adapt to users with immeasurable speed. User-friendly checkout process is the bare minimum for each store nowadays. Pave an easy way for your customers from 'Add to cart' to 'Place order'.
Make your conversion rate higher
The number of customers, who complete purchases, will increase. Thanks to clear checkout process, customers will know what to expect. Having gathered all the Magento checkout steps on one page, now you can make the shopping process as easy as it can be and immensely increase your conversions rate.
Decrease cart abandonment rate
At the end of shopping clients get tired of seeing endless "continue" buttons not knowing when they will be over. This is a frequent cause of cart abandonment and purchase refusal. Reduce such cases to the minimum with fast and easy checkout.
Don't give customers time to change their mind
The faster and easier the checkout process is, the more orders you get. Customers think a lot when they are choosing products to buy, let them rest during checkout.
Get a competitive advantage by efficiently managing the mod

Ability to rename checkout blocks
Standard checkout block names are Billing, Shipping, Shipping method, Payment, Review. Our Magento checkout extension allows you rename any of these according to your preferences. It is possible to specify an individual label for each block per store view.
Use Geo IP location
This feature enables you to detect user's country based on their IP address and automatically fill it in at checkout. Customers will be happy to enter fewer fields.
Checkout page concept based on your own preferences
With this Magento checkout module you can choose how to show checkout blocks on the page. The options are one, two or three-column view. Test which layout suits your store best: 2-column user-friendly or 3-column compact one.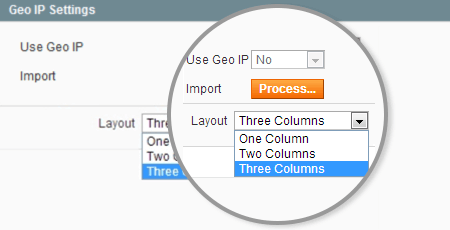 Configure the checkout process
The Magento one step checkout extension is really flexible:
Move checkout to cart page
Merge shopping cart and order review steps. Order review step pretty much copies shopping cart except there's no possibility to edit the products. You can make the review block editable and thus save space by removing the shopping cart block.
This means customers will proceed to checkout right after adding products to cart and will be able to complete it within minimum time period.
Let customers and guest visitors to subscribe to newsletter during checkout
When customers have already made the decision to purchase one of your products, they may be interested in other products, services or solutions your company offers. So, if you suggest the clients to subscribe to email newsletter during checkout they are more willingly accept your proposal than in other circumstances.
AJAX-powered features
The extension auto-updates:
Prices and totals when choosing shipping/payment method.
Shipping rates when user chooses country, zip code or region.
Payment methods when user chooses shipping method.
Add more customizable fields
Add up to three fields both in Billing and Shipping blocks. You can customize them for your particular needs: set a position and length, name a field. Moreover, it is possible to edit these fields in customer's account and admin panel. Need more custom fields? Please consider Order Attributes extension.
Set default values for country, shipping method and payment method fields
You can set default selections for country, shipping method and payment method fields. E.g. this might be useful, if you want to show by default the most common shipping method or the one which you prefer.
NOTE
Let customers apply their gift cards on the checkout page. To enable the gift card payment option you need to install the Gift Card extension.

Ability to apply settings on store view level
It is possible to specify different values for each store view. E.g. for English store view you can name checkout blocks in English and choose Royal Mail as default shipping method. For German store you can specify names of the blocks in German and set 'DHL' as default shipping method.
Advanced credit card detector
The module let's you display custom icons for all card types on the checkout page. Once a customer starts typing a credit card number, the corresponding card type will be automatically selected and highlighted. It's also possible to choose the necessary card type by clicking on the card icon. Therefore, with the card detector option you will make the whole checkout process even faster.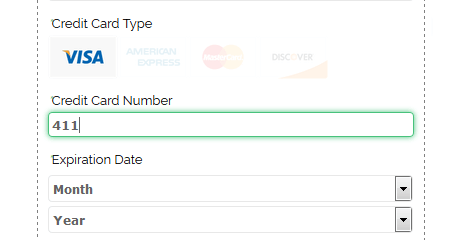 Customize fields in checkout blocks
Place fields in any order in a block

The only thing not to forget is conversion ratio, so we recommend to 'test-drive' the changes.

Rename fields

You can have a separate field name for each store view, which is very convenient for multi-language websites. Also you can play with field names, make them unusual and eye-catchy.

Add three customizable fields

Include additional fields and configure them as it is needed.
Make fields required or optional

Choose for your store, which field is required and which isn't. There should be a good balance between required and optional fields, so that customers don't get irritated and have to fill in only the info which is really necessary.

Add or delete fields

Disable unwanted fields like fax, company and more.

Adjust field size

It's up to you to decide which size each field will have.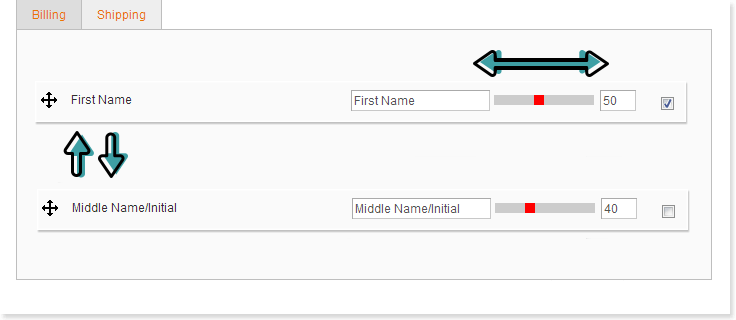 Expand sales possibilities of your checkout with additional addons!
Make shopping process even more friendly
AJAX Shopping Cart lets customers rapidly add products to cart with no useless page reloads. After adding a product to cart, users will get two options: Continue Shopping and View Cart.
Expand the functionality of checkout page
Reducing of checkout steps is one of many methods to increase sales. Improve checkout page and see actual results of these efforts.
Tools to simplify your life after getting orders
Order processing is not the thing you dream about :) However don't despair, we've developed a few tools to ease this process:
Need to manage display of shipping and payment methods? No problem!
Product questions

Is this One Step Checkout responsive?

With the extension, you won't have Magento checkout slow on mobile devices, as it's surely responsive. We understand that this is very important since many purchases happen via mobile devices.

Read the FULL answer

Can PayPal be set up as one of the payment methods?

Sure, you can use PayPal with the module as well as Braintree, SagePay, etc. Our extension supports all popular payment methods.

Read the FULL answer

Is your One Step Checkout compatible with your other modules?

Yes, it's fully compatible with our other extensions which can be used in combination to achieve great results, like Abandoned Cart Email or Order Attributes.

Read the FULL answer

Does your One Step Checkout module support address validation?

Yes, the extension makes a checkout process less time-consuming as it supports address and zip codes validation as well as geolocation, which eliminates mistaken orders. If you face any problems with that, Amasty support is always happy to help.

Read the FULL answer

Does this extension support custom CSS to change the appearance?

Yes, the extension supports custom CSS. You can also choose Magento checkout page layout.

Read the FULL answer

Can One Step Checkout design be customized for each store in a multi-store configuration?

Yes, it's possible to manage Magento checkout process customization providing each store-view is with a different design template.

Read the FULL answer
Other Features
100% Open Source — Easy To Customize
Follows Magento Code Architecture
Separated HTML/CSS/JS
W3C Validated Code
* The name "Magento" and the logo are the trademarks of Magento, Inc.
Customer Service is TOP NOCHE
Customer Service is TOP NOCHE, PRODUCTS are FLAWLESS

Thanks again for top customer service
Great Extension
This extension worked great out of the box. When we added some other extensions later and needed some help with conflicts on our site, they fixed it super fast. Highly Recommend Amasty and their products. Thanks!
Fantastic extension
Great extension that exceeded expectations. Absolutely worth the money!
Fantastic extension
Great extension that exceeded expectations. Absolutely worth the money!
Best one step checkout
This is the most useful one step check out with the excelled support from Amasty.
They send me one step checkout instead of the other one that i used didn't work with Custom Address Fields. It is very fast, easy to install.
Good design but needs improvement
The design is good but the extension needs improvement in many areas. Basic duplicate email check on the fly is missing. Shipping charges column behaves strangely when payment methods are set to specific countries.
Amazing!
This is a great extension, I've tested multiple check-out modules and this is by far the most effective, no hassle on setting it up = no time wasted.
The module works almost perfect out of the box, changed the colors and perfect!
This is a must for a Magento website, great check-out module. Good documentation, clean, by the book code and as always, great Amasty support.
Worth it's money, you'll get it back fast with this check-out module, great for conversion!
Good but pricey
I was happy to see that the extension works like charm and right out of the box. It's outstanding how a functionality of so many different pages could be combined in one checkout. And it's true that the module raises the amount of completed purchases. It's not an inexpensive module though, would be great to have it at a lower price.
Otherwise thumbs up!

Great Product & great Support
This does exactly what it says - and allows for addition of customer input fields. so that you can collect specific data fro your store - really easy installation and configuration - and GREAT support - thanks!
Great and simple product
The plugin is surprisingly easy to install manually. It's both quite straightforward and well-documented. When the module is installed the checkout process becomes a lot easier for user to understand and complete than in Magento default functionality. I'm absolutely satisfied and would give 12 stars if I could.
Cool addon
This plugin is a real time-saver for users. It provides quick and easy purchasing process, with no extra web pages.
Amasty rocks!

Finally we have what we needed
I've tried to integrate many different checkouts to my webshop, but I never felt satisfied. Always ran into some configuration issues, or unresponsive design or some other things. And in the end it all simply did not work. I heard positive opinions about Amasty, so I turned to this developer. The module did not work out of the box, guys from the support team had to do some work to make it running. It's really well thought out module that makes the checkout process friendly and simple for our customers.
We got what we want
Good extension that works exactly as described. It has really flexible options. When it's set up correctly and configured in the best way exactly for your store, it noticeable increases conversion rate. Among other advantages I should emphasize the best quality of code I have seen in Magento extensions. Highly recommend the plugin for online business.
worth every penny
I was happy to see that the extension works like charm and right out of the box. It's amazing how a functionality of so many different pages could be combined in one checkout. And it's true that the module raises the amount of completed purchases. It's not an inexpensive module, but totally worth the money. Thumbs up!
Just love it
We have reduced the number of abandoned carts in our online store thanks to this module. The most helpful feature is the possibility to join checkout page and cart page in one place.
Nice extension, outstanding service
I liked the module very much – everything is working as in demo. Additionally, I got an excellent support during the installation of the extension and while configuring some specific price options. Thanks a lot, Amasty team!
Makes the store truly user-friendly
The module considerable facilitates the checkout process and makes everything more clear and obvious, which is especially important for novice customers. The extension worked right out of the box in our store, but we still asked Amasty support specialists to make some miner adoptions. The help was promt and professional. Excellent!
Excellent extension and even better service!
The one step checkout by Amasty really enhances our checkout process! Besides that we are very happy with their excellent service!
Makes the store better
Great extension and outstanding support, thanks!
When I installed and configured the module several times but it was not working. I felt really disappointed and started to think about asking for a refund. But after I calmed down I've decided to submit a support ticket first. When support techs got access to the backend of my store, it turned out that the problem is with the third-party payment module I use. So I asked for help with this module; and after fixing the bug everything is working.
Responsive design of this module really makes the store better.
Indispensable for all online stores
Nice extension and support is second to none. The techs keep working on a problem until it is sold completely, even if it's obvious that the source of the mess is not in their code. If you are looking for a checkout extension, stop your search right here!
Simple Install, Clean Design
Works as expected, and mainly is great with other Amasty extensions. Their support is helpful and responsive (they actually gave me this extension due to us buying a different extension that works well together). Quality products, and knowing that they have a lot of great extensions that will work well together, makes them a pretty good one-stop shop.
Best onestep checkout for Magento
I tried multiple checkout extensions and this is by far the best. It is a solid checkout without any issues (I heavily tested for many glitches).
The support from Amasty is awesome, they respond fast and are quick to do everything they can to help.
I strongly recommend this checkout for your site!

Worth each dollar we paid for it!
There are tons of checkout extensions out there. And it took us a lot of time to look through numerous controversial reviews before we made our mind to install this one. Should admit I was pleasantly surprised with the tools quality: clean and really feature rich.
Some minor issues with the checkout page load delay were fixed by the support manager within 8 hours after I contacted them. Since then – no bugs, no conflicts have been detected. May be this is not the cheapest checkout app on the market, but it's worth each penny we've paid for it.
JanLee
Magento Connect
Less time for customers to change their mind
There's been a lot of buzz about one steps checkout recently. Some people say they don't work. We tried the one by Amasty on our shoes shop and we are more than happy with the results.
When people spend money, each second for completing the order can make them change mind. I myself buy online a lot, and when I need to give too much info on different pages, I become sooo bored and can easily quit, it depends on products I intended to buy.
Many orders are impulsive and delays in placing order can cost money. I see that when checkout steps are found one page, there are more people completing checkout process. Checkout page responsiveness is a great plus of the extension.
One minor thing: there should be an ability to remove Discount Code field from checkout. I need it only when run promotions, in other times it may cause confusion.
Works well
We have been using the Single Step Checkout on our furniture sales site for some time and have been pleased with the way it works.
Magento's One Page Checkout is good, but our client didn't like the fact that the multi-step "survey" approach hides the next steps from the visitor, so they don't know how long it will take to register and purchase their item.

Single Step Checkout puts everything onto one page so that the user has no barrier in completing the sale. It sends the info back and forth to the shipper and payment processor all without reloading or moving anything on the screen.

Users who try to click quickly may find that they trip up when the form is busy processing their input after completing certain key fields, such as postal code. However the solution has worked well and led to many sales.

Dave
Magento Connect
Excellent support team
Our custom theme already came installed with a similar checkout extension. Initially we bought Multiple Coupons from Amasty and found out that our custom theme required some minor customisation to work with the coupons extension. The support at Amasty went way over their competence and even offer us to install One Step Checkout free of charge to test it on our staging domain. We are highly recommending this extension, not only for its main functionality and customisation but also for the prompt and competent service we received from the support team. A special thanks to Artem for his patient and professionalism in dealing with our situation.
A must have for your store
We highly recommend this extension - like all Amasty extensions, it was easy to install with clear and simple documentation. When we had to ask Amasty support to assist with some minor integrations for a third party payment gateway, they were quick to help and fixed the issues in no time. The extension is very customisable and works perfectly in desktop and mobile modes. Yet another great product to add to our growing list of installed Amasty extensions. Great work guys!
Does what it promises
If you want fewer abandoned carts and more loyal clients, then don't hesitate to install this plugin. It visibly enhances the checkout process making it fast.
The tool that runs like clockwork
This is not the first Amasty extension I've bought. And I'm going to continue buying your plugins, guys, as they all work as they should work, by the way you support team seems to stay awake 24/7 as they always rapidly help me with all issues I have.
Fast checkout
Saving the time for checkout we have increased our conversions rate! Clients don't get irritated by endless checkout process anymore and don't leave the checkout page without completing the purchase process.
Very flexible extension
The possibility to create checkout page according to your needs and combine it with the cart page is awesome. I hope the number of abandoned carts will be curtailed soon.
High compatibility with other extensions
I adore this extension not only for its functionality (which is really great), but for its compatibility with other Amasty extensions that I've already installed. Thanks to your support team - everything works very well!
Must have extension
I'd like to thank you guys for this well-done module that has extremely boosted my conversions and enhanced the site usability. It's always a great pleas to work with professionally done tools!

Nigel K,
Magento Connect
Usability improvement №1 for e-shops
Well done Amasty, now you have One Step Checkout too. As I have many other modules from you, I was waiting for this one and for a good reason! After one week of using checkout on one page the conversion rate increased by 27%! This is extremely good and achieved with little effort. Thank you, guys

Extremely flexible extension
The extension works great and out of the box, just as usual. But i want to admit its flexibility, which is increadiable. We created checkout page the way we want! Blocks location and their names are not standard like in other shops any more! Very satisfied with the mod.
Good as usual
The module works good and serves the goals it was created for. That's why i love Amasty. Quality!
Write Your Own Review
Version 3.1.3
-
July 19, 2017
– Google Autocomplete fix
– Auto Add Promo Items compatibility improved
Version 3.1.2
-
June 01, 2017
– Fixed an issue with the Paypal payment method when the shipping method is not selected
– Fixed compatibility with Amasty Customer Attributes
Version 3.1.1
-
May 12, 2017
– Compatibility with Amasty Order Attributes extension
– Minor fixes
Version 3.1.0
-
April 12, 2017
– Allows to add three custom fields to the Billing and Shipping info
– Guest checkout improvement
– Fix for EE (Fatal error: Class 'Amasty_Scheckout_Block_Giftcard' not found)
– Fix for error on the second checkout attempt if paid with paypal pro
– Added validation of password length
– Fix: "no Payment Method" was unavailable if coupon code has been applied from checkout page
– Show "Forgot an Item?" link only if it's necessary
– A number of other minor improvements
Version 3.0.5
-
February 02, 2017
– Improvement for Google address autocomplete
Version 3.0.4
-
January 17, 2017
– Fix for "No Payment Information Required" message not being displayed when using gift card as a payment method
– Fix for applying shopping cart price riles on free shipping
Version 3.0.3
-
December 01, 2016
– Fix for HTTPS link when logging in at checkout
Version 3.0.2
-
November 23, 2016
– Minor fix for e-mail validation
Version 3.0.1
-
November 18, 2016
– A number of minor improvements
Version 3.0.0
-
October 31, 2016
– New feature: Google Address Autocomplete API implemented
– New feature: Auto log in for existing customers (by email)
– Usability improvements
Version 2.10.0
-
September 21, 2016
– New feature: automatic detection of credit card type being used with visual representation
– Focus change on error message for mobile version
Version 2.9.13
-
September 16, 2016
– New payment option: Gift Card (from Amasty Gift Card Module)
Version 2.9.12
-
August 30, 2016
– Option to enable / disable one step checkout per store view
Version 2.9.11
-
August 22, 2016
– Configurable checkout page heading, text and title
– Delete button on review section
– Minor fixes
Version 2.9.10
-
March 01, 2016
– Fix for showing/hiding password field
Version 2.9.9
-
January 05, 2016
– Reload all sections after customer applies a coupon
– Better compatibility with SagePay PayPal
– Terms for Sage Pay validation
– Excludes county field from required fields
– Excludes fax from required fields
– Shows errors on checkout without redirect to the cart page
Version 2.9.8
-
October 28, 2015
– Admin routing patch (SUPEE-6788) compatibility
– Minor improvements
Version 2.9.7
-
October 16, 2015
– Multiple Coupons module compatibility fix
Version 2.9.5
-
August 26, 2015
– Full support of CAPTCHA
Version 2.9.4
-
August 13, 2015
– Optimization for the shipping and tax estimator block
Version 2.9.3
-
July 17, 2015
– PayPal PayFlow compatibility
Version 2.9.2
-
July 15, 2015
– multiple-coupons compatibility
– auto select default shipping & payment methods when selected method restricted by restriction rule
Version 2.9.1
-
July 10, 2015
– Magento 1.9.2.0 security fix
Version 2.9.0
-
July 08, 2015
– Significant performance improvement. Now customer can see the checkout page faster, while some sections can be loaded later by request.
Version 2.8.13
-
May 22, 2015
– Minor improvement for shipping address validation
Version 2.8.12
-
May 20, 2015
– GeoIP import user interface improvement
– Compatibility with Multiple Coupons extension
Version 2.8.9
-
February 05, 2015
– Improvements for mobile checkout
Version 2.8.5
-
November 04, 2014
– Compatibility with new Auto Add Promo Items extension
– Reward points
– New RWD responsive theme support
Version 2.8.2
-
October 27, 2014
– Compatibility with MW Reward Points extension
Version 2.8.0
-
September 24, 2014
– Possibility to subscribe to newsletter during checkout
Version 2.7.9
-
September 23, 2014
– Minor bugfix and improvements
Version 2.7.3
-
August 04, 2014
– Fix for PayPal PayFlow
Version 2.7.1
-
July 18, 2014
– Better compatibility with Customer Attributes extension
Version 2.7.0
-
July 12, 2014
– Possibility to display product thumbnails on the review step
– Better compatibility with 3-rd party payment methods
Version 2.6.2
-
June 18, 2014
– Better compatibility with Magento 1.5.1.0
Version 2.6.1
-
June 18, 2014
– Compatibility with 3-rd party payment methods improved
Version 2.6.0
-
June 12, 2014
– Display of item messages (like backorder notification) on the review step
Version 2.5.0
-
June 04, 2014
– Better compatibility with 3-rd party extensions when removing standard checkout fields like e-mail or country
Version 2.4.1
-
May 30, 2014
– "Invalid Token" error from PayPal fixed
– Better compatibility with enterprise customer attributes
Version 2.3.5
-
May 26, 2014
– Better support for caching
Version 2.3.4
-
May 23, 2014
– Minor improvements for template files
Version 2.3.2
-
May 20, 2014
– Fix for shipping method not being saved in some cases
Version 2.3.1
-
May 15, 2014
– Fix for empty coupon code applied
Version 2.3.0
-
May 14, 2014
– Code refactoring, some rewrites removed to improve compatibility
Version 2.2.0
-
May 13, 2014
– Improved compatibility with 3-rd party payment methods
Version 2.1.2
-
May 08, 2014
– Better compatibility with SagePay payment methods
Version 2.1.0
-
May 06, 2014
– Flexible and configurable visual color schemes for one page checkout
Version 2.0.9
-
April 22, 2014
– Minor fix for registration during checkout
Version 2.0.8
-
April 22, 2014
– Better compatibility with Magento 1.5.x
Version 2.0.6
-
April 15, 2014
– If customer registration is required, the module reloads the page to show error messages.
Version 2.0.3
-
April 07, 2014
– Step icons updates
Version 2.0.0
-
March 31, 2014
– Major update: code refactored, speed and compatibility improved
– New visual style
– Responsive design for mobile devices
Version 1.9.3
-
July 17, 2015
– PayPal PayFlow compatibility
Version 1.2.0
-
November 24, 2013
– Automatic filling of the postal code field based on Geo IP
Version 1.1.16
-
October 21, 2013
– Support for gender field
– Better support for 3-rd party payment methods
Version 1.1.8
-
July 11, 2013
– Correct handling of errors.
– Support of new feature of
Order Attributes
- display of fields based on shipping method.
Version 1.1.4
-
June 25, 2013
– Bugfix for hang up when validating shipping data.
Version 1.1.1
-
June 11, 2013
– Bugfix for email validation.
Version 1.1.0
-
May 08, 2013
– Correct support of "allow guest checkout" option
Version 1.0.1
-
May 08, 2013
– Fix for PayPal