Why are rich snippets great
for Ecommerce SEO?

| | |
| --- | --- |
| Before | After |
| | |
Test your website appearance in organic search
here
How will the extension
improve your website organic results?
Rich snippets are micro data, which are used to report users about additional website information in organic search. Displaying more detailed info in search results lets you segment customers in advance and draw only relevant trafic to your site. Also according to Google, links with rich snippets have higher positions in search results. Summing this info you get very high chances that users will click on your site. In fact click through rate for such links is 20-30% higher.
Below you'll find 5 types of Rich Snippets, which are the most necessary for an E-commerce site. Click on the tabs for details:
Rich Snippets - Product
• price + availability + currency
Show product value to users without making them visit your site. Potential customer will be able to see price and stock status on SERP, which will allow taking click decision faster and help to stand out from the competition.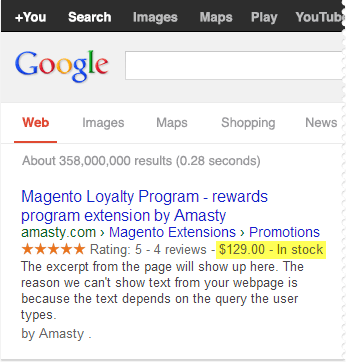 How the extension looks like
on the back end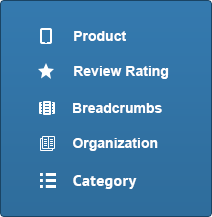 There are 5 rich snippet types to configure - product, review rating, breadcrumbs, category and organization. Easily set up rich snippets in Magento back end to attract visitors to the front end. Apply one of the extensions with a high costs-value ratio, this means you'll achieve greater results spending less effort.
7 reasons to choose
Risk-free Investment
30-day moneyback guarantee for all extensions. No questions asked.
Comprehensive Documentation
There is a detailed user guide with examples even for tiny addons. FAQ section and videos also available.
Solutions Which Work
Careful in-house testing ensures you get robust applications. Multiple stores support. Custom themes compatibility. All included.
Outstanding Support
Our support service is friendly and of high quality. And it is free. Unbelievably. Just check independent reviews at Magento Connect.
Usability and Performance
Nice and easy to use interfaces. Fast algorithms. Save your time and get things done.
Flexible and Easy Licensing
No product or store view or domain limits. No monthly fees. No hidden charges. One extension license for one Magento installation.
Long Term Strategy
We've been in the market for 5+ years. We're proud to be a Bronze partner and are planning to stick to Magento platform for years ahead. We're doing our best to build extensions which maximize effectiveness of your business. We're open to customers' suggestions and constantly update our products to match your needs.
Other Features
100% Open Source — Easy To Customize
Follows Magento Code Architecture
Separated HTML/CSS/JS
W3C Validated Code
Online Extension User Guide
Questions & Answers
Customer Reviews
Just WOW!

Review by

helious

The extension is of first rate. I'm extremely satisfied. (Posted on 7/5/14)

quite good

Review by

filipp

Although the functionality is quite basic, it does what it's supposed to. (Posted on 7/1/14)

Great Extension with Great Support

Review by

karlparker

The extension has helped our SEO and made our listings look more attractive to potential customers on google. The support was top notch and they fully customised the extension to work on my theme in less that 24hours!!
Probably the reason I now have 6 of their extensions :-) (Posted on 6/26/14)

Fantastic Extension & Support

Review by

Guest

I definitely recommend this company and will be buying more of their extensions in the future. (Posted on 6/26/14)

the extension is good, the support is better

Review by

boxman

I bought Rich Snippets module about a month ago. At first I had some problem with installation (the bug was on my side) and Amasty support was quite fast in helping me. Now everything works perfectly. (Posted on 4/18/14)

now Google displays rich snippets for my magento store

Review by

yanty

The extension makes it really easy to add structured data to the site pages. After implementation it took some time for Google to display rich snippets for my products (I use only this type now).
I hope some more advanced features will be added to this extension in the feature. Anyway, keep up the good work Amasty! (Posted on 4/18/14)

the best extensions and support

Review by

nof8ole

Great plugin work like charm even with my particular theme from tempmonster (what made me alot of problems) But those guys are realy professionals and know what to do event also they provide the best support i ever had

So i suggest for all who need rich snippets use this extensions (Posted on 3/28/14)
Write Your Own Review
Version 1.1.1
-
Sep 17, 2014
– Better support for price snippet in custom themes
Version 1.1.0
-
Aug 04, 2014
– Use of schema.org implemented
Version 1.0.6
-
Jun 30, 2014
– Added `condition` attribute for product pages.
Version 1.0.5
-
May 17, 2014
– Possibility to display rating summary snippet on category pages
– Possibility to display minimum product price snippet on category pages
Version 1.0.4
-
Apr 18, 2014
– Even better custom themes compatibility (removed breadcrumbs template rewrite)
Version 1.0.3
-
Mar 31, 2014
– Better compatibility with custom themes
Version 1.0.2
-
Mar 17, 2014
– Option to show votes, reviews or both