Google Rich Snippets
for Magento 1
Improve your website appearance in organic search. Use easily adjustable rich snippets for highlighting any site information you need. Significantly increase your visibility with Magento microdata and draw highly targeted traffic to your online store.
Use various types of rich snippets
Enhance your visibility in search results
Get more targeted traffic
Boost your conversion rate
Raise your brand awareness
This extension is also a part of Magento 1 SEO Toolkit.
Why are rich snippets great
for Ecommerce SEO?
| | |
| --- | --- |
| Before | After |
| | |
Test your website appearance in organic search
here
How will the extension
improve your website organic results?
Rich snippets are Magento 1 structured data, which are used to report users about additional website information in organic search. Displaying more detailed info in search results lets you segment customers in advance and draw only relevant traffic to your site. Also according to Google, links with rich snippets have higher positions in search results. Summing this info you get very high chances that users will click on your site. In fact click through rate for such links is 20-30% higher.
Below you'll find 5 types of Rich Snippets, which are the most necessary for an E-commerce site. Click on the tabs for details:
Rich Snippets - Product
• price + availability + currency
Show product value to users without making them visit your site. Potential customer will be able to see price and stock status on SERP, which will allow taking click decision faster and help to stand out from the competition.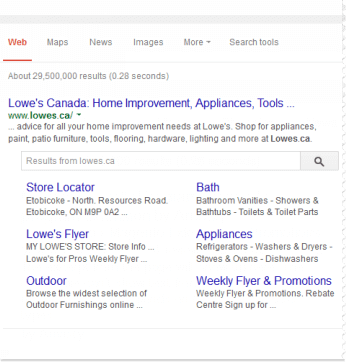 Search input box for home page in Google search results
Thanks to our Magento 1 Rich Snippets extension you can add improved sitelinks search box to Google search results. It will make it quite more convenient for customers to find a specific product on your store directly through your own site-search box in Google.
Note! As soon as Google uses numerous factors to determine the box display such as on-site information and various types of navigational queries, only Google decides when and which sites will display search box.
Twitter summary cards support
Twitter cards is an excellent way to present your products on Twitter. Show extra information about products in tweets such as image and description or add a custom text field. Simply configure extension settings, post a tweet with the url to your product and Twitter will show additional product info to your followers. This is a great opportunity to use social media as a free promotional tool.
Rich Pins support
• Price + availability + product url
Have you ever tried to promote your products on Pinterest? Now it's a good time to start with Rich Pins support. Post products and your followers will be able to see the price, stock availability and product url. As a bonus you will also get free price notifications alerting pinners that you've dropped the price.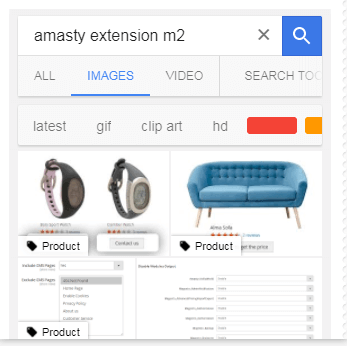 NEW!
Google Image Search Badges
Due to Rich Snippets extension, you can easily markup your products. Make your products more eye-catching in the Google search results, marking them with the necessary data. The products will appear in the search results with engaging badges for your customers' better shopping experience.
---
How the extension looks like
on the back end
There are 5 rich snippet types to configure - product, review rating, breadcrumbs, category and organization. Easily set up rich snippets in Magento 1 back end to attract visitors to the front end. Apply one of the extensions with a high costs-value ratio, this means you'll achieve greater results spending less effort.
New! Now you can add Magento 1 structured data - rich snippets to highlight information on your landing pages. Show summary products rating and the most attractive product price on the bottom of the landing page.
Product questions

What product types are supported by this Rich Snippets extension?

Our module supports all types of Magento products, except for bundle ones.

Can I add rich snippets to my home page?

Yes, of course. The Organization and Search Box markup can be added to a store's homepage.

Can I add rich snippets to category pages?

Yes, you can add rich snippets breadcrumbs markup to your category page. Additionally, you can display average rating of the products found in a particular category as well as the cheapest product price.

Read the FULL answer

How long should I wait for rich snippets to appear in Google?

There is no universal answer to this question as it depends on many factors, for example, how often your site is crawled by Google. Once you've enabled rich snippets for your store, check them in Google Data Highlighter. If everything is ok, you will need to wait for Google to re-crawl your site and understand the markup found there.

How does this Rich Snippets module work with configurable products?

The Rich Snippets module uses information of configurable products to display rich snippets in two ways. To see how to use the options correctly address the complete instruction.

Is this Rich snippets extension compatible with a multi-store configuration?

Yes, sure. The module works fine in a multi-store environment.

Will this module add rich snippets to already existing products?

Yes, the changes you make with this extension are applied retrospectively, so all products will get rich snippets, no matter when the former were created.

Does this module add rich snippets to all products at once?

Yes, once you enable rich snippets for products, the markup will be added to all items automatically, so there is no need to waste your time by adding markup to products one by one.

Does it work with Yotpo reviews?

If you run other Yotpo plan than Lite, the extension works with it. Read on to see the details.

How can I check that the Rich data was added to the product page after I enabled the extension settings?

Rich Data is added to the source code of your website pages. Continue with the complete answer to learn how to check it.
Other Features
100% Open Source — Easy To Customize
Follows Magento Code Architecture
Separated HTML/CSS/JS
Simple installation via Composer
* The name "Magento" and the logo are the trademarks of Magento, Inc.
Great Extensions & Excellent Service
Amasty has great extensions and provides excellent service. As requested, they installed our latest extension during our off-hours to avoid any interruption with our business. We'll be back for their products and service.
Amasty answer
Feb 19, 2020
Natalya Chekanina
/ Head of Sales Team
Dear Bowie! Thank you for choosing Amasty Google Rich Snippets. I'm glad that you appreciate it's quality. We would be happy to see you in our store again!
the best extensions and support
As always great service from Amasty. Needed some work due to my custom theme probably more than anything I think, sorted by Amasty no problem.
Have loads of their extensions and always a pleasure to work with.
Keep up the great work guys!
Simple no fuss quality extension by Amasty
Minor issue with this and our store that Amasty corrected for us in a short timeframe, so as usual the support is exemplary. Snippets are much needed by google and will help lower your cpc, which is why we had this installed by Amasty. I have several Amasty extensions, and will continue to use them – because they work and the support is great if there are any issues.
Awesome support
Installed this extension last year, all worked properly. Unfortunately, Google recently notified us of some errors with our Rich Snippets, this was most likely due to our outdated extension version and Googles ever changing requirements. Contacted Amasty for help and all issues have been resolved within a couple of days. Thanks to Max for his assistance. We're using CE 1.9.0.1, this isn't listed as a release option here, please ignore 1.8.1
Awesome support
Installed this extension last year, all worked properly. Unfortunately Google recently notified us of some errors with our Rich Snippets, this was most likely due to our outdated extension version and Googles ever changing requirements. Contacted Amasty for help and all issues have been resolved within a couple of days. Thanks to Max for his assistance. We're using CE 1.9.0.1, this isn't listed as a release option here, please ignore 1.8.1
Customer Services are awesome
Great and quick services, they installed the extension in few minutes...
Excellent Technical Support!
They went extra miles to fix my issue and made it works perfectly.... I am thinking to buy full SEO Tool Kit as well.
Excellent Support and Works!
If you are an online retailer you need this extension. Google and other shopping services are looking for this information.

Excellent seamless installation.
Excellent customer service
The extension did almost everything out of the box but we had a small issue with the breadcrumbs. We contacted Amasty support and they fixed it for us within 24 hours.
Really impressed with both the extension and the attentive customer service.
Fantastic extension
This is a great extension backed by excellent customer/technical support. I scanned my website with google structured data tool and everything was detected perfectly with no errors. I highly recommend it!
Great Extension!!
Bought this extension include into the SEO TOOLKIT extension of amasty. It works as discibed, just install and google will find all what he has to find! First I had a issue in combine with an other extension but the support of amasty is great. Most of al the issue will be solved the same day, if not te day after. Don't waist any time further, just install this module! Great work guys!
Works clearly and cleanly
One more high quality extension from this dev. It isn't too often that you download an extension, follow the directions for installation, and have the tool running with no further moves. This one works well right out of the box, the installation is simple and flawless.
The plugin saves hours of work and gives edges over competitors - not all online shops have snippets support just yet). Keep in mind that you shouldn't expect immediate results. It takes some time for Google to re-index pages.
To be totally sure that everything is set up correctly we've sent a support email asking to look at the configuration of what we had done and see if anything went wrong. The answer was very quick, they checked the whole thing and said it's ok, and we just have to wait a bit longer. That was totally so, thank you, guys!
Feature rich module for your SEO
The only thing why I've chosen this mod among dozens of similar too ls is a set of additional features like twitter product carts support and rich pins support. I took us some time to configure all snippet types and see them on the search results page. But finally everything runs well – all five snippet types are properly displayed.
It's a pity that search box doesn't work for our store, but it's not about amasty extension, it's google who decides whether to display the box or not.
Do I recommend the plugin to others? Definitely - yes. Every feature mentioned in the description works the way it should work.
Highly recommended
In case you don't use any custom themes the module will work right out of the box as described. They included multiple snippet types and all of them really work. Right after the installation we found out it didn't support twitter cards. And finally they've added the option.
But the cherry on top of the pie would be the possibility to input our facebook profile page. Hope, this option will be also added in the update.
rock1100
Magento Connect

The extension works as I need
I installed the extension about a month ago and now almost all products have rich snippets. It took some time to get them displayed, at first I even thought that the extension didn't work.
The settings are easy, so I managed to configure them myself even though I'm not a Magento guru. Apart from reviews, I also added breadcrumbs, I just enabled them without changing any default settings (there's also Extend Breadcrumbs option, I don't know what it is but I'm going to give it a try to find out).
The extension is cool. Amasty, I would also like to see Twitter cards microdata added to it, that feature would be useful for many businesses. So I'll be happy to see that in the next updates!
Dgnat_21,
Magento Connect
Just WOW!
The extension is of first rate. I'm extremely satisfied.
quite good
Although the functionality is quite basic, it does what it's supposed to.
Great Extension with Great Support
The extension has helped our SEO and made our listings look more attractive to potential customers on google. The support was top notch and they fully customised the extension to work on my theme in less that 24hours!!
Probably the reason I now have 6 of their extensions :-)
Fantastic Extension & Support
I definitely recommend this company and will be buying more of their extensions in the future.
the extension is good, the support is better
I bought Rich Snippets module about a month ago. At first I had some problem with installation (the bug was on my side) and Amasty support was quite fast in helping me. Now everything works perfectly.
now Google displays rich snippets for my magento store
The extension makes it really easy to add structured data to the site pages. After implementation it took some time for Google to display rich snippets for my products (I use only this type now).
I hope some more advanced features will be added to this extension in the feature. Anyway, keep up the good work Amasty!
the best extensions and support
Great plugin work like charm even with my particular theme from tempmonster (what made me alot of problems) But those guys are realy professionals and know what to do event also they provide the best support i ever had

So i suggest for all who need rich snippets use this extensions
Are you looking to add specific functionality for this extension or want to acquire a reliable development partner altogether? With custom development services by Amasty, you will receive high quality and cost-effective solutions developed by Magento professionals according to industry's best practices.
CE 1.4.x - 1.9.x, EE 1.8.x - 1.14.x
You can always download the recent version free of charge from your account
Installing an upgrade is easy — check now
My Downloads
Version 1.6.5
Last Update: Mar 27, 2020
Fix we resolved issue with wrong breadcrumbs
Fix issue with price currency was resolved
Improvement product global identifier support was added. Admin is able to specify comma separated list of schema.org properties and attribute codes like mpn, sku.
Improvement now it adds the schema markup for each product on the category page
Fix an issue with not existing brand attribute was resolved
Compatibility compatibility with recent requirements for schema.org/Offer introduced by Google was added. Added the following properties: priceValidUntil, product URL, product review in @Offer
Version 1.5.4
Last Update: Dec 18, 2018
Fix an issue with rounding the price in snippets has been resolved.
Compatibility compatibility with Magento CE 1.7.0.2 was improved
Fix an issue with reviews qty on the category page was resolved
Improvement the product reviews output conditions were enhanced
Compatibility the compatibility with the Amasty Color Swatches Pro extension was improved
New the information section was added. Now, you can see the version of the installed extension, available updates, the user guide link, conflicts and other useful information right on the module configuration page
New the ability to add the last breadcrumb item to meta data was implemented
Version 1.4.12
Last Update: Jun 18, 2018
Fix the issue with the group product price was resolved
Fixed an issue with the product_breadcrumbs block output
Fixed an issue with the product_richdata block output
Fixed an issue with the double name
Added the check for the category with 0 products
Improved compatibility with Amasty Color Swatches
Compatibility with older PHP versions
Fix for prices of bundled products
Minor code optimization
Fix for configurable items price
Compatibility with custom themes improved
Minor fix for displaying availability for Pinterest (it was displayed always not depending on a setting)
Fix for getting product description
Self product information removed from breadcrumbs, as it should not be there
A number of minor improvements
HTML tags are now removed from description tag
Improvement for aggregateOffer snippet
Review rating hidden when it's 0 (in case your theme just uses review with no stars/points)
Minor improvements for better integration
Fix for price of grouped products
Improvements for meta data of Yotpo and Pinterest
New option to use "short description" instead of description
New option to show grouped products as a list of associated products offer
Improvements for prices data when applying promotion rules
Mechanism of integration completely reworked. Now extension integrates much better with all custom themes.
Unnecessary settings removed, due to the new integration workflow
Added new option to display item condition
Added new option to display configurable product as a list of offers for simple products
Version 1.3.0
Last Update: Oct 11, 2016
Better compatibility with Improved Navigation extension
New setting to display availability snippet (is available or not)
Minor improvements for better compatibility with locale settings
Version 1.2.8
Last Update: Jul 08, 2016
Minor improvements to comply latest Google requirements
Deprecated twitter product card replaced with twitter summary card
Added compatibility for Yotpo rating in Twitter cards
Stripping HTML tags from Twitter description
Support for Yotpo reviews summary in addition to the Magento built in reviews.
Option to show summary products rating at the products listings generated by Amasty's Landing Pages extension
Version 1.1.3
Last Update: Nov 12, 2014
Support for Google Search Box snippet implemented
Possibility to display price including tax
Better support for price snippet in custom themes
Use of schema.org implemented
Version 1.0.6
Last Update: Jun 30, 2014
Added `condition` attribute for product pages.
Possibility to display rating summary snippet on category pages
Possibility to display minimum product price snippet on category pages
Even better custom themes compatibility (removed breadcrumbs template rewrite)
Better compatibility with custom themes
Option to show votes, reviews or both