SEO Toolkit
for Magento 2
SEO Toolkit is the all-in-one Magento 2 SEO Extension designed to make your store stand out in Google Search. Maximize your SEO effectiveness: make your store more visible in search results and get more organic traffic.
Advanced pagination + redirects
Rich snippets in search results
Automated meta tags templates
Unique product URLs against duplicate content
Automated internal and external cross links
Advanced HTML and XML sitemaps
Compatibility with the Jet Theme
Сhoose the feature set up to your business tasks
Challenge
The key to webstore promotion is the constantly growing target audience. But how can a store admin get traffic, if paid ads are too expensive for the store? The answer is - organic results. The higher is your position on the Google results page, the more visitors you have. Still, since Google takes into consideration each store detail, SEO optimization is a rather challenging task.
Solution
The advanced all-in-one SEO toolkit can solve multiple optimization problems at once. Implement cross-linking, rich snippets, meta tags, XML and HTML sitemaps to place your store at the top of Google ranking. Thus, you will reduce costs on paid advertising and drive more qualitative traffic with a just few-steps configuration.
INCREASE GOOGLE CRAWL RATE OF YOUR STORE
WITH SMART SEO TOOLKIT
Magento 2 SEO Plugin is designed to improve your store ranking placement in SERP by applying the most effective optimization strategies: automate meta tags templates for products and categories, enrich snippets with price, stock status and breadcrumbs, use unique product links, automatically build cross-links, create sitemaps and set smart redirects for a better interaction with Google.
Automate Magento SEO Settings for Your Store
Get More Organic Users
Grow Store Indexation
Reduce Manual Work
Improve Store Ranking
Increase Store Traffic
Boost Sales Revenue
Make 'One-click SEO Analysis' for Any Page
With the extension, you can easily check the relevant analytical data on your store page SEO performance. Click the 'SEO Toolbar' button on any page of your online store and get the detailed SEO statistics in a compact and informative lightbox. Check the following data to know the page effectiveness with Magento2 SEO plugin:
Robots meta header and canonical URL compliance
Meta title, description, keywords and H1 tags
Images alt tag, in-page links and schema.org tags
Page content state and applied meta tags template
Save time with our Configuration Service
Use this Configuration Service to avoid hours of manual configurations and endless surfing through the long-read manuals.
Learn more about Configuration Service
How to get
the configuration?
Install the extension by yourself or use our Installation Service
Click on 'Get the Config' button below and fill in the short form
We'll contact you within 24 working hours and configure the extension quicker, safer, tailored to your needs
get the config
Create custom redirects
Customize redirects that are used on your store website. The Redirects functionality allows you to create various redirect types, use wildcards redirects, create redirects for 404 error pages, and assign redirects for various store views.
Finetune SEO for particular pages
To build a successful SEO strategy that brings sales, admins need to pay attention to every detail. Specify canonical link to eliminate duplicates. Set how to treat products and CMS pages URLs in Robots file by choosing the 'index and follow' parameter.
Automatically generate magento 2 tags for product, category or any other page to attract relevant traffic to your store and help your customers find the right product in the search results with Yoast plugin for Magento seo extension:
Insert emojis in Magento 2 meta product tags
Add meta title, meta description and H1 tag
Specify short and full product description
Set unique meta tags for page by URL
Set "noindex" or "nofollow" for pages
Enrich snippets to stand out from competitors and bring more customers:
Show price and stock status
Display rating and number of reviews
Enable breadcrumbs to show navigation path
Display URL, company name, and logo
Show search input box for a Home page
Add social profiles
See the best seo practices for magento to increase your products visibility using rich snippets.
Use Advanced Pagination
+ NEW | Redirects
Try Advanced Pagination and Redirects to avoid broken links and improve your store indexing:
Enable 301 Redirects to Home page
Enable 404 Page Not Found Redirect
Add Link Rel="next/prev"
Add page number to meta title
Add page number to meta description
Make product links unique to avoid possible issues with duplicate content in your webstore:
Select a category path for product URLs
Enable redirects to canonical URLs
Customize breadcrumbs according to URL or category
Configure URLs length by depth level or number of characters
Find out how to change URLs with 301 redirects.
With Magento 2 SEO module, you can automatically generate internal and external links to spread link juice and attain higher ranking:
Link to any product, category, and CMS page
Limit the number of links per page
Use flexible keyword specification
Auto-replace keywords with links
Cross-linking is one of the rank factors for your SEO checklist, see for yourself.
Sitemaps have a significant influence on store ratings as Google uses them for identifying the pages of a website. Moreover, sitemaps are used as compact navigation that helps customers to explore your store. Customize the layout with advanced Magento 2 Search Engine Optimization suite and add user-friendly features in HTML sitemap to help customers easily navigate your store and make it more visible for search engines:
Add products and categories
Add CMS-pages and additional links
Include a search box to sitemap
Configure a sitemap layout
Specify metadata for a sitemap
Set the priority of sitemap content
Split products by the first letter
Exclude out-of-stock products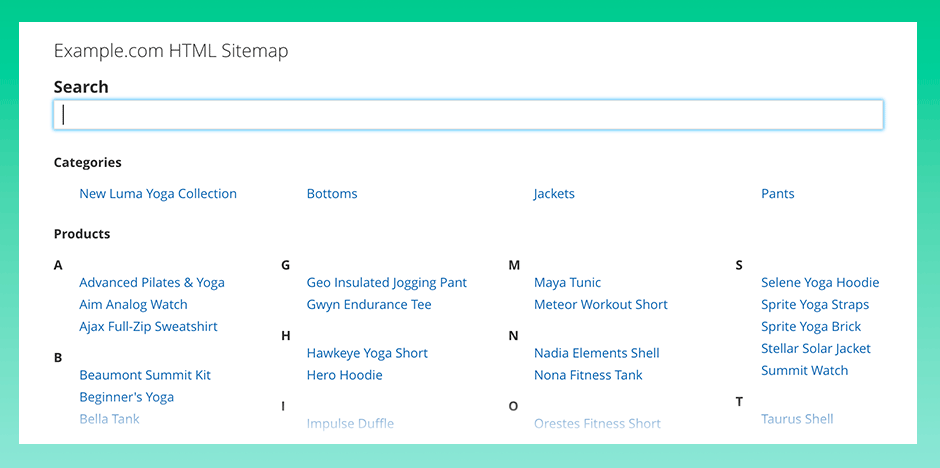 XML sitemaps gather all the info about webstore pages and collect URLs from the whole store so that Google could identify the site structure correctly. Let search engines index your Magento content faster and improve your Magento seo optimization with automatic XML Sitemap generation! Let Google understand what your store is about and what products you sell:
Specify frequency of updates for each group of pages
Add images with titles and templates to sitemap
Add or remove group of pages
Set the priority for group of links
Include or exclude groups of links in the sitemap
Specify Hreflang Tag to deliver relevant content
Magento 2 SEO Extensions with Specific Functionality
Expert Opinion
What Experts Say?
I see Magento as a good match for running an online store. Still, if digging deeper, you'll see points for improvement regarding basic SEO requirements. The good news is the availability of ready solutions like Amasty SEO Toolkit that cover the gap in these vanilla configs. It's built with the latest trends in mind and, therefore, I can say it automates all the main on-page SEO areas for any website. Once the off-page optimization is done, SEMRush will help to analyze it and find even more ways for further upgrades.
More than 5 years experience in SEO solutions and searching engines
More Options for Your Store
Efficiently manage cron tasks
Process cron jobs properly and improve your webstore performance. Manage all existing cron tasks on a Cron Tasks List grid from the admin panel. Delete tasks in bulk, use filtering and sorting options, run cron jobs by schedule and maximally automate the processing system.
Make store performance flawless
Make your store as fast as possible and let Googlebot reach the needed content quicker with Magento 2 Full Page Cache Warmer. Automate the cache warming process and enhance customer user experience with one tool.
Apply a user-friendly navigation
Bring your customer shopping experience to a new level. Equip your store with advanced navigation options and help customers quickly find products with Magento 2 SEO Layered Navigation. Add multiple filters, apply a handy category tree and create short URLs to make your store even more SEO-friendly.
Boost SEO position with reviews
Encourage customers to visit your store and improve your CTR rate by showing product ratings in the search results page with Magento 2 Advanced Product Reviews. Attract a new target audience and build a strong sense of trust with multiple reviews.
Easily comply with the latest legislative EU requirements
Make sure your site asks for all required consents and avoid penalties with the magento 2 gdpr extension.
Gain more loyalty of your customers by strengthening their data security and privacy.
Choose the solution most suitable for your objectives
We are expanding our catalog with products from our partners to provide you with more options. Explore the features of each solution and choose the one that best suits your needs.
Key Features

SEO Toolkit

By Amasty

SEO Suite

By MageWorx

Toolbar with key SEO stats on the storefront
SEO reports in the backend
SEO templates for products and categories
SEO templates for a custom page by URL
SEO for Layered Navigation Pages
Canonical links for pages
Custom canonical tags
Noindex or nofollow for site pages
Extended meta robots settings
Advanced rich snippets
Breadcrumbs customization
Custom redirects from/to any site page
Auto redirects for deleted product pages to category pages
Auto redirect from 404 to Search Results
Redirects Import/Export
Create unique product URLs
Create conditions for exclusive product URLs
Replace keywords with internal and external cross links
Generate HTML and XML Sitemaps
Configure HTML Sitemap layout
Specify the priority and frequency of updates for each group of pages in XML sitemap
Hreflang tags for content localization

$299

add to cart

$299

add to cart
How to improve breadcrumbs on the product page in Magento 2?
Install the extension.
Go to the Stores > Configuration > Amasty Extensions > SEO Single URL section.
Set up the shown options.
Choose one of the two variants in the Generate Breadcrumbs According To option to diversify breadcrumbs on your product pages: Current URL to take the breadcrumb from product URL or Last Visited Category to display previsited categories on the way to the product page.
What is Magento 2 search engine optimization?
Magento 2 search engine optimization is a set of works aimed at improving the position of your Magento 2 site in the search engine results for get more organic traffic. Optimization rules are set by search engines. Each of them uses its own ranking algorithms, which are made up of many factors.
Product questions

What is Magento 2 Yoast SEO?

Yoast SEO is a free plugin that was firstly developed for WordPress to facilitate optimization for Google and Bing.

Read the FULL answer
Other Features
100% Open Source — Easy To Customize
Follows Magento Code Architecture
Separated HTML/CSS/JS
Simple installation via Composer
* The name "Magento" and the logo are the trademarks of Magento, Inc.
Must-have tool for e-commerce stores
TeeShoppen, Head of Marketing
This module is a must-have tool for Magento e-commerce stores. It helped us a lot to enhance the visibility on Google. Also, while being a complex solution, it is quite intuitive and simple to use.
Amasty answer
Oct 08, 2020
Alena Hamolka
/ Product Team Lead
Hi Benjamin, thank you for the feedback! It's great to hear that the extension was helpful in improving your website visibility on Google, and we'll look forward to seeing you in our store again!
Problem Solved :)
We installed this extension to solve duplication issue within Magento and Improved SEO, and it helped. Our developers now use the plugin happily. The module helps to simplify details on an often complicated Magento platform. I highly recommend this extension to any Magento website owner. It's easy to use and helps with ranking.
Amasty answer
Jun 14, 2019
Natalya Chekanina
/ Head of Sales Team
Dear Emily, thank you for your review! We would be happy to see you in our store again!
All right
Ramezani London Ltd, Sales
We use this extension and ranking increase. Ranking increase
Amasty answer
Apr 06, 2019
Natalya Chekanina
/ Head of Sales Team
Dear Ajmal, thank you for your review! We would be happy to see you in our store again!
Good solution!
Exactly what I was looking for. Working directly out of the box.
It's simple. Installed and measured the results
I just want to say thanks, I don't know why some settings are confusing for some people, but I can say that without any serious skills in seo I managed to make all the configs on my own. So, it's all-inclusive, intuitive and definitely working module.
Great features list!
I have purchased few mods to improve my store Google ranking. They are Improved Layered Navigation and Landing Pages by Amasty and this awesome SEO Toolkit for sure. I see almost everything that i need here. Great features list and reasonable price. Thank you!
Support is very helpful
The module is all right at large. I received the userguide with the package but still had problems with the manage cross links tab, it's not intuitive at all. I spent time as had to contact the support to give me more details on it. But I must point out that great guys work at support. The reply solved my glitch and was given fast.
Recommended
Great extension and the support team is exceptional! Recommended.
Awesome support!
We have some issues trying to get the SEO tool to work on our staging host and reach the support team. They replied in couple of hours and have fixed all the issues the same day. Even the problems that are not related to their module. We have it working well on our production site. The best support I've ever tried. Thanks!
Probably the best SEO extension on the market
I did a research before we bought this extension developed by Amasty. It takes some time before you understand what is a best configuration. As a result we are very satisfied. I think this is the best SEO extension on the market!
very useful
The guys just made right thing by rolling their best ext for seo into one kit. I found all the main settings for optimization in one module and saved time for search and money.
Very useful extension for SEO
The extension is packed with features that guide the crawl bots down the proper paths and makes it possible to provide unique meta info to any page. The customer support is very responsive.
must-have for any store
This extension is an absolute must-have for any store. The settings are easy to understand and configure. I'm happy with the results and definitely recommend it.

I got everything I wanted all along
Just super! All the main settings in one plugin is just what I looked for. I opened my store 2 yesra ago on magento 2 with reduced budget, so the module was just a savior to me. Know with in-house seo specialist I see the main things were done right.
Do you have any questions?
Schedule a demo and get all the answers you're looking for!
book a live demo
Are you looking to add specific functionality for this extension or want to acquire a reliable development partner altogether? With custom development services by Amasty, you will receive high quality and cost-effective solutions developed by Magento professionals according to industry's best practices.
2.4.2-p1, 2.3.7, 2.4.2, 2.4.1-p1, 2.3.6-p1
You can always download the recent version free of charge from your account
Installing an upgrade is easy — check now
My Downloads
Version 1.20.1
Last Update: May 25, 2021
Improvement now Redirect from 404 to Search Results is disabled by default
New the Rich Snippets part of the suite gained another set of new functionality (now you can set product's condition and choose a format of rating, avoid warnings for missing priceValidUntil snippet by assigning the default value, specify the street address of your organization) as well as improvements aimed at the compliance with Google guidelines
Version 1.19.0
Last Update: Apr 13, 2021
New now you can configure canonical link and robots for CMS pages
Fix we corrected the custom product canonical URL implementation in case a relative URL is used
Version 1.18.3
Last Update: Nov 27, 2020
Fix we removed unnecessary page parameters from 'View All' canonicals used for paginated pages
Improvement now search queries which are used for a redirection from 404 pages are not stored in the search terms table
Fix we resolved the issue occurred on product edit page if there are no attributes in SEO tab
New we added new options to the extension, so you can specify custom canonical link and robots for products
Improvement we implemented the setting that allows you to use canonical to 'View All' for paginated pages
Version 1.17.0
Last Update: Jul 15, 2020
New we added an option to create Redirects (including the ability to use wildcards in request and target paths)
New now you can create separate Meta Tags Templates for Amasty Brands pages
New now you can choose if to create redirects while applying Template for Product URLs in Meta Tags Templates extension
Compatibility compatibility between Cross Linking and Meta Tags Templates was enhanced: cross links are now added to description defined by meta template
Fix we resolved the issue with applying of Template for Product URLs on PHP 7.3 in Meta Tags Templates extension
Version 1.16.13
Last Update: May 08, 2020
Fix versioning history was adjusted
Version 1.15.17
Last Update: Feb 26, 2020
Fix we resolved a minor issue with rel="next" and rel="prev" links
Improvement minor code and performance improvements were implemented
Compatibility we implemented minor improvement in compatibility with Shop By Brand extension
Compatibility compatibility with Magento 2.3.3 and Elasticsearch was improved
Fix issue with the counting of title and description length on different localizations was resolved
Compatibility enhanced compatibility with Amasty ShopbySeo
Improvement redirect from 404 page was improved
Fix issue with prev-next tags was resolved
Version 1.14.1
Last Update: Apr 09, 2019
Fix an issue with some specific symbols % & ! are not supported for 'Custom URL Key for Default Search Results Page' was resolved
Version 1.12.3
Last Update: Dec 11, 2018
Fix an issue with pagination and page 1 URL was resolved
New the SEO analysis of every page was added. With SEO Toolbar admin gets the following data on every page: robots meta header, canonical URL compliance, number of H1 tags, meta title, description and keywords, images alt tag, in-page links, etc.
Version 1.11.15
Last Update: Oct 29, 2018
Compatibility the compatibility with Magento 2.2.6 was improved
Fix the issue with the 'Add Store Code to Urls' setting and redirect to the home page was resolved
Version 1.10.1
Last Update: Jul 05, 2018
Improvement set FOLLOW for catalog search result page and advanced search result page
Fix an issue with an empty tab on Magento 2.1.13 Enterprise Edition was resolved
New allows configuring SEO URL Key for the default search results page
Version 1.9.3
Last Update: Jun 13, 2018
Fix an issue related to wrong package name in dependencies was resolved
Version 1.6.6
Last Update: May 02, 2018
Fixed an exception when logging in to admin in Magento 2.1 Commerce
Fixed an issue with the layout in the backend
Version 1.5.1
Last Update: Mar 19, 2018
Fixed an issue with the missing ACL elements for the Meta Tags Templates extension
Version 1.4.0
Last Update: Feb 10, 2018
New allows to redirect the customer to the store search results from the broken URL instead of the '404 Not Found' page
New add NOINDEX, NOFOLLOW to the app/design/frontend/YOUR_PACKAGE/YOUR_THEME/layout/local.xml to the to prevent search engines (Google, Bing, Yahoo, etc.) from needlessly indexing Magento catalog search results page(s) and advanced search results page(s)
Version 1.3.0
Last Update: Jan 03, 2018
New Cross-linking functionality allows replacing the extended keywords with internal and external links to increase the store SEO value
Version 1.2.2
Last Update: Nov 09, 2017
Fixed the problem with the installation via composer
Adds the rel=next/prev tag to point Google where the next or the previous pages are
Adds Pager Number to meta title and description
Version 1.1.0
Last Update: Oct 06, 2017
Magento 2.2 compatibility tested and confirmed
Unique Product URL features added