Grow your online sales with smart SEO instruments
get indexed notably faster
add eye-catching informative rich snippets
include categories & breadcrumbs in rich snippets
add products and categories in HTML sitemap
generate cross links replacing keywords
generate meta for categories automatically
use meta templates with multiple variables
specify short and full SEO descriptions
generate XML Sitemap with any types of pages
make pagination more precise
Cross Linking
Automatically generate internal and external links to spread link juice and attain higher rankings. Set flexible keywords and the extension will replace them with links referring either to the product, category, or any external site pages.
Learn More →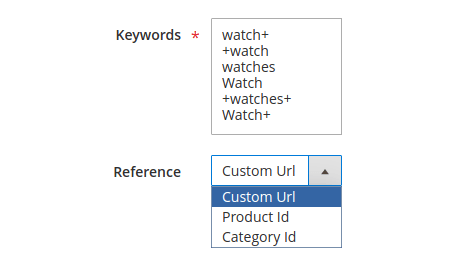 Automatically generate internal links
Manage a better information architecture of your web store. Cross link similar products and categories, efficiently highlight sales and bestsellers.
Build external links
Increase SEO value for your web store. Win more traffic, building external links that are considered as off-site votes.
Limit the number of links per page
Google has some unwritten restraints regarding the number of identical links per page that you provide. With the plugin, you can easily specify the limit.
Use flexible keyword specification
Set the variations of keywords with variables to make the process flexible. Easily build links with precise anchor words.
Rich Snippets
Highlight your web store in the search results by enriching your snippets with the rating, price, stock status, image and etc. Let Google notice simple products of your configurable and grouped products to suggest them in search results as special offers. The option is time-saving and helps you to distinguish yourself from competitors and draw customers' attention.
Learn More →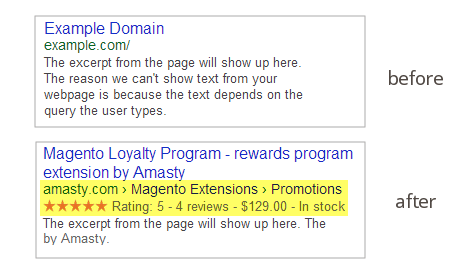 Display price, stock status, new condition
The extension allows you to display minimal product price in the snippets. You can as well display the stock availability and new condition of a product to provide customers with more engaging data.
Display rating and number of reviews
Customers can hardly imagine their online shopping experience without reading reviews. Display reviews and rating in the snippets to win more reliability from your future clients.
Use breadcrumbs
Include breadcrumbs in the snippets to highlight the navigation of your web store. Let the shoppers have a better view on where to find necessary products.
Display URL, Company name, and Logo
The Magento 2 SEO Toolkit lets you display all the necessary company attributes to stand out of the columns of identical snippets.
Pager Optimization +
NEW|

Redirects

One of the proven way to help customers find what they are looking for is to improve your web pages indexing. Having many products in your web store means you have to care about if the search engines properly crawl and build index for all the pages. Furthermore, you can avoid duplicate content and broken URLs issues with the extension redirect features.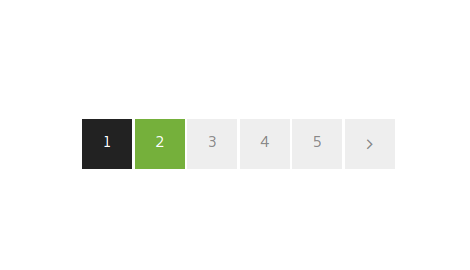 Add page number to meta title
The extension automatically adds page numbers at the end of meta title, e.g. Accessories | Page 5.
301 Redirects
301 Redirects to Home Page feature helps you to avoid duplicating content.
404 Not Found Redirect
Redirect customers from broken URLs to the search results - they will be taken to the products they are looking for.
Add page number to meta description
It is possible to automatically add page numbers in meta descriptions.
Rel="next/prev"
The extension groups the pages of similar series and direct the customers to a first page of a group.
Skip catalog search results pages indexing
The extension prevents search engines from redundant indexing Magento (advanced) catalog search results pages.
Meta Tags Templates
You can't have a good SEO without a proper meta tagging. Automatize the routine with Meta Tags Templates, increasing the store visibility in the search engines.
Learn More →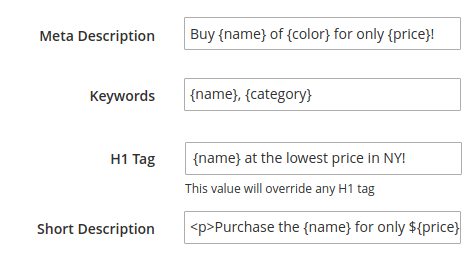 Manage meta info
Editing meta data for the large web stores may be exhausting and time consuming. The extension simplifies and accelerates the process by means of customized templates.
SEO-friendly redirects
Prevent the content duplicating with the flexible settings. '301 redirection to Home Page' function will help you to keep you web store URLs well-organized.
Use templates for titles and description
In ecommerce, it is crucial to specify proper titles and descriptions for each product. It is possible to make the process automatic for multiple categories of products.
Meta tags for products and categories
There are flexible settings available for the manipulations with meta tags. Create individual templates, specifying categories or subcategories, and store views.
Unique Product URL
Bring some extra SEO potential to your store. Make all product links unique and effectively avoid possible issues with search engines related to duplicate content. This part of the SEO Toolkit module is designed to easily modify the default Magento 2 product URLs. Using a small set of global parameters you can include categories and subcategories in product links, improve breadcrumbs and more.
Learn More →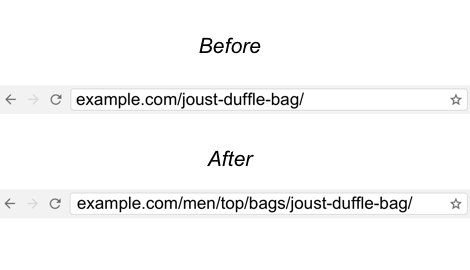 Specify the length of product links
With the extension, you can replace the default product URLs in Magento 2 with their longest or shortest versions. Those modified links will include categories and subcategories based on a certain rule.
Set how to define the desired product URL
Tell Magento 2 what is your preferred link size by choosing the URL depth level or the total sum of characters options. This settings will influence how the module builds unique product URLs.
Enable redirects to canonical URLs
The situation when a product has multiple links is typical. However, it negatively influences your store SEO ranking. The module allows you to avoid it by redirecting customers to a single canonical URL.
Improve breadcrumbs with necessary categories
Go even further in your SEO activities and diverse product pages with more informative breadcrumbs. You can reflect categories and subcategories from the product's URL or display the last visited category.
XML Sitemap
XML Sitemap is an easy way to communicate with Google, using its language. Let Google understand much faster: what your web store is about and what is your selling specifics.
Learn More →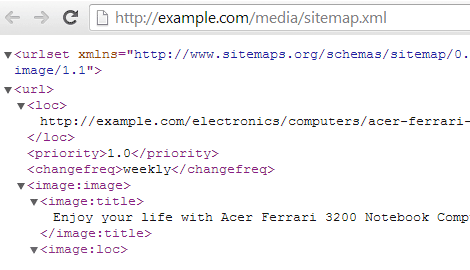 Going SEO-friendly
Magento 2 SEO settings allow to introduce your web store to the search engines, meeting all the needed requirements. Apart from satisfying customers, there is a duty to make your store understandable for the search engine crawlers.
Frequency of updates for types of pages
Some sections in your store have to be indexed more often. With Magento 2 SEO features, you can make various groups of pages, being updated with a particular time frequency.
Add images with titles and templates
There is a simple way to add images to your sitemap. Magento 2 Seo Suite allows you to specify images' titles to improve optimization process and bring more traffic. Apply the feature in bulk, using templates with the tags and variables.
Remove particular links
To arrange your web store XML sitemap as required, there is a feature to exclude particular URLs. Input URLs in the general settings or on the needed CMS pages.
HTML Sitemap
Provide your customers with a better shopping experience by generating a convenient HTML Sitemap. Customize layout and add various user-friendly features like a search box.
Learn More →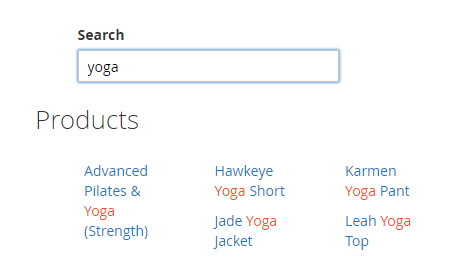 Include or exclude links
Research what your customers are more interested in and arrange an HTML Sitemap in the suitable fashion. Simply select what links you want to display in the sitemap.
Show a quick search box
It is possible to enable a super handy feature to navigate all the thousands of products with no irritation.
Specify Meta tags
Specify metadata description for your pages according to your SEO strategy. Introduce your web store to the search engines in the way you want.
Fine tune HTML Sitemap display
There are flexible settings for layout customization. Satisfy customers with user-friendly and easy-to-navigate sitemap.
Add to your newly SEO upgraded web store Improved Navigation extension
Generate SEO-friendly URLs and customized brand pages with Amasty top hit
Magento 2 SEO Layered Navigation
extension. Build a better, smoother shopping experience.
Other Features
100% Open Source — Easy To Customize
Follows Magento Code Architecture
Separated HTML/CSS/JS
Simple installation via Composer
* The name "Magento" and the logo are the trademarks of Magento, Inc.
Recommended
Great extension and the support team is exceptional! Recommended.
Awesome support!
We have some issues trying to get the SEO tool to work on our staging host and reach the support team. They replied in couple of hours and have fixed all the issues the same day. Even the problems that are not related to their module. We have it working well on our production site. The best support I've ever tried. Thanks!
Probably the best SEO extension on the market
I did a research before we bought this extension developed by Amasty. It takes some time before you understand what is a best configuration. As a result we are very satisfied. I think this is the best SEO extension on the market!
Very useful extension for SEO
The extension is packed with features that guide the crawl bots down the proper paths and makes it possible to provide unique meta info to any page. The customer support is very responsive.
must-have for any store
This extension is an absolute must-have for any store. The settings are easy to understand and configure. I'm happy with the results and definitely recommend it.

Write Your Own Review
Version 1.5.1
-
March 07, 2018
– New: an extension allows to exclude Out of Stock Products from the XML Sitemap
Version 1.5.0
-
February 26, 2018
– New: allows to redirect customer to the store search results from the broken URL instead of the '404 Not Found' page
– New: adds NOINDEX, NOFOLLOW to the app/design/frontend/YOUR_PACKAGE/YOUR_THEME/layout/local.xml in order to prevent the search engines (Google, Bing, Yahoo, etc.) from needlessly indexing Magento catalog search results page(s) and advanced search results page(s)
Version 1.4.2
-
February 16, 2018
– Fixed an issue with not visible products added to the sitemap
Version 1.4.1
-
February 13, 2018
– Fixed an issue with the specific values per store for the URL generation
Version 1.4.0
-
February 08, 2018
– Added possibility to run the XML sitemap generation manually using SSH
– Fixed the wrong URL for the XML sitemap file
Version 1.3.3
-
February 08, 2018
– Fixed the breadcrumbs issue with several categories with the same url key
Version 1.3.2
-
January 11, 2018
– Minor fixes
Version 1.3.1
-
January 05, 2018
– New {meta_parent_category} variable is added
– Made the [ ] to work like an if condition, meaning if the variable is empty then the text will not be printed
Version 1.3.0
-
January 03, 2018
– New: Cross linking functionality allows to replace the extended keywords with internal and external links to increase the store SEO value
Version 1.2.6
-
December 21, 2017
– Fixed an issue with the DataObject Plugin
Version 1.2.5
-
December 11, 2017
– Minor fixes
Version 1.2.4
-
November 20, 2017
– Fixed the product URLs issue in the multi-store configurations
– Fixed the Category URL issue
– Fixed the Brand page URL issue
– Fixed the multiple image URLs issue
Version 1.2.3
-
November 09, 2017
– Fixed the problem with the installation via composer
Version 1.2.2
-
November 02, 2017
– Minor fixes
– Code style fixes
Version 1.2.1
-
October 26, 2017
– Minor fixes
Version 1.2.0
-
October 18, 2017
– Adds the rel=next/prev tag to point Google where the next or the previous pages are
– Adds Pager Number to meta title and description
Version 1.1.3
-
October 13, 2017
– Added new option to display an item condition
– Added new option to display the configurable product as a list of simple products offer
– Added new option to show the grouped products as a list of associated products offer
– Fixed an issue with the company name and reviews in the metadata
Version 1.1.1
-
October 11, 2017
– Fix minor issue
Version 1.1.0
-
October 6, 2017
– Magento 2.2 compatibility tested and confirmed
– Unique Product URL features added