Google Rich Snippets for Magento 2

|

v1.0.1
Screenshots:
Why do you need rich snippets?
Much faster website indexation
Enhanced visibility in organic search
Higher rankings in search results
Increased CTR (Click-through rate)
Lower bounce rate

How rich snippets work
Rich snippets for Magento 2 are a type of structured data that help search engines to better 'understand' information placed on your store pages and show additional details in organic search. Therefore, by displaying more information about your organization, products or services you will accurately segment potential customers and draw only relevant traffic to your website.
Take advantage of the most useful rich snippets types
Rich snippets- Breadcrumbs
Show navigation path. Clear navigation makes any online store much more user-friendly and helps Google to better understand website content. The tool enables you to include breadcrumbs in Magento 2 rich snippets to accurately show the page's position in the site hierarchy.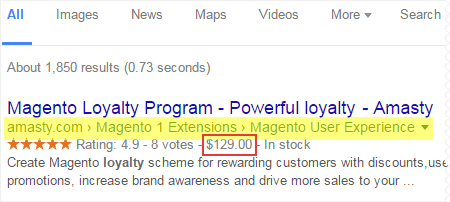 Rich snippets - Category
Show average products rating + min starting price. Let customers see the average products ratings and the cheapest starting prices to help them learn more about your pricing policy and items' quality even without opening your store pages.
Reach snippets - Organizations
Show store URL + name + logo. With 'organizations' Magento 2 rich snippet type you will easily raise your brand awareness and stand out in search results. Due to flexible extension settings you can specify the necessary logo URL to display it in SERP. Besides, keeping in mind that Google displays logos only for highly reliable websites, customers will definitely trust your company more.
NOTE
To test your website structured data like rich snippets or breadcrumbs please click here.
Advanced options
Search input box
Due to Magento 2 rich snippets extension you can display a handy search box right in Google search results. Make product search process maximally convenient by letting customers look for necessary items directly from Google.
Note: Google uses multiple parameters to determine the search box display such as on-site information and various types of navigational queries. Therefore, only Google decides which websites will be able to display a search box.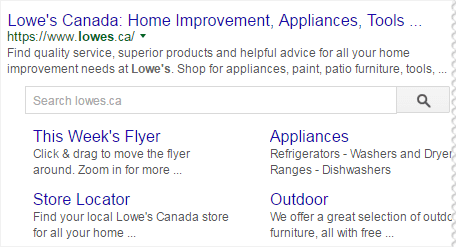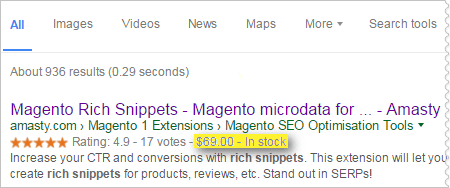 Stock availability tag
The Magento 2 microdata module adds availability tag to product rich snippets making them even more informative. Now your customers will see whether the product they need is in stock even without visiting your site and make a click decision much faster.
Display site name in search results
Specify any custom store name to display it in search results instead of a full site link. Make your google rich snippets for Magento 2 look accurate and clear to help customers easily focus on the information they need.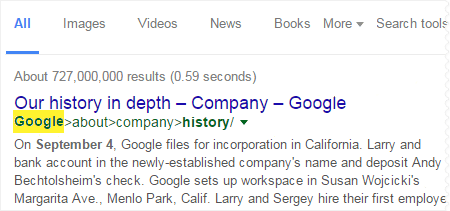 7 reasons to choose
Risk-free Investment
30-day moneyback guarantee for all extensions. No questions asked.
Comprehensive Documentation
There is a detailed user guide with examples even for tiny addons. FAQ section and videos also available.
Solutions Which Work
Careful in-house testing ensures you get robust applications. Multiple stores support. Custom themes compatibility. All included.
Outstanding Support
Our support service is friendly and of high quality. And it is free. Unbelievably. Just check independent reviews at Magento Connect.
Usability and Performance
Nice and easy to use interfaces. Fast algorithms. Save your time and get things done.
Flexible and Easy Licensing
No product or store view or domain limits. No monthly fees. No hidden charges. One extension license for one Magento installation.
Long Term Strategy
We've been in the market for 5+ years. We're proud to be a Bronze partner and are planning to stick to Magento platform for years ahead. We're doing our best to build extensions which maximize effectiveness of your business. We're open to customers' suggestions and constantly update our products to match your needs.
Other Features
100% Open Source — Easy To Customize
Follows Magento Code Architecture
Separated HTML/CSS/JS
W3C Validated Code
Online Extension User Guide
* The name "Magento" and the logo are the trademarks of Magento, Inc.
General Questions

How can I pay for Amasty extensions?

What is the license policy? On how many websites can I use Amasty extensions?

How to install Magento extension by Amasty?

Can I test an Amasty extension on a staging site before transferring it to a live one?

Can I get a refund if an extension doesn't suit me?

Will I get any other benefits?
Version 1.0.1
-
May 11, 2016
– Price formatting according to Google guidelines