Build a clever discount system instead of conducting occasional special offers. Analyze your stock and create cart price rules that help you sell, don't forget to take customers' info into account.
Gain loyalty with individual promos
Thanks to thought-out conditions functionality you can create highly individual and accurate promotions. Such a personal approach makes customers feel cared about and they pay back with loyalty.
Increase repeat purchases
Let customers understand that shopping at your store is beneficial. Create promotions for various occasions, give small prizes and customers will not resist coming back.
Add a new cart price rule
Name it and specify applicability
Limit the rule with well-thought-out conditions
Select the type of promo you want to use
See how the promo looks like in a shopping cart
Wide range of promotion types to suit all tastes and needs
The most popular
See the list of the most popular actions among our customers. They all are familiar to online shoppers and are easy to set up.
Buy a water bottle, get one free
Get a $40 discount for each $300 spent
Buy 3 different watches, get the most expensive with 50% off
Each N-th after X-th
Use such promotions for products, which are sold in large amounts. Set a number of products, which users must buy for the original price and then set a discount step for discounted items among the remained products.
Add 13 items to cart, buy 5 for a regular price and get each 3rd after 5 with 30% discount (or $10 off, or for $9.99)
Buy X Get Y
This group of actions includes promotions connected with two different products - users buy one and get another one discounted.
Buy a laptop, get a mouse for free
Buy pants, get a tie with $10 off
Buy any pizza, get a dessert for $9.99
Each Group of N
Create promotions to sell more pieces of the same product - set a percent or flat discount.
Buy 11 sponges, get each 5 for $2.99
Buy 8 chocolate bars, get each 3 with 40% off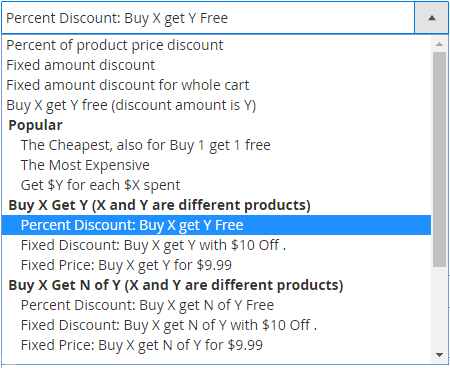 Buy X Get N of Y
Such promotions include two products, but users can get a discount for several items of second (Y) product.
Buy a razor, get 3 razor blades for free
Buy a watch, get 2 wristlets with $15 off
Buy sneakers, get 3 pairs of socks for $11.99
Product Set
Create product sets according to your needs and set fixed or percent discounts for them.
Get a chair, a lamp and a cushion for $200
Get a bed, 2 pillows and a blanket with a 25% discount
All products after N
If you have products which are mandatory to sale, give discounts on attractive additional products, which must be bought together.
Buy 2 sinks for the full price, add max 3 water taps to cart and get them with 20% discount (or $50, or for fixed $150)
Each N-th
These actions are good for products, which are usually bought in several pieces. You can set which of the pieces will be discounted.
Buy 4 wheels, get 4th with 50% off
Buy 3 TVs, get 3rd for $89
Buy 6 paper towels, get each 2nd with $3 off
Accurate conditions for proper rules limitation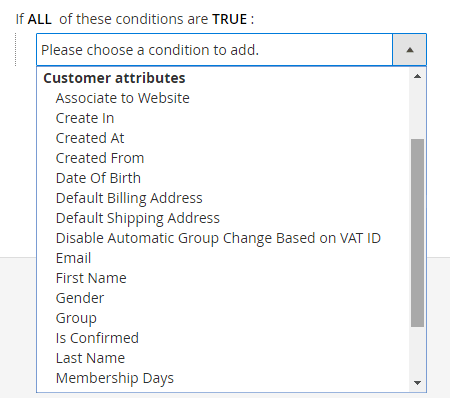 Customer attributes
The module implements new conditions based on customer info. Specify customer's Name, Gender, Date of birth, Membership period, etc. to apply proper discounts to the right people. For example, you can give discounts on the St. Patrick's Day to all people, who have 'Green' in their last names. Or create a peculiar loyalty bonus for clients with Membership period more than 365 days.
Order subselection
Specify order statuses (pending, completed, etc.) and time after orders were placed to restrict rule use. For example, you can apply the rule only for customers with 3 or more orders, with order status "Complete" and which were placed 6 months or less ago.
Purchase history
Set precise limitations based on orders qty and total sales amount. Reward customers who had spent significant money amounts and show that you value them. For example, create deals for customers who placed 4 orders and/or spent $500 for the last 6 months.
Cart attributes
Use such attributes as Subtotal, Items qty, Shipping Region, etc. to give discounts only for certain carts. For example, you can use this feature to restrict discounts by small total amounts in carts of guest visitors and avoid providing discounts when it's not profitable for you.
Custom options
Create custom options for products and use them as rule conditions. This is a very accurate way to limit promotions, you can adjust the offer to any case. E.g.: you offer glasses, and there's a custom option to include an engraving. In this case you can offer discounts only on engraved glasses.
NOTE
Built-in Segmentation functionality for Magento 2 Enterprise Edition
By default, the Enterprise Edition for M2 has a rich Segmentation functionality which already includes condiotions based on Customer attributes and Order history. Therefore, we didn't add these conditions to the Enterprise edition of the module.
Sophisticated features for smart operation
Skip products on special price
Giving discounts for products on special price is not profitable and manual price editing for every product is a monkey job. Now you can enable 'Skip products on special price' option and save your time.
Complete Magento integration
The module supports multi store and multi currency options and also fully intergates with Magento taxes functionality.
Choose price for discount calculation
Define which price should be selected for discount calculation for every rule. Choose one of three options - original price, price after previous discounts or special price.
Discount display on the cart page
Clearly indicate disount amount on the cart page. Let customers know that they used special offers.
Other Features
100% Open Source — Easy To Customize
Follows Magento Code Architecture
Separated HTML/CSS/JS
Simple installation via Composer
* The name "Magento" and the logo are the trademarks of Magento, Inc.
A masterpiece
A real masterpiece by Amasty - eventually, I have it on Magento 2. Works as described, smoothly and without conflicts. 22 ready-made flexible promotions and dozens of conditions to please and engage buyers.
Write Your Own Review
Version 2.1.0
-
March 14, 2018
– Improved the 'Product set' action. Now, only SKUs can be used to create a set
– Improved usability by removing the 'Maximum Qty Discount is Applied To' setting from the 'Group of N' action
– Fixed the logic of the 'Product set' and 'Group of N' actions
– FIxed an issue with 'Max Amount of Discount' setting
Version 2.0.5
-
March 02, 2018
– Fixed an issue with installation on Magento 2.2.2
Version 2.0.4
-
January 18, 2018
– Rare issue with extension installation on Magento Enterprise Edition was fixed
– Compatibility with 3rd party extensions was improved
Version 2.0.3
-
January 04, 2018
– 'Each N-th' action behavior was fixed
Version 2.0.2
-
December 14, 2017
– The discount calculation for the "Each Nth" rules was fixed.
Version 2.0.1
-
December 04, 2017
– The installation script was fixed.
Version 2.0.0
-
November 29, 2017
– The configuration of several promo actions was simplified:
The promo actions "Each M-th After X-th" and "All Product after N" were combined in one action - "Each Product After N".
The promo actions "Buy X get N of Y" and "Buy X get Y" were combined in one action - "Buy X get Y".
– The advanced conditions display on Magento Enterprise Edition was changed.
– The issue with promo rule labels display was fixed.
Version 1.3.1
-
October 23, 2017
– Fixed discount display in admin area
Version 1.3.0
-
October 20, 2017
– New: Customer ID can be used as customer condition
– New: Magento Enterprise edition Schedule feature compatibility
– Fixed the rare case of division by zero
Version 1.2.4
-
October 05, 2017
– "Each M-th after X-th" rule logic fixed
– Magento 2.2 compatibility tested and confirmed
Version 1.2.3
-
August 30, 2017
– Magento 2.2 compatibility introduced