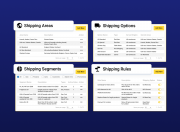 CE 1.4.x - 1.9.x, EE 1.8.x - 1.14.x
Calcurates All-In-One Shipping Solution
for Magento 2
Meet Calcurates, our cloud-based entire shipping solution that calculates and shows the right rates to your customers. Top shipping challenges are now solved:
Reduce the gap between shipping costs you bear and shipping fees customers pay to you
Easily integrate with major shipping carriers (DHL, UPS, USPS, FedEx and more)
Provide a shipping choice and better experience to your customers
Customize your shipping methods and rates
Single and solid solution instead of dozens of extensions
Calcurates is here to bring your shipping to a new level and make it cost-effective and sales-stimulating.
Ready to move your shipping to a next level with Calcurates? Start Free 30-Day Trial!
Being an essential part of customer experience you provide, shipping directly influences the sales funnel of your site. Overpriced and confusing delivery options result in prospects refusing to proceed to checkout. It is common knowledge that shipping profitability is one of the key factors of financial health for e-commerce. Dozens of shipping extensions partially solve these challenges, however, compatibility and support process turns into a headache.
Being an all-inclusive, cloud-based and solid shipping solution with intuitive web and mobile interface, Calcurates provides you with perfect shipping management experience. Not only does it give flexible settings for custom shipping options, it also gives you the ability to employ world-famous carriers. As a result, Calcurates helps you reduce the gap between true shipping costs you bear and shipping rates your customers pay on checkout.
Check your shipping configurations before displaying them on the frontend with Shipping Calculator
Connect your own carrier accounts
Get Landed Costs from carriers for International Shipping
Get access to Real-Time Rates
Request Shipping Labels and Tracking Numbers
Go Further With Advanced Features
With the Smart Packaging feature you can create Custom Packages that your store uses and our algorithm will "prepack" the order in them, before requesting Real-Time rates. This allows you to get the most accurate rates and stop losing money on the estimated vs real carrier rates. The algorithm uses not only the Width, Length and Height but also the Package parameters to build the rate request. Learn more.
Landed Costs For International Shipping NEW
We support International Shipping and can enable tax and duties to be included in the calculated price on checkout. This allows you to show the full rate and not surprise the client with additional payment on delivery. Learn more.
Rate Shopping functionality allows you to request real-time rates from multiple connected carriers in order to compare and show the lowest of them so that your customers enjoy only the best shipping options. Learn more.
Multi-Origin Shipping NEW
Use smart algorithms to choose how the origins/warehouses are selected for each order. Make sure that there are no extra or unnecessary deliveries and get more customer satisfaction with it.
Volumetric aka Dimensional Weight feature will allow you system to use Length, Width and Height attributes of the product to get the rate from a carrier. The rate is compared with the rate based on weight solely and uses the largest of two to calculate. Learn more.
Customize Delivery Dates for each shipping option specifically. Determine the non-delivery days of the week and national holidays. Cut-off time setting will help you determine what time the same day delivery stops working. Learn more.
Provide your customers with the ability to select In-Store pickup as a shipping option. Create as many drop-off points as needed and use the Google Place ID or a handy map to show the nearest pickup locations. Learn more.
Save time with our Configuration Service
Use this Configuration Service to avoid hours of manual configurations and endless surfing through thelong-read manuals.
Learn more about Configuration Service
How to get
the configuration?
Install the extension
Click on 'Get the Config' button below and fill in the short form
We'll contact you within 24 working hours and configure the extension quicker, safer, tailored to yourneeds
get the config
You Get the Vital Software and Service As Well
Get qualified and careful technical support for free
Free 30-Day Trial — test all the features and check if Calcurates meets your shipping needs
SHIPPING BASICS FOR SMALL E-COMMERCE BUSINESSES
1 Website

Up to 1 Shipping Origin

Up to 3 Shipping Options

Up to 3 Shipping Rules

Free Live-chat and Email support
All prices are without VAT
FOR E-COMMERCE BUSINESSES THAT USE ONLY CUSTOM SHIPPING OPTION
2 Websites

Up to 10 Shipping Origin

Up to 10 Shipping Options

Up to 15 Shipping Rules

Free Live-chat and Email support

Advanced Features from $10/mo

Configuration Assistance

2 months for FREE if paid annually
All prices are without VAT
FOR E-COMMERCE BUSINESSES THAT ALSO NEED INTEGRATION WITH CARRIERS
All the perks of Pro
5,000 Carrier Requests* Included
All Advanced Features included from $10/mo
Free Live-chat, Email, and Voice support
Configuration Assistance
All prices are without VAT
Learn how to improve your shipping strategy from Calcurates Blog
4.3
See 216+ verified reviews
Which carriers do you currently support?
At the moment we have support for: DHL Express, DHL eCommerce, FedEx, UPS, USPS (Stamps.com), Royal Mail, DPD, Canada Post, Australia Post, Aramex (ex. Fastway), Parcelforce, Purolator Canada, Sendle.
We keep adding more carriers according to our users' requests. Please, let us know about the carrier you would like to see in Calcurates.
What eCommerce platforms do you currently support?
For now it's Magento 2 and WooCommerce as well as API integration. Integration with other platforms (Shopify, BigCommerce, PrestaShop, etc.) is coming soon. Drop us a line if we are missing your platform as your voice really affects our priorities.
Is it hard to switch from my current shipping extension or solution?
True, this can be hard indeed — but don't let it put you off, especially since we offer a free migration service for you. Just contact us if you need assistance and we will accompany you with the migration process.
Why should I pay for monthly subscription instead of buying extension and pay for it once?
The bunch of shipping extensions with similar functionality will cost up to $1500. That equals 36 months of Calcurates subscription. Try our free plan or take advantage of our 'Pro' plans with monthly or yearly billing which are flexible and fair. You can compare and select the pricing plan here.
What are advantages of cloud-based solution compared to extensions?
There are numerous benefits of a cloud-based solution. First of all, you can adjust Calcurates functionality to your needs and budget. We're extremely flexible. Just select a suitable plan and a number of required features and you're good to go. Hence, there's no need to install dozens of extensions and then solve compatibility issues. Also, there are no UX limitations from the e-commerce platform interface. We offer a separate UI instead that is intuitive and mobile-friendly. We also provide easier support and as we are an API-based service we won't need to access your Magento or WooCommerce while supporting you.
Will Calcurates really meet my shipping needs?
There's only one way to find out — book a demo with us so we can talk about your shipping needs and see if Calcurates can meet them. Moreover, if you can't find the required feature in the list, then you can request it and we'll add it to our roadmap.
Which pricing plan is the best for me?
You can compare and choose our pricing plans here using our informative table. Still hard to choose? We can help you choose the best pricing plan according to your shipping needs. Just book a demo.
Can I change my pricing plan?
Sure, any time you can add or remove features within your plan or even switch the plan itself. Please, check our pricing plans and drop us a line if you need your plan or features to be updated.
Is it hard to configure all these shipping settings with Calcurates?
There is a live chat widget on the Calcurates website. You can also send an email to our support. Our careful support will do its best to assist and guide you through all the shipping settings.
How can I solve compatibility issues with other extensions I use?
Please, contact us if you have any compatibility issues. We will do our best to help you with a problem.
What type of support do you have?
We do have a free live-chat and email support. Also, we offer free voice support for the 'Pro + Carriers' pricing plan.
You'll be charged at the day your subscription started and then monthly or yearly depending on your subscription term. Also, there is a separate subscription for additional features for which you can be charged monthly or yearly. Please notice, the number of features available is limited to the plan you are using. For further details, please, take a look at our pricing plans comparison table.
Ratings & Reviews
Be the first to review this product
Write your own review
Please rate

Calcurates All-In-One Shipping Solution for Magento 2

from 1 to 5 stars