Product Attachments
for Magento 2
Let customers get more details about products they purchase. Provide them with accurate manuals, licenses, warranties and other additional info right on product pages. Upload files of any format and use catchy icons to capture customers' attention with Magento 2 Product Attachments.
Extend functionality with API support
Add an unlimited number of various file types
Display catchy attachment icons
Adjust attachments position via widgets
Benefit from mobile optimized design
Reduce the time required to launch your website
Make developers more productive with API support
For stores that need to transfer hundreds and thousands of files to the website server, manual upload is not efficient. You don't need to add every attachment by hand. Now, there is another option to add multiple attachments without Magento Admin Panel.
A developer can upload files using a preferred development environment thanks to the API support. This way, files upload can be done much faster, especially for large stores with thousands of products. It significantly shortens the project delivery time.
If you sell complex products you need to provide customers with maximally detailed descriptions to help them find necessary information before making a purchase decision. The Product Attachments extension for Magento 2 equips product pages with a special attachments block where you can upload numerous documents such as user guides, certificates, licenses and many others. Use predefined icons or upload your own ones, upload an unlimited number of any file types and make product pages as informative as possible.
Equip your store with all types of attachments
Due to the Magento 2 Product Attachments extension, you can upload as many additional files to each product page as you need. The module supports numerous file formats to help you easily share product info with customers.
Upload files of the following types:
jpg;
ini;
readme;
avi and many others;
Enhance your website performance
The fewer files you add, the better your website speed is. With the extension, you can add 1 file to several Magento 2 products/categories without assigning file's copies to each particular product. Moreover, save time by uploading all the needed additional files and attach them to products in bulk via CSV-file import.
Attract target customers by limiting files visibility
With the Magento 2 product attaсhments extension, you can enable and disable files display just in one click. Therefore, there is no need to upload and remove files again and again each time you want to hide a particular attachment. Apart from that, you can show or hide specific files depending on customer groups or order status.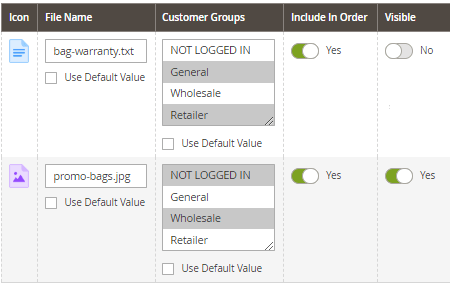 Flexibly manage all the attachments
Place attachments in any location to capture customers' attention
The extension allows you to adjust the attachments tab position among the other product details tabs or add files to absolutely any product, category or CMS pages via widgets. With the feature, you can easily adjust widget's location on the page to make the attachments even more noticeable for customers.
Customize file names
You can specify two names for the same attachment - indicate one file name for the frontend display and the other for your internal use. It's also possible to leave the names as they are if necessary.
Let customers easily manage all attachments in one place
Customers can find all the attachments regarding completed orders in their accounts. When they view a necessary order in the tab 'My Orders', they find corresponded files. All this prevents from losing important documentation regarding the purchased product and its usage.
Mass category files upload
Now, you can save tons of time by equipping all products in a category with useful attachments. Just navigate to the categories configuration of your Magento 2 store and attach as many files to all products within a category as you need.
Easily draw customers attention
Display catchy icons for product attachments
The Magento 2 product file attachment module allows you to upload as many icon images as you need and assign them to each specific file type. If you don't want to upload your own icon images, you can use the predefined ones. The extension offers 8 ready-made icons that can be assigned to necessary attachment files.
Enhance customers loyalty by adding attachments to transactional emails
Add pdf product attachments to Magento 2 transactional emails to provide customers with the maximally detailed product description. Let customers view all necessary information in a convenient way.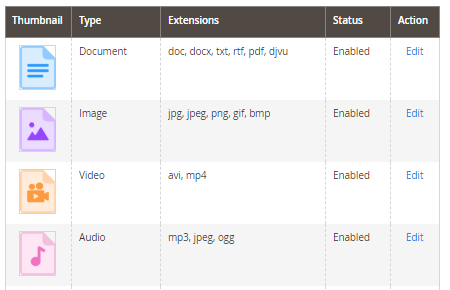 Analyze the effectiveness
with Magento 2 attachment reports
Get separate reports for different store views
Generate reports for different store views to manage attachments even more effectively. Find out which files for which store views enjoy greater popularity and modify less popular ones according to customer needs.
Build loyalty by displaying files in a new tab
The inability to check the files before downloading them may significantly irritate shoppers. With the autodetect file option, customers will be able to open necessary files right in a browser window instead of downloading them.
Promote your feature-rich products
Easily drag your customers' attention to your top items with Amasty Magento 2 Cross-Sell / Upsell Products. Use cross-sells and upsells to increase the number of spontaneous purchases and boost your total sales.
Other Features
100% Open Source — Easy To Customize
Follows Magento Code Architecture
Separated HTML/CSS/JS
Simple installation via Composer
* The name "Magento" and the logo are the trademarks of Magento, Inc.
multifunctional
This module is m-friendly, and it enables me to do lots. Like adding documents to product right on the grid - just drag and drop. Also I appreciate that it's possible to hide some docs in a click, no need to delete and upload again. Saves much time and also it is possible to show different docs to different customer groups. I need that much, because both regular customers and big suppliers buy from me. And they need to see different docs. So, it's really a win. I wouldn't change it for anything.

Feature request: Addition of thumbnail
Hi,

We love this extension although a nice to have would be the addition of thumbnails for the attachments :)

Thx in advance!
Boring tasks went away
This module is not too new, but still they improve it steadily. Before it didn't have the option to copy paste same set of documents for a range of products and I had to load same item over again. It was driving me mad. I even wrote to their support and finally they made the function available for categories! But the module has other important features. For example, you can add icons to attachments, you can upload a whole set of files, track downloaded files and check which products are more popular. It's a good product, I recommend.
Good extension
A good extension that is easy to configure and start using. We considered another vendor as well and chose this one as it allows uploading attachments in bulk.
all user friendly
I bought this module right after I moved to m2. I used the same on m1 and it was great. But when I started installing this one, I understood I had to do all the same operations I did before. It was a useless waste of time. So I contacted the team and they explained to me that it wasn't that simple and needs customization. They offered cooperation and only in some 2 days my Magento 2 store was up and running with all necessary supporting docs displayed. Great and fast work.
Quality extension with good support service
After installation the tab with attachments didn't appear on the product page. It took about a week for the support team to fix it. The problem was with a custom theme that the module didn't support. All the rest is fine. The module is transparent and works as described.
Some improvements needed
All in all, I like this product. With it I can manage all goods information and add some items my clients require often - warranties, certificates, license. It supports many formats, including pdf and even ppt. So I can upload them in good quality, no need to take document pictures and upload. And it's also possible to customize the position of the attachment block, so customers can see them well. But one problem is there. It's impossible to perform same action with multiple products, like in mass action module. Would be nice to have compatibility here.
Suggestions for improvement
I need to add a few specifications to my products, so this extension works well for that.

Guys, I have a few suggestions for you:
- support could be faster
- add possibility to attach files to cms pages too.
Apart from that, everything is fine.
Awesome
Everything I can say is awesome. It makes my life easier and provides needed functionality. Thanks a lot!
ок
нормальный модуль, ничего особенного плохого или хорошего. делает свою работу.
Are you looking to add specific functionality for this extension or want to acquire a reliable development partner altogether? With custom development services by Amasty, you will receive high quality and cost-effective solutions developed by Magento professionals according to industry's best practices.
Magento 2.2, 2.3 (including 2.3.5)
You can always download the recent version free of charge from your account
Installing an upgrade is easy — check now
My Downloads
Version 2.3.8
Last Update: Jul 01, 2020
Improvement code was refactored according to Magento Marketplace standards
Improvement code was refactored according to Magento Marketplace standards
Fix we fixed the issue appeared in upgrading to the latest version from the version 1.3.3
Fix we resolved the problem with the files management in the attachment widget
Fix we fixed the error appeared while filtering in insert listing of attachments modal window
Improvement we added 'Created At' and 'Updated At' columns for Product Attachment Files
Improvement we hid the attachment fieldset for 'Not Visible Individually' products
Improvement we improved saving some extension settings by store view
Fix we fixed the issue for B2B version, related to the inability to save the 'Not Logged In' customer group in multiselect
Compatibility now the module is compatible with Shared Catalog
Fix we solved the problem with sending emails with attachments
Improvement we removed unused jquery libs
Fix we solved the problem with tab position
New we added the option to show an encoded product attachment URL
Improvement we added the choice of order statuses for attachments that are available to customers after order creation
Improvement now you can adjust the attachments tab location on the Product Details Page using the 'Tab Position' field
Improvement we added the SKU column to the import file
Version 2.2.0
Last Update: May 11, 2019
New Now it is possible to import product attachments via CSV file
Version 2.1.0
Last Update: Mar 26, 2019
New API was added to the extension
Version 2.0.5
Last Update: Feb 01, 2019
Fix the upgrade script from v.1.x.x to 2.x.x was improved. Possible errors while updating the extension were fixed
Improvement the upgrade script was enhanced. Some possible issues while updating the extension from v.1.x.x to v.2.x.x were resolved
Compatibility the compatibility with Magento B2B was enhanced
Compatibility the compatibility with custom Magento themes was improved
Fix the possible error 'Notice: Undefined offset' while updating the extension was resolved
New Include attachments to transactional emails and order details
New Introducing absolutely NEW Product Attachments extension! The extension was completely reworked. Meet great multistore performance, enhanced stability, increased comfort for managing attachments and new features as well.
New add attachments to any page of your website with the help of widgets
Warning: no attachments import has been added to the new extension yet. But the process of attaching files via categories is very comfortable now. The import will be added later on
Version 1.3.3
Last Update: Oct 15, 2018
Fix the issue with getting the file attachment details via API was resolved
Fix the issue with products without a category was fixed
New the ability to add an attachment to all products in a category was added
Version 1.2.6
Last Update: Dec 19, 2017
Fixed a notice with undefined index 'id'
Fixed an issue with file removing on product edit page
Fixed an issue with removing files attached to products
Added possibility to mass import attachments with "URL" type.
Compatibility improvements with Amasty Mass Product Actions extension
Minor improvement with the case insensitive headers
API Support added; new API methods to get list of attachments, get specific attachment, create, update and delete attachments
Version 1.1.1
Last Update: Dec 01, 2016
Minor fix for HTML syntax
Translation for setting names added (some were missing)
Possibility to inject attachments block into any position on a product page with PHP code
New backend page added with the list of all attachments
A number of general improvements
Version 1.0.5
Last Update: Oct 03, 2016
Fixed error on installations with table prefix
Fix for saving a product when no attachments added
Compatibility with Magento 2.1
Fixed icons when setting "Add Store Code to Urls" is enabled
Fixed name of downloaded file
Fixed "Downloaded At" column on downloads report grid