Our experts are ready to migrate your website to Shopify turnkey. We will ensure smooth data transferring and take care of all technical issues that can appear during the Magento to Shopify migration process.
What does Magento to Shopify migration include?
Magento to Shopify migration includes full data transfer: products, customer information, orders, and content. The service also includes migrating or adapting your design to Shopify or developing a completely new theme according to your brand book. 
Why choose our Magento to Shopify migration service?
It is the most optimal way to migrate your store to Shopify. You can use different Magento to Shopify migration apps, but they have several disadvantages, like limited data transferring functionality, like your product, customer, order data can be transferred partly, and adjusting your store to the new platform.
Magento 2 to Shopify Migration workflow
STEP 01
Data analysis
The process begins with investigating your migration requirements and analyzing your Magento store to understand the upcoming work plan.
STEP 02
Data migration
Data migration consists of 3 stages:
Magento to Shopify product data migration
Orders data migration 
Customer data migration
During this process, we will make sure that you do not lose any data.
STEP 03
Migration of custom functionality
All custom functionality of your store will be recreated on the new platform.
STEP 04
Theme/Design migration
Our specialists will help you choose one of the ready-made solutions, customize it or create an individual theme depending on your needs.
STEP 05
Performance testing
Our quality assurance specialists will make sure everything works correctly. We will test all features and troubleshoot any issues that may arise during the operation.
STEP 05
Delivery and support
As a result, you will receive a fully functioning e-commerce site and 2 months of free support. We will keep in touch with you and help you with any questions.
We're not just an extensions development company but a business partner with 12+ years of experience that you can rely on.
Dedicated Project Manager
The specialist leads your project from start to finish gathering project requirements, creating tasks, managing developers, taking responsibility for project delivery, dealing with the financial part, scheduling meetings in accessible formats, informing you about the project status, and performing after-release support.
3 payment models
Flexible payment models: fixed price, time and material, dedicated team. Based on the combination of the project factors we help our clients choose an acceptable payment model. We accept credit cards, PayPal, bank wire transfers. 
2-month free support
We provide 2 months of free support for a custom product after the release. Your personal assistant will answer all your questions even 2 months after the project implementation.
No strict input data
As a highly experienced team that has already delivered 96 migration projects, we have no strict rules on collecting requirements for a project. You can contact us with either a rough idea or a project WBS. The more detailed you outline a concept, the more detailed we can estimate an offer to you.
Experience
We have 12+ years of experience in e-commerce site development, so we have learned all the ins and outs of creating solutions for online commerce. In our work, we follow the best coding practices and the latest trends. 
Dedicated development team
We will assemble a team of senior developers, testers, designers, and marketers according to the needs of your project.
Reliability
Amasty was named the top developer in Slovakia in 2021.
Web development
Zend Framework 2, YII PHP Framework 2.0, Laravel 2, Symfony PHP Framework 2, etc.;
Node.js, Express.js, Hapi JS Framework, Socket.IO, Mojito, Sails.js Meteor, Crafty.js, D3.js etc.;
Perl.
Servers administration
VDS server, as well as cloud-based services setup and optimization, Rackspace Cloud, AWS, Azure.
Setup of VPN, DNS, DHCP, Mail (we've developed a number of spamming and traffic generation systems and tools).
HTML/CSS
Bootstrap, Sass, Less.js, 960 Grid System, Blueprint, Material, Semantic, Sencha Touch, etc.
Mobile Development
Android/native iOS web development;
Cross-platform development using Apache; Cordova/PhoneGap/Ionic, as well as React Native.
JavaScript
Angular (2), React, Backbone, JQuery, D3, and many other in-demand frameworks.
Database
MySQL, PostgreSQL, MongoDB, SQLite, MS SQL, NoSQL.
Quality Assurance
Black/White box automatic and manual testing.
Design
Figma, Adobe Photoshop, Adobe Illustrator.
Entrust your website migration to professionals
Fill out the form below and our specialist will contact you within 24 working hours.
The first consultation is on us.
FAQ
Magento to Shopify migration checklist usually includes the following steps: backup of your Shopify store's database, install and configure your Magento store, migrate store data, transfer custom features, install or migrate your theme, test your store.
Set up a Shopify Account.
Create a Backup of Your Store.
Download the Store Import App.
Export Data From Magento.
Import Data to Shopify.
Review Imported Data.
Design Your New Shopify Store.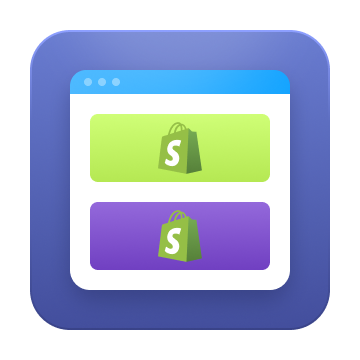 Prepare Your Magento Store. Take Backup Of Your Magento Store.
Prepare Your Shopify Store. Make Your Shopify Store Ready.
Download An App for Import.
Export Data from Magento.
Import Your Store Data to Shopify.
Review Imported Data.
Restyle Your New Shopify Store.
Write your own review
Please rate

Magento to Shopify Migration Service

from 1 to 5 stars