Improved Sorting
for Magento 2
Improved sorting for Magento 2 is a very effective tool for store-owners who care about their customers. Increase the usability of your catalog with user-friendly search options! Let your potential clients browse catalog or categories by any comfortable parameters.
Offer each customer a suitable sorting option
Focus on better performing products
Sort out-of-stock products and items without an image last
Change sorting order when you need
Fully optimized for mobile
Improved Sorting extension for Magento 2 is a user-friendly navigation tool, meant to enrich your customers' shopping experience. It allows potential clients to search for the right product in a very easy and convenient way. The possibility of Magento 2 store to sort products by position, rating, best sellers and other attributes enables buyers to find exactly what they need in record time and without any difficulty.
How to sort products by newest?
Many site visitors search for the newest, most trendy things. Help them browse the catalog more comfortable by implementing sort by newest option. In this case, instead of the default Magento 2 sorted by position products, new products will be shown at the top. Just name the Label and select Newest as the Arttribute Code. This option works especially well for fashion stores, mobile phone stores and other sites of the kind, where people always look for new stylish things.
Let your customers browse catalog or categories by any comfortable parameters and get more orders. Provide shoppers with additional Magento 2 product sorting options and make searching process both convenient and beneficial. Draw customers' attention to your best sellers or new collections and increase conversion rate by automatically pushing your featured products to the top.
REORDER SORTING OPTIONS
Drag and drop sorting options in the order which is the most efficient for your webstore. The sorting options will be displayed in the drop-down according to the specified order. Moreover, you can easily disable sorting by any value. With the improved options, the shoppers will not miss a single product. Thus, you will have an opportunity to promote your poorly sold products without any campaigns.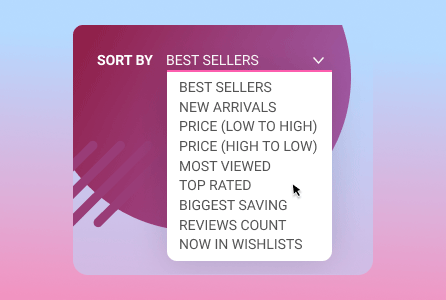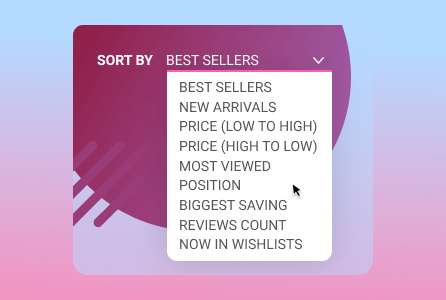 RENAME SORTING OPTIONS
Many site visitors search for the newest, popular and the most trendy things. Let them sort your Magento 2 catalog by date or popularity implementing noticeable and understandable titles. Just set the title for the sorting option that your target audience will be interested in and increase your webstore usability.
SHOW YOTPO REVIEWS IN 'REVIEWS COUNT' SORTING
When shopping, people are looking for product information, which they can trust. There's nothing they will trust more than rating and reviews, as this is a feedback provided by their fellow customers. Due to the compatibility with the popular Yotpo Reviews extension, easily collect customer reviews and enable sorting by rating on Magento 2 site pages to help buyers with purchase decisions.
SORT BY THE 'MOST VIEWED PRODUCTS'
Things that other people have or want to have surely attract the attention of others. This is especially true during the holiday season, when everybody is searching for the best gifts to their friends. Obviously, views are generated a lot faster than orders. With the most viewed products option you allow customers to find out what products are more popular even if there are not best sellers in your store yet.
SORT BY THE PRICE
Let customers quickly find the desired products with a useful Magento 2 sorting by price: 'low to high', ' high to low' or 'biggest saving'. This option makes the sorting process maximally convenient by giving more precise results on the products price differentiation. Enhance your customers loyalty by highlighting the difference between regular price and special price and improving their purchasing experience.
Set up the unique default sorting and highlight certain products by moving them to the top of the list. Increase conversions by attracting customers' attention to the most popular products on the search results and category pages. With the Magento 2 sorting extension, you can specify the primal method and the following two algorithms.
CONFIGURE SORTING FOR CATEGORIES
With the Improved Sorting module it is possible to change, reorder and disable sorting options on a per-category basis. Customize sorting orders for specific categories or set the preferable default listing to promote your better performing products from each category.
SHOW 'OUT OF STOCK' PRODUCTS LAST
Display out-of-stock products and items with zero quantity at the end of list not to mislead your customers. Visitors will still be able to see and search for out of stock products, but at the top it's better to display products, which you can sell right away. It can be especially useful if you allow backorders and some products may have inventory status 'in stock', even if their quantity is zero.
DISPLAY FEATURED PRODUCTS BLOCK TO GET MORE ORDERS
The extension provides you with a simple but efficient tool – featured products blocks. Add conditions for products selection and receive highly targeted offers for each particular page. Flexible options allow you to create any number of blocks and insert them via widgets or CMS to any page. Due to the automation options based on sorting, you can display various featured products:
Best Sellers
Most Viewed
Now in Wishlists
Promote top rated cross-sells on product pages
Boost your bestsellers right in the shopping cart
Display featured products block in a sidebar
Place popular products to the top of the page
Advanced catalog management features
Manually manage the order of products
Improved Sorting for Magento 2 allows both automatic and manual ordering products in bestsellers and most viewed lists. If you need to move some items up to sell them quicker, you can do it in a few clicks.
Enhanced quality and stability level
Now the extension's package contains MFTF tests to make the work of Improved Sotring extremely stable.
Optional indexing
The indexing mechanism ensures your category pages are loaded fast even if you have a very large catalog.
Ability to have descending order by default
In Magento all sort by options have ascending order. So if, for example, you would like to display most expensive items at the top, you can not do it. The extension enables you to display items from high to low.
Works with layered navigation
The extension enables customers to apply all sorting options to product lists generated by layered navigation.
EE note
The extension supports MySQL Full-text search engine, Solr support will be added in the next versions.
Other Features
100% Open Source — Easy To Customize
Follows Magento Code Architecture
Separated HTML/CSS/JS
Simple installation via Composer
* The name "Magento" and the logo are the trademarks of Magento, Inc.
Good, but be careful with configurations
Our configurable products went down the list. As the support explained the problem was with qty-based filtering. If you sell configurable products, they have '0' quantity, so don't determine that the product is out of stock based on quantity. All the rest is fine. The extension is very simple and helpful in making the catalog user-friendly.
simple and worked well
This is simple and user friendly tool. A little bit costly but it worked well and free lifetime updates. This is my choice and i like it!
Best support
It works well for me providing different sorting options for my customers. I've got new ways to boost sales. I had few extension related questions and my support ticket has been answered within 7 hours that was really fast indeed. Definitely love it.Thanks
user-friendly tool
Easy to install with absolutely no issues. Great navigation tool that allows different types of sorting. I totally recommend Amasty to others. Really i love this company!

Customer service is very good
Customer service is very good. It took them just one day to resolve my issue. Also, the extension is very user friendly and gives alternative search options to my customers.


One of the best Amasty extension for M2
I like that this extension is rather customizable. It's very convenient to specify the attribute of "best sellers" and "most viewed" sortings to your own needs. Moreover, the code is well-written and works without any bugs. Thank you, guys, love your extensions!
Easy to install and configure
Being a Magento newbie I was afraid it would be too complicated to install and configure the module. This one appeared to be an excellent example of neat navigation and smooth installation. Keep on codin'!
Magento 2.1, 2.2, 2.3
You can always download the recent version free of charge from your account
Installing an upgrade is easy — check now
My Downloads
Version 2.8.1
Last Update: Jan 14, 2020
Compatibility compatibility with GraphQL was enhanced: now it supports sorting Labels which are available for modification in plugin's configuration, and also displaying of comparison trigger in widget
New now the plugin's package contains MFTF tests aimed at quality and stability enhancement
Compatibility we improved extension's compatibility with Magento Elasticsearch
Version 2.7.1
Last Update: Nov 21, 2019
Improvement we implemented minor code and performance improvements
Compatibility compatibility with GraphQL was enhanced: now it supports all sorting types added by plugin
Compatibility we added the compatibility with GraphQL
Version 2.6.4
Last Update: Sep 25, 2019
Compatibility compatibility with Yotpo Reviews was enhanced
Compatibility compatibility with Magento 2.3.2 and MSI was improved
Improvement we reviewed and enhanced plugin's behavior regarding configurable products and their stock status
Fix minor issues were fixed
Compatibility compatibility with Magento 2.3.2 and ElasticSearch was enhanced
Compatibility the compatibility with Yotpo Reviews (version 2.7.5) was improved
New ability to manage all existing cron tasks on a Cron Tasks List grid in backend was added. Run cron tasks and generate their schedule by clicking the 'Run Cron' button. Also, delete tasks in bulk, apply filtering and sorting options when it is needed
Compatibility compatibility with MSI coming with Magento 2.30. was improved
Version 2.5.4
Last Update: Mar 04, 2019
Compatibility the compatibility with Yotpo reviews was improved
Fix an issue with Newest sorting type was resolved
Fix an issue with XSS injection in the admin name fields was resolved
Improvement ability to translate the Price: high to low and Price: low to high sorting options was added
Fix an issue with Default Sorting on Category Pages was resolved
Compatibility splitted database compatibility was added
New ability to sort products by 'Price - Low to High' and 'Price - High to Low' on the product listing page was added so that customers can quickly find the desired products
Improvement the configuration settings were enhanced
Version 2.4.1
Last Update: Dec 06, 2018
Fix the issue with Featured product block was resolved
New allows to specify the way the products should be sorted on the search result page and on the category pages and have a full control on how to display the products. Admin is able to set the the primal method and the following two algorithms.
Improvement the 'Sort attributes descending by default' setting logic was improved. Not selected attributes will have ascending sorting
Improvement the 'Sorting Order' setting now displays only active sorting methods.
Improvement code improvements were made
Version 2.3.0
Last Update: Nov 20, 2018
New allows to create featured products (bestsellers, most popular products and other sorting types) widget based on sorting options and display it on any Magento page
Version 2.2.4
Last Update: Nov 01, 2018
Fix the problem with Top Rated sorting was resolved
Fix the problem with the sorting indexer time was resolved
New the information section was added. Now, you can see the version of the installed extension, available updates, the user guide link, conflicts and other useful information right on the module configuration page
Improvement the minor code improvement was implemented
New allows to configure the sorting options position in backend in order to get the 'Sort by' list positioned properly on the front end
Version 2.1.0
Last Update: Jun 11, 2018
New allows to sort by Yotpo reviews instead of default Magento reviews
Improvement now it determines the out of stock products based on Out-of-Stock Threshold setting
Improvement sort attributes order is descending by default
Improvement added reindexing to install data script
Version 2.0.6
Last Update: Apr 25, 2018
Improved the compatibility with 3rd party elasticsuite
New added the possibility to get the products sorting query in the log file (/var/log/system.log)
Added the primary keys to the db tables
Fixed an issue with indexer
Magento 2.2 compatibility tested and confirmed
Invalidate index for indexer_mode = "Update by Schedule" only
New indexing algorithm according with the magento devdocs guides
Back end interface changes and improvements
Ability to set custom label for the sorting methods
Revised the sorting by 'Reviews Count'
Performance and security enhancements
Version 1.0.4
Last Update: Nov 25, 2016
Corrections to composer.json for correct extension installation
Minor improvements
Translation phrases added