Automatic Related Products
for Magento 2
Magento 2 Related Products extension is the tool to dynamically showcase related items on the website to help customers easily find what they want and complete the order. Boost store revenue by setting up smart recommendations and increase the average order value by displaying relevant bundles.
Use an automatic rule-based algorithm to offer related items, up-sells and cross-sells
Display items on category, product, and shopping cart pages, and custom positions
Benefit from data-driven recommendations algorithm
Offer bundle packs with fixed or percentage discount
Improve mobile shopping with PWA add-on
A win-win solution for your business and customers
Improve conversion rate by providing highly personalized offers to your customers
Boost sales through the effective use of upsells and cross-sells of related products
Save time on cross-sell configurations by using smart automatic suggestions
Use a smart algorithm to automatically display relevant goods
The module helps to show customers only those goods that are more likely to bring more income. The smart system of autosuggestions uses rules based on product conditions. It is designed to analyze the interests of your website visitors and then to show them relevant cross-sell and upsell offers.
Choose the source type for display
Apply the 'same as' condition
Choose how to show blocks
Replace items manually
Upsell and cross-sell on various pages
Link products together
Display popup for the configurables
Show AJAX confirmation popup
Choose a source type for display
Thanks to the flexible module settings, it's possible to choose how to display related items: according to the history of views, purchases, or on the base of 'only product conditions'. All these conditions can be used separately or combined according to your needs.
Apply the 'same as' condition
Select goods by the same attribute value to display in the block. For the 'same as' condition you can set any attribute value: category, material, size, color, price and etc. For example, you can choose how to show products: display from any category or only from the same category with the selected item.
Choose the most convenient way for you how to show blocks
Compose blocks with related, up-selling, cross-selling items depending on various conditions and their combinations. Sort items in blocks by name, price, newest, or leave it random. Choose the block design for Magento related products: slider or grid. Also, you can add a custom title to capture customers' attention and specify the max number of slots displayed in a block.
Manually fine-tune narrow cases for the upsells and cross-sellis if necessary
The extension matches related goods automatically. However, you can replace or add product recommendations for Magento store manually in each promo block. Just find a necessary product in the catalog and add related, up-sell, or cross-sell items to show customers in addition to the item they want to buy.
Display upselling and cross-selling blocks on various pages
The Magento 2 extension lets customers get related, up-sell, and cross-sell goods in a separate block on category, product, and shopping cart pages. Also, you can customize the location for the upsells and cross-sells by configuring a 'custom position'. Add conditions to display the blocks only for particular products and preview their list in one click.
Create rules for linking the promoted goods together
Configure rules to link the main product with the recommended ones and motivate customers to purchase more. Set up smart recommendations display in Magento according to the particular store and specific customer group. Specify rule priority to avoid conflicts among the several rules.
Boost your purchase conversion rate with handy configuration popup
Increase the chance for the customer to finalize a purchase by keeping them at the same page with the configuration popup. Choose whether to show the popup only for the products with the required options or for any product, even with the non-required options.
Build trust with customers by displaying confirmation popup
Use compatibility with the
AJAX Shopping Cart
extension for Magento 2 to remind shoppers about what was in the bundle that they have just added to the cart. Enhance your store UX by providing customers with instant and user-friendly responses from the website to all their actions.
Specify a time period for the stats data gathering
Determine the time period basing on which the module will gather statistical data and display products for the 'Bought together' and 'Viewed together' condition. The system will select only relevant products based on your settings to provide shoppers with the items they exactly need.
Hide the 'out of stock' products
With the Magento 2 Auto Related Products, you can hide out-of-stock items to show only those items that can be immediately added to the shopping cart and purchased. This helps to significantly improve the shopping experience and enhance your customers' loyalty accordingly.
Watch our video guide to learn how to
add related products automatically
Maximize profit by providing beneficial combo offers
Discover an effective way to raise the average check value and boost spontaneous purchasing. Create and promote specific bundle packs with fixed or percentage discounts. While creating offers with a greater value and emphasizing customers' savings, you'll significantly increase the store's average order value and thus increase the overall income.
Customize bundle packs
Show bundles on the Product tab
Sell bundles partially
NEW | Provide flexible discounts
Increase average order value
Run flash sales with ease
Show bundles on the shopping cart
Set up a CMS page with all the bundles
Customize bundle packs
Thanks to flexible extension settings, you can easily adjust each bundle pack according to your business needs. Specify a catchy title to drag customers' attention. Select a discount type and define its amount: either percentage or fixed one. Also, you can choose whether to apply a discount to the main product in a bundle.
Show bundles on a product tab
Find the best way to promote several products together. Display the related goods in bundles right after the product description, choose from the several custom locations available. Easily customize the tab's title.
Sell bundles partially
Don't lose a sale by letting customers buying products from a bundle individually. For this, a user should click on a checkbox on the item he wants to include or exclude it from the bundle. The module will automatically recalculate the discount and total bundle pack price.
NEW | Provide custom discounts depending on the number of products in a bundle
Set up differentiated conditional discounts to motivate shoppers to purchase more by offering a greater discount for the bundle pack with more products in it.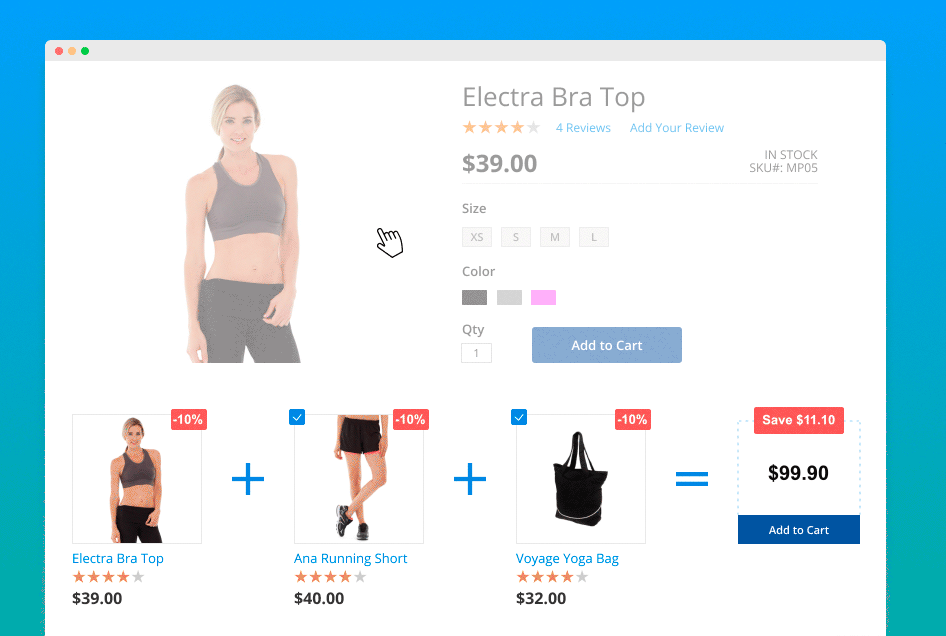 Increase the average order value
This extension allows you to configure bundles the way it will become possible to get a discount per bundle only if all products from the bundle are picked.Thus, you can motivate customers to buy the whole pack instead of a part of it and consequently increase the average order value.
Run flash sales with ease
Accurately fine-tune and run flash sales campaigns. Specify a bundle pack's lifetime accurate to a minute and provide an urging title to stimulate faster shopping.
Show bundles in a shopping cart
Boost the store's average order value by displaying promo packs and upsell messages on a shopping cart's page. This is especially effective if a customer misses or ignores your promotions while exploring and choosing products.
Create a specified CMS page with all bundles
Increase sales by letting customers browse all bundle packs promotions you run. For that end, display all bundles on a single CMS page. Choose positions for the bundle pack links in the top menu and specify the label.
OFFER GOODS THAT CUSTOMERS REALLY WANT TO BUY
Automatically show highly demanded items on a product page
Dynamically display best-selling goods on a category page
Increase revenue by upselling products based on specified parameters
Get more orders by showing cross-selling offers on the shopping cart page
Customize the location for any Magento 2 related products block
Analyze the efficiency of all related offers in one place
Check the performance and actual status of each promo block.
Rules performance
Bundle performance
NEW | Bundle sales
Bundles in order info
Track how your promo rules are performing
See all the existing rules for the upselling and cross-selling blocks on the rules grid. Change rule priorities and create new rules in a split second from the backend.
Get valuable insights using pre-integrated bundle analytics
Track the efficiency of your bundle packs and enhance their performance with auto recommendations for each pack.
NEW | Track sales of all your bundles from the separate grid
Monitor all key sales parameters for your bundles from the separate grid on the backend.
Highlight the info about ordered bundles on the backend
Bring more transparency to your communication with the customer: show more details about the bundle packs ordered on the Orders grid and in the order info.

Steps for Creating Related Product Rules in Magento 2
Create a new algorithm to show linking products automatically, for this, go to Catalog → Amasty Related Products → Related Product Rules and click 'Add New Rule';
expand Rule Information and fill in the fields as follows:
Enable Rule - Yes
Rule Name - choose a name to be displayed in the admin panel
Priority - 1 or other
Stores - choose the needed
Customer Groups - choose the needed
expand Where to Display Conditions and choose the Block Position's value (or configure a custom position);
set Replace Type tasks if needed;
then set the conditions for the new rule;
enable 'Show only out of stock products' option if you like, and apply Preview Products (it works in case the 'Only Product Conditions' Source Type is chosen;
if you like the result, save the rule.
What are Magento 2 best sellers?
The best-selling products of your store are products that have reached the maximum number of sales in the shortest possible time. The bestsellers can be checked in Magento. You can display bestsellers on the storefront after checking them.

Showing bestsellers in Magento 2 is a technique that is used to attract more customers' attention to such products with the use of banners, sliders, or popups.
What are Magento 2 product recommendations?
Magento 2 product recommendations are additional blocks on a website or in mailings that show products based on user actions.

This tool is used to automate marketing and increase sales allowing customers to find the relevant products they need quickly and easily.
Product questions

How to display best seller products in Magento 2?

To make the most of your best sellers, you can display them separately and attract even more buyers. You can sort by best sellers and easily get magento 2 best sellers products. Let's see how to do it.

Read the FULL answer

How do related rules work?

Our extension works with a smart algorithm according to views/sales history. Read the full answer to get a complete instruction.
Other Features
100% Open Source — Easy To Customize
Follows Magento Code Architecture
Separated HTML/CSS/JS
Simple installation via Composer
* The name "Magento" and the logo are the trademarks of Magento, Inc.
Facilidad de uso
Nagima, admin
Los clientes estaban avandonado la cesta. Ahora uso este modulo, la situacion ha mejorado. Me gusta la facilidad de uso, lo recomiendo a todo el mundo
Amasty answer
Feb 25, 2021
Alena Hamolka
/ Product Team Lead
Hi Antonio, thank you for your review, we're happy to hear that you find our extension helpful for your Magento site. Thanks for recommending the module, and we'll look forward to seeing you in our store again!
Highly recommend this extension!
I will suggest your extension as must have solution! Enjoy working with Amasty team!
Works Great!
Purchased this extension to use on Magento 2.2.8. Installation was easy, and it works great right out of the box! Thank you!
Impressive mod but I have recommendation
We use several Amasty plugins for M2, and are thoroughly impressed. With Automatic Relate Products we are able to cross-sell in a very effective way by showing products with related attributes. This clearly has an impact on number or items added to the cart for purchase. Amasty Support is one of the best in the Magento eco-system. They are responsive and accommodating.

The only thing I wish is that they would support top themes in future versions without having to remember to replace files after updates. Some providers do this, in where you have something fixed that is theme specific and they keep the changes in their extension for future releases. I understand this is not feasible for all themes, but should be supported for Ultimo, Pearl, and Porto to name a few.

Support for this product is satisfying.
Amasty answer
Apr 19, 2019
Natalya Chekanina
/ Head of Sales Team
Dear Scott, thank you for your review! We would be happy to see you in our store again!
Amasty are our first post of call for extensions
Hill and Dale Outdoors Limited, Director
We use a few extensions from Amasty, and we've almost always found their extensions to be well featured and reliable. Amasty are normally our first post of call for extensions as it's rare that we experience problems and they tend to work straight away. With this mod usability of the site has increased. Support has been great and easy to deal with.
Amasty answer
Mar 15, 2019
Natalya Chekanina
/ Head of Sales Team
Dear Tom, thank you for your review! We would be happy to see you in our store again!
worth it's money
This is simple and must have tool to improve the conversion rate. It saves a lot of time for my staff and now we show the related products to the store buyers automatically based on different conditions. Easy to install and configure. No issues detected so far. Thanks!
Secure reliable module source
Outfitters.io GmbH, CEO
Amasty is secure reliable module source
Amasty answer
Feb 18, 2019
Natalya Chekanina
/ Head of Sales Team
Dear Christoph, thank you for your review! We would be happy to see you in our store again!
Excellent!
We integrate an average of 7-8 Amasty extensions per project and we could not even think of developing a Magento 2 project without Amasty modules because, besides the quality of the code, they allow us to highly enrich our clients' sites and ensure better conversion rates. Automatic Related Products enrich the catalog and, at the same time, greatly simplify the related products management.

Does work for me
The extension is off the chart. The settings are a giveaway and work like in demo. I'm happy it's now much easier for my buyers to get how to add related products to a cart.
useful extension and helphul support
The config options are simple and useful, so the installation went smoothly. Now I don't need to add related products manually, which significnatly saves my working time.
Good tool, reliable support
There were some glitches in the installation but the support team fixed everything in quite a short time. I've already launched several test promos and must say it runs well.
simple and efficient tool
We needed a simple add-on to make our work with products more flexible. It was easy as pie to install it and to start promos with related products. Thanks guys!
Are you looking to add specific functionality for this extension or want to acquire a reliable development partner altogether? With custom development services by Amasty, you will receive high quality and cost-effective solutions developed by Magento professionals according to industry's best practices.
2.4.2-p1, 2.3.7, 2.4.2, 2.4.1-p1, 2.3.6-p1
You can always download the recent version free of charge from your account
Installing an upgrade is easy — check now
My Downloads
Version 2.11.0
Last Update: Apr 14, 2021
New we introduced a new discount type for Bundle Packs: now you can set conditional percentage discounts depending on a quantity of Bundle Pack items that are added to the shopping cart
New we added the sales statistics for Bundle Packs
New now you can choose to apply the discount only if items were added from the special Bundle Pack block (in that case items added to cart separately, e.g. from their product pages, won't be associated with any bundle pack)
Version 2.10.1
Last Update: Feb 24, 2021
Fix we corrected the pre-defined extension data delivered upon initial installation
New now you can configure and see the sales statistics for Bundle Packs - we also added smart recommendations for products to use in each bundle pack based on the previous 'bought' and 'viewed' data analysis
New we added the information about ordered bundle packs to the Orders grid and to an order view page for better convenience and orders differentiation
New we introduced a new mode for Bundle Packs - now the discount may be applied only if all items are added to cart
New now you can set individual discounts per each item in a Bundle Pack
New we added an option to apply rules and bundle packs to all customer groups at once
Improvement now you can choose to always show a dialog popup for Bundle Pack's products with options (even if there are only non-required ones) to not let customers miss the opportunity of customizing the product
Improvement we added the 'is not' operator to the 'same as' conditions
Compatibility we added the compatibility with Magento 2.4.2
Compatibility now customers will see a confirmation popup after a Bundle Pack is added to cart if Amasty Ajax Shopping Cart extension is installed
Fix we corrected the Configurable Product image update upon selecting of corresponding swatches in the dialog popup
Version 2.9.13
Last Update: Dec 21, 2020
Compatibility we enhanced compatibility with Amasty Jet Theme
Fix we corrected the display of related products inserted into the native block on Magento Commerce
Improvement we updated, adjusted and optimized GraphQl queries
Fix we corrected the applying of 'same as' condition with Attribute Set
Fix we resolved the issue with Bought Together condition for composite products
Improvement now the summary block of Bundle Pack is visually distinguishable if there are several lines with bundle items
Improvement we reviewed and enhanced the display of Bundle Pack elements on mobile devices
Improvement we added an option to consider only non-anchor categories in 'same as' condition in order to narrow down the list of suitable products
Compatibility we enhanced the extension display if used in combination with Amasty Jet Theme
Compatibility now the extension is compatible with Amasty Jet Theme
Improvement we enhanced the speed of GraphQl queries
Fix we resolved the issue with missing store views in corresponding column of Rules grid
Fix we fixed an error on Shopping Cart page caused by usage of rules with non-existing attribute
Fix bundle items with customizable options are now added to cart as expected
Fix we resolved the issue which occurred upon application of several rules with 'same as' condition to the same page
Fix we resolved issue on checkout page with Magento 2.3.2 and less
Improvement now discount label on main product get hidden if all bundle products are unchecked (to avoid possible confusion)
Improvement we added new variable to use in Upsell Message for Bundle Packs which matches the total discount amount (if discount is applied to main product)
Improvement we reviewed and improved application of 'ALL' type condition in case of no attribute value assigned to the product
Compatibility compatibility with Magento MSI was improved
Compatibility we upgraded compatibility with read GraphQl
Compatibility compatibility with Amasty Mega Menu and Request a Quote was enhanced
New now the extension is covered by MFTF tests, which will help to improve its quality and stability
Version 2.8.7
Last Update: Mar 16, 2020
Improvement we rechecked and established correct dependency on jQuery UI library
Fix we corrected minor visual imperfections on bundle pack edit page in admin panel
Improvement we implemented major performance enhancement
Compatibility compatibility with read GraphQL was enhanced
Fix issue with creating related product rule was resolved
Improvement minor improvement was implemented
Fix we resolved issues with per customer group configuration implementation
Fix we fixed the incorrect display of configurable product price in mini-cart
Improvement we reviewed and enhanced the security level of the plugin
Fix issue with customer group restriction was resolved
New we added the option to show only the current category's products on a category page. If you need to draw attention to products from the category with particular characteristics - you are free to use this option to achieve the goal
Improvement we enhanced the performance of rules' application on large catalogs
Fix minor styling fixes were implemented
Version 2.7.0
Last Update: Oct 01, 2019
New we added the option that allows you to define the quantity for each Bundle Pack Product in a bundle pack
Improvement we added an ability to choose a custom position for bundle packs to make them organically fit the design of your product pages
Compatibility compatibility with Amasty Shop By Brand and Thank You Page plugins was improved
Fix issue with saving of bundle pack without customer group assignment was resolved
Fix issue with bundle pack discount amount calculation was fixed
Version 2.6.5
Last Update: Sep 09, 2019
Improvement minor improvements were implemented
Compatibility we enhanced the compatibility of the module with Porto theme
Fix issue with showing out of stock products was resolved
Fix issue with bundle pack prices was fixed
Fix issue with showing custom blocks was resolved
Improvement extension was covered by unit tests
Fix issue with Customer Group condition was resolved
Fix the compatibility with old Magento versions was improved
Improvement code was refactored according to Magento Standards
Improvement extension was covered by unit tests
Version 2.5.3
Last Update: May 02, 2019
Fix an issue with Same as Conditions was resolved
Compatibility now the module is read compatible with GraphQL. It allows exposing product data like SKU, name, link, image, price, etc. in order to build PWA/JS-based frontend
Improvement the performance enhancement was made
Improvement for the 'Bought Together' items the system takes into account only products purchased in one order
New the ability to manage all existing cron tasks on a Cron Tasks List grid in the backend was added. Run cron tasks and generate their schedule by clicking the 'Run Cron' button. Also, delete tasks in bulk, apply filtering and sorting options when it is needed
Compatibility the compatibility with the 3rd party extensions was enhanced
Version 2.4.0
Last Update: Mar 18, 2019
New ability to display dedicated Bundled Packs promo listing page was added
New ability to display Bundle Packs block in Shopping Cart was added
Improvement minor enhancements were made
Version 2.3.0
Last Update: Mar 04, 2019
New ability to display upsell hint messages about the bundle packs promo in the shopping cart was added
New ability to set time period for bundle pack promo was added
New ability to position related products block in the separate product tab or above the product description was added
Version 2.2.1
Last Update: Feb 19, 2019
Fix a minor issue with prices was resolved
New allows admin to create Bundle Packs rules and offer customers a discount on the group of products purchased as a bundle
Version 2.1.2
Last Update: Feb 13, 2019
Fix an issue with the view together and bought together sorting was resolved
Fix an issue with a view and click statistic was fixed
Compatibility the compatibility with Magento 2.2.7 and higher was added. The issue with orders placement was resolved
New ability to monitor rule performance statistics (Views, Clicks, CTR, Orders, and Revenue) was added
New a slider option is now available for related products block
New ability to preview product list in Magento backend based on the selected conditions was added
Fix an issue with 'If ALL of these conditions are FALSE' for the 'Same As' feature was resolved
Version 2.0.7
Last Update: Jan 24, 2019
Compatibility compatibility with Magento Cloud was improved
Fix an issue with 'same as' attribute condition for the products with unspecified attribute was resolved
Fix an issue with custom themes and rule for All Store Views was resolved
Fix an issue with install script relaunch was resolved
Improvement the rule configuration settings were enhanced
Fix an issue with 'Same as' condition for the category was resolved
Fix the issue with ACL resources was fixed
Fix the issue with upgrading module from old version was fixed
New the extension code has been completely renovated. It makes the module significantly more flexible and provides new functionality. Important! After this update, all the rules created previously will be disabled. It's recommended for admin to recheck the rules configuration before enabling them.
New ability to create rules for assigning up-sell, cross-sell and related products automatically were added
New now admin is able to select the place where the related products blocks will be displayed
New flexible conditions for defining related products allow admin to select products based on their attributes
New auto-generated products could be selected from the same attribute value, e.g. the same brand, the same color, price or size
New ability to set the priority for the rules. Rules with higher priority (1 is the highest) will be executed in case some products fall under several rules
Version 1.4.5
Last Update: Aug 29, 2018
Improvement the admin panel user interface was enhanced
Fix the problem with the memory limit after reindex was resolved
Fixed an issue with the indexer
Fixed an issue with indexing the rule that is not found
Fixed an issue with applying limitations for all product relations
New Added the 'Product Currently Viewed' data source. Now, you can display products without the sales/views history, from the same category, from the same brand, based on their price, or using all the mentioned conditions simultaneously.
Version 1.3.0
Last Update: Dec 11, 2017
New data source: Product Attributes. Now, you can show related products based on the rules of product attributes.
Fixed an issue with duplicate products
Fixed an issue with showing products in the UpSell block
Version 1.2.2
Last Update: Nov 17, 2017
Fixed an issue with the product display in the upsell block
Fixed cart cross-sells issue.
Enterprise Edition compatibility improved
Multiple various fixes
Version 1.1.2
Last Update: Mar 22, 2017