Choose the source type for display
Apply the 'same as' condition
Choose how to show blocks
Replace items manually
Upsell and cross-sell on various pages
Link products together
Display popup for configurables
Show AJAX confirmation popup
Choose a source type for display
Thanks to flexible module settings, it's possible to choose how to display related items: according to the history of views, purchases, or on the base of 'only product conditions'. All listed conditions can be used separately or combined according to your needs.
Apply the 'same as' condition
Select similar Magento products by the same attribute value to display in the block. For the 'same as' condition you can set any attribute value: category, material, size, color, price, etc. Choose how to show products: display from any category or only from the same category with the selected item.
Choose the most convenient way of block displaying
Compose blocks with related, up-selling, cross-selling items depending on various conditions and their combinations. Sort items in blocks by name, price, newest, or leave it random. Choose block design for related products: slider or grid. Add a custom title to capture customers' attention and specify the max number of slots displayed in a block.
Manually fine-tune narrow cases for upsells and cross-sells if necessary
The extension matches related goods automatically. However, you can replace or add product recommendations for Magento store manually in each promo block. Just find a necessary product in the catalog and add related, up-sell, or cross-sell items to show customers in addition to the item they want to buy.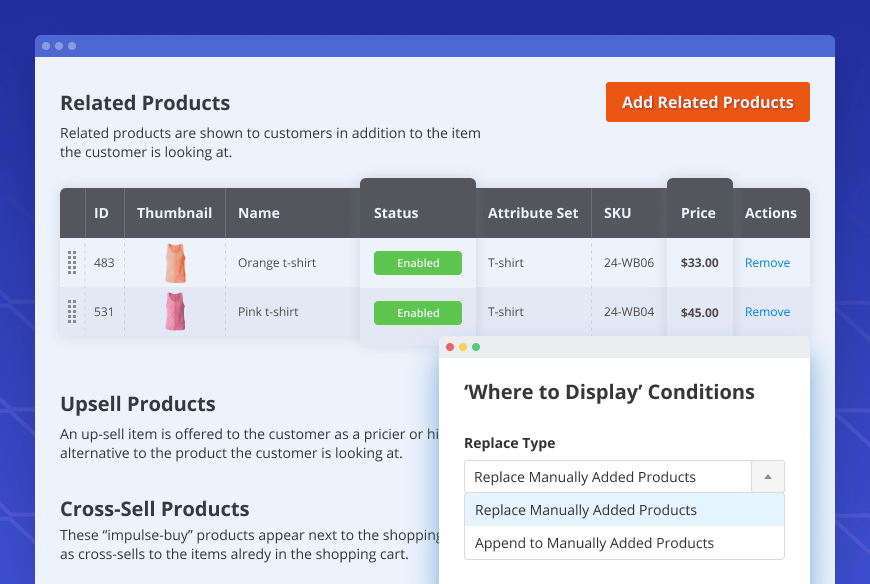 Display upselling and cross-selling blocks on various pages
The Magento 2 extension lets customers get related, up-sell, cross-sell goods in a separate block on category, product, shopping cart pages. Customize the location for the upsells and cross-sells by configuring a 'custom position'. Add conditions to display blocks only for particular products and preview their list in one click. Easily remove magento 2 related products blocks if needed.
Create rules for linking promoted goods together
Configure rules to link the main product with recommended ones and motivate customers to purchase more. Set up smart recommendations display in Magento according to a particular store and specific customer group. Specify rule priority to avoid conflicts among the several rules.
Boost your purchase conversion rate with configuration popup
Increase the chance to finalize a purchase by keeping customers on the same page with the configuration popup. Choose whether to show the popup only for the products with the required options or for any product, even with non-required options.
Build trust with customers by displaying confirmation popup
Use compatibility with
AJAX Shopping Cart
extension for Magento 2 to remind shoppers about what was in the bundle that they have just added to the cart. Enhance your store UX providing customers with instant responses from the website to all their actions.