Customer Attributes
for Magento 2
Display additional attribute fields on the registration page to collect important customer data. Create customer attributes of various types to effectively gather as much information as you need.
Show extra attributes of different input types
Manage customer attributes from the admin panel
Effectively process collected customer data
Use additional attributes in email templates
Generate handy attribute usage reports
The Magento 2 Customer Attributes extension is designed to help you collect valuable information about your customers. It's not a secret that the more you know about customers, the more effective your marketing strategy will be. Unfortunately, standard Magento registration fields will hardly enrich you with necessary data. Therefore, it's high time to equip your online store with an effective tool which allows adding an unlimited number of customer attribute fields to the registration page and get any information about newly registered and already existing clients.
Collect any customer's information you need
Choose among the variety of customer attributes input types:
Text field and text area;
Date;
Multiple select;
Multiple checkbox select with images;
Dropdown;
Yes/No;
Single radio select with images;
Customer group selector;
Static text;
Single file upload;
Improve your store using a flexible page builder
Improve store usability
The Magento 2 customer attributes tool helps customers to select the necessary answer variant by equipping text descriptions with clear images. Images will definitely make your registration visually attractive and enhance customer shopping experience.
Show static information on the registration page
Due to the 'Static information' field type you can display any useful information which shoppers should learn during registration (e.g. privacy policy, returns and refunds etc.)
Customize attributes for different store views
With the customer attribute Magento 2 tool it's possible to specify unique field title and values for each store view. It's also possible to regulate the number of additional attribute fields for each particular store view.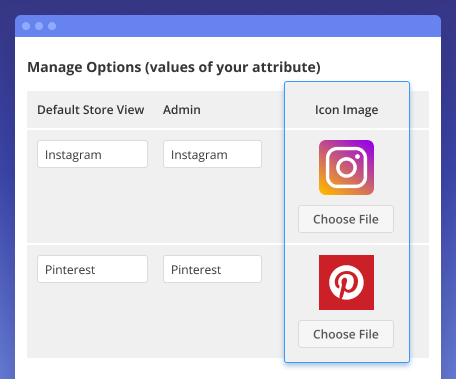 Let shoppers choose customer groups
Enable customers to select a customer group during registration and automatically approve them. This way you'll save a lot of time on customer group segmentation.
Enable customers to upload additional files
With this option customers will be able to upload/attach extra files right on the registration page or during the checkout process. This way they'll be able to attach any pictures, sketches etc. to get custom products like mugs, calendars, pillows.
Manage customer attributes display
Display extra attributes on the registration page
To collect as much customer data as possible you can show additional fields on the account registration page as well as on the checkout page (for those customers who get registered during the checkout process).
See all created magento 2 customer attributes on the grid
All categories added to your Magento 2 store are displayed on a special grid where you'll find information on attribute type, sort order as well as about the page where each particular attribute is displayed.
Create attribute relations
Magento 2 Customer Attributes extension provides you with a capability to assign particular attributes to a 'parent' one to make them visible only when a customer selects a specific value of the 'parent' attribute.
Hide attribute fields that were filled in before
To streamline the checkout and registration process you can hide the attribute fields which were filled in once. This way you'll make shopping in your store more convenient and improve customer experience.
Analyze customer behavior
Generate handy reports with visual graphs
With the 'Reports' option all admin users can keep track of customer attribute usage. The module displays a detailed stats report with handy diagrams based on such magento 2 customer approval extension attributes as drop-downs, checkboxes, radio buttons and multiple selects.
Efficiently analyze customers behavior
Add Magento 2 Advanced Reports extension to take full control over the abandonment rate, see the percentage of new and returning customers and analyze the store conversion to optimize your marketing strategy.
Easily collect and process additional order related data
For more efficient application of magento 2 customer attributes try applying it in synergy with the magento 2 order attributes extension.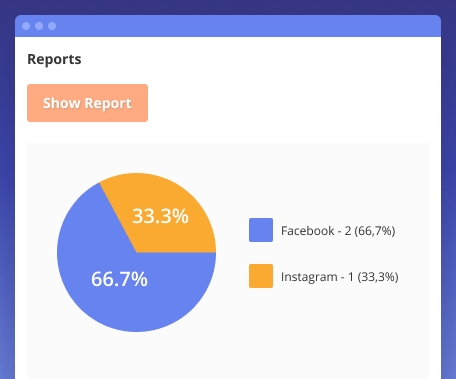 Provide customers with personalized approach using
Customer Attributes Pro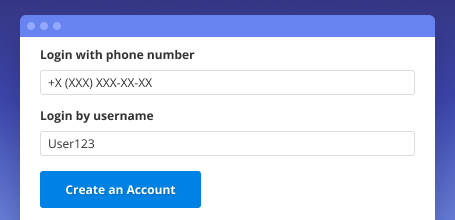 Improve customers experience
Ensure customers with faster login in the way they are used to. With Customer Attributes Pro, you can effortlessly add a customizable login option via a phone number or a username to the registration page. You can also add hints to show how to enter required values correctly and make the login process more comfortable for customers.
Adjust login attributes to your business workflow
With the Pro version of the extension, you can choose the login option that best suits your business processes. Flexible admin settings allow you to customize the solution up to your needs and take login attributes over total control. For example, you can even disable email as a login option in your store, edit login attributes values in the customer profile as well as check the validity of the entered phone number.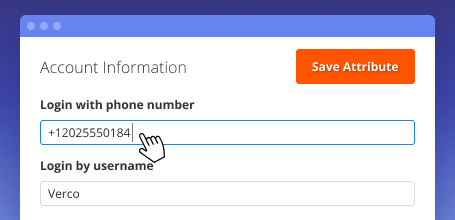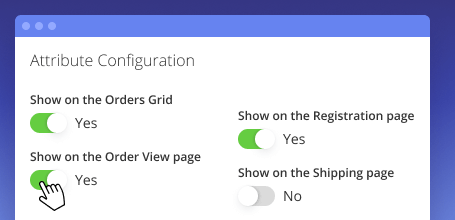 Show custom attributes where necessary
Determine where the login attributes will be displayed. For your convenience, the extension provides many display options at the backend view like a customer grid, order grid, order view page, account information page, as well as at frontend view - on the registration and shipping pages.
Choose your perfect customer attributes solution
Key Features

Customer Attributes Lite

view demo

Customer Attributes Pro

view demo
Create extra attributes of various types
Add an unlimited number of extra attributes to the registration page
Choose from different attributes input types
Add images for checkbox and radio button input types
Customize attribute's field title and values
Allow buyers to select a customer group
Allow customers to upload files
Manage all created attributes using a special grid
Set attributes relations
Generate reports using a built-in tool
Provide customers with a fast login by creating special attributes types
Create login attributes at the registration page
Allow customers to login via attributes like phone numbers, nicknames, or VAT IDs
Customize login field name and notice

$149

add to cart

$199

add to cart
Use more customer attributes in your templates
Employ Magento 2 PDF Invoice and add any customer attributes to your Magento 2 templates to make your invoices individual and corresponding your business needs. Easily create custom invoices without any programming skills.
Target your products to different customer groups
Add Magento 2 Customer Group Catalog to build a beneficial sales strategy. Flexibly adjust prices and products visibility to meet the needs of different customer groups. Use the magento 2 custom price extension to select a specific group of customers or particular categories to display the 'Call for price' button.
How to create customer attributes in Magento 2?
Install Customer Attributes extension.
To create a new attribute in Magento 2 go to Customers > Customer Attributes > Manage Attributes.
On this grid, add new attributes or edit the already created ones.
To add an attribute, click the Add New Attribute button.
Other Features
100% Open Source — Easy To Customize
Follows Magento Code Architecture
Separated HTML/CSS/JS
Simple installation via Composer
* The name "Magento" and the logo are the trademarks of Magento, Inc.
Very Good - Missing one Feature
Ahead Creative, Creative Director
It is a good extension, too bad it doesn't include a very simple but very useful feature: Images as custom customer attributes - please add it!
Amasty answer
Oct 15, 2020
Alena Hamolka
/ Product Team Lead
Dear Lorenzo, thank you for the kind words about the extension and for sharing your idea for a new feature. Our Product Management Team says that it's a great idea, and they will consider adding the feature to the Customer Attributes extension. Thank you for your suggestion and for helping us improve our products!
Businesses are now entering required info easily
Medical Supply, Manager
We've been using Customers Attributes for about 3 years and we wanted to solve getting required info from businesses when Registering new account. Businesses are now entering required info easily. The most I like is customer support and extension user experience. I will recommend it to any business which needs to get some important information when customers are signing up to their site.
Amasty answer
Mar 27, 2020
Natalya Chekanina
/ Head of Sales Team
Hi Allen! Thank you for choosing our extension. I'm glad that you appreciate its quality. We would be happy to see you in our store again!
Great extension
BM, Owner
I like Extensions from Amasty, they might be a little bit more expensive but they have no problems
Amasty answer
Dec 12, 2019
Natalya Chekanina
/ Head of Sales Team
Dear Sean, thank you for your review! We would be happy to see you in our store again!
Works Perfectly!
Purchased this extension to use on Magento 2.2.8. Installation was easy, and it works great right out of the box! Thank you!
Solves the problems
FineClothing.com, Developer
This extension solved a major problem for us! We are so grateful that it is being offered, and that it works so well right out of the box! We plan to purchase additional extensions from Amasty, that will add a variety of features to help us better manage our store, and make the customer experience more enjoyable. Support is very quick, and helpful. Thank you!
Amasty answer
May 15, 2019
Natalya Chekanina
/ Head of Sales Team
Dear Cristina, thank you for your review! We would be happy to see you in our store again!
Awesome
AKZENT direct GmbH, CEO
Extension is just awesome. A lot of possibilities, you will find what you need to get the information from your customer you need! We got a lot more details about our customers. Support is always fast and kind. Amasty sells some of the best extensions for Magento!

Amasty answer
May 15, 2019
Natalya Chekanina
/ Head of Sales Team
Hello! Thank you for your review! We would be happy to see you in our store again!
Good, yet can fail for some versions
We had a problem when we couldn't save new customers on our Magento version (2.1.x). Support team was fast to answer and help, so fortunately that didn't trouble us a lot. Now the module works as described. It's a good extension to know customers better and this way be quicker to react to their needs (or even create those needs :))
Fantastic extension and support
Superior feature list for reasonable price. Everything that i need for the customer management is here. The support team answers all my questions within 24 hours. What a great work!
Definitely, I will recommend it!
After installing a plugin on our website, we faced a serious problem. They solved the problem less than 1 hour. Amazing company, products and customer service :)
Excellent Support
Support is very good and quick, which is a important requirement for our projects.

Thanks again for top customer service!
Very good extension!!
Very feature rich software and fast support! Advise it to all!

Well done as usual
I've been using this extension for 2 months on a regular basis and I'm wholly satisfied with it. It was simple to download and integrate into our new Magento 2 store. The tool is simple, but it combines everything that we need. I like Amasty's extensions as they are well-performing and easy to navigate. Love being your customer!
Are you looking to add specific functionality for this extension or want to acquire a reliable development partner altogether? With custom development services by Amasty, you will receive high quality and cost-effective solutions developed by Magento professionals according to industry's best practices.
2.4.2-p1, 2.3.7, 2.4.2, 2.4.1-p1, 2.3.6-p1
You can always download the recent version free of charge from your account
Installing an upgrade is easy — check now
My Downloads
Version 2.3.0
Last Update: Jun 07, 2021
New we added reports for Single Radio Select with Images attribute
Improvement now reports for all attributes will use Admin labels
Version 2.2.5
Last Update: Feb 16, 2021
Fix we solved the problem with uploading single file attribute from admin side
Improvement we removed attributes from full text search to avert problems with attributes quantity on customer grid
Fix we solved the problem with displaying attribute codes instead of attribute labels on Ship To section
Fix we solved the problem with "Single file upload" attribute on Magento 2.3.6
Compatibility with Magento 2.4.0 was added
Fix we solved the problem with Single File Upload attribute on Magento 2.3.3
Fix we solved the problem with escaping HTML in attribute values
Compatibility compatibility with Amasty PDF Customizer was improved. Now you can use more customer attributes in your templates.
Version 2.1.38
Last Update: Nov 27, 2019
Fix we solved the problem with displaying order attributes on Account Information page and Registration page
Fix we solved the problem with order placing with a Multiple Checkbox parent attribute
Fix we solved the problem with privacy policy checkbox position from Amasty GDPR extension
Fix we solved the problem with saving customer attributes while reordering
Improvement we reviewed and enhanced the code
Fix we solved the problem with notice "Attribute value is empty" on checkout page
Fix we resolved the problem with attributes linked to General customer group
Fix we solved the problem with "Multiple Checkbox Select with Images"
Fix we solved the problem with displaying attributes which require value only on frontend
Fix the issue with attribute type "Multiple Checkbox Select with Images" was fixed
Fix the issue with default Date attribute was resolved
Fix the issue with predefined customer attributes for new orders as resolved
Improvement the code was improved for saving dependent attributes. Now the extension operates faster
Fix the issue when payment restriction doesn't work properly with customer attributes was resolved
Fix the issue with creating an order from the admin area on Magento 2.2.7 was resolved
Compatibility the compatibility with Amasty One Page Checkout was enhanced
Fix the issue with the exporting data to .csv file was resolved
Fix the issue with the missing resource "calendar.png" was resolved
Improvement now the 'checkbox' type attribute can be used while creating an order from the admin panel
Compatibility the compatibility with Magento 2.3 was enhanced
Compatibility the compatibility with Magento 2.2.6 was enhanced
Fix the issue with not saving a customer attribute in an order was resolved
Fix the issue with saving the drop-down type attribute on Magento 2.2.6 was resolved
Fix the issue with saving the date type attributes was resolved
Fix the issue with the 'Multiple Checkbox Select with Images' attribute type on the checkout page was resolved
Fix the issue when creating a customer account with no existing customer attributes was fixed
New on the registration page it is possible to set the form values after the form submission has failed
Compatibility the compatibility with the 3rd party extensions was enhanced
Fix the issue with the 'static text' attribute was resolved
Fix the issue with the export multiselect field was resolved
Fix the issue with the Paypal gateway was resolved
Fix the issue when saving a blank value was resolved
Fix the issue with the incorrect date format saving was resolved
Fixed an issue with the attributes saving
Setup issue during the Magento installation was fixed
Fixed an issue with the datepicker display on the checkout page
Fixed an issue with saving new customers on Magento 2.1.x
Fixed an issue with removing hidden attributes on the customer account page
Fixed an issue with saving customer attributes on checkout page for Magento Commerce and Enterprise Editions
Fixed an issue with updating a multi-select attribute using API
Fixed an issue with JS on the customer registration page
Fixed an issue with the parent attributes display on the checkout page
Fixed a notice on the order grid page when a multiselect attribute is displayed on the grid
Implemented a minor JS fix
Fixed issue with saving customer if using a defined Texta Area Atrribute
Fixed issue with multi image select
Fixed an issue with hiding attributes on the customer grid
Fixed an issue with variables in emails
Fixed an issue with incorrect export of custom attributes to CSV
Fixed an issue with attributes values on the customer grid
Fixed an issue on Magento Commerce - remove the custom_attributes display from review page
Fixed a fatal error with adding variables to email
Fixed a check for not visible required attributes
Fixed an issue with downloading images
We made a lot of minor fixes and code improvements
Magento 2.2 compatibility is tested and confirmed
Fixed an issue with duplicates when updating options of customer group selector
Fixed an issue with the attribute dependant on multiple parent attributes
Fixed an issue with redirect back to the attribute grid when saving the attribute
Fixed an issue with the missing shipping methods during order creation when the Multiple Select (with Images) is empty
Other minor bugfixes & stability improvements
Fixed the customer creation issue with the dependent attributes
Fixed an issue with customer group attribute
File upload compatibility with M2.1.5
Ability to use var customer.getData('attribute_name') variable in order-related emails
Version 2.0.3
Last Update: Mar 23, 2017
Fix for downloadable attributes in the backend
Compatibility improvement for Order Attributes extension and Extended Order Grid extension
Allows to create the dependent attributes, i.e. to display certain attributes only when a particular value of other attribute was selected
Version 1.0.8
Last Update: Feb 15, 2017
Fixed an issue with the Manage Label / Options panel did not update for all input types
Minor fix for saving attributes for guest orders
Added button to refresh Customer Group Options
Bugfix for "Customer Group" attribute type
Ability to show customer attributes on order grid
Minor bugfixes
Fix "Allow customers to change their group" setting