Gift Card
for Magento 2
Enable customers to buy gift cards and send them to friends via email or by post. Create an unlimited number of gift cards with different pricing models and easily keep track of all purchased certificates.
Create gift cards with fixed or open amount price types
Easily generate and upload gift codes
Send gift certificates via email or post office
Keep track of all purchased gift cards
Offer stunning gift card templates
Challenge
Every day thousands of customers browse through numerous online stores to find an ideal gift for their friends, colleagues or relatives. Even though browsing a catalog is a time-consuming task, many stores still do not provide special offers for such cases. Unfortunately, if visitors can't find a great idea for a gift, there is a high risk that those who are not certain about a specific present may leave your store without making a purchase. That's why many store owners try to help customers with gift searching.
Solution
The Gift Card extension for Magento 2 easily solves the gifting dilemma by offering specially designed gift certificates which can be sent to recipients via email or by post. Once the certificate is purchased, a unique code with a custom greeting message will be sent to the addressee. The module lets admin users create gift card products with different pricing types, use predefined card images or upload their own ones and helps them to keep track of all purchased gift certificates.
Why do more and more shoppers prefer purchasing gift cards to classic gifting? According to the cardcash.com research about 50% of respondents admit that certificates let recipients select the present according to their taste. Almost 25% of consumers say that gift cards are easier to buy.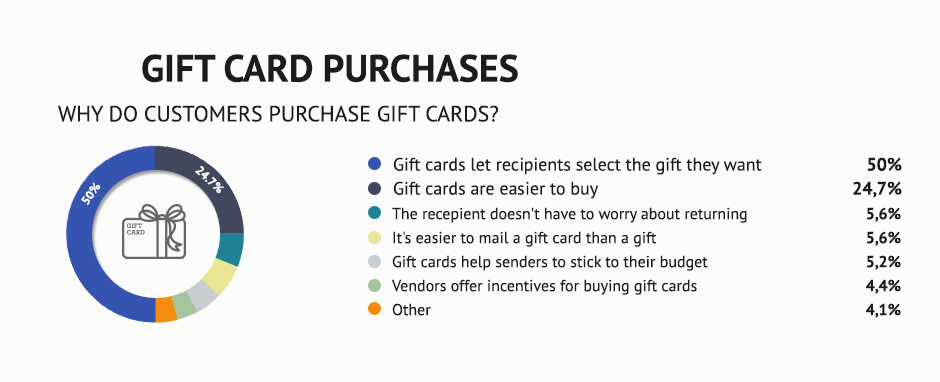 Thus, extra gifting options can be extremely profitable for e-commerce business, especially during the multiple holiday periods. But, unfortunately, the default Magento functionality doesn't have all necessary options for flexible gift card management, which leads to potential losses. That's why the Gift Card solution has been designed.
Gift card options for store visitors
Flexible card configuration
With the gift card tool customers can easily adjust gift vouchers to their specific needs. With the extension they can:
Select the certificate value (fixed or custom);
Choose the card image;
NEW | Download their own card image.
Attach a gift message;
Specify a date of dispatch and a time zone.
All details will be shown on the shopping cart page.
Gift card balance display
Once a recipient inserts a gift code in a card field on your website, the certificate balance becomes available on a customer account page. All gift card holders will be able to:
Add an unlimited number of gift codes;
Delete already used certificates;
Track the gift card balance;
Check the certificate expiration date.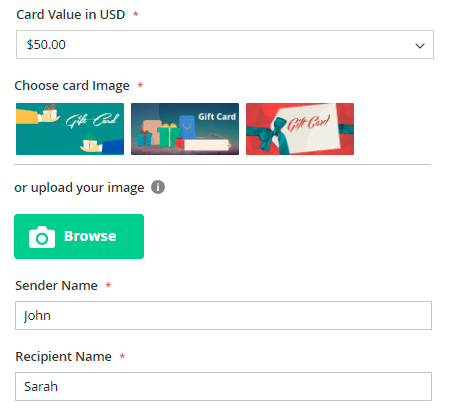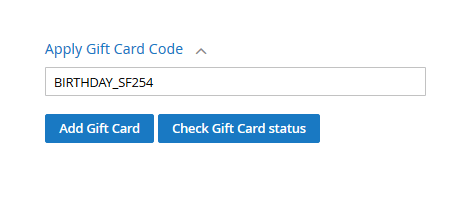 Gift code application in the shopping cart
To apply an active voucher code in the shopping cart visitors need to insert the code in the corresponding field and click on the 'Add gift card' link below. After the code application a new grand total will be automatically recalculated. On the shopping cart page gift card holders can:
Apply a gift card code;
Check a status;
See a balance and an expiration date.
Apply a gift card code on the checkout
If a customer doesn't apply a gift card code on the previous steps, it's also possible to do on the checkout page. Customers can see the gift card status, check the card balance and the expiration date. Thus, all the relevant info is available at hand with no need to search for it outside the checkout.

NEW| Customers can preview an email with a gift card before their making a purchase.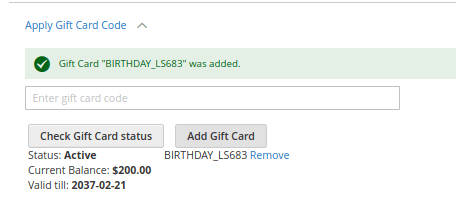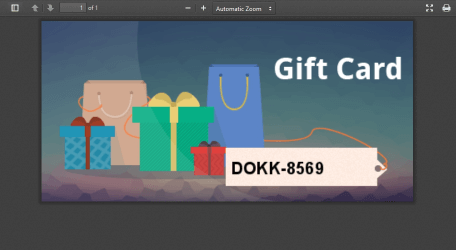 Send catchy gift card emails
Notify certificate recipients about their gifts: send a notification emails with a gift cards.
Attach a PDF gift card to the email
It's possible to add a gift card in PDF format to the sending email. This option can be useful if your customers want to print a card. For example, if they want to use it in the offline store or just to delivery it personally.
Anonymous gift cards
Let customers send anonymous gift cards. It is possible due to the flexible Magento 2 enterprise gift card display options. Just remove the field "Sender Email" from the list of fields a customer should fill in while purchasing.
Offer highly targeted gift cards
Some customers are looking for exact kinds of products they want to present as a gift. Some – are looking for ideas of perfect gifts. Why not offer them gift cards that can be applied only for particular products / categories / etc.? Flexible settings of Magento 2 extension allow you to create gift cards or transform already existing ones in several clicks.

Also, you can set different limitations according to your needs, e.g. total amount of an order or quantity of products in the cart.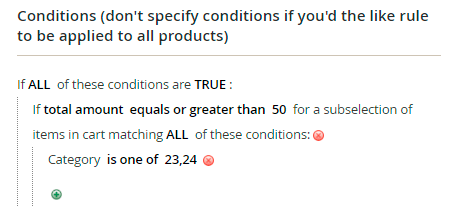 Flexible gift card settings for store administrators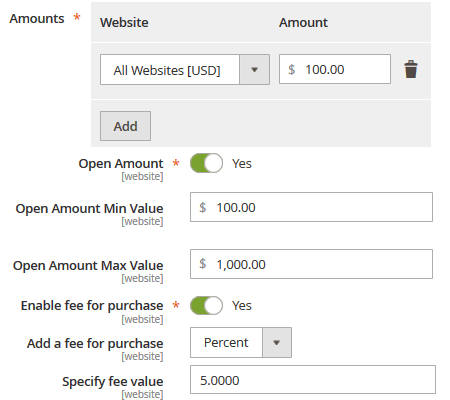 Configure price settings
Set individual pricing types to different gift card products. The module lets you:
Set fixed voucher values;
Enable shoppers to specify custom values (open an amount type);
Specify min/max values for the open amount type;
Add extra fees for purchase (percent or fixed).
Manage gift card emails dispatch
With the extension admin users can easily manage the dispatch of card emails and notifications. Surprise certificate recipients with eye-catching gift code emails and timely inform them about the code expiration.
Let customers specify the certificate delivery date (for printed gift cards sent via post office);
Enable certificate expiration notifications;
Indicate when the expiration notification should be sent.
Generate gift card codes
The Magento 2 gift voucher extension lets admin users generate an unlimited number of gift codes in seconds. Simply specify the code set template as well as the coupons quantity and click the 'Save' button. All generated coupons will be displayed in the 'Coupons List' tab. It's also possible to import codes using a CSV file.
Keep track of all purchased certificates
With the Gift Card extension admin users can easily manage generated codes. View the detailed order history of each particular code, change code settings and delete unnecessary certificates. Meanwhile, we have a magento 2 daily deal extension with the same functionality that you may find useful.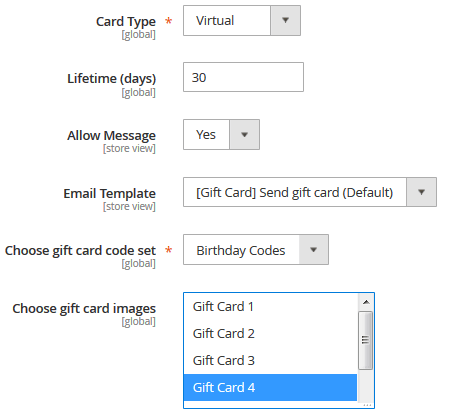 Configure settings for a gift card product
After the gift card strategy is created, the next step is to configure particular details. Fine-tune gift card settings according to your specific requirements and choose the options that will be available to customers on the product page.
On the Gift Card Information page you can specify:
Card type: printed, virtual or combined (here you can enable either one type or all of them at the same time);
Gift code lifetime (which can help to encourage card holders spend their certificates as soon as possible);
Email template (it is possible to create individual templates for notifications);
Gift card image or images (you can choose from the list of predefined images or upload your own ones);
Gift card code set.
Offer various images
Amaze customers with a great variety of gift certificate images. Upload an unlimited number of gift pictures to your admin panel or use predefined images to let store visitors choose the one they like. You can also let clients download their own images.
Feeling artistic? Amasty is eager to support your enthusiasm with free packs of ready-made labels.
On the image upload page you can specify:
Image title;
Image status;
Code position.
Use drag-and-drop to choose where to place the code line.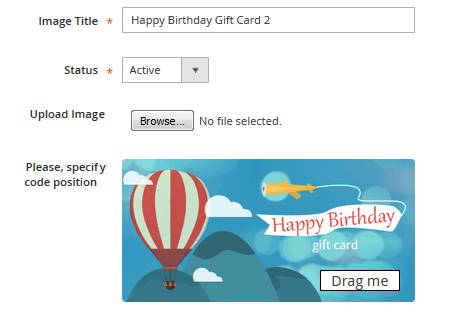 More options
Set product types that can be purchased with a card.
Let shoppers use gift cards for themselves.
Create gift certificates from the backend.
Apply cards to orders created from the backend.
Edit gift card balance from the admin panel.
Edit gift code expiration date.
Write gift card code comments.
Resend gift codes.
Meanwhile, we have a magento 2 premium themes with the same functionality that you may find useful.
How to create a gift card in Magento 2?
Install and set up the Gift Card plugin by Amasty.
Go to Products > Catalog and click on the Add Product button, choose the Gift Card option in the dropdown.
Select the Card Type, gift card code pool, and gift card images. Set the lifetime in days and change the email template if needed.
Fill in default product details as usual and move to the Amasty Gift Card Prices tab.
Set up fixed Amounts or enable Open Amount. Also, you can enable a fee for purchase.
When you are ready, save the changes.
Other Features
100% Open Source — Easy To Customize
Follows Magento Code Architecture
Separated HTML/CSS/JS
Simple installation via Composer
* The name "Magento" and the logo are the trademarks of Magento, Inc.
Increased Conversion Rate
Fleischwaren Harald Kiesinger e.K., Shopmanager
Fast and friendly support allways great. Amasty Products Clean and Smooth.
Amasty answer
Jan 10, 2020
Natalya Chekanina
/ Head of Sales Team
Dear Stefan, thank you for your review! We would be happy to see you in our store again!
Great extension and devs
That module is great, it has all the fonctionalities needed and it's easy to use! The team working on it is super reactive and thanks again for the help ;)
Buggy extension: Amasty does keep fixing
Yes Amasty responds and fixes the bugs, but we have paid $249.

A bit disappointing for a module where our customers cannot use multiple gift cards in checkout and have the correct discount.
two thumbs up
Fancy extension with highly flexible admin settings. I liked the free present from Amasty - the awesome set of gift card templates. It really excused me from monkey business for the start.
Amasty rules as usual - highly recommend
I used the module for m1, now I've switched to m2 and taken it along. The backend works well and support is always well-timed.
Outstanding support
I run many extensions from Amasty and the quality of the code and support are amazing. The frontend works fine, though I've put a lot of work in the styling. I recommend this company to all!
Decent quality
We've migrated to magento 2 picking up the set of plugins we used to run in magento 1. So, we've installed the gift card and were surprised by its quality. I mean, all features work as promised. And the pack of readymade cards camе in very handy. I'd definitely recommend this tool to others.
Are you looking to add specific functionality for this extension or want to acquire a reliable development partner altogether? With custom development services by Amasty, you will receive high quality and cost-effective solutions developed by Magento professionals according to industry's best practices.
Magento 2.1, 2.2, 2.3 (including 2.3.4)
You can always download the recent version free of charge from your account
Installing an upgrade is easy — check now
My Downloads
Version 2.0.0
Last Update: Apr 02, 2020
New we completely overhauled our extension. With Gift Card version 2.0.0, you get a well-thought structure, optimized code, and fresh UI to make the experience of your customers smoother
New we added the GraphQL (read + write) compatibility
Fix due to the fact all extension code has been re-made from scratch, the known/common issues were resolved
Version 1.8.15
Last Update: Jan 30, 2020
Fix issue with PayPal was fixed.
Fix issue with taxes were resolved.
Fix compilation issues were fixed (Magento 2.3.4).
Fix issue with Gift Card removal from the cart was fixed.
Fix issues with Inactive status was fixed.
Fix known issues with PayPal Express and Stripe payment methods were resolved.
Improvement we updated our algorithm for expired gift cards detection. Fix: we restrict ability for store administrators to create expired gift cards.
Fix we solved the problem with email attachments on Magento 2.3.3
Fix we solved the problem with displaying gift card images with spaces in images names
Fix we solved the problem with applying gift card for products with taxes
Fix we solved the problem with error after renaming default product attribute set
Fix we solved the problem with double shipping taxes from gift card amount
Fix we solved the problem with gift card amount in Invoice
Fix we solved the problem with wrong currency symbol on Gift Card product page
Fix Сorrection of notification
Fix the issue with sorting gift accounts on grid was fixed
Improvement compatibility with Magento Cloud was enhanced
Fix the issue with adding gift card to card for currencies with a comma separator was resolved
Compatibility with Magento Commerce Split Database was added
Fix the issue with gift card zero price after editing card amount was resolved
Fix the issue with negative gift card value after applying was fixed
Fix the issue with email sending on Magento 2.2.8 was resolved
Fix the issue with gift card images in email notifications was resolved
Fix the issue with Klarna payment method was fixed
Fix the issue with preselected gift card price on product page was resolved
Fix the issue with creating gift card account after order placing was resolved
Fix the issue with applying taxes for gift card was fixed
Improvement backend validation for data field was added
Compatibility with Magento 2.2.3 was improved
Improvement uninstall scripts were added
Compatibility with Magento 2.3.1
Fix the issue with users role permissions was resolved
Fix the issue with gift card amount while taxes are including in product price
New ability to manage all existing cron tasks on a Cron Tasks List grid in backend was added. Run cron tasks and generate their schedule by clicking the 'Run Cron' button. Also, delete tasks in bulk, apply filtering and sorting options when it is needed
Improvement the code was enhanced
Version 1.7.4
Last Update: Mar 06, 2019
Fix the issue with changing Gift Card amount from fixed to open was resolved
Fix the issue with gift card amount after currency switch was fixed
Fix the issue with double tax calculation was resolved
Fix the issue with resizing large images was fixed
Fix the issue with sending gift card via email for printed card type was resolved
Improvement translation options for Gift Card added to Checkout page.
Fix issues related to compatibility with Magento 2.3.0 were fixed.
Fix error causing inability to submit invoice was resolved.
Improvement tooltip message for own user image was added
Fix the issue with own image path in a email was resolved
Fix the issue with displaying shipping address on the checkout page was resolved
New now, customers have the ability to preview emails with gift cards before buying
New the ability to set conditions on a gift card application via conditions tree was added
Fix the issues with notifications and gift card displaying on the checkout were resolved
Version 1.6.0
Last Update: Oct 31, 2018
New now, the customers have the ability to upload their own gift card images
Improvement now, when the card has the only value and a picture, the options will be automatically preselected
Improvement the ability not to specify the sender email while purchasing a card was added
Fix the issue with displaying only selected timezones in the admin area was resolved
Fix the issue with taxes was fixed
Fix the issue with a view of an order with a gift card in the admin area was resolved
Fix the issue with generating a pdf file with a jpeg format card was resolved
Version 1.5.6
Last Update: Sep 06, 2018
Fix the issue with displaying gift cards on the order page in the admin panel was resolved
Fix the issue with applying multiple gift cards was resolved
Fix the issues with applying 2 gift cards were resolved
Fix the issue with calculating several gift cards was resolved
New Information section is added. Now you can see the version of installed extension, available updates, User Guide link, conflicts and other useful data right on the module Configuration page
Fix the issue with order page occurring when Gift Card product is removed was fixed
Fix application of multiple Gift Cards to the same order was fixed
Improvement unused product attribute 'Allow Message' was removed.
Improvement now when you edit product from cart page or mini-cart, all previously submitted Gift Card details will load already filled.
Fix setting 'Allow customers to use gift cards they bought for themselves' was fixed.
Fix gift cart application on shipping and tax amounts was fixed.
Fix cron related issues were fixed.
Fix issue causing Tier Price not to display on Configurable Products was fixed
New now gift card images can be attached to emails in PDF format
New now it's possible to impose a tax on a Gift Card purchase
Version 1.4.0
Last Update: Apr 03, 2018
New Gift Card field is now available on the Magento checkout
New we introduced the compatibility with Amasty One Step Checkout extension
Version 1.3.3
Last Update: Mar 22, 2018
Fixed an issue with gift card application when it is able to cover 100% of cart value
Fixed an issue that was appeared on the order invoice
Fixed the installation issue that was appeared if the attribute group 'Prices' had been already in the store. Please note that this fix was applied only to new installations. If you had already installed the extension you wouldn't have such issue.
Fixed the issue with the timezone selection that can't be saved in the order.
Fixed the account creation process when an order was invoiced via API.
Fixed the issue with Invoice emails not being sent for orders containing Gift Cards
New in this release we've made optional the fields like 'Sender's Name', 'Recipient's Name', 'Delivery Date' and 'Gift Card message'. Now you can choose what fields you would like to display on the gift card product page and what fields are not necessary.
New we've added a new option. Now you can show the chosen gift card options on the mini-cart and the checkout.
New we've improved the work of gift card custom options. It's also possible to display them on the cart and the checkout.
Version 1.2.1
Last Update: Feb 14, 2018
Fixed the issue with Gift Card fields not appearing when you edit card options from the cart page
New Magento API support introduced
Version 1.1.3
Last Update: Jan 11, 2018
3-rd party theme compatibility was improved
Magento 2.2 compatibility introduced
Fixed the issue with gift card discounts not appearing in Invoice, Credit Memo and order emails.
Customer account error fixed
Fixed minicart display for gift cards
New Gift Card now can cover tax value.
PayPal compatibility improved.
Fixes for tax calculation, invoice and credit memo.
Fix for a purchase of multiple gift carts in one order.
Set of fixes for multi-store and multi-currency environments.
Fixes for gift account creation and coupon generation.
Many smaller fixes.
Version 1.0.3
Last Update: Apr 28, 2017
Allow giftcard to paid for shipping
Minor improvements
A number of fixes and improvements
Few language phrases added to translation file