Installation Service
Our specialists are ready to help you instal modules on Magento. Avoid all possible technical issues with the help of our experts at the very beginning.
One service for the whole order (covers one
environment, staging or live of your choice)
Preliminary store analysis
Quick installation process
Post-installation check
Security guarantee
Challenge
Installation is a complex process that requires technical knowledge and skills. Each mistake during Magento plugin installation can affect store performance and layout. As a result, a webstore is not working causing great losses.
Solution
Save your time and money by leaving the installation of any Magento 2 extension to professionals. We will set up any extension within 1-2 business days and give possible improvements suitable for your store performance.
What benefits do you get for your store
No technical issues thanks to the highly qualified specialists
Quick Magento installation help with preliminary store analysis
Post-installation check and security guarantee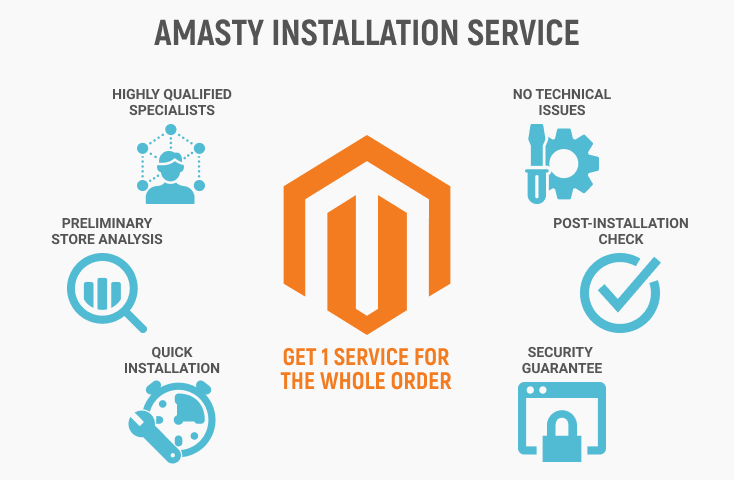 What Is the Installation by Amasty
Step 1. Service Purchase
Let's suppose that not long ago you've bought some of our extensions. The next step you'll make is search for how to install Magento 2 modules. Just buy our service to let all the purchased extensions be installed by professionals!

By the way, if you purchase many extensions and would like us to install all of them at the same time, you need to buy only one Magento installation service. If you would like to install, for example, 3 extensions today and 2 in let's say a week – you need to buy two services. One service covers the installation of the extension into a single Magento location. Live, dev or staging servers/locations are treated as separate.
Step 2. Approach Discussion
When you hire us to install Magento 2 plugin (purchase the service), a support ticket is automatically created and immediately sent to our support team. The experts will contact you as soon as possible to find out applicable installation methods and offer you the most suitable approach.
Send us the access data and information about the extensions you would like to have installed, and our experienced team will analyze your store.
In case of potential errors, we will generate the solution to prevent difficulties and discuss it with you. The selection of the preferable strategy may take 1-2 business days due to possible time zone differences.
Step 3. Installation Process
As soon as we get all the data needed, we start the installation process, which takes only 2 hours. Amasty specialists know everything about Magento extension installation: any issue appearing during the process will be prevented or fixed. If any conflicts with third-party extensions are found, our team will immediately inform you.

Also, the service includes the installation of all additional modules required for a correct extension functioning.
Step 4. Performance Check
When the installation is completed, our team makes sure that everything works properly. Deep performance analyzing allows guaranteeing smooth and stable webstore functioning.

Our experienced support team will also check if there are any possible improvements suitable for your store and inform you. Thus, you will have a properly-working extension(s) and some suggestions on how to make a webstore even more profitable.
What Do We Need for Successful Installation
Before the installation, please make sure that your Magento performs correctly;
In the ticket submission form specify: FTP access details, backend access (dev is preferable) and SSH (for the installation of Magento 2 extensions);
It is mandatory (and secure) to create a backup of your site before we start working on the installation.
How to install Magento 2 extension?
To install a new module on your Magento 2, you need to have some technical skill and be able to do the following steps:
First off, back up your database and enable the maintenance mode.
Get the extension's Composer name and version you want to install.
Update your composer.json file with this information.
Check if the extension was installed properly.
Enable the extension and clear static view files.
Register the extension, recompile your Magento project, and clean the cache.
But it's easier to delegate this process to professionals.
How to install a module in Magento 2 using this service?
Get our service.
Discuss all the specifics of installing your Magento 2 plugins in order to get a suitable strategy for the installation process.
The process of installing, which takes about 2 hours as our specialists are proficient in the Magento 2 plugin installation process.
Correction of possible errors.
Performance test to make sure everything works as it should.
Great development partner for businesses of any size
Decor Interiors, Owner
Amasty delivered the service on time and was responsive to any questions and concerns. The extensions were installed and updated quickly. Amasty is really a great development partner for online businesses of any size. Unlike many extension developers who are only working during European or Asian business hours, Amasty is available during U.S. work hours.
Amasty answer
Jul 27, 2020
Natalya Chekanina
/ Head of Sales Team
Hi Bill, thanks so much for the kind words about our company and services. We're proud to have you as our customer, and we'll always be happy to see you in our store and help with your needs and requests.
Fabulous support
Web Services , Manager
All the Amasty products and services are reliable and great improvements to Magento. Users like the functionality. Fabulous support, fast and accurate.
Amasty answer
Apr 25, 2019
Natalya Chekanina
/ Head of Sales Team
Dear Howie, thank you for your review! We would be happy to see you in our store again!
Installation is easy with the service
They simply work flawlessly. Installation is easy with the service provided. As both plugins were backend oriented, the improvements in work efficiency was immediately noticeable within our operational environment. Support has been called for very sparsely, however, whenever requested the response has been knowledgeable and helpful. Finding your website has been an absolute boon for our online department. No other website we have come across has this level of information and documentation readily available. The plugin demos are wonderful in explaining the functionality thereby making our decision process not only informative but quick. Keep up the good work!
Great Products & Support
After Installing Plugins Customers like it and our Conversion rate is gone increase + it is very easy to upgrade with new versions anytime. Amasty Support is Great - They are always ready to help. 5 Stars + Not everyone is creative, but you are + Your commitment to quality reflects in everything you do.
Super good support service
Satvision Scandinavia , MANAGER
Products that are constantly updated are positive, plus the super good support and solution for problems if this happens. One bad is that you need to have support during the weekends too, sometimes we get problems on Friday night and we do not get help from you before Monday, this sometimes makes the page not work in 3 days and it costs us money.

Amasty answer
Apr 28, 2016
Natalya Chekanina
/ Head of Sales Team
Dear Jakob, thank you for your review! We would be happy to see you in our store again!
Simpl, quick & effcient
Works great, simple & easy with installation. Customer satisfaction improved.