Highlight your best offers
Use various types of products as promo items
Display free gifts in the popup
Encourage customers to add free gifts
Run promo campaigns faster
[PRO] Data-driven optimization of your promotion campaigns
Highlight your best offers
Display catchy banners to inform customers about current promotional campaigns with Magento gift products. Drive more attention to hot deals with special labels and show promo items right on a product page to let customers clearly see which goods they can get for free.
Use various types of products as promo items
The extension supports 6 product types that you can use for promotional campaigns: simple, configurable, virtual, downloadable, bundle, and Gift Card (Magento Commerce). Besides the complimentary items, you can also offer your customers any type of discounted Magento 2 free product as a bonus to their purchase.
Display free gifts in the popup
Show all available promo items in a handy popup on the shopping cart page to let visitors select the special offer they like more. Moreover, customers can specify options of the Magento 2 gift product like color or size right in the popup window.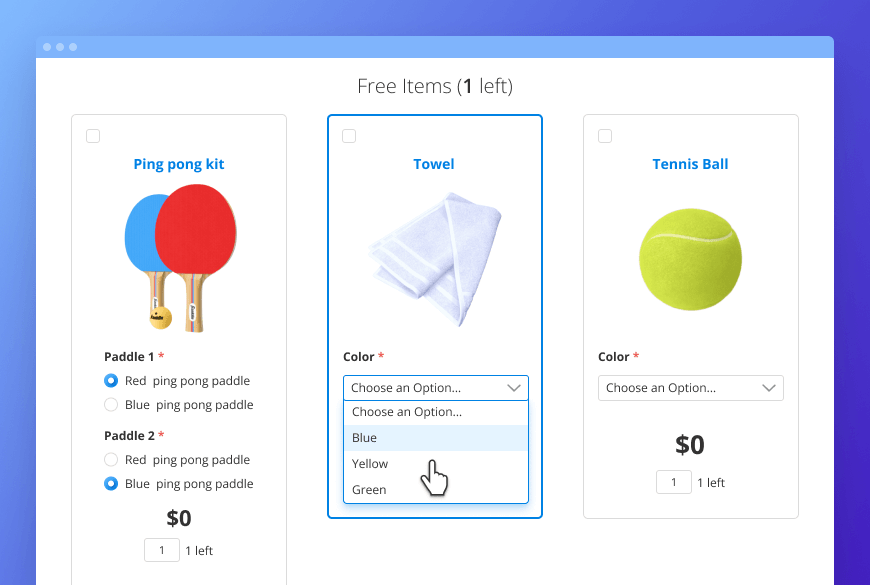 Encourage customers to add free gifts
With the extension, you can mark promo items with a custom text label to highlight gifts on the shopping cart page. You can also remind buyers about the products they can get chargeless during checkout with a "Select your Free Gift" bar.
Run promo campaigns faster with Free Gift Cart Rules Wizard
With our Free Gift Rules Wizard, you can create promotional campaigns even more quickly. Easily create rules for your promotions just in 4 steps: Choose the promotional campaign type >> Specify product settings >> Configure general options of the rule >> View promotion summary. You can also set more advanced options if needed.
[PRO] Data-driven optimization of your promotion campaigns
Know how your promotions impact sales at a glance! Get statistical data about the performance of the cart price rules for any given combination of store view, customer group, and time span with easy-to-understand graphics. Also, you can automatically compare the average check value with or without rules.