Elastic Search
for Magento 2
Convert searches into sales with Elastic Search for Magento 2. Instantly show the most relevant search results to guide customers to what they're looking for quicker.
Full-text and full-website multilingual search
Partial search by SKU, name, attribute, or category
Autocomplete suggestions and typo corrections
Add alternate search terms and words to ignore
Optimized for working on all devices
What makes Elastic Search so efficient?
Speed
The most relevant data is delivered instantly with Elasticsearch's thorough indexing.
Broad Search Capabilities
Custom synonym and stop word lists allow for a more natural experience when searching.
Flexibility
Customers may search by SKU, product name, description, or an attribute such as color or manufacturer.
Increase revenue with an improved search experience
Backed by a powerful search engine, Elastic Search provides a responsive experience with accurate results that customers can feel.
Autocomplete suggestions
Long-tail searches
Spelling corrections
Dictionary of synonyms
Search analytics
Customizable layout
Browsing history
Speed up search experience with autocomplete suggestions
Present relevant search results with advanced Elasticsearch autocomplete window for Magento 2. Employ a wildcard partial search to make the shoppers' experience even easier.
Provide precise results even for those who search by symbols
Using the long-tail search is especially convenient when customers input compound queries that contain hyphens, slashes or any other non-alphabetic symbols. The feature provides relevant results even if the customers search by SKU, MPN (manufacturer part numbers), or product names with symbols.
Allow spell correction to enhance search results' accuracy
Specify the error tolerance to prevent confusions which may accidentally happen when shoppers type their requests. Avoid no search results pages caused by typos or misspellings.
The efficiency of using synonyms
Make sure that customers will find things they need regardless of how they call them - add alternative item names to build your dictionary of synonyms, concerning your catalog.
Make data-driven decisions with Search Analytics
Monitor customers' recent activity and the most wanted search terms. See the number of total and unique searches, get understanding of users' engagement. The statistics includes page jumps to Brands, Categories, Blog, CMS and Landing pages.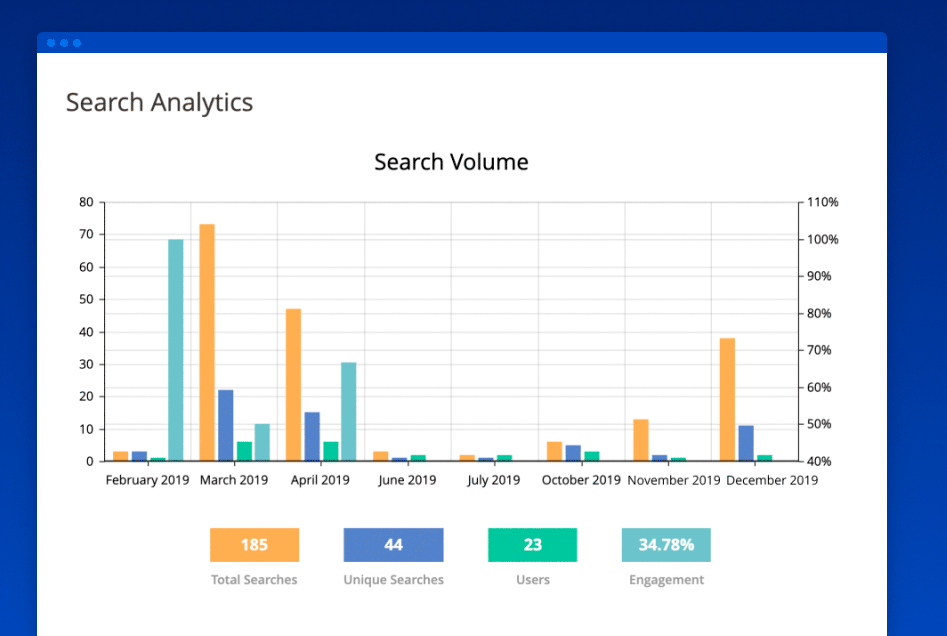 Flexibly fine-tune the design of search results window
Adjust layout of the autocomplete window in a few clicks to make it more suitable to your website design. Customize colors of the window border, text on hover, how the search results are highlighted, pop-up size and many more.
Guide shoppers to purchases using browsing history
Help customers take their search flow under control by allowing them to get back to their recent search results anytime. Enable the 'Browsing History' block to make it possible for users to get back to the exact search results page they've been earlier.
NOTE: The extension is compatible with the Elasticsearch Engine v.7.9.3.
Elastic Search indexing in Magento 2
Elastic Search works with indexes to organize its data for quick processing. Through the Elasticsearch engine's gateway feature, its indexes are equipped with long-term persistence. Elastic Search gives you fast page loading and recovery of indexes from the gateway in case of a server issue or crash.
Product Attribute Weight
Specify search weight for product attributes in the search algorithm to provide your customers with accurate results.
Full Text Content Search
Your customers can search the contents of your entire online store. Magento 2 Elastic Search module offers full text results within CMS pages and blocks.
Fallback Search
Automatically offer your customers similar products when no items are found. With Fallback Search, alternative variants can be shown when zero items match the search query.
Support for Asian Languages
With support for Japanese, Chinese, and Korean languages, you can provide a better experience for more customers on a global scale. Learn more here.
Improve the quality of your search results to increase your add-to-cart rate
Show results from all pages
Show bestsellers in the popup
Promote featured items
Add products to cart directly from search
Allow both plural and singular terms
Show the search bar anywhere you need
Display recent and popular searches
Show results for categories, CMS, brand and landing pages
In the autocomplete popup, there is a handy section with links to the categories, brand, blog, CMS and landing pages that contain search results.
Show the best selling and recently viewed products in the popup
Increase the value of the average check per customer and boost sales of your bestsellers by enabling their display in the search window. Enable display of the recently viewed products in the popup to increase the probability that your customer will finally get this product to the checkout.
Promote featured items first to boost their conversion
Run marketing campaigns to promote certain goods by boosting or lowering their relevance score in the search results. Return promo items on the top of the results using conditions with product attributes.
Display 'Add to Cart' and 'View All' buttons to trigger conversions
Boost sales by letting customers add items to their carts right from the popup window. Display product reviews and a 'More Products' button to give shoppers possible alternatives.
Extra flexibility in search with singular and plural forms
The Elastic Search for Magento 2 understands singular and plural search queries and identifies words by their root forms. It means that the extension returns the same results for both "short" and "shorts" queries.
Place the search bar anywhere you need
The extension allows integrating the advanced search line via widgets anywhere you need it. Display search with the same functionality on a sidebar, footer or even in the mini-cart. Equip CMS pages with it to encourage shoppers exploring your store even more.
Upsell and cross-sell with Recent and Popular searches
Display clickable popular and recent searches to let your customers be aware of trends and offer them worthwhile products.
Exclude stop words from search results
Maintain fast search speeds with a small index by specifying a list of words to be ignored by the search engine. Manage your stop words anytime using a grid in the backend.
Single-result redirect to product page
This feature helps to significantly decrease the number of steps a customer makes between looking for some goods and making a purchase. You can also enable redirection from 404 pages to enhance the UX.
Multilingual search
Not only does Elastic Search provide custom analyzers for Asian languages, it utilizes inbox stop words and supports inbox stemming from a rich list of languages including Arabic, Hindi, Greek, and more.
Manage tasks with Cron Tasks List
With Cron Tasks List built in, Elastic Search lets you manage and track all cron tasks running in the background. Filter, sort, and delete tasks in bulk when necessary.

Manage technical details
Definable preciseness of the results
Special character mapping
Customize search query options
Out-of-stock items displayed last
Custom CMS block for Zero results page
Display full category path in a pop-up
Define the flexibility of search results your users will get
For each product attribute, you can specify how the keywords will be combined. E.g., the AND-rule provides a search for cases when all the requested words occur altogether. Use the OR-rule to provide users with more flexible results.
Simplify searching for the items named with special characters
Use a Char Mapping setting to remove restrictions in searching for the products or brands with special characters like 'ô', 'é', '&' and others. Thus, your customers will be able to search for Lancôme products by typing just 'Lancome' with no special characters.
Configure the extensible search query in one place
Customize user experience for your website by specifying key search settings for each product attribute from one grid. Allow auto suggestions or autocorrections, define how the words are combined in a search query.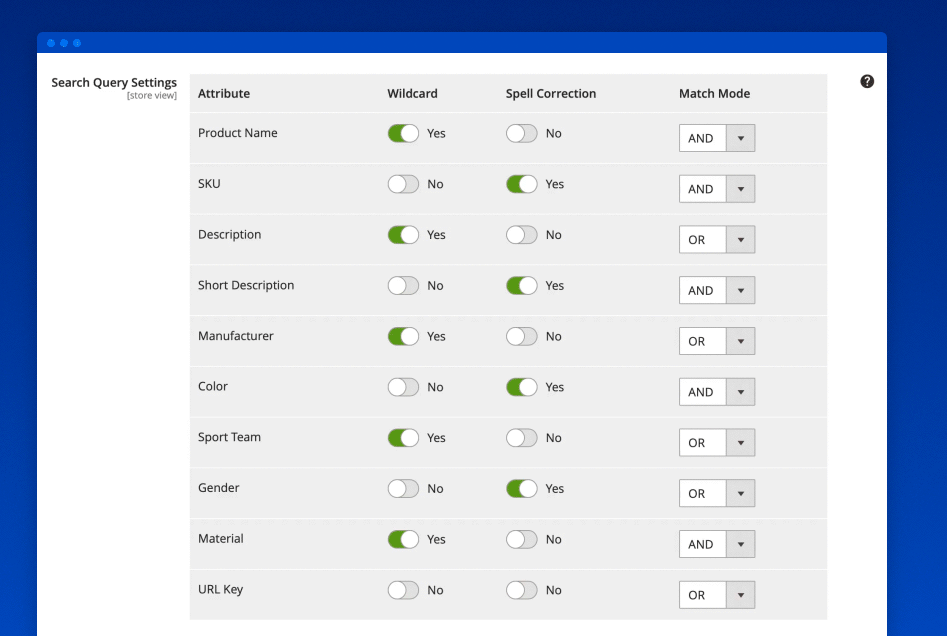 Show visitors the most relevant content first
Hide the out-of-stock items at the end of search results list and offer more relevant goods instead. Enhance shopping experience on your website and motivate customers to order products that currently are in stock.
Decrease churn rate from your website with info blocks for the no-results page
If shoppers get disappointed because of the unsuccessful search attempts, they usually leave the website soon. To avoid that, redirect them somewhere else or offer contacting you directly (i.e. by email). Thus, you make sure shoppers will get satisfied with this or that way and not get lost over your website.
Create smart UX with important little details
Allow showing customers a full path to the search results displayed in a little but handy popup. Thus, users will always know where on the sitemap certain results are coming from.
Redirect to search results from broken URLs
Reduce customer churn by setting up automatic redirection to search results. Excludes broken URLS that lead to 404 pages.
SEO-friendly short URLs
Choose to display short URLS in default search results. URLs will display simplified text such as "search/yellow" instead of "catalogsearch/results/q=yellow".
Expand on Elastic Search's functionality
To complement the many features within Elastic Search for Magento 2, we suggest these other Amasty modules.
Improved Layered Navigation helps you build user-friendly navigation that enhances the customer shopping experience.
Product Parts Finder provides advanced search options with product filters such as year, make, and model, for customers searching for auto parts.
Improved Sorting offers a mobile-optimized tool that increases a catalog's usability by providing extensive sorting options.
Ajax Shopping Cart equips stores with an AJAX-powered confirmation window that allows customers to modify certain options without the need for page reloads.

Good search ensures good sales.
Help your shoppers find what they are looking for
Key Features

Lite

Search quickly

Pro

Search precisely

Premium

Search everywhere

Guarantee smart and quick site browsing with advanced search
Predictive search results display
Show recent and popular searches
Provide browsing history
Embed search bar widget to any page
Cross-sell with related search terms
Сustomize layout of the popup
Enable 'Add to Cart' and 'View All' [results] buttons in the popup
Enhanced page for no search results
Redirect from broken URLs to the search results page
Show the out-of-stock items last
Analyze search trends with built-in analytics dashboard
Provide extended search opportunities with elastic search
Full-text and full-website multilingual search, including Asian languages
Autocomplete suggestions and automatic typo corrections
Provide partial search by SKU, name, attribute and category
Show promoted products first
Dictionary of synonyms and stop words
Enable long-tail search
Fallback search: offer similar products when no items are found
Match modes: define how the words are combined (AND-, OR-type)
Get more ways to upsell and extend sorting options with shop by brand and improved sorting
Show bestsellers in search popup
Provide searching by brands
Add new sorting options for your catalog (New, Top Rated, Bestsellers, etc.)
All-brands page with the search box
Premium brands slider widget
Featured products widget at any page
Unique page content for each brand
Brands menu with alphabetical sorting

$249

add to cart

$349

add to cart

$599

add to cart
How to handle the most common e-commerce challenges
What is the advantage of Elasticsearch in Magento 2?
Fast and advanced search for products in the catalog
Easy to scale horizontally
Multiple language support
Out of the box performance
Support for stop words and synonyms
Accurate, powerful, and scalable
Real-time data and analysis support
Buyers are not interrupted during Elasticsearch reindexing
Can be used as a document-oriented data warehouse
Product questions

How to solve the Elasticsearch not working in Magento 2 issue?

Sometimes Elasticsearch can show no results in Magento 2 or show the 404 Not Found page. So how to fix this problem or enable redirection to another page?

Read the FULL answer

What is the difference between Elastic Search and Advanced Search extensions for Magento 2?

If compared we can say that Advanced Search extension is a part of Elastic Search that deals mainly with modifying the autocomplete popup by adding various product attributes to it and making it more user friendly. It also modified the search result page by adding separate tabs for products, categories, CMS and other entities. Read the full answer to learn more details.

Read the FULL answer

What version of the Elasticsearch engine does this extension support?

Our Elastic Search extension is compatible with Elasticsearch engine 6.x versions and supports v.7.9.3. Read more for details

Read the FULL answer
Support
Our support team stands ready to assist you in installing Magento 2 Elasticsearch engine on the server and configuring it for smooth search experience. We are ready to help and answer all your questions.
Development
We included quick and sharp on-site search based on Elasticsearch returning relevant results. It significantly speeds up your catalog layered navigation and works with an unlimited number of products.
Business expertise
Steadily analyzing the needs of live Magento web shops together with our own 9-year experience in e-commerce, we believe to provide solutions and deliver functionality that really matters to our customers.
Other Features
100% Open Source — Easy To Customize
Follows Magento Code Architecture
Separated HTML/CSS/JS
Simple installation via Composer
* The name "Magento" and the logo are the trademarks of Magento, Inc.
The extension is must needed for all website to bring better result for search for users
Marine Hub Fishing Equipment, Ecommerce Manager
I would recommend to all eCommerce website, the extension is must needed for all website to bring better result for search for users. It was conflicting with Webkul marketplace and its resolved by your team. The thing I like the most is Autocomplete Suggestions, Synonym Results.
Amasty answer
Mar 19, 2020
Natalya Chekanina
/ Head of Sales Team
Dear Rajwan! Thank you for choosing our extensions. I'm glad that you appreciate their quality. We would be happy to see you in our store again!
Highly recommend Amasty extensions!
I buy their products from the very start of my business for 7 years already. I want to comment the job of the support team, when my devs write them Amasty responds the same hour.
Amasty answer
Apr 24, 2019
Natalya Chekanina
/ Head of Sales Team
Hi Steven! Thank you for being our loyal client and for choosing Amasty extensions.
Overall great products
Luxreaders ApS, Owner
Overall great products. When we come up with good ideas, Amasty has already done it - so we can purchase it, and use it out of the box. New startup company, so we're running so many tests in the beginning that we cannot isolatte the exact lift that Amasty modules gives.
Amasty answer
Mar 12, 2019
Natalya Chekanina
/ Head of Sales Team
Dear Aleksander, thank you for your review! We would be happy to see you in our store again!
helpful solution
First was hard to learn how it works but now im good with it. Most difficult was advanced query. I studied user guide and wanted to check what will be if i set all attributes 10 for importance. Couldn't do it. I tried to see it on demo, but that was not possible. I changed setting but couldnt see how it works in front end. Or could not find button. Anyway demo must be biger or more intuitive.
Would definitely recommend
5 stars so far I am still fairly new to using it but if offers the search features I need for a large catalogue. The questions I asked after purchase were answered quickly and competently. Would definitely recommend.
Very good service!
Great app to help customers find the best products for them. I am experiencing some issues with config, however support is very helpful.
Run perfectly
Easy to use and run perfectly without bugs. We're using this extension without any issues. Most of all i like search autocomplete and super fast search results with products, categories and pages. I recommend this extension.
Great extension and support as always)
I was looking for an extension to connect the Magento and Elastic Search and found this one by Amasty. I also had other plugins from this company. The extension works very well and I was able to setup it very easily. I had a small issue and contacted the support.
They solved the issue within 1 day. Very suggested. Thanks a lot!
Recommend this module for all shops
Customers like to use the search. Using Elastic Search plugin they get very relevant results compared to the default search done by mysql. Installation and Configuration works without any problems. Very much recommend this module for all shops.
Thanks to the Amasty team!
A must have improvement of the default search functionality of Magento. Fully compatible with Improved Layered Navigation and other Amasty extensions. Thanks again to the Amasty team for such a great module and the best customer service!
recomend
Cool thing, more and more custoomers are coming. And conversions are ok. I use also other products by amasty, such as seo smth. These 2 together are great because now I optimize for google and use same keywords to name products in store. So customers come and they see what they expect. And eventually buy. I recommend this ext.
Like it
This mpdule helped me much and still helping. Most I like that it works with mobile perfectly, most of my clients prefer mobile search. Also longtail search is a great addon. I was surprised that clients actually use - and feel bad when such searches give no results. That sorted out already.
Good thing
All in all, this app works wonders. It;s fast and my buyes don't leave cause of long page loading. I love autocomplete feature cz it saves time. Specially as they don't always know what exactly they need. Only small problem is that out of stock goods emerged also there among search results. So some buyers thought they can order when they couldn't till we fixed it.
Are you looking to add specific functionality for this extension or want to acquire a reliable development partner altogether? With custom development services by Amasty, you will receive high quality and cost-effective solutions developed by Magento professionals according to industry's best practices.
2.4.2-p1, 2.3.7, 2.4.2, 2.4.1-p1, 2.3.6-p1
You can always download the recent version free of charge from your account
Installing an upgrade is easy — check now
My Downloads
Version 1.13.1
Last Update: Jul 07, 2021
Compatibility the Amasty Preorder button replaces Add to Cart button in the autocomplete popup if applicable
Bug we corrected the display of View All link
Bug now the currency is cached correctly per store in the search autocomplete popup
New now Relevance Rules can be configured to work in autocomplete search popup as well
New now you can preview products a Relevance Rule will be applied to
Improvement we implemented significant modifications to the Relevance Rules functionality - now rules' data is indexed by Elastic
Fix we corrected the filtration on Most Wanted Search Terms and Recent Activity grids
Fix we fixed the exclusion of CMS Pages
Version 1.12.2
Last Update: Mar 23, 2021
Compatibility we improved compatibility with other Amasty extensions that utilize the jQuery Slick library
Fix we resolved the issue with GraphQL search queries returning empty results
New we implemented the Elastic Search indexing for Categories, CMS, Amasty Blog, Landing, Brand and FAQ pages
New now you can modify an empty search results page by inserting any CMS block with a custom content instead of the default message
New we designed an option to show latest search queries for logged in customers for more convenient and less time-consuming repeat searches
New we added a new block to an autocomplete popup to show customer's recently visited products
New we designed an integration with Amasty Improved Sorting extension: now you can display Bestsellers block right in the search popup to acquaint visitors with the most popular products of your store before they start searching
Improvement now the creation of synonyms supports both upper and lowercase words
Improvement we rechecked and established correct dependency on jQuery UI library
Compatibility now customers can choose a wishlist for adding products from an autocomplete popup if multiple wishlist functionality is enabled on Magento Commerce
Version 1.11.2
Last Update: Nov 02, 2020
Compatibility we updated and refactored extension's GraphQL
Fix we resolved the issue with missing images in the autocomplete popup
Fix the extension works smoothly on all Magento 2.3.x versions taking into consideration the changes made by Magento in Advanced Search Collection starting from v2.3.4
New GraphQL read compatibility was added
Compatibility now the extension is compatible with Magento 2.4.1
Version 1.10.0
Last Update: Sep 23, 2020
New we created a search widget which allows you to place additional search field with full searching functionality at any place on the store pages
Fix we corrected the issue with searching by category if the search query is present in several category attributes
Fix we corrected the functioning of 'Show "Out of Stock" Products Last' feature in case items are searched by the same search query
Fix we corrected the applying of relevance rules upon GraphQl product searching
Version 1.9.1
Last Update: Sep 09, 2020
Improvement now MFTF tests consider the differences between approaches in Magento 2.3.5+ and Magento 2.4.0+ and are provided in separate packages via composer 'suggest'
New we added character filter mapping to convert specified keys to specified values upon searching
Improvement we improved the design of autocomplete window
Improvement we enhanced the usability of extension configuration by adding dependencies and comments
Compatibility we improved compatibility with MSI
Compatibility we enhanced compatibility with Amasty extensions which have searchable entities
Fix we resolved the issue occurred on the storefront if any of the custom layout fields is empty
Fix we corrected the adding of search terms
Fix we adjusted the issue with incorrect quantity of products on search results page
Version 1.8.6
Last Update: Jun 11, 2020
Fix we resolved the issue with incorrect counting of products depending on their stock
Improvement now you can programmatically add any custom analyzer to extend the search functionality
Fix we corrected extension's indexation in case of using ElasticSearch 5.x
Fix we resolved the issue with ElasticSearch index prefix
Improvement we implemented minor enhancements to extension's indexation
Improvement we added a notifying warning in case of hardcoded Elastic Engine on the server
Compatibility compatibility with Amasty Shop by Brand extension was improved
Fix we corrected the display conditions of Test Connection button
Fix we resolved issue with missing products in search popup with popup indexation enabled
Improvement Advanced Search part of the extension is now covered by MFTF aimed at quality and stability enhancement
New now searching by SKU of child product which is not visible individually will show associated parent product as a result
Improvement we implemented enhancement of Autocomplete Popup indexation to avoid memory issues in case of large catalogs
Compatibility we enhanced compatibility with Magento MSI
Compatibility compatibility with Magento 2.3.4 was improved
Fix we corrected the relevance rules implementation
Fix we resolved the issue with search requests containing quote marks
Version 1.7.2
Last Update: Dec 10, 2019
Improvement we added validations for Elastic Search Server configuration
Improvement we added a new option that allows you to control search field width - now you the field can keep the same width during searching process and doesn't get resized according to the width of autocomplete window
Compatibility we enhanced the compatibility of extension with custom themes
Fix we resolved issues which caused the malfunctioning of GraphQL function
Compatibility compatibility with Amasty Shop by Brand was improved
New we covered the majority of plugin's features with MFTF tests. It will help to improve quality and stability of our extension.
Compatibility compatibility with the "Shared Catalogs" feature was improved
Version 1.6.5
Last Update: Oct 31, 2019
Fix we have fixed issue with using stop words
Improvement we added whitespaces validation to Stop Words functionality to avoid issues during indexation
Improvement we reviewed and enhanced the logic of Popular Searches block in autocomplete popup
Fix we corrected the issue with products sorting by stock in autocomplete popup
Fix we resolved the incorrect behavior of search popup on mobile devices
Fix we fixed the issue with incorrect URLs in autocomplete popup in case of 'Add Store Code to Urls' setting enabled
Fix minor fixes were implemented
New we introduced a new functionality which adds related search queries to search result page
Improvement we improved frontend user experience in case of elastic engine unavailability. If elastic engine suddenly gets off on your server, customer will see a user-friendly notification instead of error
Improvement we improved search popup first byte time, which speeded up search and autocomplete window displaying
Improvement we improved the redirect from 404 to search result page
Compatibility we added compatibility with Amasty FAQ and Product Questions plugin. If search terms are included into existing FAQ categories and questions, corresponding findings will be shown in search autocomplete window and under separate tab on search results page
Fix we resolved the issue with elastic mapping creation for new categories
Fix the problem related to multi-threading indexation was resolved
Fix the issue related to displaying of irrelevant search results using Stemming was fixed
Fix issue with conflict between full and partial indexation was resolved
Improvement we removed an overlay for autocomplete pop-up for better user experience
Fix we fixed the problem with 'Add to compare' functionality in the search pop-up
Fix we resolved an issue with sku with special characters missing in results on the search page
Fix we resolved minor issue with 'Most Wanted Search Terms' grid pagination
New we added a new feature to use Stemming Search with singular/plural words
New we added a possibility to use additional analyses: Japanese (kuromoji) Analysis Plugin, Smart Chinese Analysis Plugin, Korean analysis plugin. Please note that installation of additional plugins is required
Fix fixes with indexation, compatibility issues with Advanced Search and Search Popup were resolved
Version 1.5.6
Last Update: Aug 15, 2019
Compatibility compatibility with Magento 2.3.2 and product sorting was improved
Compatibility compatibility with Amasty Improved Layered Navigation was enhanced
Compatibility compatibility with Elastic Search 7.0 was fixed
Compatibility the compatibility with Magento v2.3.2 EE was enhanced
Compatibility the compatibility with Magento v2.3.2 was enhanced
Improvement the possibility of logging elastic search queries was added
New the Most Wanted Search Terms and Recent Activity (Search Volume) grids data were added in backend
New ability to manage all existing cron tasks on a Cron Tasks List grid in backend was added. Run cron tasks and generate their schedule by clicking the 'Run Cron' button. Also, delete tasks in bulk, apply filtering and sorting options when it is needed
Improvement minor enhancements and fixes were made
Improvement ability to enable indexation for autocomplete popup via backend setting was added
Improvement the Engagement statistics now includes the page jumps to Brands, Categories, Blog, CMS & Landing pages
Compatibility compatibility with the 3rd party extensions was enhanced
Compatibility the compatibility with Magento 2.3.0 was enhanced
Compatibility the compatibility with Amasty Ajax Shopping Cart extension was added
Version 1.4.0
Last Update: Feb 04, 2019
New new search autocomplete pop-up design was introduced
New the Analytics Dashboard was added to provide admin with the report about the search volume based on users recent activity. Also admin is able to track the most popular search terms in the store
Improvement the Popular and Recent search results in the autocomplete pop-up was enhanced
Compatibility compatibility with Magento Commerce was enhanced
Fix an issue with category index for multiple stores was resolved
Fix an issue with product images missing in the autocomplete pop-up was resolved
Fix an issue with 'More Products' count in the autocomplete pop-up was resolved
Fix an issue with synonyms when using special chars on ElasticSearch 5.x was resolved
Version 1.3.9
Last Update: Dec 22, 2018
Improvement the configuration settings were enhanced
Fix an issue with 'More results' in autocomplete pop-up was resolved
Fix an issue with search by Boolean option was resolved
Fix an issue with filtering by '0' value was resolved
Fix an issue with reindex with Elasticsearch 5.x if no synonyms was resolved
Improvement the synonyms and stopword work was enhanced
Improvement ability to add external entity to the elastic search index was added
Compatibility compatibility with Magento 2.3.0 was added
Fix an issue with filtering on Magento 2.1 was resolved
Fix the issue with saving system configuration was resolved
Improvement the secure connection support
Fix an issue with search by sku value was resolved
Fix an issue with showing Out of stock simples of configurable product was resolved
Improvement the performance of search results based on Relevance Rules was enhanced
Fix the issue with the search results page when searching by SKU was resolved
Fix the issue with not trimmed synonyms in the backend was resolved
Improvement the back-end settings view was corrected
Fix the issue related to not relevant results using AND mode was fixed
Fix the issue with showing composite products was fixed
New a separate tab on the Search result page for Brand pages was added
Improvement the total results count added to the search popup
Fix the issue on magento commerce cloud with required writing permissions for the file system was resolved.
Fix the design issue with the Improved Layered Navigation slider elements over search popup was resolved
Compatibility compatibility with Amasty Customer Group Catalog extension was enhanced
Compatibility compatibility with Magento 2.2.5 was improved
New separate tabs on the Search result page for Category, CMS and Landing pages were added
New the search by brand pages created with Amasty Shop by Brand extension was added
New the ability to create rules to boost the products in the search results for better merchandising was added
Improvement set FOLLOW for catalog search result page and advanced search result page
Improvement if one product has been found in autocomplete popup it redirects to the product page by 'Enter' button click only
Compatibility compatibility with ElasticSearch 6.3 was improved
Version 1.2.0
Last Update: Jun 15, 2018
New introducing the 'Long Tail' Search for words that contain hyphens, slashes or any other non-alphabetic symbols and highly specific search phrases
New allows to configure SEO URL Key for the default search results page
Improvement configuration settings and comments was enhanced
Improvement ability to include CSS style when the standard LESS functionality is missing was added
Compatibility compatibility with Magento 2.1 and lower was enhanced
Fix an issue with the products block position on mobile was resolved
Version 1.1.1
Last Update: Jun 12, 2018
Fix an issue related to elasticsearch library dependency was resolved
Fix an issue with exception class does not exist was resolved
New move 'out of stock' items to the end of the search result and show products which are available for purchase first
Improvement now the full category path is visible on mouse over the category search result
Improvement enhanced the full text results within CMS pages and blocks
Fix an issue with the installation via composer was resolved
Fix an issue with caching Recent and Popular search results on M2.1.9 was resolved
Version 1.0.2
Last Update: May 29, 2018
Fix an issue with dependency in config was resolved
Improvement search result based on attributes weights was enhanced
Improvement added reindexing to install data script
Improvement search by Amasty Landing Pages was enhanced
Compatibility added compatibility with Amasty Parts Finder extension
Fix an issue with the list of wildcard attributes in configuration settings was resolved