Order Attributes for Magento 2

|

v2.0.0
Screenshots:
Effectively collect order related info
Spend too much time on gathering additional order information? Simply add custom order attribute fields to your checkout and automatically receive all necessary data at once with the Order Attributes extension for Magento 2. Due to flexible settings and intuitive interface the module will help you easily fine tune the checkout page according to your requirements. Create as many additional order attributes as you need. Use various field input types and quickly process collected data on the backend.
Easily manage additional order attributes
Manage order attributes display
Magento 2 order comments extension settings allow you to create and display as many order attributes as you need. Specify store views and customer groups for which particular attributes should be available. It's also possible to show the attributes on order view pages for admin users and customers.
Fill in attribute fields from the backend
With the Order Attributes Magento 2 extension store administrators can specify custom attributes when creating orders from the admin panel and modify attributes' values from the order view page after the order is placed.
Save attribute values on the checkout page
To prevent registered customers from filling in one and the same Magento 2 checkout fields with each new order you can enable the 'save attributes' option. Therefore, shoppers will be able to complete purchases much faster.
Add extra attributes to the admin order grid
To effectively manage all order attributes you've created add them to the order info grid. This way you'll keep all necessary info in one place and will be able to quickly process order-related data.
Use default values for custom order attributes
Apply default values for order attributes in case the attribute field was left empty. The default value can be also applied for attributes that are visible only to admin users.
Restrict editing order attributes
Let only specific admin users edit order attributes to avoid important data loss. This option is extremely useful for stores with a big managers team.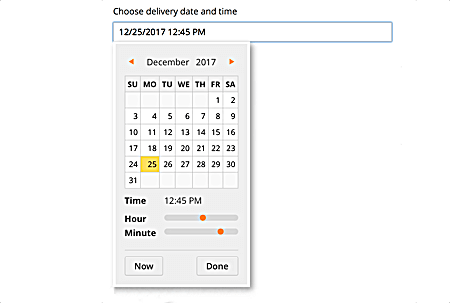 Use calendar for date attributes
Due to a handy calendar store administrators will be able to quickly specify or edit date attribute values while generating orders from the backend. The calendar is also displayed on the checkout page to help customers fill in attribute fields in a couple of clicks.
Specify checkout steps for attributes display
The module allows you to choose on which checkout step you want to show each particular custom order attribute (shipping, reviews and payments). All additional attributes will be placed after main checkout fields.
Generate custom order attributes
Create order attributes of different types
The Magento 2 custom checkout module allows creating extra attributes with various catalog input types depending on the information you want to receive. Use text fields/text area if you want to ask customers for additional comments or place attributes with check boxes, radio buttons or dropdowns to make shoppers choose among predefined variants.
Display attributes in emails and PDF docs
Add the fields with additional attributes to order related emails, PDF documents (shipment emails, invoices).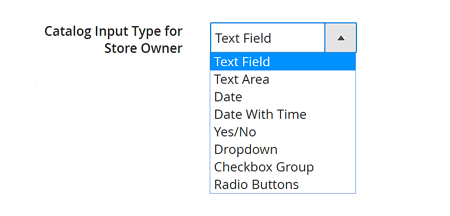 Include attributes into API
If you are experienced merchant, at some point of your development in e-commerce, you may want to see into specifics of a higher level. The extension allows you to include attributes in API, which will help to easily set and update them, or use in other related API services.
Create dependent attributes
Now you can create an unlimited number of dependent order attributes that will be displayed only when a specific value of a parent attribute is selected. This way you'll make your registration page much more compact and easy-to-perceive.
Show attributes based on shipping method
Display particular order attributes according to the shipping methods chosen by customers. For example, you can show a comment text area after the self-delivery option is selected.
Add attributes data to HTML printouts
Let customers see all additional order attributes in the HTML documents which they can print out from the customer account page.
Other Features
100% Open Source — Easy To Customize
Follows Magento Code Architecture
Separated HTML/CSS/JS
W3C Validated Code
* The name "Magento" and the logo are the trademarks of Magento, Inc.
Just grab it!
This is a very solid extension, although for a not cheap price. I strongly recommend it to all vendors. The mod configures in minutes and all options run as amasty promises.
Must have extension
This is must have extension and the support team is excellent.
Write Your Own Review
Version 2.0.0
-
March 21, 2017
– Allows creating dependent attributes, i.e. to display certain attributes only when a particular value of a parent attribute is selected.
– Compatibility fixes with the Amasty Customer Attributes and Amasty Order Grid extensions.
Version 1.1.10
-
March 10, 2017
– Improved work with e-mail templates.
Version 1.1.9
-
February 16, 2017
– Compatibility improvement.
Version 1.1.8
-
January 09, 2017
– Fixed errors in a customer account.
Version 1.1.7
-
January 04, 2017
– Possibility to get order attributes data using an order model object (useful for developers).
Version 1.1.6
-
December 16, 2016
– Possibility to read/update/set order attributes via Magento API.
Version 1.1.5
-
December 05, 2016
– Fix for a default value in the checkbox input type.
Version 1.1.4
-
November 10, 2016
– Fix for printing Invoice and Shipment documents.
Version 1.1.3
-
November 04, 2016
– New rule added to validate text field input length.
Version 1.1.2
-
October 31, 2016
– Compatibility with Magento 2.1.2
Version 1.1.0
-
September 22, 2016
– Compatibility with Order Export extension
– Minor bugfixes
Version 1.0.10
-
September 15, 2016
– Fixed visibility issue.
Version 1.0.8
-
September 01, 2016
– Fixed validation on payment step
Version 1.0.7
-
August 30, 2016
– Fixed issue with order email from admin
Version 1.0.6
-
August 25, 2016
– Minor bugfixes.
Version 1.0.5
-
August 16, 2016
– Compatibility with the Customer Attributes extension.
Version 1.0.4
-
July 25, 2016
– Fix for displaying filters on order grid, shipment grid and invoice grid.
– Fix for displaying attributes on a shipping step of checkout when a customer is logged in.
Version 1.0.3
-
July 21, 2016
– Fix for displaying attributes in an e-mail message after placing order for the first time.
Version 1.0.2
-
July 19, 2016
– Fix for error on orders grid