One of the most effective ways to squeeze more out of your promotional campaigns is to timely show relevant information to your target audience. As soon as native Magento functionality doesn't allow creation of banners based on specific conditions, you need a flexible tool that will help you easily generate and wisely display promo banners to potential customers.
With the Promo Banners for Magento 2 extension you'll be able to show banners on product, category, checkout and cart pages depending on specified conditions. Show banners based on product and cart attributes to stimulate customers buy more and increase your income.
Get a rich set of banner display options
3 banner types available: images, cms-blocks, HTML text.
Possibility to add lists with products to all banner types.
Display banners on product, category and any cms pages as well as in the shopping cart.
Specify how many banners to show for the same position.
Show banners depending on the shopping cart content.
Place your promo banner in any place on the page.
Select product categories for which each particular banner will be available.
Display promo banners based on product attributes. E.g. show banners only on pages with Apple brand.
Link banners to any page you need to let customers instantly find promoted products.
Set dates and time for banner display.
Display special offers based on search terms.
Effectively manage banners display
Choose position for banner display
With the extension you can display special offers on product, category, checkout and shopping cart pages. But for maximum customer engagement you need to make sure you've carefully chosen the banner's position. For this reason the module offers a rich list of page positions to make your promotions work.
Specify banner type
Create catchy banners using one of 3 banner types: images, CMS block or HTML text. Use a handy HTML editor to make your hot deals visually attractive. Generate product lists for promo banners
Make specials more relevant by adding the list of promo items to your HTML-, cms-block- or image based banners. This way customers will see all promoted products on one page and will more likely to add them to cart.
Display banners based on product categories
The module lets you determine banners display by category. It's possible to select one or several categories for which you'd like to show your promotions. Apart from category pages your banner will be displayed on each product page assigned to the selected category.
Show special offers based on search terms
Promo banners can be shown when certain search terms are used by customers. Simply specify the necessary terms in your admin panel to make customers see promotions on corresponding pages with search results.
Set date and time for banners display
To automatically remove outdated promotions from your store pages you can specify the time interval during which the banner will be demonstrated to customers.
Regulate display priority
In case there are two or more banners meet specified display conditions they will be shown according to their priority. It's also possible to show only one banner with the highest priority.
Add banners to CMS pages
Don't miss the opportunity to promote your items on additional store pages like contacts or delivery page. Why not remind about a tempting offer once again and increase the chances of conversion?
Place promo banners in any CMS-block
Make your promo campaign even more flexible and many-sided. Add your promo to already existing blocks to make the accents play a bit differently and highlight some items more sharply. Insert a specific piece of code - and you can place a banner into any CMS-block.
Flexible display conditions
Specify cart conditions
Due to flexible module conditions an admin user can accurately fine tune the display of promo offers based on products added to cart. Create conditions based on cart attributes such as subtotal, products quantity, total weight, payment/shipping methods and many others.
With the possibility to combine various conditions you'll definitely improve the efficiency of your promo campaigns by displaying highly relevant offers.
Show banners based on product attributes
If you offer a deal for a particular product or a group of products, it is necessary to display a banner on the corresponding product pages. With the advanced banner tool you can show hot deals based on product attributes, e.g. for all monitors with resolution 1920*1200.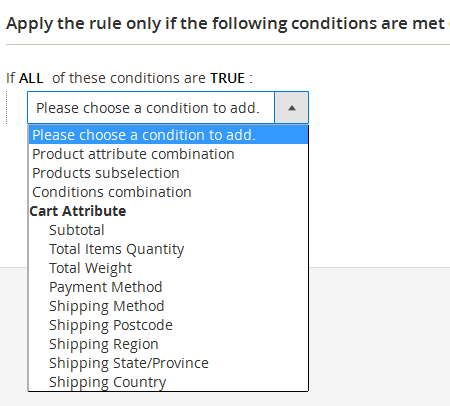 Other Features
100% Open Source — Easy To Customize
Follows Magento Code Architecture
Separated HTML/CSS/JS
Simple installation via Composer
* The name "Magento" and the logo are the trademarks of Magento, Inc.
add banners to any place
I was looking for an easy solution to add banners to make advertisements more catchy and engaging. The good thing is that you can add banners to any place of the product page. Furthermore, all the options are very well compatible with my web store theme.
Write Your Own Review
Version 1.0.9
-
April 03, 2018
– Localization updated
Version 1.0.8
-
March 27, 2018
– Fixed an issue with multiple banners on same position
Version 1.0.7
-
February 21, 2018
– Fixed the products display on the sidebar position.
– Fixed the issue with a drop-down for bundle products.
Version 1.0.6
-
January 09, 2018
– Fixed product display behavior when there are multiple banners on the page
Version 1.0.5
-
December 07, 2017
– Magento FPC compatibility imporved
– Amasty AJAX Scroll compatibility improved
– Fixed the issue with inserting variables in WISYWIG editor
– Fixed the issue with special characters in banner's name
Version 1.0.4
-
October 05, 2017
– Magento 2.2 compatibility tested and confirmed
Version 1.0.3
-
May 16, 2017
– Fixed php version.
– Fixed minor responsive design issues.
Version 1.0.2
-
January 09, 2017
– Possibility to insert a banner into CMS Block using the following code: {{block class="Amasty\PromoBanners\Block\Container" template="Amasty_PromoBanners::container.phtml" banner_id="1"}}
– Minor compatibility improvement
Version 1.0.1
-
October 17, 2016
– Possibility to display banners among products
– Number of general improvements