Shop by Brand
for Magento 2
Support your customers in their desire to navigate store in search for the favorite brands. Let shoppers filter products by brands to speed up reaching the goods they are looking for.
Use custom sorting options for brand products
A slider with featured brands
All-brands listing page with the search box
Possibility to filter and sort by brand
Unique CMS page content for each brand
Possibility to display a brand logo on product pages
Improve mobile shopping with PWA add-on

Magento 2 Shop by Brand is the solution to win customer attention and loyalty. Shoppers become emotionally attached to brands very quickly. Especially when the products they once found attractive and suitable confirm their quality regularly. Thus, the first thing they often do when they reach online stores is to browse by their favorite brand. Apparently, it is better not to stand in the customers' way when they are rushing to their favorite brands. On the contrary, with Magento 2 Shop by Brand add-on, you can make the brand-to-customer connection a lot easier and well-directed.
Promote brand products with advanced reodering options
To boost conversions of specific products and bring better shopping experience for customers, now store admin can customize product positioning on brand pages. Reorder items automatically or manually using the Custom Product Sorting add-on for Shop by Brand.
ENGAGING BRAND PRESENTATION
Today brand is not only about quality and manufacturing. Marketers are doing their best to make the brands go viral, so the shoppers often regard the brand as something intertwined with lifestyle or prestige. With Magento 2 brand pages extension, it's easy to make shopping by brands more vivid: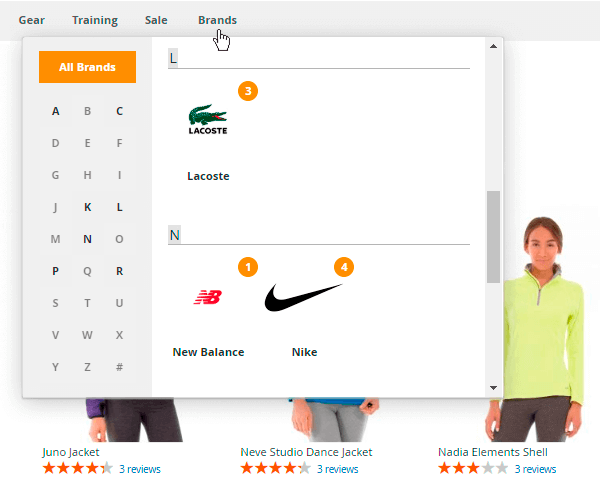 Improved usability with brands dropdown menu
Display the brands' list, equipped with alphabetical sorting, on a mouse hover to the Brands link.
Brands slider
Show slider at the top of category pages and highlight the featured brands.
All-brands listing page
Show all brands on one page, with a search box for easy navigation.
Brands in top menu
Add a link to the brands' page to the top menu.
HIGHLIGHT BRAND PRODUCTS
Let customers see the brands anywhere while they are browsing and on the fly. Not only on the specified pages, but they can also appear on the category and product pages to engage more attention and action.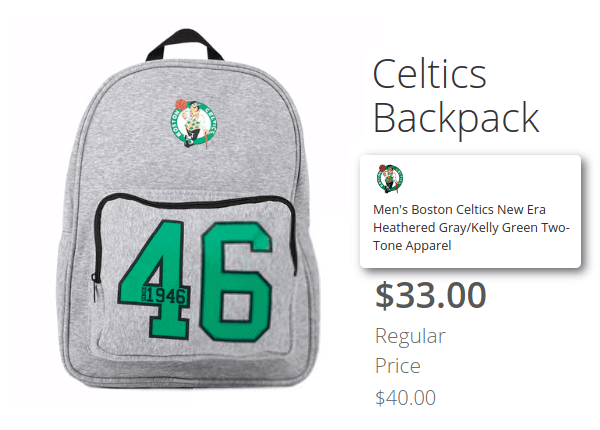 NEW | Brand logo and description on product pages
Display logo and short description on the product pages to enhance the impression of the goods you sell.
NEW | Display Brand Tooltip
With the Magento 2 shop by brand extension, it is possible to display an eye-catching tooltip with a brand info.
Unique brand page content
Arrange each brand page with banners and description. Place history remarks, a product list, other info regarding the brand.
ADDITIONAL & ALTERNATIVES
Magento 2 brand pages add-on provides you with a wide variety of features to make your work and your customers experience more pleasant and smooth. There is a plenty of variants to shop by brand in Magento.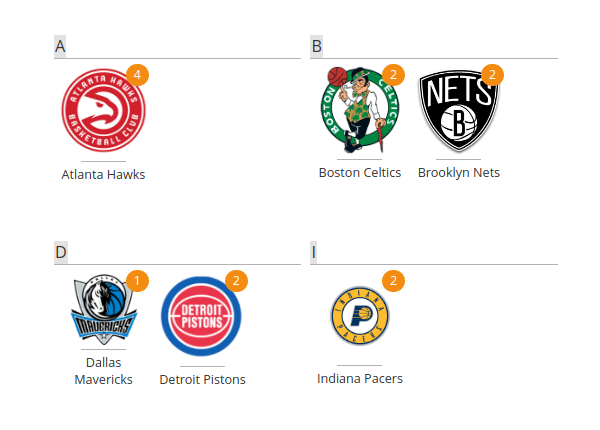 Display the number of products for each brand
Display the available amount of the brand products to engage customers in more action.
NEW | More from this brand
When customers navigate to a particular product page, they can also browse other available random products from this brand in a block.
Use functionality differently
Apply plugin functionality with any attribute you find necessary. Let customers browse books by authors or find merch by team names.
Choose your perfect
webstore navigation solution
The most suitable for your business needs
Lite
all for a webstore start
$149
Ajax navigation and filtering
Multi-select filter option
Smart vertical scrolling
Customizable filter size
Price slider for "From-To" filtering
"Now Shopping By" section
Mobile-optimized interface
Item count visibility
Pro Ultimate solution $349
Advanced filter display modes
Dependent & custom filters
Images swatches for filter results
Similar attributes mapping
Advanced category tree
Horizontal navigation
'New', 'On Sale', 'Rating', 'In Stock'
Decimal & from-to widget
Multiple filters with 'Show' button
SEO-optimized navigation links
Premium FOR ADVANCED BUSINESSES $549
Promote brand products with drag-and-drop placement
Sort brand products by name, stock, price, newest
Move to top or pin to certain position for brands listing
Auto loading of the catalog & search results pages
Customize navigation bars
'Back to top' and 'Load More'
More filtering and navigation functionality with Navigation extension
More functionality and possibilities in navigation with Amasty top hit
Magento 2 Layered Navigation extension
. Provide a better shopping-by experience to your customers.
Compatible with Advanced Search for Magento 2
Brands can be easily searchable. Display separate Brands section in the autocomplete search pop-up with the Amasty extension Advanced Search for Magento 2.
Other Features
100% Open Source — Easy To Customize
Follows Magento Code Architecture
Separated HTML/CSS/JS
Simple installation via Composer
* The name "Magento" and the logo are the trademarks of Magento, Inc.
Our client was ecstatic with the extension
Syncrony Digital , Magento Team Lead
Our client was ecstatic with the extension! It brought the site to their exact vision of functionality. It allows customers to easily filter the products by brands, providing them with a rich shopping experience. I would recommend it to any store with lots of ranges.
Amasty answer
Nov 20, 2020
Alena Hamolka / Product Team Lead
Hi Guy, thank you for your feedback! It is great to hear that your clients are happy with our Shop By Brand extension and that it helped to improve their customers' shopping experience. Please contact us anytime you need additional functionality or if you have any questions, we'll be happy to help!
good
Totonic, IT Manager
We like the "shop by brands" to show our portfolio. But we are still in progress to migrate to M2. Support is fast & professional.

Amasty answer
May 18, 2019
Natalya Chekanina / Head of Sales Team
Dear Reto, thank you for your review! We would be happy to see you in our store again!
High quality mod
Well, all of the Amasty products are great, but I really like "Shop by brand" extension more and it's my favorite till now. When you implement an Amasty product, of course you'll see the immediate change and long-term change in your store. Support was a bit of slow at the beginning, now the support is like lightning in terms of speed. Additionally, The most I like about Amasty is the way they develop their extensions, it's easy for any developer to come and continue developing more, thank you for the quality of code.

Must have extension
Brand is the main product attribute. And this is the good extension to help customers find their favorite brand quickly. I also like the possibility to specify the unique content for each brand page as well as having the short SEO URLs
Top-notch support!
I have installed the Shop by Brand extension on M2.2 and it works well. I have contacted the support team with minor design issues and some questions. They have fixed everything and replied all my questions the same day! Great job!
Are you looking to add specific functionality for this extension or want to acquire a reliable development partner altogether? With custom development services by Amasty, you will receive high quality and cost-effective solutions developed by Magento professionals according to industry's best practices.
Magento 2.2, 2.3, 2.4
You can always download the recent version free of charge from your account
Installing an upgrade is easy — check now
My Downloads
Version 2.10.14
Last Update: Oct 29, 2020
2.10.14 - Oct 29, 2020:
Compatibility we updated and refactored read GraphQL queries
2.10.13 - Sep 09, 2020:
Improvement now it's possible to configure 'Is Featured' and 'Show in Brand Slider' settings separately for a brand attribute
2.10.12 - Aug 20, 2020:
Compatibility we improved the compatibility with Jet Theme
2.10.11 - Jul 28, 2020:
Compatibility compatibility with Magento 2.4 was added. Please, note: the current version of extension package contains the patch 'module-mage24fix' which is intended for compatibility with Magento 2.4.0 ONLY. If you are on higher or lower Magento versions - do not hesitate to just delete this patch
Compatibility we added compatibility with custom themes which use swiper.js to avoid it's duplication on frontend
2.10.10 - Jun 14, 2020:
Compatibility compatibility with Amasty Elastic Search was enhanced
2.10.9 - May 19, 2020:
Improvement we updated MFTF tests (including compatibility with Magento 2.3.5)
2.10.8 - Apr 10, 2020:
Fix we resolved the issue with missing URL Suffix in brand slider and brand listing links
Fix we fixed title duplication on brand pages
Fix we corrected the display of All Brands page with Magento Elasticsearch enabled
2.10.7 - Mar 10, 2020:
Fix we resolved composer issue related to GrahpQl package
2.10.6 - Mar 03, 2020:
Improvement MFTF tests got updated
2.10.5 - Feb 18, 2020:
Improvement we improved Brand Slider performance
Fix styling issues on the storefront were resolved
2.10.4 - Jan 27, 2020:
Compatibility compatibility with read GraphQL was enhanced
2.10.3 - Jan 24, 2020:
Fix we fixed the incorrect behavior of Brands menu popup in Firefox browser
Fix we resolved minor issue with absence of suffix in brand logo URL with corresponding setting enabled
2.10.2 - Dec 06, 2019:
Fix we resolved the malfunctioning of category filter on brand pages
2.10.1 - Nov 22, 2019:
Improvement we implemented minor code and performance improvements
2.10.0 - Nov 11, 2019:
New we created more than 50 MFTF tests which cover the majority of plugin's features. It will help to improve quality and stability of our extension
Version 2.9.1
Last Update: Oct 16, 2019
2.9.1 - Oct 16, 2019:
Fix we fixed the issue with wrong filters displaying on category pages
2.9.0 - Oct 01, 2019:
Compatibility now the module is GraphQL read compatible. Expose the necessary data with GraphQL queries in order to build PWA/JS-based frontend
Version 2.8.2
Last Update: Aug 13, 2019
2.8.2 - Aug 13, 2019:
New we added WYSIWYG editor option to the Description field of brand management pages
New we introduced new setting for choosing brand logo size on category pages. Now you are able to set the required logo size in order to adjust it to the overall shop's styling
Compatibility we enhanced compatibility with Porto and Ultimo themes
Fix minor issues were resolved
2.8.1 - Jun 19, 2019:
Fix we solved the issue with Brand logos on product pages. Clicking on Brand logo is now redirecting to the URL of Brand page configured in admin panel.
2.8.0 - Jun 03, 2019:
Improvement code was refactored according to Magento Standards
Improvement extension was covered by unit tests
Version 2.7.6
Last Update: May 23, 2019
2.7.6 - May 23, 2019:
Fix the issues with admin brand management grid were resolved
Fix the issue with multiple brand widgets was resolved
2.7.5 - Apr 29, 2019:
Compatibility the compatibility with Amasty Mega Menu extension was added
2.7.4 - Apr 22, 2019:
Fix minor issues was resolved
2.7.3 - Apr 19, 2019:
Fix an issue with error on Brand List page was resolved
2.7.2 - Apr 08, 2019:
Compatibility the compatibility with custom themes was enhanced
2.7.0 - Jan 18, 2019:
New ability to display Brands List and Filter by Character in the Brands top menu item was added
Version 2.6.17
Last Update: Jan 08, 2019
2.6.17 - Jan 08, 2019:
Fix an issue with custom URL alias for the Brand page was resolved
2.6.16 - Dec 10, 2018:
Improvement the possibility to associate an alt text to the small brand logo image was added
Improvement the url builder was refactored
Improvement the module's router was refactored
2.6.15 - Nov 30, 2018:
Improvement the 'More from this Brand' products block on the product page was enhanced
Improvement the brand slider settings could be configured per store now
2.6.14 - Nov 16, 2018:
Fix an issue with brand on multistore was resolved
2.6.13 - Nov 12, 2018:
Improvement the title and alt tag was added for images on all brands page
Fix an issue with All Brands pages with multi store was resolved
2.6.12 - Oct 16, 2018:
New Information section is added. Now you can see the version of installed extension, available updates, User Guide link, conflicts and other useful info right on the module Configuration page
2.6.11 - Sep 17, 2018:
Compatibility the compatibility with the Amasty Improved Layered Navigation extension was improved
2.6.10 - Sep 04, 2018:
Fix the issue with the compilation process was fixed
2.6.9 - Aug 30, 2018:
Compatibility the compatibility with custom themes without LESS was improved
Fix the problem with price filter on Magento 2.1.x was resolved
2.6.8 - Aug 20, 2018:
Improvement performance of all brand pages was enhanced
2.6.6 - Aug 02, 2018:
Compatibility compatibility with Amasty Elastic Search extension was improved
Fix the issue related to brand filter seo url was resolved
2.6.5 - Jul 23, 2018:
Improvement allows to display or hide Brand Logo on the Product Page via setting in backend
2.6.4 - Jul 12, 2018:
Fix the issue with duplicated brand page was resolved
2.6.3 - Jul 06, 2018:
Improvement Show Brand Logo & Image Max Width / Image Max Height settings dependency was enhanced
Improvement searching by Brands was added to the Amasty Advanced Search extension
2.6.2 - Jun 14, 2018:
Improvement A-Z filtered brands listing display was enhanced
2.6.1 - Jun 05, 2018:
Improvement the brand meta data replaces the category meta data on the brand pages
Fix an issue with incorrect brand urls for the default magento sitemap was resolved
2.6.0 - May 24, 2018:
New allows to show Brand preview tooltip with brand logo and short description on All Brands listing, product page and product listing
New ability to show 'More from this Brand' products block on the product page
New displays the Brand logo on the product listing
New displays Brand short description on the product page
Improvement ability to set the Brand logo size on the product page was added
Version 2.5.3
Last Update: May 02, 2018
2.5.3 - May 02, 2018:
Added the filtering by Brand instead of redirect
Other minor fixes and improvements
2.5.1 - Mar 28, 2018:
Set 'is_anchor' to 'yes' for the root categories if this value is null during the module installation
2.5.0 - Mar 05, 2018:
New All Brands listing page design is updated
Version 2.4.8
Last Update: Feb 01, 2018
2.4.8 - Feb 01, 2018:
2.4.7 - Jan 18, 2018:
2.4.6 - Dec 20, 2017:
Fixed an issue with the brand attribute options
Fixed an issue with not encoded brand urls