Shoppers become emotionally attached to brands very quickly. Especially when the products they once found attractive and suitable confirm their quality regularly. Thus, the first thing they often do when they reach online stores is to browse by their favorite brand. Apparently, it is better not to stand in the customers' way when they are rushing to their favorite brands. On the contrary, with Magento 2 Shop by Brand add-on, you can make the brand-to-customer connection a lot easier and well-directed.
ENGAGING BRAND PRESENTATION
Today brand is not only about quality and manufacturing. Marketers are doing their best to make the brands go viral, so the shoppers often regard the brand as something intertwined with lifestyle or prestige. With Magento 2 brand pages extension, it's easy to make shopping by brands more vivid: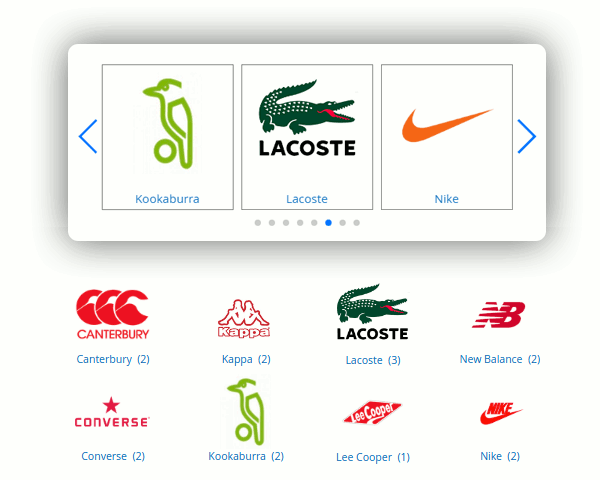 Brands slider
Display slider at the top of the category pages to engage customers with more products to browse. Highlight the featured brands, depending on your marketing.
All-brands listing page
Show all your store brands in a convenient flexible way in the alphabetic order. The listing has the search box as well, in case you have a large number of brands.
Brands in top menu
Add a link to the brands page in the top menu. Choose the first or last position.
HIGHLIGHT BRAND PRODUCTS
Let customers see the brands anywhere while they are browsing and on the fly. Not only on the specified pages, but they can also appear on the category and product pages to engage more attention and action.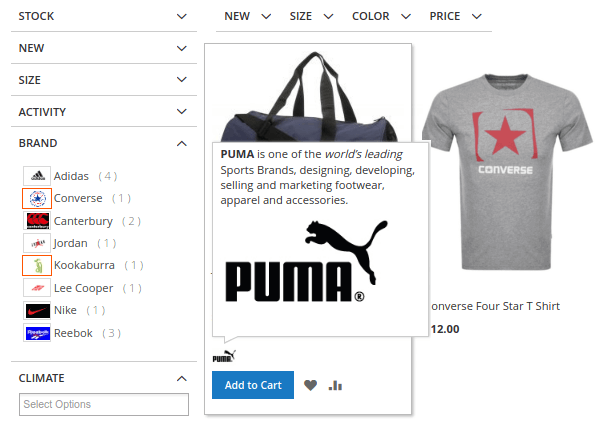 Brand logo on product pages
Easily display logos on the product pages to enhance the impression of the goods you sell.
Filter by brand
With the Magento 2 brand extension, it is possible to filter by eye-catching brands on the category pages.
Unique brand page content
Arrange each brand page with banners and description. Place history remarks or any other information regarding the brand.
ADDITIONAL & ALTERNATIVES
Magento 2 brand pages add-on provides you with a wide variety of features to make your work and your customers experience more pleasant and smooth. There is a plenty of variants to shop by brand.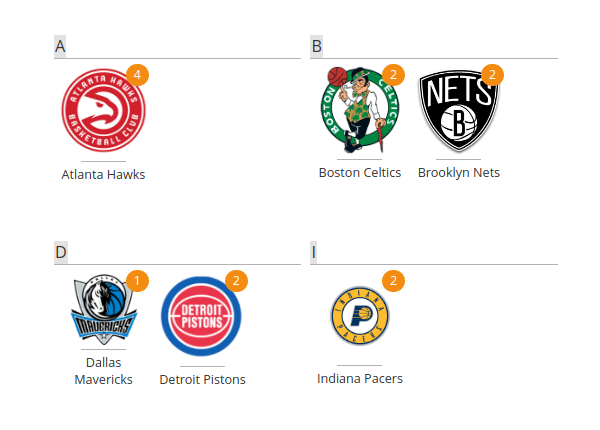 Display the number of products for each brand
Display the available amount of the brand products to engage customers in more action.
Product list on brand page
When customers reach the brand page they have all the available brand products listed on the page.
Use brands functionality differently
Apply plugin functionality with any attribute you find necessary. Let customers browse books by authors or find merch by team names.
More filtering and navigation functionality with Navigation extension
More functionality and possibilities in navigation with Amasty top hit
Magento 2 Layered Navigation extension
. Provide a better shopping-by experience to your customers.
Other Features
100% Open Source — Easy To Customize
Follows Magento Code Architecture
Separated HTML/CSS/JS
Simple installation via Composer
* The name "Magento" and the logo are the trademarks of Magento, Inc.
Must have extension
Brand is the main product attribute. And this is the good extension to help customers find their favorite brand quickly. I also like the possibility to specify the unique content for each brand page as well as having the short SEO URLs
Top-notch support!
I have installed the Shop by Brand extension on M2.2 and it works well. I have contacted the support team with minor design issues and some questions. They have fixed everything and replied all my questions the same day! Great job!
Write Your Own Review
Version 2.5.1
-
March 28, 2018
– Set 'is_anchor' to 'yes' for the root categories if this value is null during the module installation
Version 2.5.0
-
March 05, 2018
– New: All Brands listing page design is updated
Version 2.4.8
-
February 01, 2018
– Minor improvements
Version 2.4.7
-
January 18, 2018
– Minor fixes
Version 2.4.6
-
December 20, 2017
– Fixed an issue with the brand attribute options
– Fixed an issue with not encoded brand urls