Improved Layered Navigation for Magento 2

|

v1.14.2
Screenshots:
At a rapidly growing e-commerce market the opportunity to instantly find necessary products has a great impact on customers' purchase decision. That's why a clear navigation is a 'must have' for any online store. Due to a highly flexible Improved Layered Navigation extension one can adjust store menu to any specific needs and provide customers with fast and convenient browsing experience.
Key features
No page reloads with AJAX filtering;
Vertical and Horizontal Navigation;
Handy price sliders and widgets;
In stock and reviews filtering;
Multiple values of the same filter;
Images and labels instead of text for better visual browsing;
'All products' and 'All brands' pages;
Built-in Shop by Brand functionality;
Brands Slider for any CMS page or a block;
Custom URL alias for filters options;
Flexible canonical URL modes for category and 'all-products' pages.
Take advantage of multiple filter options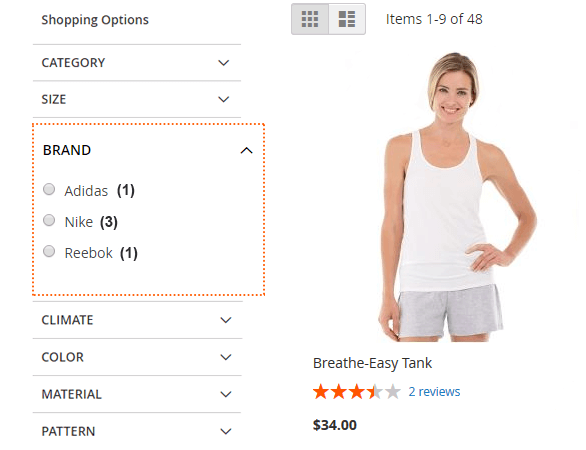 Let customers shop by brands
Enable multiselect option
Display sliders and 'from-to' widgets for numeric attributes
Show a search box for any product filter you need
Manage the number of unfolded filter options
Filter products by reviews and ratings
Manage filters display
With the Improved Layered Navigation for Magento 2 extension you can show various product filters on any category page. Accurately fine tune filters display to your specific requirements to make a product browsing process maximally convenient and fast.
Multiple values of the same filter
The extension enables your customers to apply multiple values of the same filter. For example, they can choose green and yellow options of color filter to view skirts of both colors at the same time.
Display a search box for each filter
With the extension you can add a separate search box to any filter you need. Let customers find necessary products inside a specific filter in a couple of seconds.
Set the number of unfolded filter values
Determine the number of filter options that will be unfolded when a customer clicks on the filter name. To see more options customers should click on the 'More' button.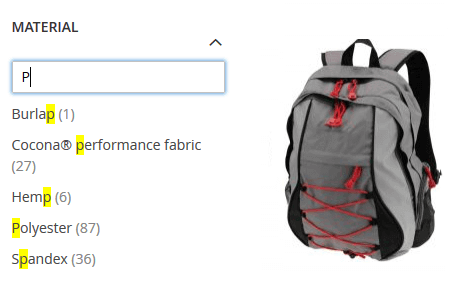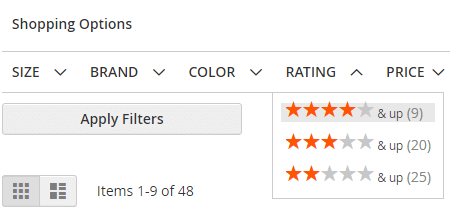 Apply multiple filters in bulk
With the extension you can either apply filters instantly one by one or let store visitors select as many filters as they need and submit all of them in one go. Display a special 'Apply Filters' button for vertical and/or horizontal navigation to make product filtering fast and easy.
Handy filters for numeric attributes
Let customers quickly filter products by price, size or any other numeric attribute to maximally reduce the time spent on products search.
Price slider display option for numeric attributes
Use Magento 2 Layered Navigation slider display mode for various numeric attributes like price, weight, memory size, megabyte, etc. to make store usage more convenient for the customers. Besides, sliders take a lot less space in the navigation block, so the navigation will be more compact.
'From-to' widget for numeric attributes
To filter products by price or any other numeric attribute you can either display price ranges or let customers specify minimal and maximal price limits with a handy widged. It's also possible to show the 'from-to' widget together with other price filter types.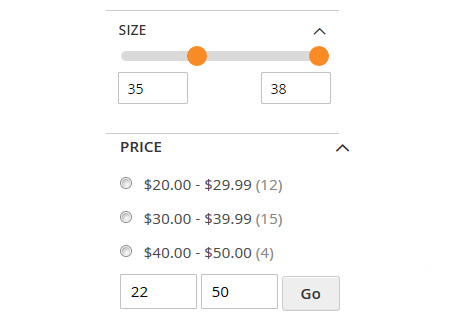 Rich 'Shop by brand' functionality
Help customers to easily filter products by brands, create custom brand pages with additional information and display a list with all brand names and custom icons on a separate page.
Advanced options for navigation by brand
A great number of online shoppers are deeply convinced that a famous brand is one of the most important features of any product. Connect items with manufacturers to improve your revenue and boost customers' loyalty at the same time.
Filter products by brand in the navigation block – provide customers with an intuitive way to find exactly what they need.
Create brand pages with custom texts and images - help customers find all products of their favorite brand.
Add CMS blocks – display custom CMS blocks on brand pages.
Use alphabetical block – create a page with all brands available in your store.
Use brand icons instead of names on the 'All brands' page.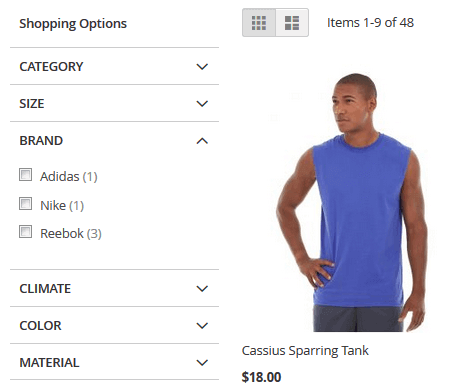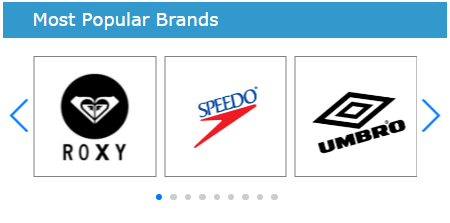 Add a brand slider to any CMS page or block
Display a handy slider with featured brands on the "All brands" page as well as on any CMS page or a block. Draw customer attention to the most popular manufacturers and turn shopping by brand into a fast and easy process.
Configure slider display using flexible settings to make it match your current design theme. Show previous/next slider buttons and pagination to help customers instantly flip through multiple brands.
More options for 'All Brands page'
Upgrade your brand listing page with a pack of advanced features to help shoppers find necessary brands in seconds:
Display a handy search box with the auto suggest option;
Enable a first character filter;
Show the quantity of available products for each brand;
Add a link to a brand listing page to the main menu.
Add brand logos to product pages
Equip product pages with a clickable brand logo that redirects customers to the corresponding brand page. This way you'll easily motivate shoppers to buy more items of their favorite manufacturer.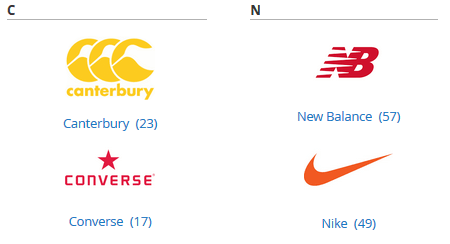 Make your store more SEO-friendly
Enhance your store SEO by generating short custom URLs and specifying custom texts and meta data for filter combinations.
Create brand pages with short URLs
Due to the feature-rich extension you can create unique 'featured' brand pages with extra short SEO-friendly URLs like yoursite.com/url-key/adidas.
Create SEO-friendly URLs
The option allows pages filtered by certain attributes to be properly indexed and automatically generates SEO-friendly URLs for corresponding attributes. For example, an URL will look like 'category/autumn.html' instead of category.html?season=114.
Specify custom texts and meta data for filter combinations
Easily upgrade pages with filter combination results. Add custom content and necessary meta data to pages with specified filter options which is highly useful for long tail keyword optimization.
Customize URL alias for filter options
When the module automatically generates SEO-friendly URLs for filter options like example.com/women/tops/rainy you can set any URL key instead of 'rainy' according to your needs.
Advanced categories tree
With a highly flexible category tree option you can display either the whole category list or any number of its levels. Adjust categories display to your needs and make catalog browsing maximally convenient.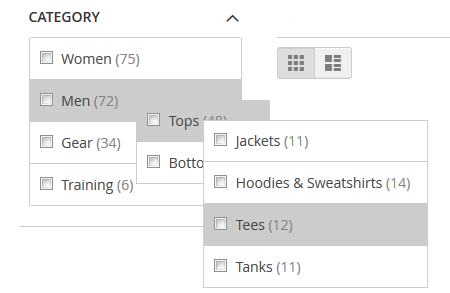 Enrich default categories display modes (Labels and Dropdown) with a set of new options:
Enable multiselect option (for both display modes);
Regulate the number of unfolded category options (for 'labels' mode);
Specify subcategories display type: fly-out or folding (for 'labels' mode);
Set category tree depth (max level of categories);
Indicate the level from which categories will be shown;
Additional filter options
Ajax functionality for quick filtering
With Ajax-based navigation search results get updated without any page reloads each time a new filer is applied. This feature greatly improves usability of a webstore. Custom SEO-friendly URL is created for each search result. Filtering parameters are saved until a customer clicks Back button in a browser.
Multiple values logic
When a customer selects multiple values for one filter, it's possible to display products either with all values only or the products which have at least one of the specified values.
Display dependent filters
Make particular filters dependent so that they'll be displayed only when a specific attribute or an attribute option is selected. E.g. If you assign 'climate' to 'style' attribute, customers will see the climate filter only when they select a specific style filter option.
Restrict filter visibility by category
Specify categories for which each particular filter will be available. Due to the option you will make your navigation as clear as possible by showing necessary filters on relevant pages.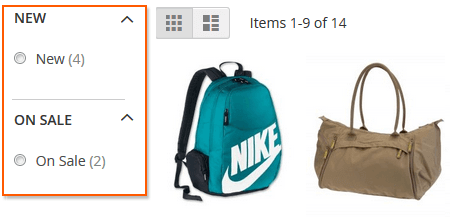 Filter new and discounted products
Add 'on sale' and 'new' filters to your navigation to let customers instantly find discounted products and see new arrivals.
Show the filters either in the left sidebar or in the top menu. It's also possible to display them for both navigation panels at the same time.
Enable filtering by reviews
If your store supports product reviews and ratings for products, customers will definitely appreciate athe possibility to sort items by rating. The products with the highest rating will be displayed first.
In stock/out of stock filters
In stock/out of stock filtering option is a great way to save buyers' time and keep the product catalog perfectly up to date at all times.
Show custom filter tooltips
Assign tooltips to navigation filters to provide customers with more info about the products they will find with a specific filter. You can choose custom filter image and specify the tooltip text.
Customers can clear selected options
Srore visitors can remove any or all previously selected options in the 'Now Shopping by' block.
Other Features
100% Open Source — Easy To Customize
Follows Magento Code Architecture
Separated HTML/CSS/JS
W3C Validated Code
* The name "Magento" and the logo are the trademarks of Magento, Inc.
General Questions

How can I pay for Amasty extensions?

What is the license policy? On how many websites can I use Amasty extensions?

How to install Magento extension by Amasty?

Can I test an Amasty extension on a staging site before transferring it to a live one?

Can I get a refund if an extension doesn't suit me?

Will I get any other benefits?
Worhy tool and timely updates
Installed the app about 6 months ago. At first, the options left much to be desired - the functionality was very limited. But a great plus is that the guys at Amasty release updates almost weekly, so now my poor navigation has turned into a feature-rich app.

Even though I've got some issues with a categories tree, I give 5 stars to the tool, as at the moment you'll hardly find something better at the market. And yes, your support was awesome, as usual.
As usual best quality & great support
We use to work with Amasty extensions for long time. No doubts is a top Magento extensions developers with great developing knowledge and superb support.



Write Your Own Review
Version 1.14.2
-
January 20, 2017
– Hide or leave visible the single-choice filter after selection
– Show the radio buttons for the single-choice filters
– Ability to choose URL Alias separator: '-' or '_'
– Fixed an issue with the Page form in admin panel for the single store mode enabled
Version 1.14.1
-
January 18, 2017
– Do not force robots="index, *" for the Layered Navigation Pages if additional filters were applied
– Filtering by price works with the Elasticsearch engine enabled (for Magento EE)
– SEO configuration tab is available for the website and store scopes
– Fixed an issue with incorrect "-1" suffix added for defined URL Aliases on multi-store installations
– Fixed an issue with the 'In Stock', 'On Sale', 'Rating' and 'New' filters
Version 1.14.0
-
January 06, 2017
– Ability to add the custom Title, Description, Image & Meta Tags for the Category Pages when filters are applied
– Option to enable the vertical scrolling to filter blocks higher than size specified in the setting
– Fixed the Advanced Category tree when 'catalog/category_flat' is enabled
– Fixed the configuration parameters scope for websites and storeview instead of global
– Fixed an issue with the "add to cart" button appears for the "out of stock" products via catalogsearch
Version 1.13.2
-
December 22, 2016
– AJAX: scroll to top
– SEO settings (Index, Follow) for the category filter
– Home/CMS page navigation improvements
– Minor fixes
Version 1.13.1
-
December 15, 2016
– UI improvement for the Horizontal Navigation filters and top 'Apply' button
– 'On Sale' filter works for configurable products now
– Fixed AJAX on the Search page
– Minor Fix for the filters visibility
Version 1.13.0
-
December 12, 2016
– Advanced Category tree with multi-select and various display options
– The 'Apply by Button' feature works on Search page now
– Fixed an issue with 404 error in case SEO URL route partially coincides with the route for other modules on frontend
Version 1.12.0
-
December 07, 2016
– 'New' filter added
– 'On Sale' filter added
– Minor fixes for 'Apply by Button' feature, dropdown multiselect filters display mode and H1 tag update via AJAX
Version 1.11.4
-
November 30, 2016
– Fixes for the price filter range on the search result page
– Fixes for the color swatch and add to compare functionality for AJAX mode
– Minor fixes for 'Apply by Button' feature
Version 1.11.3
-
November 23, 2016
– Speed improvement for SEO URLs by caching the Aliases
– Several minor fixes for 'Apply by Button' feature, Stock & Rating filters and database table prefixes
Version 1.11.2
-
November 22, 2016
– Security update: fix for XSS vulnerability in the backend (minor, front-end store part was not affected)
Version 1.11.1
-
November 16, 2016
– Significant performance improvement for SEO URL attributes
– Force robots="index, *" for Pages
– Compatibility enhancement for Amasty Infinite Scroll and 3-rd party SEO extensions
Version 1.11.0
-
November 10, 2016
– Submit multiple filters in one go by clicking the 'Apply' button
– Handy multiselect for Dropdown display mode
– Improved 'All Brands' page: Instant Search Box, First Character Filter and product count added
– Add Brands listing link to the Main menu bar, Account Links
– Clickable logo and name of a brand on the product page
Version 1.10.0
-
November 02, 2016
– Ability to add filters to the Horizontal Navigation
– New option of Display Mode: Images and Labels
– Compatibility with default Magento Text and Image Swatch functionality
Version 1.9.0
-
October 25, 2016
– Ability to add Brands Slider to All Brands page, any CMS Page or static block by inserting the embedded code or adding a widget
– Flexible canonical URL modes for the category pages and "all-product" page added
– SEO URL feature supports store codes as well as the installation into a sub-directory now
– Minor fixes related to the tooltip image uploading and performance optimization
– Compatibility with Amasty AJAX/Infinite Scroll
Version 1.8.0
-
October 12, 2016
– Implemented ability to add Layered Navigation to Home or any CMS Page
– Added a breadcrumb for "all-products" and Brand pages
– Sorting of numeric filter options became smarter
– Removed incorrect Canonical Tag at "all-products" and Brand pages
– Minor fixes related to From-To Widget, Price Slider and performance
Version 1.7.6
-
October 04, 2016
– Fixed issue with categories with just 1 product
– Templates modification for PHP syntax
Version 1.7.5
-
September 20, 2016
– Product collection rewrite is removed for better compatibility with other plugins
– Added brand images to the list widget
– Hide slider or from-to in case min = max
– Updated stock filer for Magento 2.1
– Right products counts for the rating and stock filters
– Fixed upload of tool-tip image
Version 1.7.4
-
September 01, 2016
– Dependent Filters
– Custom URL Alias for Filter Options
– SEO URL for Category Filter
Version 1.7.3
-
August 29, 2016
– From-To Widget for Price Filters
– Restrict Filter visibility by Categories
– Visual settings for Category Filter
Version 1.7.2
-
August 04, 2016
– New logic when customer selects multiple values for one filter. It is possible to show products with ALL values only or products with ANY of the values.
Version 1.7.0
-
July 20, 2016
– Compatible only with Magento 2.1
– Tooltips for filters
– Search inside filter options, useful for long lists
– Possibility to show less / more options
– Filter options sorting by alphabet, products quantity or position
– Brand pages with URLs like "/brands/my-brand"
– Added option to set custom texts and metas for filter combinations (so called `Pages`), to improve long tail keywords optimization.
Version 1.6.1
-
July 11, 2016
– Filters collapse / expand effect
Version 1.6.0
-
July 07, 2016
– Rating Filter Added
– Stock Availability Filter Added
Version 1.5.0
-
June 29, 2016
– Brands pages with Multi Store configuration
Version 1.4.2
-
June 17, 2016
– Compatibility improved and other minor improvements
Version 1.4.1
-
June 07, 2016
– Fix for back/forward browser buttons in AJAX mode
– Minor improvements for navigation on category pages
Version 1.4.0
-
June 02, 2016
– Introduced AJAX filtering
– Fixed issues related to SEO URLs
Version 1.3.2
-
May 24, 2016
– Checkboxes removed for non-multiselect filters
Version 1.3.1
-
April 21, 2016
– Ability to hide filter in case only one option available
Version 1.3.0
-
March 23, 2016
– Control of NOINDEX, FOLLOW, SEO URLs for each attribute
Version 1.2.1
-
March 11, 2016
– New display mode for price filters added: price slider
– Other minor improvements
Version 1.2.0
-
February 25, 2016
– Introduce "shopby" root page, containing all store goods and layered navigation filters.
Version 1.0.2
-
January 26, 2016
– Bugfix
Version 1.0.1
-
December 29, 2015
– Magento 2.0.0 support
– Ability to choose display type for filters
– Seo sub module