Easily create multiple custom forms
Expand default Magento 2 functionality with a feature-rich Custom Form builder. Create multiple web forms with different field types to effectively gather customer information and use it for your marketing needs. Due to a drag-and-drop form constructor, you can quickly generate any forms using up to 15 input types and elements. Display multiple web forms on one page and redirect store visitors to any specific page after the form submission.
Use different input types
Text/number input
Text Area
Hidden Text
Date
Date and Time
Date Range
File Attachment
Dropdown
H1, H2 and H3 Headers
List Box
Check Box
Radio Buttons
Drag-and-drop form constructor
An easy-to-use Magento 2 custom form constructor lets you create a web form literally in seconds. All you need to do is to choose necessary elements and arrange them the way you like. Each element can be instantly copied or deleted by a single click. On top of that, each web form field can be customized to meet your business needs.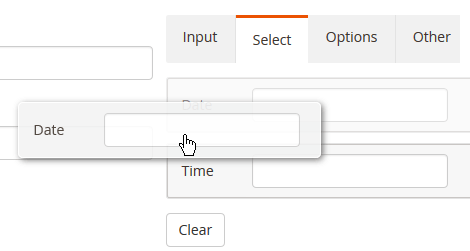 Make fields required
Mark specific form fields as required. It means that a customer won't be able to apply a form with these fields blank.
Success Message
Create a success message that will be displayed after the form completion. The message can be unique for each particular form.
Display tooltips
Due to flexible settings, you can equip each custom form with tooltips to provide customers with additional information.
Custom button text
The Magento 2 form builder lets you specify any custom text for the 'Apply' button depending on the form specifics.
Add custom forms to any CMS page
With the form builder for Magento 2, you can easily embed web forms in any CMS page you want. Show two or more forms on one page or create a separate page for multiple forms display if necessary.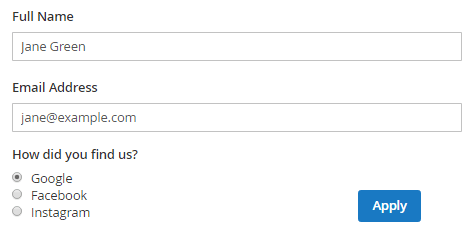 Collect and analyze customers' data
The Magento 2 Custom Form extension accurately collects all submitted data and displays them on a separate grid. Refer to customer info at any time to learn more about your clients.
Filter submitted data
To instantly find specific customer info you can accurately filter submitted forms data by a form name using a handy dropdown in the Filters section.
Redirect customers to any pages
Redirect store visitors to any page after the form completion. This way you'll be able to draw more targeted traffic to specific products or category pages.
Different file types support
The module supports all popular file formats. Therefore, customers can attach the following files: doc, docx, xls, xlsx, ppt, pptx, gif, bmp ,png, jpg, jpeg ,pdf, txt.
Fields validation
The smart fields validation option will prevent customers from submitting forms with the symbols which don't correspond to the selected validation format.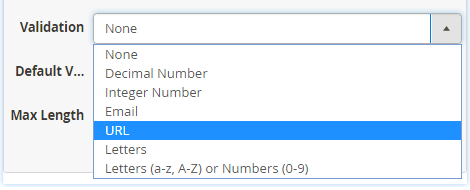 Customize forms display
Use custom styles to adjust forms layout to your current Magento theme.
Specify a placeholder text
With a placeholder option, you will provide customers with additional instructions and help them fill in your custom forms correctly.
Use default values
Specify values that will be preselected by default for each particular field. The option works with all input types.
Determine forms display
Manage custom forms display depending on store views and customer groups.
Built-in spam & fraud protection with Google Invisible reCaptcha for Magento 2
The Magento 2 Custom Form extension comes with the built-in Google Invisible reCaptcha for Magento 2 module that protects your custom forms from spam and frauds. Benefit from the most advanced security tool and boost your store security.
Other Features
100% Open Source — Easy To Customize
Follows Magento Code Architecture
Separated HTML/CSS/JS
Simple installation via Composer
* The name "Magento" and the logo are the trademarks of Magento, Inc.
worthy plugin,yet requires some tweaking
I agree the installation is a challenge, though the support team has fixed everything in a moment. The forms number is comparatively impressive. But the design of the forms seemed pretty dull to me, so I had to customize it. Still, a nice module, I must say!
Not bad
The process of installation is pretty confusing. This made me worried a little cause I couldn't install the extension when tried to do it myself. Thanks, support team! They helped me to configure it and now everything works correctly. Anyway, the forms are well-designed, so I used some right leaving unchanged.
Write Your Own Review
Version 1.2.1
-
February 19, 2018
– New: added a method of inserting a CMS BLOCK through layout update
– Fixed an issue with the file upload option in a form and a certain file extension allowed
– Fixed an issue with not saving the optional field with Max file size validation
Version 1.2.0
-
February 08, 2018
– New: now, the module comes equipped with the Google Invisible reCaptcha extension built-in to protect forms from spam and fraud
Version 1.1.2
-
January 19, 2018
– Fixed an issue with the input file
Version 1.1.1
-
December 20, 2017
– New: API support introduced
Version 1.1.0
-
November 02, 2017
– New: added possibility to send each custom form results to the separate email address
– Fixed an issue with email link to view the admin page
Version 1.0.3
-
September 25, 2017
– Minor fixes
Version 1.0.2
-
August 18, 2017
– Fixed an issue with compilation
– Fixed an issue with admin page JavaScript
Version 1.0.1
-
August 09, 2017
– General improvements