1/15
Product Feed
for Magento 2
Magento 2 Product Feed tool allows you to promote products cost-effectively and get high revenue thanks to extra sales channels. Automatically collect all required attributes to make your product feeds suitable for all popular shopping platforms.
Use 1 tool to deliver products to all popular shopping engines, e.g. Google, Facebook
Provide highly targeted offers by selling different products on each shopping platform
Adjust product attributes values for each product feed
Set up Google shopping feed in 7 short steps
Set up the feed once and keep it automatically updated with no costs
Track the traffic from shopping engines with Google Analytics
Solution
Escape time-consuming and manual product feeds management with a smart Magento 2 Product Feed extension. Choose the relevant feed format, adjust prices, automate feeds generation process and get compliant with any shopping platform requirements.
Challenge
According to statistics, shopping campaigns on average drive 45% higher revenue gains than text ads. But to launch such campaigns, plenty of time and technical skills are required. Also, shopping engines set high requirements for product feeds optimization, which are hard to follow.
How do you benefit from the tool?
Increase conversions by enlarging your customers base
Significantly reduce expenses due to high ROI of shopping ad
Enhance brand awareness by expanding distribution channels
INCREASE REVENUE BY SELLING PRODUCTS
VIA MULTIPLE CHANNELS
Sell with multiple shopping platforms
Include products into the feed, based on flexible conditions
Adjust product attributes for each feed using custom fields and modifiers
Automate the generation process to make it easy and fast
Manage and track all feeds on the grid
Attract customers with any shopping platform
Create product feeds compliant with any shopping platform easy and fast. It's possible due to:
Various feed formats support - any format a shopping platform requires: XML, CSV either TXT one.
Ready-to-use templates - for Google, Bing, Shopping.com, etc. Just make minor adjustments according to your needs.
Сreate a custom product feed from scratch for any shopping platform.
Ability to configure price formats - choose such parameters as currency or decimal points number to fit any shopping engine.
Special business strategy for each shopping platform with advanced mapping
Easily provide your product feeds with custom conditions-based values (Custom Fields). The feature allows replacing any attribute values with the custom ones when special conditions are not applied. With Custom Fields you can:
Add a percent or a fixed discount/surcharge to any required products;
Replace any attribute's value when special conditions apply;
Determine a default value for an attribute, that will be used when specified conditions don't apply.
Deliver exclusive product offers for each platform
Launch highly targeted shopping campaigns and attract qualified customers by choosing which products and attributes will get to the feed:
Include products into the feed, based on their category and attribute values;
Skip disabled, out of stock and not visible products;
Choose the product attributes you want to include in the product feed;
Choose which URL path will be used for products that are listed in more than 1 category.
Modify attribute values for all products in bulk
Do you need to round prices values, include or exclude tax? With the extension, you can modify any product attributes, including even Custom Fields you've created. See modifiers available:
Strip tags;
HTML escape;
Lowercase/Uppercase;
Capitalize;
Round;
Include Tax;
Exclude Tax;
If Empty/Not Empty;
To secure URL;
To unsecure URL.
Now you can sell faster and easier on one of the most popular shopping platforms. Create a Magento 2 product feed for Google Shopping, Google Dynamic Remarketing and Google Product Listing Ads in 7 short steps.
Step 1: Set up the basic settings
Step 2: Exclude certain categories
Step 3: Rename categories according to Google Taxonomy
Step 4: Specify product attributes to include in the feed
Step 5: Add any additional product attributes
Step 6: Schedule the feed generation process
Step 7: Automatically upload your feed to Google server
SAVE UP TIME AND EFFORTS BY AUTOMATING
FEEDS GENERATION PROCESS
Keep your feeds automatically updated
Magento 2 Product Feed extension allows you to maintain the relevance of your product feeds without any constant actions required. Just set up the schedule for feed generation by cron and preview it before the first downloading. The feed will be automatically generated on the specified days and time - a big gain with little efforts.
Speed up the feed generation process
Affect the feed generation time and the server memory consumption:
Create ZIP/BZ/GZ archives with shopping feeds;
Specify the batch size - indicate how many products will be handled during one iteration.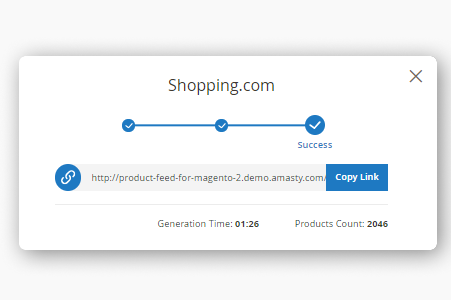 Possess the necessary information
Track all the info required for agile feed management right on the grid, including the number of products in the feed, the date of the last feed generation, the current status of the feed and a link to be copied.
When generating feed manually, all the necessary data displays in a handy generation pop-up. After the feed is generated, you can copy the link to it right from the pop-up.
Boost site performance thanks to effective cron work
With the extension, move the feed cron job to a separate cron group. Thus, when a feed cron task is in progress, it doesn't affect the execution of other cron tasks.
More Options
Track the traffic from shopping engines with UTM parameters.
Preview the feed format prior to feed generation.
Copy the product feed XML, CSV or TXT URL right on the generation pop-up or on the grid once it is generated.
Manage feeds for various shopping engines in one handy grid
Specify the number of products in a feed preview.
Upload a feed to a certain folder with FTP/SFTP connection.
Test your FTP/SFTP connection prior to the product feed generation.
Get email notifications upon a successful/unsuccessful feed generation
All product types support (configurable, simple, virtual, bundle, downloadable, grouped).
Manage all cron tasks on a Cron Tasks List grid.
Expand traffic with Magento 2 SEO Toolkit extension
Make your products stand out in Google search results and thus get more organic traffic by upgrading your Magento store with the
all-in-one Magento 2 SEO Toolkit
extension.
Product questions

What should I do if Google Merchant Center rejects my feed?

We get 'XML formatting error' upon uploading our feed file to Google Merchant Center. How can we solve it?

What should I check if the feeds are not being generated on a daily basis?
Other Features
100% Open Source — Easy To Customize
Follows Magento Code Architecture
Separated HTML/CSS/JS
Simple installation via Composer
* The name "Magento" and the logo are the trademarks of Magento, Inc.
Increased sales
It's a good tool for promoting products, and it suits everyone who wants to sync up with Google. For us sales have grown, so the goal is met.
Use since Magento1
We use Product Feed since Magento1 and we love the ease of use. The support is very helpful!! Keep up the good work.. Hope some extensions will drop in price somewhat because the difference between M1and M2 are substantial.
Impressive
I have recently purchased the Product Feed extension to submit automated feeds to Google shopping, etc. I must say the extension is really detailed. It lets you select products through various filters, which lets you choose exactly what will go in the feed. I am really impressed with the functionality provided. Good customer support is always satisfying.
Good extension
I used m1 extension before. After migration switched to this m2 version. For now, it doesn't have some features that m1 version offered, like it doesn't' have custom fields. But still the module works fine and gets regular updates. Google feed wizard is a nice improvement which simplifies feed generation and guides through the entire process.
good support
I won't cop out I had several issues with files adding to my root file. Probably, the guide could be a little simpler. However, the rest works well. So, I'm easy about it.
Handy tool
I was surprised by the level of support. Some features seemed confusing to me, though, perhaps that's my problem:) The Google, Nextag, Bing templates are a good look.
Totally satisfied
The extension is a real must-have. It saved me hours of monotonous work. In addition, the support is a rarity it's fast and assistive, so I didn't wait for hours to see the reply. mend it!
waiting for updates
I have been using M1 Product Feed and bought this one when I switched to M2. Nothing has really changed except for the version for Magento 2 has less features, but I believe they will appear with time. So waiting for the updates, no other complaints.
Write Your Own Review
You can always download the recent version free of charge from your account
Installing an upgrade is easy — check now
My Downloads
Version 2.3.5
Last Update: Sep 03, 2019
Fix the issue with saving category filter was resolved
Fix the issue with getting full product url was fixed
Fix the issue with creating Google Feed was resolved
Fix the issue with missing conditions was resolved
Fix the issue with displaying additional modifiers fields was resolved
Fix the issue with generating product feed in Magento Cloud was resolved
Fix the issue with displaying base images in media gallery was resolved
Fix we fixed the issue with not existing class: 'Class Amasty\Feed\Model\Rule\getValidFeedProducts does not exist'
Fix we fixed the possible problem while installing the extension via composer that appeared after the last update
New we covered the extension with Unit Tests
Improvement we deeply refactored the extension's code making it faster and more stable. Please, completely remove the 'app/code/Amasty/Feed' folder and copy the new version of the extension there, if you previously installed it by copying files. Updating via composer
Version 2.2.8
Last Update: May 29, 2019
Fix the error 'Something went wrong: Notice: Undefined offset:... ' while creating a CSV feed file for Magento 2.2.7 CE was resolved
Fix the issue with creating a feed file with compression was resolved
Fix the issue with assigning a newly created category to a Google category by mistake was resolved
Fix the 'Cron Schedule List' extension being the part of 'Product Feed' is now available for installation via composer
New we have added 'if not empty' and 'if empty/not empty' modifiers
New now it is possible to use the image of a parent configurable product for a child simple product
Improvement we have improved the feed generation process to make it more stable
Improvement a feed name was added to the feed download link
Improvement now it is possible to generate feed via CLI. Use commands 'feed\:profile:list' to get the list of profiles and 'feed\:profile:generate PROFILE_ID' to start the generation of the profile.
Improvement the security was enhanced
Improvement the ability to use store view-specific values in a product feed file was added
Fix the error while feed generation with the setting 'Use for promo rule condition' = Yes was fixed
Fix the issue with images while selection 'additional images' while feed generation was resolved
Fix the issue with catalog price rules while feed generation was resolved
Fix the issue when feed generation starts at the wrong time was resolved
Fix the module.xml file code was updated
New the ability to manage all existing cron tasks on a Cron Tasks List grid in backend was added. Run cron tasks and generate their schedule by clicking the 'Run Cron' button. Also, delete tasks in bulk, use filtering and sorting options when it is needed
Improvement We have moved the feed cron job to a separate cron group. Now when feed cron task is in progress it doesn't affect the execution of other cron tasks. It is possible now to launch feed cron job with the following command: bin/magento cron:run --group="amas
Fix the possible issue while setup:upgrade was fixed by adding a dependence from Magento_Config module
Fix issue with excluding categories when editing category mapping was resolved.
Fix issues with wrong product URLs were resolved.
Fix CDATA related issues were fixed.
Fix issue with special price was fixed.
Improvement link to the FAQ article regarding feed validation was added.
Fix html-markup inconsistency was fixed.
Improvement new attribute "categoryID" added.
Fix issue with downloading the feed was resolved.
Fix issue related to inability to proceed to the next step when using Feed Wizard was fixed.
Fix issue related to attribute values inconsistency across different stores was fixed.
New the "optional" modifier for XML feeds was added. It provides the ability not to display the attribute with an empty value
New the feed generation pop-up window was improved. Now, it displays an approximate feed generation time, the number of products, and provides the errors output (in case they arose in the process of generation)
New the "feed preview" function for quick preview of a feed format without the feed generation was added
Improvement now, the feed grid displays additional information: the number of products in the feed, the date of the last feed generation and the current status of the feed
Improvement the ability to select several days of the week for a feed generation by crone was added
Version 2.1.0
Last Update: Nov 12, 2018
New hints for category names according to Google Taxonomy were added
New the Google Feed Wizard was redesigned - options from Custom Feed were added
Improvement the reference information about the launch time of the latest cron jobs was added to the Configuration settings of the module
Version 2.0.0
Last Update: Oct 29, 2018
New the ability to send email notifications on the successful/unsuccessful results of feed generation by cron was added
New new modifiers, namely: Uppercase, Capitalize, Round, If Empty, To secure URL, To unsecure URL, were added
New the feed generation queue settings were redesigned. Now, the feed generation will be carried out weekly on the selected day and time period
New the ability to set modifications - change the price, replace the value with text - for Custom Fields was added
Version 1.9.1
Last Update: Oct 25, 2018
Fix the issue with duplication products in feeds was fixed
Fix the issue with product URL's when products don't have URL rewrite was fixed
Fix the issue out of stock products was resolved
Fix the issue with uploading via FTP was resolved
New the ability to create rule based values for custom fields was added - now you can combine several fields to get one value depending on conditions
Version 1.8.2
Last Update: Sep 20, 2018
Fix the issue with the invalid xml custom feed was resolved
Fix the issue with the updating of the extension to the new versions was resolved
New the ability to add the timestamp of a feed creation in the xml feeds header was added
Version 1.7.2
Last Update: Sep 13, 2018
Improvement the ability to test FTP/SFTP connection, while configuring the feed, was added
Fix the issue with duplicate products in the generated feeds was resolved
Fix the issue with products without category in the feed was resolved
Improvement now, the extension works through indexing. The feed generating time was improved
Fix the issue with saving several categories mapping was fixed
Fix the incorrect column name with fields enclosed by "None" in CSV exporting was fixed
Version 1.6.0
Last Update: Jul 19, 2018
New now, 3 new settings, that allow excluding disabled, not visible and out of stock products, are available in custom feed
New the easy-to-copy link to the generated feed on the grid was added
Version 1.5.6
Last Update: Jul 05, 2018
Fix the issue with batch size was resolved
Improvement the stability of feed generation process was improved
Improvement the code was enhanced
New Information section is added. Now you can see the version of installed extension, available updates, User Guide link, conflicts and other useful data right on the module Configuration page
Fix installation issue was fixed.
Improvement Google Analytics hints are now more consistent
Fixed an issue with attribute type Multiselect not being exported correctly
New 'Product ID' attribute is now possible to export
Version 1.4.0
Last Update: Mar 06, 2018
New In this release, we've implemented the Google Feed Wizard. Now you can set up custom feed profiles for Google Merchant just in 4 steps. This option you can find in Products -> Feeds -> Profiles -> Setup Google Feed.
Version 1.3.5
Last Update: Nov 24, 2017
Improved Magento 2.2 compatibility and migration from older versions
Magento 2.2 compatibility improved
Fixed rare case of feed templates being unintentionally deleted
Fixed redirect behavior when attempting download feed from removed profile
Fixed the issue with saving feed profile by using template
Magento 2.2 compatibility introduced
New now you can make Feed ignore certain categories in Category attribute and Category mapping output
Fixed generation issue for very large catalogs
Version 1.2.0
Last Update: May 18, 2017
New You can now control whether the shortest or longest category path will be used in output URL
Number of minor fixes
Product Enabled and Stock Availability conditions are now available by default
Version 1.1.3
Last Update: Mar 31, 2017
Fix for incorrect product URLs in a feed in some cases
Optimized product validation when generating feed
Parent data fetching for XML feed type
If no products match condition, empty feed will be generated (instead including full list of products)
A number of minor improvements
Now it is possible to compress feeds in ZIP BZ or GZ archives to speed up downloading
Version 1.0.3
Last Update: Aug 22, 2016
New field available: Price with TAX(VAT)