Mega Menu
for Magento 2
Improve customer shopping experience by providing a fast and flexible access across your webstore pages. Employ Magento 2 Mega Menu extension to create attractive and dynamic navigation menu without any technical skills.
Use different layouts for your menu display
Add CMS blocks, images, products, brands, links
Highlight menu items with eye-catching labels
Apply hamburger menu to a category tree
Benefit from mobile responsive design
Improve mobile shopping with PWA add-on

Challenge
At any given time, only 16% of your store visitors are actually making purchases, while about 68% of users are just browsing. Usually, customers are not patient enough to make multiple steps to find something. If they don't find the needed goods quickly, they are likely to leave the store.
Solution
Mega Menu will help you create smooth navigation throughout your website. Easily configure a dynamic menu bar with needed categories, subcategories, products, brands, CMS pages, static blocks and URL links. This way you will make the store navigation intuitive and grow your sales.
See how to configure the main Mega Menu use cases
What benefits do you get for your store
Boost revenue by attracting customer attention to various products right from menu bar
Decrease your store bounce rate by letting customers quickly find the needed goods
Enhance customer experience by providing them with flexible store navigation
Engage customers with dynamic navigation menu
Significantly improve customer shopping experience by implementing flexible navigation across your webstore pages. Create appealing and dynamic menu by adding various eye-catching content right to the top menu bar.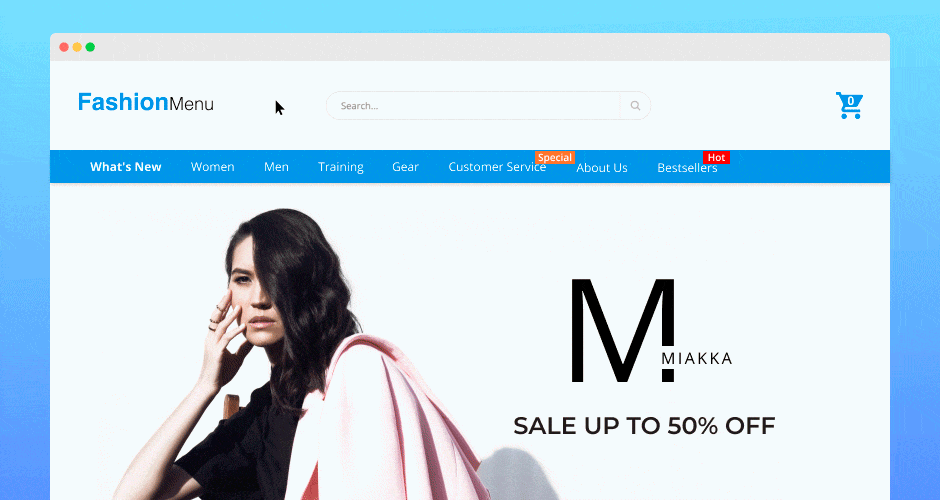 Engage customers with dynamic navigation menu
Discover the advanced Magento 2 Mega Menu extenstion to enrich your webstore with an impressive navigation menu. Display multiple subcategories, add CMS blocks, widgets, images, products and banners to draw customer attention. Make your store ourstanding and extremely competitive by placing unique content for each category dropdown: top, main content and bottom areas.
Use different menu layouts
Apply Amazon style menu
Place rich content
Create flexible navigation
NEW: Add multi-level content
Add eye-catching labels
NEW: Visualize the menu with icons
Include custom items
Use different menu layouts
Easily customize menu bar according to your website style and business needs. Choose out of 3 ready-to-use color scheme templates or create a unique menu bar design by adding custom background images for submenu popup. You won't need any CSS skills to design width, color and content items to make it look catchy and match your store design.
Apply Amazon style menu
Make your store navigation even more convenient for customers using a recognizable vertical hamburger menu in Magento 2 store. Clicking on the three lines at the top left corner, all the categories drop down. Thus, in the top menu bar it is possible to add other custom tabs like Blog, Store hours, etc. A hamburger menu will become a perfect solution for stores with a large catalog.
Place rich content
Add any type of content and enhance your visual storytelling just in a few clicks. Magento 2 Page Builder functionality provides you with a powerful set of content elements and handy drag-and-drop option to effectively compose your site menu bar.
Create flexible navigation
Configure your Magento 2 Mega Menu to include all needed store categories, subcategories and CMS-pages to help customers search for goods easier and faster. With the Menu Builder feature, you can adjust each menu item position in just one click. Handy drag-and-drop functionality lets you easily change items order without any technical skills required.
NEW: Add multi-level content
Now you can add the content not only to the main categories but also to the subcategories of any level. Draw customers' attention to any menu item you need or even promote particular products to navigate shoppers to the purchase. Choose the layout: you can display the categories of a higher level either at the top of the tab or at the left side.
Add eye-catching labels
With Magento 2 Mega Menu extension, you can promote categories and custom pages in no time. Equip menu items and subcategories with special labels to easily draw customers' attention to hot deals and special offers.
NEW: Visualize the menu with icons
To make navigation more vivid and intuitive, equip the category of any level with a custom icon. Magento 2 Mega Menu extension contains free icon packs for download: you can use ready-made images for
Clothes & Accessories, Device, Food, Mechanic and Medicine
business spheres.
Include custom items
Configure the Magento 2 navigation menu extension to include all needed store categories, subcategories and CMS-pages to help customers search for goods easier and faster. Also, the extension allows you to effortlessly add custom menu items with internal or external links (e.g. you can add links to the blog or another webstore).
Promote your featured products
Mega Menu for Magento 2 can be used as an effective promotional tool. Show your featured products, promote profitable brands or boost sales by applying extra Mega Menu functionality.
Display products in the dropdowns
Boost sales with product reviews
Engage customers with brands dropdown
Display products in the dropdowns
Promote your featured products right in the dynamic menu with a flexible Amasty MegaMenu Products widget. Add a grid or slider with your best selling items to any tab.
Boost sales with product reviews
Increase the number of spontaneous purchases by showing product reviews right on the navigation menu. Employ
Magento 2 Advanced Product Reviews
extension and engage customers on their first step of the interaction with your store website.
Engage customers with brands dropdown
Display the convenient list of brands right in the navigation menu and improve visitors' shopping experience. Let them easily find their favourite brand with the
Amasty Shop by Brand
extension for Magento 2.
Get a pack of unique promo visuals for free →
More Features for Magento 2 Mega Menu
Enable sticky menu to let visitors smoothly navigate through the webstore from any part of the page
Make your menu mobile friendly due to automatic mobile menu breakpoint
Enrich your store menu with advanced tools
Add
Magento 2 Improved Layered Navigation
to equip your website with a highly flexible vertical and horizontal navigation menu. Let your customers use product, price and search filters along with handy widgets.
According to the statistics, the extension can cover each business need in synergy with the following solutions: magento 2 configurable product extension and magento shipping plugin.
Product questions

How to create the Mega Menu in Magento 2 in 3 minutes?

Wondering how to create a Mega Menu in Magento 2? Creating may look like a long and difficult process. But with our Magento Mega Menu extension and documentation to it, you can set up a basic menu in 3 minutes

Read the FULL answer
Other Features
100% Open Source — Easy To Customize
Follows Magento Code Architecture
Separated HTML/CSS/JS
Simple installation via Composer
* The name "Magento" and the logo are the trademarks of Magento, Inc.
Great extension
ZIW, CEO
I've been using it for 3 months, and I did not have any issues. Great extension, easy to use. I would recommend this extension for everyone!
Amasty answer
Mar 11, 2021
Natalya Chekanina
/ Head of Sales Team
Hi Tomasz, thanks for the kind words, we're happy to hear that the extension has been working smoothly for you! If you're looking for any additional features for your Magento store, please let us know, and we'll gladly suggest solutions to accommodate your needs
Totally satisfied with the servic
I'm totally satisfied with the service provided and the communication with support team. Their team gave out of the way support to complete my project on time with great product quality. Looking forward to work with you again. Thank you!
Little dizzying
I added all features with special attention to pics and videos, and now less people are coming. We monitored why and found that shop got dizzying. Solving it now.
Reviews work
I love this module. Best feature is displaying reviews right in the menu At first we gathered reviews to top prods from fb and insta, but just after a day customers started to add reviews themselves. And top prods sales grew by 1% in just 4 days. Waiting for more.

unlim options
I subscribed and got it right when it got out. And from then on, I'm studying the mod to see what works best. I love this flexibility. Now experimenting like what to add, video, photos or both, what colors are most attractive and which tabs are best. And even seo optimization is in. However, I'm also considering buying the navigation module as this one lacks some essential settings.
Do you have any questions?
Schedule a demo and get all the answers you're looking for!
book a live demo
Are you looking to add specific functionality for this extension or want to acquire a reliable development partner altogether? With custom development services by Amasty, you will receive high quality and cost-effective solutions developed by Magento professionals according to industry's best practices.
2.4.2-p1, 2.3.7, 2.4.2, 2.4.1-p1, 2.3.6-p1
You can always download the recent version free of charge from your account
Installing an upgrade is easy — check now
My Downloads
Version 2.0.3
Last Update: Jun 23, 2021
Improvement now the extension no longer uses a previously saved color scheme for 'Blank' option
Fix we eliminated the issue which occurred upon manual extension update
Fix we resolved the issue with the store logo on the checkout page
Fix we resolved the issue with ACL admin resources
New the extension code was renovated and refactored, we converted the module to UI components to make it more lightweight and faster. Also we isolated a core part of the extension (please, kindly note: the links to Custom Items and Menu Builder pages are now belong to 'Mega Menu Lite' menu tab)
New we implemented UX modification to mobile templates aimed at avoiding of unexpected switch to a parent category upon expand/collapse action
Version 1.9.2
Last Update: Mar 17, 2021
Fix we resolved the issue with saving of custom menu items' positions in the Menu Builder
Fix now a menu button is displayed correctly on mobile devices in case the extension is disabled
Fix we resolved minor issue related to menu icon path
New we designed a new mode for subcategories display: now it is possible to configure and show the content for categories of any level if necessary
New we introduced an option to show icons for categories in menu - now you can visualize category names for more intuitive navigation on a desktop and/or mobile view
New now you can set external URLs for Custom Menu Items
Version 1.8.0
Last Update: Oct 05, 2020
New we covered the main plugin's features with MFTF tests. It will help to improve quality and stability of our extension
Version 1.7.6
Last Update: Sep 23, 2020
Improvement now desktop hamburger menu content can be scrolled if the height of window is exceeded
Improvement we improved Menu block rendering to prevent performance impact
Compatibility we enhanced compatibility with Varnish
Compatibility we improved the module functioning in combination with Amasty Jet Theme and Automatic Related Products extension
Fix we fixed the display of Mega Menu if Review widget and Varnish are used
Fix we improved compatibility with Magento 2.3.2 and less
Compatibility now the extension is compatible with Amasty Jet Theme
Fix we resolved the incorrect display of breadcrumbs on product pages in case of using hamburger menu for categories
Compatibility compatibility with Amasty Shop By Brand extension was improved
Fix we fixed the issue which occurred upon root category disabling
New now Menu Builder supports configuration on store view level
Improvement we slightly modified desktop design: now categories without subcategories don't contain arrows
Improvement now the highlight of active menu items is applied to CMS pages (if used as custom menu items) as well
Fix we corrected the display of categories in breadcrumbs on PDP
Fix we fixed the issue with missing welcome message for logged in customers in hamburger menu on desktop
Version 1.6.4
Last Update: Mar 05, 2020
Compatibility compatibility with Amasty Blog Pro was improved
Improvement we added an option not to load plugin's color styles for store owners who are used to defining color scheme using Magento LESS files
Compatibility compatibility with Magento 2.3.4 was improved
Compatibility compatibility with read GraphQL was enhanced: now it supports 'per store view' configuration and Amasty MegaMenu Products widget settings
Fix we implemented minor design fixes
New we added a Drill Down template for mobile view which shows each menu level on separate tab
Fix we implemented several styling fixes
Version 1.5.0
Last Update: Sep 27, 2019
New we introduced Menu Builder functionality, which will help you to switch the position of top-menu items (both top categories and custom menu items) easily. Drag&drop is available to make the process more convenient
New we added the ability to upload a background image for submenu popup
New now you can differentiate custom items and create separate ones for desktop and mobile view
Compatibility now the module is read GraphQL compatible
Fix minor issues were resolved
Version 1.4.0
Last Update: Aug 08, 2019
New we added an option that allows you to highlight the active mega menu item. Your customers will always know which category they are on right now
Improvement we added the ability to choose CMS pages and Amasty Landing Pages right on the custom item's configuration page. If you want to use one of such pages as a custom menu item, there is no more need to copy and insert URLs, you can just choose the required page from the drop-down list
Improvement now products are getting loaded by AJAX
Fix we solved the issue with displaying of custom menu items on different store views
Version 1.3.0
Last Update: Jul 25, 2019
New we added the ability for desktops to place a category tree under a hamburger menu. This type of menu is similar to Amazon and eBay style
Compatibility compatibility with Page Builder was enhanced
Version 1.2.0
Last Update: Jul 01, 2019
New we added a new widget type for products list which allows showing products in slider
Version 1.1.1
Last Update: May 13, 2019
Fix an issue with javascript console error was resolved
New ability to display sticky menu navigation during vertical page scrolling was added
Version 1.0.1
Last Update: May 03, 2019
Fix an issue with Menu Custom Item grid was resolved