1/14
Mega Menu
for Magento 2
Improve customer shopping experience by providing a fast and flexible access across your webstore pages. Employ Magento 2 Mega Menu extension to create attractive and dynamic navigation menu without any technical skills.
Use different layouts for your menu display
Add CMS blocks, images, products, brands, links
Highlight menu items with eye-catching labels
Apply hamburger menu to a category tree
Benefit from mobile responsive design
Challenge
At any given time, only 16% of your store visitors are actually making purchases, while about 68% of users are just browsing. Usually, customers are not patient enough to make multiple steps to find something. If they don't find the needed goods quickly, they are likely to leave the store.
Solution
Magento 2 Mega Menu will help you create smooth navigation throughout your website. Easily configure a dynamic menu bar with needed categories, subcategories, products, brands, CMS pages, static blocks and external URL links. This way you will make the store navigation intuitive and grow your sales.
WHAT BENEFITS DO YOU GET FOR YOUR STORE
Boost revenue by attracting customer attention to various products right from menu bar
Decrease your store bounce rate by letting customers quickly find the needed goods
Enhance customer experience by providing them with flexible store navigation
Engage customers with dynamic navigation menu
Provide customers with flexible navigation
Configure your Magento 2 Mega Menu to include all needed store categories, subcategories and CMS-pages to help customers search for goods easier and faster.
Use different menu layouts
Adjust menu bar according to your business needs. Choose out of 3 ready-to-use color scheme templates or easily create a custom menu bar design.
Place rich content
Add CMS blocks, widgets, images, products and banners in your navigation menu. Place unique content for each category dropdown: top, main content and bottom areas.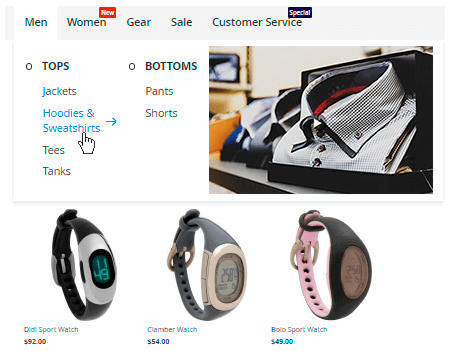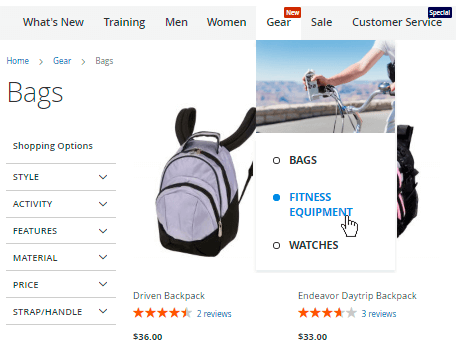 Customize menu without editing CSS
You won't need any CSS skills to design width, color and content items to make it look catchy and match your store design. Also, the extension allows you to effortlessly add custom menu items with internal and external links.
Add eye-catching labels
With Magento 2 Mega Menu extension you can equip menu items and subcategories with special labels to easily draw customers' attention to hot deals and special offers.
Display products in the dropdowns
Promote your featured products right in the dynamic menu with a flexible Amasty MegaMenu Products widget. Add a grid or slider with your best selling items to any tab.
Apply Amazon style menu
Make your store navigation even more convenient for customers using a recognizable hamburger menu. Clicking on the three lines at the top left corner, all the categories drop down. Thus, in the top menu bar it is possible to add other custom tabs like Blog, Store hours, etc.

A hamburger menu is extremely useful for stores with a large catalog. In Canada and the US it seems to be quite popular on the major sites, such as Ebay, Staples, BestBuy, Amazon, Costco, Home Depot, etc.
Make your menu mobile friendly
Due to automatic mobile menu breakpoint, your navigation will automatically change to mobile look and behavior based on default Magento mobile breakpoint value.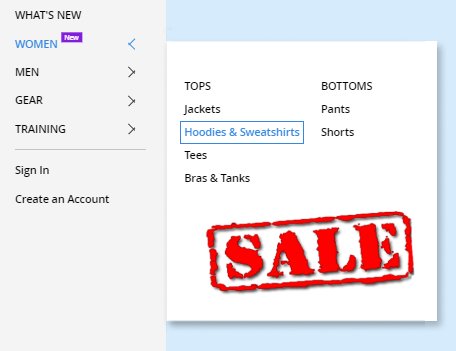 Build unique menu in several clicks
Benefit from Magento 2 Mega Menu extension compatibility with Page Builder to enhance your visual storytelling. It provides you with a powerful set of content elements and handy drag-and-drop functionality to effectively compose your site menu bar.
Boost sales with product reviews
Increase the number of spontaneous purchases by showing product reviews right on the navigation menu. Employ Magento 2 Advanced Product Reviews extension and engage customers on their first step of the interaction with your store website.
Enable extra-quick navigation
Make your menu sticky to let visitors smoothly navigate through the webstore from any part of the page. Sticky menu allows to reach the navigation without scrolling back to the top of the page, which significantly improves website's usability in general.
Engage customers with brands dropdown
Display the convenient list of brands right in the navigation menu and improve visitors' shopping experience. Let them easily find their favourite brand with the Amasty Shop by Brand extension for Magento 2.
Enrich your store menu with advanced tools
Add
Magento 2 Improved Layered Navigation
to equip your website with a highly flexible vertical and horizontal navigation menu. Let your customers use product, price and search filters along with handy widgets.
Other Features
100% Open Source — Easy To Customize
Follows Magento Code Architecture
Separated HTML/CSS/JS
Simple installation via Composer
* The name "Magento" and the logo are the trademarks of Magento, Inc.
Totally satisfied with the servic
I'm totally satisfied with the service provided and the communication with support team. Their team gave out of the way support to complete my project on time with great product quality. Looking forward to work with you again. Thank you!
Little dizzying
I added all features with special attention to pics and videos, and now less people are coming. We monitored why and found that shop got dizzying. Solving it now.
Reviews work
I love this module. Best feature is displaying reviews right in the menu At first we gathered reviews to top prods from fb and insta, but just after a day customers started to add reviews themselves. And top prods sales grew by 1% in just 4 days. Waiting for more.

unlim options
I subscribed and got it right when it got out. And from then on, I'm studying the mod to see what works best. I love this flexibility. Now experimenting like what to add, video, photos or both, what colors are most attractive and which tabs are best. And even seo optimization is in. However, I'm also considering buying the navigation module as this one lacks some essential settings.
Write Your Own Review
You can always download the recent version free of charge from your account
Installing an upgrade is easy — check now
My Downloads
Version 1.3.0
Last Update: Jul 25, 2019
New we added the ability for desktops to place a category tree under a hamburger menu. This type of menu is similar to Amazon and Ebay style
Compatibility compatibility with Page Builder was enhanced
Version 1.2.0
Last Update: Jul 01, 2019
New we added a new widget type for products list which allows to show products in slider
Version 1.1.1
Last Update: May 13, 2019
Fix an issue with javascript console error was resolved
New ability to display sticky menu navigation during vertical page scrolling was added
Version 1.0.1
Last Update: May 03, 2019
Fix an issue with Menu Custom Item grid was resolved