Shipping Rules
for Magento 2
Create custom shipping rules based on a variety of product conditions and shopping cart attributes. Apply additional delivery options surcharge, discount or replace rates according to your business needs.
Define rules based on product, order or cart attributes
Determine custom shipping rates per product or per order
Set shipping based on customer groups or store views
Implement conveyance rules based on customer address information
Create an unlimited number of rules
Make shipping rules in Magento 2 extremely flexible
Magento 2 Shipping Rules extension is a simple tool for merchants to create and modify shipping rules easily, as the rates provided by carriers often need to be adjusted to fit your business. The module equips store owners with a wide variety of presets and conditions. It enables you to use the selected parameters individually or in custom combinations. Here are the available settings in Magento 2 Shipping Rules extension:
Specify delivery options like a carrier and shipping methods;
Flexibly modify rates per individual products or whole orders;
Choose particular days of the week for the rule to be applied;
Apply a rule with coupons from a certain shopping cart rule;
Preset a coupon code, and the rule will be applied ONLY with this coupon;
Select the priority of rules application for products that fit conditions of several rules.
How to set up international Magento 2 shipping rules?
You can set unlimited number of rules with the Magento 2 Custom Shipping module. For this, go to Sales>Shipping Rules. Choose one of the rules, click on the Add Rule button and start. There you can set:
Shipping Methods - Choose the Shipping Carriers or Methods and set Rule Priority;
Products - enable the rule for all your products or exclude free delivery promo items;
Rates - specify how the new conveyance rate will be calculated;
Conditions - create rules that will initiate this shipping way;
Stores & Customer Groups - choose who can use this rule;
Days and Time - set if your rule is available only on specific days or hours;
Coupons and discounts - specify what coupons and discounts are compatible with this shipping way.
Surcharge, deduct or override shipping rates,
provided by carriers
Customize rates flexibly
Sometimes you may need to increase, decrease or change rates preset by carriers. The module provides all necessary functionality to do that. So using this extension for Magento 2 UPS shipping cost can be altered from $10 to $15 or get down to $2 if you want to create a shipping discount. Moreover, it is possible to provide full or partial shipment cost replacement for the order, applying mixed cart calculation strategy.
Use ready-made algorithms for rate calculation
It is possible to modify delivery prices both by flat amount and by a certain percent at the same time. Furthermore, you can select a base amount for the whole order. For example, in certain situations you can add $25 surcharge for the whole order and $5 + 10% of the product price for each individual product. Or no discount for the whole order, however 5% of product price off shipping for each individual item.
Flexible conditions for shipping rules
Establish rules based on order data and address
Model delivery prices based on order attributes like subtotal, items in cart or weight. Product attributes such as SKU, brand or color can also be treated as conditions. Moreover, you can choose address options like country, state or ZIP-code to define the rule. For example you can provide a Magento 2 shipping discount for orders to California with subtotal greater than $200 that include any 'Sony' product.
Set up various rules for different store views and customer groups
You can have separate rules for each store view and customer group. This feature is designed to help you offering better rates to your premium customers. It's possible to create rules for as many groups as you need. Keep in mind that pricey conveyance is often an important reason for clients to abandon shopping carts. Adjust shipping (especially international) to boost sales!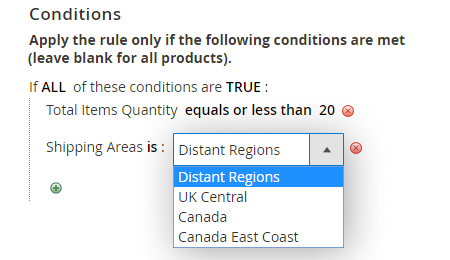 Save up time and efforts with areas
Efficiently manage shipping by arranging separate destinations into areas. Make each area highly detailed: you can include or exclude particular countries, states, regions, cities, zip codes, etc.
Check a use case: you deliver goods to distant regions and want to add a surcharge to regular conveyance rates. With this Shipping Rules extension for Magento 2, you can create an appropriate area that includes the necessary regions. Then, you'll be able to apply special rules to all these regions at a time via the created distribution area.
NEW | Enable customers to ship an order to multiple addresses due the extension compatibility with Multi Address Checkout.
NEW | This Custom Shipping module for Magento 2 is compatible with the Jet Theme by Amasty
Choose the solution most suitable for your business needs
Key Features
Shipping Table Rates

create

Shipping Rules

modify

Shipping Restrictions

limit

Shipping Suite

All-in-one

Create custom shipping methods
Create custom shipping rates
Make method available to specific stores and customer groups
Restrict or hide the existing carriers and methods
Assign delivery rates to specific products and product groups
Surcharge, discount and replace the existing rates
Create complex conditions for extension rules and restrictions
Add free option for particular shipping types
Activate or deactivate extension rules by coupon
Create rules based on customer's data
Country, Region, City, Postcode (including alphanumeric) support
Import an unlimited amount of rates
Advanced Conditions module included
* Can affect only methods the module created

$209

add to cart

$209

add to cart

$159

add to cart

$499

add to cart
Learn how Amasty Shipping Extensions help to solve real customers' cases
In our
Shipping Guide
we explain this part of Magento functionality in Amasty modules and discuss real cases from our support experience.
HOW TO CHANGE THE SHIPPING METHOD IN MAGENTO 2 FOR ONE CUSTOMER GROUP?
Install and set up the plugin.
Go to Sales → Shipping Rules and click on the Add Rule button.
Enter the rule Name, choose needed Carriers and Methods, set up Status, and Priority.
Expand the Stores & Customer Groups tab and select for what customer groups and stores this rule will work.
Set up any additional conditions like days and time, coupons, discounts, etc, if needed.
Save the changes.
According to the statistics, the extension can cover each business need in synergy with the following solution: Magento 2 Restrict Shipping Country.
Explore how to use Custom Checkout Fields to collect comprehensive order data with regard to a selected shipping method.
Product questions

How to set up UPS in Magento 2?

Configuring United Parcel Service (UPS) Carrier will help you associate any addresses in the domestic event or internation. Must create a UPS Shipping account in Magento 2 firsly before cofiguring the shipping method.

Read the FULL answer
Other Features
100% Open Source — Easy To Customize
Follows Magento Code Architecture
Separated HTML/CSS/JS
Simple installation via Composer
* The name "Magento" and the logo are the trademarks of Magento, Inc.
It worked!
Intensive, Web Admin
I wanted to address the issue of free shipping on multiple shipping methods, and it worked! I particularly like the simplicity of it, and I recommend all Amasty products to all my colleagues. It's nice to find a one-stop place for all your M2 modules




Amasty answer
Nov 16, 2020
Natalya Chekanina
/ Head of Sales Team
Hi Max, thank you for the review, it's wonderful to see that the Shipping Rules extension has worked for your needs. Thanks so much for your trust and recommendations, we are proud to have you as our loyal customer!
great app
Easy to use and works exactly as described.
Amasty answer
Oct 21, 2020
Alena Hamolka
/ Product Team Lead
Dear Lee, thank you for your feedback, it's great to hear that the extension has met your expectations. Looking forward to seeing you in our store again!
A simple solution to a complex shipping issue!
Chelsea Dogs, Director
The extension is easy to use, and it helps with complex shipping algorithms. Recommended for anyone who needs a simple solution to a complex shipping issue!
Amasty answer
Jun 18, 2020
Natalya Chekanina
/ Head of Sales Team
Hi Alexandra, thank you for the kind words and for sharing your experience! It's wonderful to hear that the extension has been helpful with your complex shipping task.
Fine tuning shipping rules
Blowout Cards, CTO
We've been using Shipping Rules for Magento 2 for about 12 months. I would say thsts fine tuning shipping rules. Module is able to offer international shipping, improve conversions and extremely flexible. I would recommend it to everyone, the shipping rules in magento are limited by default.
Amasty answer
Apr 20, 2020
Natalya Chekanina
/ Head of Sales Team
Hi Philip! Thank you for your feedback on our Amasty Shipping Rules for Magento 2. We would be happy to see you in our store again!
All of Amasty extensions are solid and have no issues. I can always be assured that the extension does what it is ment to do.
Biago Media, CEO
I've been using Shipping Rules extention for 4 month. We wanted to have different shipping rules for different products. 3 Shipping rules was not enough for our line of products. Now that we can set up special shipping rules for items that are heaver in weight but cheaper in price, we stop loosing money on those products. All of Amasty extensions are solid and have no issues. I can always be assured that the extension does what it is ment to do. I would recommend Amasty to the whole Magento community. Its important to all of us to use solid extensions that work.
Amasty answer
Jan 24, 2020
Natalya Chekanina
/ Head of Sales Team
Dear Sean! Thank you for choosing our extensions, I'm glad that you appreciate their quality. We would be happy to see you in our store again!
Great extension with no problems
BM, Owner
Got this Extension from Amasty and it was working out of the box. We had no issues and very happy with it.
Amasty answer
Dec 12, 2019
Natalya Chekanina
/ Head of Sales Team
Dear Sean, thank you for your review! We would be happy to see you in our store again!
Saved a lot of money by optimizting shipping cose
Golbazar, Founder
I've been using the extension for 2 years already. I wanted to optimize shipping fee based and shipping city and items in cart. It saved a lot of money by optimizing shipping cose. Shipping Rule worked without bug as other Amasty extensions. I can recommend to every store owner.
Amasty answer
Dec 16, 2019
Natalya Chekanina
/ Head of Sales Team
Dear Ershad, thank you for your review! We would be happy to see you in our store again!
Need Tracking url to be perfect
Add the possibility to associate a tracking URL for each carriers created thru your extension to offer a full functionnal solution to manage the shipping process.
Something like this : https://www.xtento.com/magento-extensions/magento-custom-generic-carrier-trackers-extension.html
could be perfect.
By the way, we can't buy the above extension, because management of the carriers thru your extension doesn't use native magento table in database.
Support is the best
WELLSTORE, CEO
Our site is still under development. But we have already installed many Amasty extensions: SHIPPING RULES / SEO SUITE / Product feed / Abandoned Cart / Extended Product Grid with Editor. Support is super!
Amasty answer
May 22, 2019
Natalya Chekanina
/ Head of Sales Team
Dear Andrea, thank you for your review! We would be happy to see you in our store again!
It helped to reduce costs
Dev9, Software Developer
In performance wise however the extension allowed us to setup multiple rules so we win more on our shipping amount. That enabled us to have less expenses and higher customer service. Very good support, one of the best!

Amasty answer
Mar 18, 2019
Natalya Chekanina
/ Head of Sales Team
Dear Ludwig, thank you for your review! We would be happy to see you in our store again!
good and getting better
I started working with this module about 3 mths ago and can say it's a must have but for me was hard to understand some specifics of setting up the rules. First I called to support nonstop they always configured. Then I tried to enable conditions myself and checked everything with user guide. It was inconvenient because I had to switch between pages and I always mixed things up. But about a month ago they added inf hints and now I don't ramble around the store just check what I need in the admin.
Good
A good extension that is easy to set up and use. Nov release brought some long-awaited (at least by me) updates. They added customer shopping history in conditions, which allowed me to reward clients for their loyalty by giving them better rates. Also, now the module works better with promotions. If you use coupons or special offers on certain days, you can easily disable rules.
Good extension
First, we wanted to use shipping table rates but after reading about other modules and talking to amasty support we decided to go with shipping restrictions and shipping rules. If you also need to limit shipping of certain items in certain ways, this is a more convenient way of doing it than using table rates, as we first wanted. Amasty explained to us how to configure table rates for this purpose but it would have taken too much effort, so we decided to switch to this module. The module is easy to use and has many features. As I said, the support team is always ready to help. So, would I recommend it? Definitely, yes.
Now shipping costs can be flexible
A great plugin to create advanced and flexible shipping rules. We had a little issue with one rule configuration, but support team corrected the mistake in 24 hours, so it was fine) Thank you!

Do you have any questions?
Schedule a demo and get all the answers you're looking for!
book a live demo
Backend
you'll be logged in automatically.
Frontend
See how the rule 'Surcharge $50 for Alaska' works.
Are you looking to add specific functionality for this extension or want to acquire a reliable development partner altogether? With custom development services by Amasty, you will receive high quality and cost-effective solutions developed by Magento professionals according to industry's best practices.
2.4.2-p1, 2.3.7, 2.4.2, 2.4.1-p1, 2.3.6-p1
You can always download the recent version free of charge from your account
Installing an upgrade is easy — check now
My Downloads
Version 2.6.7
Last Update: Dec 22, 2020
Improvement MFTF tests were moved to additional packages particular for Magento 2.3.5+ and Magento 2.4.0+
Compatibility with Magento 2.3.6 and Magento 2.4.1 was tested and confirmed
Improvement the code was enhanced according to Magento standarts
Improvement MFTF-tests were updated.
Improvement we implemented a stability enhancement for MFTF tests on Magento 2.3.3
Fix the issue with applying rules was resolved
Improvement 3 new MFTF rests for "Partial replace" were added
Improvement compatibility with Amasty Multi Warehouse extension was added
New a new calculation type "Partial Replace" for the mixed cart shipping calculation was added: now you can specify particular shipping cost for each product in a cart
Improvement now the extension is covered by Magento Functional Testing Framework tests
Fix the issue with the use of shipping rules for the cart with virtual products was resolved
Fix the issue with shipping areas displaying in old Magento Commerce versions was resolved
Version 2.5.1
Last Update: Jun 18, 2019
Improvement products tab for Replace state was returned
Improvement extension was covered by unit tests
Improvement code was refactored according to Magento Standards
Version 2.4.5
Last Update: May 15, 2019
Fix the issue with validation condition "is not" for shipping areas was resolved
Improvement "Сustom options SKU" condition option for products was added
Improvement WebAPI was added
Fix the issue with role permissions was resolved
Fix the issue with validation for All Store View option was resolved
Fix the issue with rule editing on Magento 2.1.x was resolved
Improvement UI components and new hints and tooltips added were introduced
Fix the issue with saving rules for admin with restricted websites scope was fixed
Improvement UI components in rules grid was enhanced
New Shipping Areas feature was added. Create your custom Shipping Areas to get more geo flexibility when setting your shipping rules
Version 2.3.1
Last Update: Jan 14, 2019
Fix the issue with configurable validation for fedex and usp shipping methods was fixed
Fix the issue with min/max total rate limit action was resolved
Improvement minor adjustments.
Version 2.2.5
Last Update: Nov 19, 2018
Fix the issue with subtotal calculation for restricted rule was resolved
Fix the issue with upgrading extension was fixed
Improvement the ability to use several coupon codes for the cart price rules was added
Improvement the usability for the shipments restrictions was enhanced
Fix the issue with multi-currency conversion was resolved
Fix the issue with loading checkout page was resolved
New now, the extension incorporates the Advanced Conditions
Version 2.1.1
Last Update: Jun 05, 2018
New Information section is added. Now you can see the version of installed extension, available updates, User Guide link, conflicts and other useful data right on the module Configuration page
Fix the issue with Category selector in rules configuration was fixed.
Localization updated.
Version 2.0.7
Last Update: Apr 20, 2018
Fixed Minimal Total Rate setting behavior with Magento Table Rates shipping method
Improved compatibility with Amasty Gift Card extension
Fixed an issue with Max and Min Rate application
Fixed an issue with orders-related conditions
Magento 2.2.2 compatibility improved
Amasty Gift Card compatibility improved
Minor fix for rule application on specific products
The issue when multiple rules were not applied at the same time was fixed.
The missing advanced conditions were fixed.
Improved Magento 2.2 compatibility and migration from older versions
New Subtotal condition can be set up to include Tax and Discounts
New rules activation can be restricted by day of the week and time of day
New Customer attributes and Purchase History can now be used in Conditions
New rules can now be activated or disabled when coupon code from particular promotion rule is used
Extension architecture changes
Version 1.1.3
Last Update: Oct 05, 2017
Magento 2.2 compatibility improved
Magento 2.2 compatibility introduced
Backorder condition added
Code is organized according to the new Magento standards
New setting if to apply rules to backorders
Version 1.0.1
Last Update: Jul 06, 2016
Fixed merge of .css files