Google Page Speed Optimizer
for Magento 2
Magento 2 Speed Optimization improves web pages performance in order to place your store at the top of Google search rating. Boost your webstore traffic by the speed optimization and get an endless stream of new visitors!
Optimize JS, CSS and HTML code structure
Display pages faster thanks to the WebP images format and Lazy Loading
Resize and Crop images for mobile devices
Use smart JS Bundling for a significant boost
PREVENT YOUR STORE FROM LOSING POTENTIAL CUSTOMERS
It's not a secret, that stores with a slow speed loading are affected by the Google RankBrain algorithm now. Meanwhile, SEO performance of Magento 2 stores is crucial as no one wants to look for goods beyond the first page of search results. The study of Advanced Web rankings shows that websites on the first search results page receive almost 95% of web traffic, leaving only 5% for the remaining pages. In the end, if your store isn't optimized well, Google will pessimize it and you won't get as many potential customers as you can.
Challenge
Nowadays Google takes into account a page speed as the main ranking factor for mobile and desktop searches. Pages delivering the slowest user experience are out of the game. The same speed standards touch all developers. It means that only stores with fast loading speed and an optimized performance will get the highest places in a Google search ranking and can extinguish competitors.
Solution
Magento 2 Speed Optimization Extension makes a store performance friendly both for users and search engines. Visitors won't leave your store because of the unforgivably long loading. Meanwhile, the Google Rankbrain will index your store faster and get you the highest places in Google search results. Don't miss the opportunity to increase conversions!
What benefits do you get for your store
Prevent visitors from leaving your store by providing a high web pages performance level
Increase a search engine traffic with an optimized position in a Google SERP
Improve user experience with the help of an incredibly fast store pages loading
HOW TO EVALUATE YOUR STORE PAGES PERFORMANCE
Although there is no tool that directly indicates whether a page is affected by the Google mobile and desktop ranking factor, here is a resource that can be used to evaluate a page's performance. It's a GTmetrix, a tool, that indicates how well a webpage performs and suggests performance optimizations. We can congratulate you if your site score is higher than 90 points! But if the result is below 90, we recommend you to try Magento 2 Performance Optimization extension for saving your potential customers.

→ Learn more about the common Google PageSpeed Insights problems and steps to solve them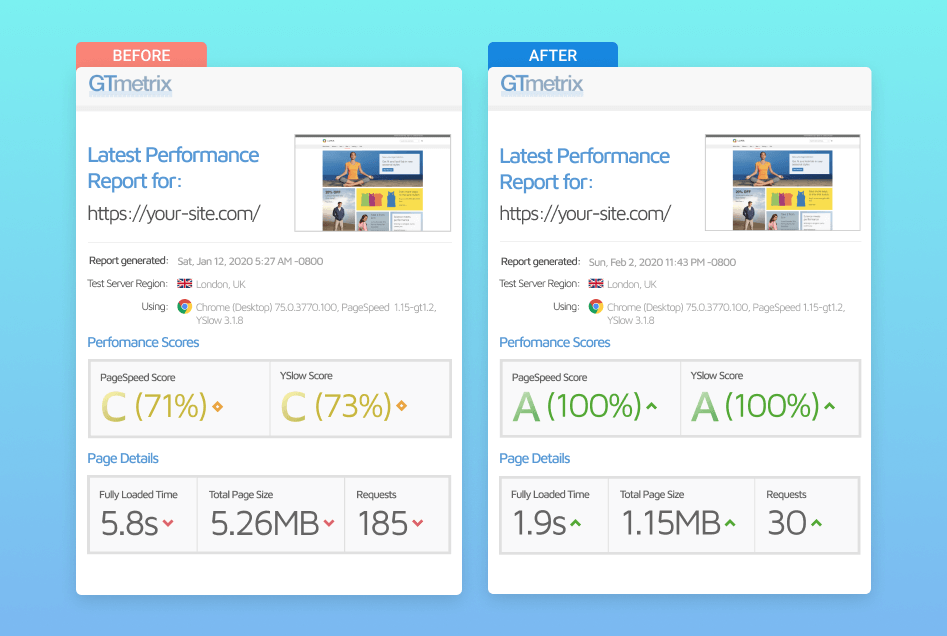 Save time with our Configuration Service
Use this Configuration Service to avoid hours of manual configurations and endless surfing through the long-read manuals.
Learn more about Configuration Service
How to get
the configuration?
Install the extension by yourself or use our Installation Service
Click on 'Get the Config' button below and fill in the short form
We'll contact you within 24 working hours and configure the extension quicker, safer, tailored to your needs
get the config
See our Magento 2 Performance Tuning module in action
Prevent losing potential customers by making your Magento 2 store faster. See the results of optimization with help of Google PageSpeed Insights tool for
Home page
,
Category page
, and
Product page
. Use our Magento 2 page speed extension and you will definitely improve your store score.
Sign static files
Let Google Page Speed Optimizer for Magento 2 invalidate the browser cache for static resources. After the feature is activated, a browser will update cache files automatically to prevent issues related to browsers serving up old static resources. At the same time, visitors will always see the latest changes you have done.
Use asynchronous indexing
Try asynchronous indexing to distinguish traffic patterns on the database level to avoid conflicts between read and write operations in the corresponding tables. With Magento 2 Google Page Speed Plugin, you can store and index order data asynchronously. Orders are placed in temporary storage and moved in bulk to the Order Management grid without any collisions.

Coming soon functionality for Magento 2 Speed Optimization
CDN integration
Defer CSS Loading
JS Bundling improvements
CSS optimization improvements
Improved JS, CSS, HTML minification
Expert Opinion
What Experts Say?
The result of rebuilding our pages for performance led to a 40 percent decrease in Pinner wait time, a 15 percent increase in SEO traffic and a 15 percent increase in conversion rate to signup. Because the traffic and conversion rate increases are multiplicative, this was a huge win for us in terms of web and app signups. Because of the web pages improvement project, the team now focuses on performance as one of the biggest opportunities for new user growth.
19 year engineering expert, deep experience in development & management
How to increase Magento 2 speed fast?
given the extension is enabled, the fastest way to optimize the loading speed is to complete the general settings;
extend the HTML tab and set Minify HTML to Yes;
then, go to the JavaScript tab and enable all the optimization settings there;
switch to CSS optimization and choose the needed values;
also, use Flat Tables, Images Optimization and Other Settings to achieve a more vivid result faster;
save the changes and check the result.
How to tune Magento 2 performance?
Install and enable the Google Page Speed Optimizer extension.
Go to Stores > Configuration > Google Page Speed Optimizer and open the Settings section.
Enable HTML, JavaScript, and CSS optimization.
Open the Image optimization section.
Set up automatic image resizing and lazy loading.
Save the changes.
According to the statistics, the extension can cover each business need in synergy with the following solution: magento 2 full page cache.
Product questions

What is the difference between Google Page Speed Optimizer and Lazy Load extensions?

Google Page Speed Optimizer and Lazy Load are modules with identical features. Read the full answer to see the difference.

Read the FULL answer

I have installed the third-party tools on the server to optimize images and I still get "Image Optimization Tool is not installed" message.

If a tool has been installed on the server and the extension still shows the message "Image Optimization Tool is not installed", the correct path to the tool should be specified in the extension file. See all the details in a complete answer.

Read the FULL answer

How to install image optimization tools?

To install image optimization tools, use the Root user, and run commands on the server. Click the full answer to see the commands.

Read the FULL answer

What if I don't see the speed improvement after the plugin installation?

In this case, we recommend testing your website in PageSpeed Insights and set up the extension according to the recommendations it gives. Read the full answer to see how it works.

Read the FULL answer
Other Features
100% Open Source — Easy To Customize
Follows Magento Code Architecture
Separated HTML/CSS/JS
Simple installation via Composer
* The name "Magento" and the logo are the trademarks of Magento, Inc.
Helped to solve site speed issues
Cepmania, Owner
We had serious site speed issues and the extension really helped. I will recommend this extension to all Magento shop owners. Also, the support was very fast answering our questions.
Amasty answer
Nov 27, 2020
Kira Pomaleyko
/ Lead Support Manager
Hi Ercan, thanks for the review! We're happy to know that the extension helped you to accelerate your site speed and that you're satisfied with the level of support provided. Please contact us anytime you need additional functionality or services for your Magento store, we'll be happy to help!
Loading speed has been improved
Masquesonido, CEO
We've been using the extension for 6 months, and the loading speed of the web has been improved. Recommended to anyone who wants to improve the page speed of the website


Amasty answer
Nov 27, 2020
Natalya Chekanina
/ Head of Sales Team
Hi Juan, thank you so much for your feedback and for using the module, we're happy to hear that the speed of your website has improved! If you're looking for any other functionality for your Magento store, please email us at your convenience, and we'll be happy to suggest ready-made and custom solutions to meet your needs
It really improves pages loading speed
Trihung, Technology
I've been using various Amasty extensions for 2 years and I'd like to tell thank you, guys! Recently I've started to use Google Page Speed Optimizer and I really enjoy the loading speed of my store web pages. Another good thing is that the module is easy to use.
Amasty answer
Sep 09, 2020
Alena Hamolka
/ Product Team Lead
Hi Thanh, thanks for your kind feedback and for choosing Amasty extensions for your store! We're proud to have you as our loyal customer, and it's great to hear that our Google Page Speed Optimizer was helpful in improving your web pages performance.
Page Speed improved
iMi digital GmbH, Team Lead Development
The module is easy to use, our page speed has improved. Thanks to the Support Team, most issues were solved, other issues were put on the backlog. I recommend the extension for shop owners and developers. Automatic deploy is limited, but work in progress.
Amasty answer
Jul 22, 2020
Kira Pomaleyko
/ Lead Support Manager
Hi Alexander, thanks for sharing your experience with the extension and our Support Team! Happy to hear that you find our services helpful, and we'll look forward to seeing you in our store again.
Good for desktop, mobile a bit
My goal with this extension was to raise my speed score in Google Search Console and Page Speed Insight to ultimately climb in organic ranking (we all know Google favors fast websites over slower ones).

My scores before using this extension were averaging around 25 for mobile and 35 for desktop. After using the extension, my mobile score has climbed to around 35 and my desktop score to 75. So it is amazing for desktop, but the results for mobile are not there yet. The biggest impact was the Javascript optimization, then the image lazy-load and deferring scripts to the bottom of the page.

I'm talking about Google scores, so from a machine's point of view. I think from a visitor's perspective, the site is faster and that can help conversion rate, but I was really hoping to get my mobile score out of the red zone.
Amasty answer
May 25, 2020
Natalya Chekanina
/ Head of Sales Team
Hello Jean-Sebastien! Thank you so much for your feedback. I hope our support team would help to get the mobile score faster. We would be happy to see you in our store again!
PageSpeed Insights Score and performance in the desktop environment improved a lot with minimal effort
SG2 Consulting, Software engineer
We put the extension into production a few weeks ago because we had a very low score on "PageSpeed Insights" and we need to improve the website performance to improve SEO.

We managed to improve on average, in desktop environment, from 30/40 to 75/85, without needing a considerable effort for installation or configuration, while we need further interventions to improve the score in a cellular environment.

We have not yet used some interesting possibilities on image compression.

Without a doubt, we recommend the extension to anyone who needs to improve PageSpeed Insights score and website performance, without further intervention on the server or other aspects.
Amasty answer
Apr 17, 2020
Natalya Chekanina
/ Head of Sales Team
Hi Gianni! Thank you for choosing Amasty Google Page Speed Optimizer for Magento 2. I'm glad that you appreciate its quality. We would be happy to see you in our store again!
It has a great impact for the user and on the admin side it gives high flexibility
Stigefabrikken.dk ApS, Store owner
The frontend was to slow, so we needed improved speed for higher conversion rate. After 6 months of using this extension, our store is much faster and doesn't have any slow features. Our gallery had speed issue to mention one. This was solved. It has a great impact for the user and on the admin side it gives high flexibility to work best for our sites. The support is quite fast. I can reccomend this extension to stores with speed issues. Magento 2 had speed issues, especially on the previous stages, where most stores would probably Venedig from it.
Amasty answer
Mar 06, 2020
Natalya Chekanina
/ Head of Sales Team
Hi Lasse! Thank you for choosing Amasty Google Page Speed Optimizer M2. We are glad that you've found your store much faster. We would be happy to see you in our store again!
We obtained a better result for our site by 45% in google insights
OPTIGO.PL, Owner
I've been using Google Page Speed Optimizer for 2 years already. The main task was to take a better position in google search, the more points. We obtained a better result for our site by 45% in google insights. In addition, the website has significantly accelerated. It has a simple installation, few minutes and few clicks and done :) I can recommend it to everyone where the website / stores is slow. If your website have low results in google insights.
Amasty answer
Jul 19, 2019
Natalya Chekanina
/ Head of Sales Team
Dear Simon, thank you for your review! We would be happy to see you in our store again!
Support guys are the best!
I had some prob with js bundling. I have several stores in 1 admin, and js bundling didn't work on all the sites. Most of them ran, but 2 most popular hardly loaded. I reported, and the support fixed it in just a day.
Site flies
My store was too heavy, so I couldn't even use your exit popup because it would upload too slowly. I ran full optimization and raised rank from 45 to 68. That's a start.

Top quality images speed
When choosing a mod, i look at resized pics first of all. This one was one of 4 that don't spoil image quality. But on other mods the colors in 3 sizes were a bit different. Here it's all of good quality+loading speed is bigger.

Cool for mobile
I tried each and every way to speed up my site, nothing worked. After manual!!! pic resizing, I saw prodpics didn't participate in purchases and m traffic fell by. Then I found you guys added webp and I just breathed out. If even firefox-ers supported, I have nothing but wait for the next gen avif. tnx!
Need a fix
Actually, psi results depend on many things and you can't really deny we all have limits, and so does magenta. I had some installations fixes, I'd say so, cause though the module had things to work at, the support solved them in a min. The good thing is they offered me a refund, so your money is safe anyway.
The performance of the website is much better with this extension
Pista, Developer
We've been using Google Page Speed Optimizer Community for 6 months already. We had a problem with the installation process. The guys from Amasty helped us to install and solve the problem. The performance of the website is much better with this extension. We recommend this extension for those who already did the home work and need better Performance.

Amasty answer
Mar 31, 2019
Natalya Chekanina
/ Head of Sales Team
Dear Andre, thank you for your review! We would be happy to see you in our store again!
Obviously it worked
My score in google insights was 67, after I installed the extension got 92. I really think that's a win!
Higher score achieved
After migration my site was slow. For you to understand it, delay of a page load was about 3 seconds. Failure. I got to nub of issue ran test with Google, enabled add-on, ran test again and saw what I had at start and in the end. Special thanks for lazy load and 'ignoring' field, as some of my new theme elements does really have this out of box.
Reliable vendor
Eventually I moved JS to footer with no subsequent problems. It's just that I tried same-purpose plugin from another vendor and faced big, I'd rather said huge, troubles for greater price, by the way. This one did faster and cheaper.
speeded up my site
In search of better solution to speed up Magento, I tried many SEO extensions from different developers. However, none of them did these exact simple things with code. One thing about switching it on, I'm not a techie, so running commands in console wasn't for granted but that's turned to be easiest part for my admins.
5 stars
This drastically improved our site speed, we had to contact Amasty to help with some issues and settings, their developers quickly identified the problems and resolved these without any hassle. We are confident this mod will help with our bounce rate going forward. Support from Amasty is fast and efficient. They will always respond to you within no more than 24 hours. If there is any delay in resolving a problem they will keep you updated which goes a long way. Support is what I would want, expect and then more.
Amasty answer
Jan 28, 2019
Natalya Chekanina
/ Head of Sales Team
Dear Adam, thank you for your review! We would be happy to see you in our store again!
It does everything said
It compressed js an' images weight an' on the whole it resulted in higher score in gps insights. Plugin did everything said but don't forget that there are far more factors influencing site performance. When solved smaller issues, I got to do something with server environment, as response time was too slow even at least loaded hrs. So, reviewing store settings, database performance are also not a waste at all. I agree with Oscar that webP support would be fantastic.
Tricky installation but worth it's money
Seems good. Does the module defer offscreen images? And do you plan to include webP support for chrome?
Are you looking to add specific functionality for this extension or want to acquire a reliable development partner altogether? With custom development services by Amasty, you will receive high quality and cost-effective solutions developed by Magento professionals according to industry's best practices.
Magento 2.2, 2.3, 2.4
You can always download the recent version free of charge from your account
Installing an upgrade is easy — check now
My Downloads
Version 1.8.5
Last Update: Nov 19, 2020
Fix we fixed optimization of WebP images when the uppercase format is indicated
Fix we fixed the issue with automatic optimization of images added via pagebuilder
Compatibility compatibility with Amasty AMP extension was enhanced
Fix we resolved the problem with incorrect store view URL used for diagnostic
Fix we resolved the problem with lazy loading when the setting 'Use User Agent for Loading Images' is enabled
Fix we fixed the error appeared when images had spaces in the names
Fix we added validation in image files existence before processing
Fix we fixed the issue with base64 images on Magento 2.3.5
Improvement we improved the behaviour with Varnish cache that was incorrect with some browsers not supporting WebP image format.
Fix we fixed the issue with the error "A technical problem ..." when a file without extension appears in the optimization queue
Fix we fixed the issue with incorrect verifying of the image optimization tool
Fix we fixed the issue with the conversion to WebP format of files with the same name but different extensions
Fix we fixed the issue with image optimization from Admin Panel in Magento 2.1.x
Fix we fixed the issue with not enough memory for JavaScript optimization on low memory instances
Fix we fixed the issue with the error during the process of Magento installation with extension inside
Fix we fixed the issue with extra-large HTML regex backtracking
Version 1.7.4
Last Update: Feb 25, 2020
Improvement we improved code constructions for Magento Marketplace standards
Fix we solved the problem with using special chars in name of pictures
Fix we resolved the problem with incorrect getting some config settings: ignores, move js
Improvement an ability to add compatibility with 3-rd party extensions which use AJAX was added
Improvement now the srcset in images lazy load will be deleted
Compatibility now the module is compatibly with Varnish
Compatibility now the module is compatible with Amasty AMP extension
Compatibility now the module is compatible with img tag which includes empty src
Fix we solved the problem with empty rows in module configuration (ignore sheets)
Fix we solved the problem after Amasty JS Optimization running
Improvement we corrected the work of Amasty JS Optimization
Fix we resolved the problem with incorrect displaying of top menu on mobile view
Improvement we corrected the work of the automatic optimization feature: now you can optimize only one of non optimized URL from all your site, also extension will give you choice which of Store Views pages you want to optimize
Fix we solved the problem with image optimization configuration for a large numbers of image folders
Fix we solved the problem with incorrect caching
Fix we resolved the problem with error while events.xml is empty
Fix we solved the problem with automatic images optimization on front end
Version 1.6.2
Last Update: Oct 25, 2019
Fix we solved the problem with invalid XML after extension install
Improvement minor visual improvements in the extension main settings
New we added an information block that allows you to check results of optimization and show Google recommendations from admin side
Improvement now category and product pages are added to bundling js feature
Improvement we implemented a speed enhancement that lets you run multiple threads to minimize the time required for optimizing media on your site
Version 1.5.2
Last Update: Sep 27, 2019
Fix we solved the problem with extension updating
Fix the issue with generating queue on Magento 2.3.2 was resolved
New we added a new feature for image optimization - 'User Agent'. If enabled it allows to set separate 'preload' feature for Mobile, Tablet and Desktop devices and to use WebP+Resize+LazyLoad features for the same one image at once as well
New images optimization was moved to separate grid - now you can choose optimization options for particular folders on your server. Please, navigate to the 'Content>Google Page Speed Optimizer>Image Folder Optimization Settings'
Improvement we improved the 'Image Optimization' tab on the extension's general settings page making it more clear and comfortable to use
Version 1.4.0
Last Update: Aug 19, 2019
New Javascrtipt and CSS sections was greatly improved - now you can specify excludes for admin pages, custom store pages by url, part of JS on pages, and move merged JS and CSS files by custom URL pages
Improvement Javascript section for Magento Cloud instances was refactored; please, do not forget to specify the appropriate setting in the configuration if you use the Cloud instance
Version 1.3.0
Last Update: Jun 04, 2019
New now it is possible to exclude specific fonts from deferring when using 'Defer Fonts Loading' feature
Improvement we enhanced the code
Improvement we improved the 'Amasty JS Optimization' feature for better performance
Compatibility we enhanced the compatibility with Magento versions elder than 2.2.0
Version 1.2.4
Last Update: May 10, 2019
Fix we resolved the possible issue with JS bundling on a multi-domain website
Fix we resolved the issue with the js error `Fieldset is not defined` during the 'JavaScript Bundling' process
Fix we resolved the issue with generating the queue when using 'Use Webp image format'
Fix we resolved the multiple select folders in 'Folders For Optimization`
New we developed the Amasty Advanced JS Bundling. Now it is possible to create an advanced bundle of JS Google
Version 1.1.0
Last Update: Apr 03, 2019
New Advanced settings for the Lazy Load feature was added. Now it is possible to set optimization for different page types individually
New Now you can choose folders with images for optimization
New Now it is possible to choose the compression level for the JPEG optimization.
New Introducing the image resize feature. The extension creates several copies of an image in different sizes
New WebP image format was added. The extension can create a copy of an image in WebP format. Browsers that support WebP will receive images in the format
Improvement the image optimization process was improved. Now it is executed by creating the queue and processing it. It can be launched via CLI as well
Version 1.0.6
Last Update: Mar 07, 2019
Improvement we have improved the 'Move JavaScript To Page Bottom' process. Now it works more stable with custom themes
Improvement we have added a setting for excluding certain images from Lazy Load processing
Fix the operation of the 'Run Optimization Now' button was fixed
Fix : the possible problem with displaying images wile enabled Lazy Load option was resolved
Fix the issue with adding the lazy load script to robots.txt was resolved
Improvement minor visual improvement in the admin area (extension settings)