Cookie Consent (GDPR)
for Magento 2
Let customers regulate their cookie usage right on your website. Make your store fully compliant with EU Cookie Law with Magento 2 cookie consent extension.
Choose one of 3 cookie bar styles
Arrange cookies into essential and optional categories
Efficiently manage categories and cookies they include
Monitor all cookie consents and customers' data
Customization your cookie policy bar
Challenge
If you run a website that uses cookies on the European Economic Area territory or if your users are EEA residents, chances are that you are breaking the EU Cookie Law. Being non-compliant, you may receive enforcement requests or administrative fines.
Solution
Avoid tough penalties associated with breaching the EU Cookie Law by getting fully compliant with Cookie Legislation requirements. Enhance customers' confidence and increase your business partners base thanks to implementing an effective cookie policy with Magento 2 cookie notice.
WHAT IS EU COOKIE LAW AND HOW TO COMPLY WITH IT
The EU Cookie Law is a piece of privacy legislation. It is designed to protect online privacy by telling users how the information about them is used and obtaining their prior consent for such processing.
According to the Cookie Legislation, some cookies do not require getting prior customers' consent for their usage. These are the essential or "strictly necessary" cookies that are needed to a proper site functioning. All other cookies need consent before you can process them. The cornerstone is to detect which cookies are essential: unless you surely know they are the essential ones, you risk to face penalties for non-compliance.
To comply with EU Cookie Legislation, 3 actions from EU website owners are required:
Let visitors know that your Magento site uses cookies.
Provide detailed information on how cookie data will be used.
Allow users to accept or refuse the use of cookies on your site.
All these actions can be done with our Magento 2 Cookie Notice extension.
What benefits do you get for your store
Avoid penalties for breaching Cookie Legislation by observing its requirements
Increase customers' loyalty and retention by allowing managing cookie consents
Strengthen data privacy and security by collecting users' cookie consents
Cover Cookie Legislation requirements with a single tool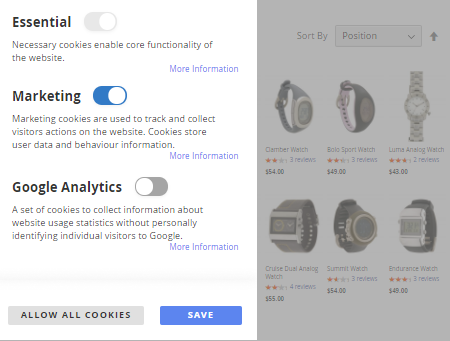 Collect users' consent at the first interaction
To ensure customers give their consents, store admins need to provide detailed info about their usage. With 3 cookie bar styles, customers will be able to manage magento 2 cookie groups right from the popup.
Enable the most suitable popup and let customers easily choose which cookies to allow or disallow. Visitors can select all cookie categories by clicking 'Allow all' and then confirm their decision with the 'Save' button.
Customize cookie policy bar design
Apart from choosing the general style, store admins can match Magento cookie notice with the webstore design using a set of frontend configuration options. Specify colors for a background, each button, general text, buttons text and links to provide better UI and engage customers.
Build trust by keeping customers informed
Before giving consent, shoppers may want to check what data about them will be used more thoroughly. In this case, to see the info about the existing cookie groups, they may easily click the 'More Information' link and check the list of particular cookies included in each group. With the detailed cookie descriptions, customers are more likely to give their consents as well as consider your webstore to be trustworthy.
Let customers manage their cookie usage
Shoppers are free to check the info and allow or disallow each group any time they want. The extension adds a "Cookie Settings" link to the footer so that users can easily reset cookie usage conditions. They are able to revoke consents, which follows the essential EU cookie law requirements for Magento 2 stores.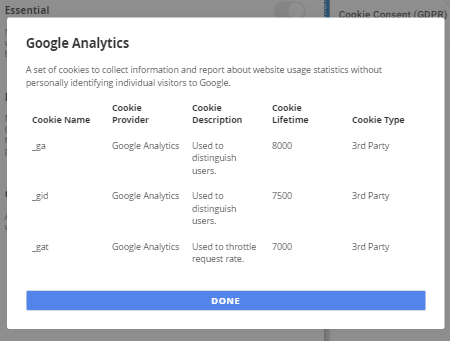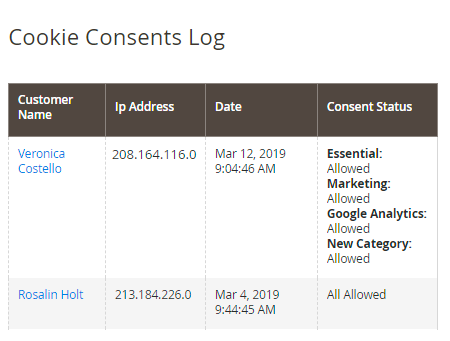 Monitor all cookie consents in one place
Track and manage the list of all consents and customers data in one place. The grid allows store admin to view and filter consents by customer name, email, IP address, date, consent type and status.
Adjust automatic log cleaning
For stores with a great number of customers manual log cleaning can become a time-consuming task. With the Cookie Consent extension, you can clean the log automatically after the specified period.
Manage cookies lifetime
According to the latest law updates, cookies lifetime should be visible to customers. Now the module allows admins to configure the lifetime of each Magento cookie per a store view and display it in a Cookie Settings pop-up.
QUICKLY REGULATE YOUR COOKIE POLICY STRATEGY
Easily manage all cookie categories
Create an unlimited number of cookie categories for each store view (e. g. "Remarketing", "Google Analytics"), and efficiently manage them on a special grid. With the extension, you can specify the essential and optional cookie groups.
Track all cookies on a handy grid
Easily track all cookies on a separate grid by cookie name, category and its description. Add new cookies right from the grid and provide each one with a name and connect it with a certain category.

Choose the suitable
legislative solution
To comply with the requirements
Cookie Consent
GDPR Cookie compliance
$139
Cookie policy popup
Cookie CMS page
Cookie categories
Consents Log
Popup customization
GDPR Complex legislative solution $249
Multiple Consent Checkboxes
Privacy Policy
Consents and Activity Logs
Access to personal data
Anonymization
Account deletion
Opt-out option
Automatic deletion
Recent documents support
Data portability
CCPA California Act compliance $149
California residents protection
Consent Checkboxes
Privacy Policy
Access to personal data
Opt-out option
Account deletion
CCPA Consents Log
Sorting users by consents
Other Features
100% Open Source — Easy To Customize
Follows Magento Code Architecture
Separated HTML/CSS/JS
Simple installation via Composer
* The name "Magento" and the logo are the trademarks of Magento, Inc.
Buyers in control
This Amasty extension is a real proof customers can buy more when they have choice and see you care.
Better sales through trust
Works for trust. I enabled module to avoid fines, but with it my sales started to grow little by little. It's like you openly talk to customers, please let us use your data for this and that. They feel you are honest not only with data use, but also with your business all in all.

latecomer
Good quality product, easy to use. I like that I can manage different types an' categories on one grid. There's only 1 trouble - 4months ago I was fined for non-compliance. Why this one was not out then?
Do you have any questions?
Schedule a demo and get all the answers you're looking for!
book a live demo
Cookie Bar
Display cookie groups with switches right in the popup
Are you looking to add specific functionality for this extension or want to acquire a reliable development partner altogether? With custom development services by Amasty, you will receive high quality and cost-effective solutions developed by Magento professionals according to industry's best practices.
Magento 2.2, 2.3, 2.4
You can always download the recent version free of charge from your account
Installing an upgrade is easy — check now
My Downloads
Version 2.3.0
Last Update: Nov 23, 2020
2.3.0 - Nov 23, 2020:
Improvement we added a new setting to Pop Up section, so you can change its Policy Text Color
Improvement we enhanced the work of Cookie Lifetime option to let you edit cookie lifetime on store view level
Fix we fixed the issue occurred with empty Notification Text for cookie bar
Version 2.2.0
Last Update: Nov 12, 2020
2.2.0 - Nov 12, 2020:
New we added separate columns 'Provider' and 'Type' to cookie banner for cookie information to be more precise
New we developed a new cookie bar type to let you show cookie information using a popup located in the centre. Moreover, new settings for all cookie bar types were added, so you can adjust their style according to your store needs
Improvement we enhanced the work of cookie information section, so you can read it with pop up on the same page
Improvement now you can store cookies and cookie groups on store view level
Compatibility now the extension is compatible with Amasty Jet Theme
Version 2.1.1
Last Update: Aug 12, 2020
2.1.1 - Aug 12, 2020:
Fix we fixed the parameter type in_array () issue
2.1.0 - Jul 22, 2020:
New now the extension includes a new option that lets you adjust the visibility of Cookie Policy Bar on frontend according to the location of your customers
Version 2.0.7
Last Update: Jul 14, 2020
2.0.7 - Jul 14, 2020:
Fix we fixed the error appeared in the console when a cookie policy bar is disabled
Fix we resolved the performance issue of a Cookie Settings page
2.0.6 - Jun 29, 2020:
Fix we fixed the issue with popup closing when the cookie wall is disabled on Magento 2.3.5
2.0.5 - Jun 02, 2020:
Improvement we disabled deleting cookies from the 'Essential' cookie group and made the cookie 'section_data_ids' added to the 'Essential' cookie group by default. The modification resolves the issue with the cart updating when cookies aren't allowed. The cookie 'section_data_ids' will stay at the same group after upgrading, however, we recommend you to move it to the 'Essential' cookie group
2.0.4 - May 25, 2020:
Improvement we updated a Cookie Policy Bar display to correspond to UI tendencies
Fix we fixed the processing of Essential cookies
2.0.3 - Apr 23, 2020:
Fix we fixed the issue with the absence of cookies metadata in cookies deletion
2.0.2 - Apr 07, 2020:
Fix we fixed the process of cookie removing
Fix we fixed the issue with showing mage-messages errors after unsuccessful login
Fix we fixed the caching of cookie settings page
2.0.1 - Mar 31, 2020:
Fix we fixed disabling of Google Analytics Cookies added by GTM
2.0.0 - Feb 18, 2020:
New Introducing the new cookie bar style. Now the cookie bar can be displayed as a popup with switches on it. Customer will be able to manage cookie groups right from the popup
New We added a cookie lifetime column to the grid with cookie details. PLEASE FILL RELEVANT LIFETIME VALUE FOR EACH COOKIE (navigate to Customers > Cookies)
New we added the feature for automatic log cleaning of the records that were stored for the set period of time
Improvement we added visual improvements and changes to the admin area
Improvement now it is possible to set the color of the buttons separately for each button on the pop-up
Improvement we added conditions for more strict disable custom cookies added by js
Fix we solved the problem with editing cookie consent settings for store views
Version 1.1.4
Last Update: Jan 27, 2020
1.1.4 - Jan 27, 2020:
Fix we resolved the problem with flushing the entire cache after "Allow cookies" action
1.1.3 - Dec 11, 2019:
Improvement we improved the extension's operation with Google Analytics cookies. Before the current update, there could be situations when GA tracked customers with turned off analytics cookies
1.1.2 - Oct 28, 2019:
Fix we solved the problem with ACL on cookie consent bar
Fix we solved thr problem with updating cookie consent description for store views
1.1.1 - Sep 24, 2019:
Fix we resolved the problem with block rendering on ajax
1.1.0 - Sep 16, 2019:
New we added a new option that allows you not to show the cookie policy bar on every page if a customer ignores the cookie bar on the landing page. Thus the customer is less distracted from purchasing
Fix we solved the problem with cookie bar position
Version 1.0.5
Last Update: Jul 04, 2019
1.0.5 - Jul 04, 2019:
Improvement we added the field with allowed URLs for the feature that disallows customer interaction with the website before accepting the cookie policy. Thus some pages could be accessible for customers
1.0.4 - Jun 11, 2019:
Fix the issue with text color of Cookie Policy Bar affected to other text in Magento was resolved
1.0.3 - Apr 30, 2019:
Fix the problem with install data was resolved
1.0.2 - Apr 09, 2019:
Fix the possible issue with displaying the cookie bar on the Cookie Settings page was resolved
1.0.1 - Mar 26, 2019:
Fix the possible issue after setup:upgrade was resolved