Cookie Consent (GDPR)
for Magento 2
Let customers regulate their cookie usage right on your website. Make your store fully compliant with EU Cookie Law with Magento 2 cookie consent extension.
Arrange cookies into essential and optional categories
Let customers choose which cookies they allow to process
Efficiently manage categories and cookies they include
Monitor all cookie consents and customers' data in one grid
Use a flexible design customization for your cookie policy bar
WHAT IS EU COOKIE LAW AND HOW TO COMPLY WITH IT
The EU Cookie Law is a piece of privacy legislation. It is designed to protect online privacy by telling users how the information about them is used and obtaining their prior consent for such processing.
According to the Cookie Legislation, some cookies do not require getting prior customers' consent for their usage. These are the essential or "strictly necessary" cookies that are needed to a proper site functioning. All other cookies need consent before you can process them. The cornerstone is to detect which cookies are essential: unless you surely know they are the essential ones, you risk to face penalties for non-compliance.
To comply with EU Cookie Legislation, 3 actions from EU website owners are required:
Let visitors know that your site uses cookies.
Provide detailed information on how cookie data will be used.
Allow users to accept or refuse the use of cookies on your site.
Challenge
If you run a website that uses cookies on the European Economic Area territory or if your users are EEA residents, chances are that you are breaking the EU Cookie Law. Being non-compliant, you may receive enforcement requests or administrative fines. Also, you lose many potential customers and business partners who expect you to be compliant with it.
Solution
Avoid tough penalties associated with breaching the EU Cookie Law by getting fully compliant with Cookie Legislation requirements. Enhance customers' confidence and increase your business partners base thanks to implementing an effective cookie policy with Magento 2 cookie notice.
What benefits do you get for your store
Avoid penalties for breaching Cookie Legislation by observing its requirements
Increase customers' loyalty and retention by allowing managing cookie consents
Strengthen data privacy and security by collecting users' cookie consents
Cover Cookie Legislation requirements with a single tool
Engage users by letting them control cookies usage
Users can easily choose which cookies to allow or disallow by clicking the "Cookie Settings" button and being redirected to the appropriate CMS page. Visitors can select all cookie categories by clicking 'Allow all' and then confirm their decision with 'Save' button. As an alternative, they can specify a certain cookie category by moving a corresponding activation button.
Allow users to modify consents any time they need
The extension adds a "Cookie Settings" link to the footer so that users can easily reset cookie usage conditions any time they need. They are able to revoke consents, which follows the essential GDPR requirements.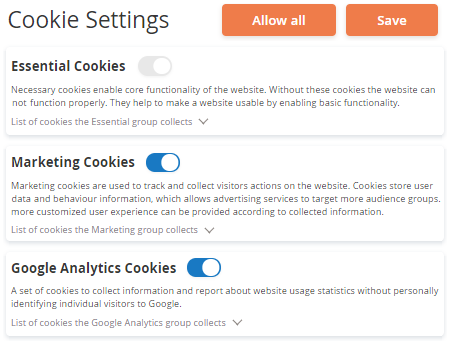 Clarify which cookies each category includes
Clearly inform users of which cookies a category includes. A customer can click the category title to open the list of cookies with their detailed descriptions.
Monitor all cookie consents in one place
You can find the list of all consents and customers data in one place. The grid allows to track consents by customer name, email, IP address, date, consent type and status.
QUICKLY REGULATE YOUR COOKIE POLICY STRATEGY
Easily manage all cookie categories
Create an unlimited number of cookie categories (e. g. "Remarketing", "Google Analytics"), and efficiently manage them on a special grid. With the extension, you can specify the essential and optional cookie groups, as well as provide each one with a description.
Track all cookies on a handy grid
Easily track all cookies on a separate grid by cookie name, category and its description. Add new cookies right from the grid and provide each one with a name and connect it with a certain category.

Customize your cookie policy bar
Provide your store with a user-friendly cookie policy bar to make visitors give their cookie policy consents. Choose the location for your cookie bar and easily specify color for background, buttons, text and links.
Transform guest visitors into customers
Guest users, as well as registered ones, have access to cookie settings. Give visitors the opportunity to control their cookies. This improves customers experience and increases the chance they will return to your store.
Other Features
100% Open Source — Easy To Customize
Follows Magento Code Architecture
Separated HTML/CSS/JS
Simple installation via Composer
* The name "Magento" and the logo are the trademarks of Magento, Inc.
Buyers in control
This Amasty extension is a real proof customers can buy more when they have choice and see you care.
Better sales through trust
Works for trust. I enabled module to avoid fines, but with it my sales started to grow little by little. It's like you openly talk to customers, please let us use your data for this and that. They feel you are honest not only with data use, but also with your business all in all.

latecomer
Good quality product, easy to use. I like that I can manage different types an' categories on one grid. There's only 1 trouble - 4months ago I was fined for non-compliance. Why this one was not out then?
Magento 2.1, 2.2, 2.3
You can always download the recent version free of charge from your account
Installing an upgrade is easy — check now
My Downloads
Version 1.1.4
Last Update: Jan 27, 2020
Fix we resolved the problem with flushing the entire cache after "Allow cookies" action
Improvement we improved the extension's operation with Google Analytics cookies. Before the current update, there could be situations when GA tracked customers with turned off analytics cookies
Fix we solved the problem with ACL on cookie consent bar
Fix we solved thr problem with updating cookie consent description for store views
Fix we resolved the problem with block rendering on ajax
New we added a new option that allows you not to show the cookie policy bar on every page if a customer ignores the cookie bar on the landing page. Thus the customer is less distracted from purchasing
Fix we solved the problem with cookie bar position
Version 1.0.5
Last Update: Jul 04, 2019
Improvement we added the field with allowed URLs for the feature that disallows customer interaction with the website before accepting the cookie policy. Thus some pages could be accessible for customers
Fix the issue with text color of Cookie Policy Bar affected to other text in Magento was resolved
Fix the problem with install data was resolved
Fix the possible issue with displaying the cookie bar on the Cookie Settings page was resolved
Fix the possible issue after setup:upgrade was resolved