Jet Theme Pro
for Magento 2
Trendy, responsive, customizable. The Jet Theme brings both stable store performance and stunning visuals to your Magento 2 store.
Optimized for speed
Responsive, functional, and universal design
Multiple UX & UI enhancements out of the box
Conforms to the Magento Coding Standards
Compatible with top Amasty extensions
Magento Enterprise and B2B compatibility
Style Guide is included
Сhoose the feature set up to your business tasks
According to Forrester, a well-designed UI could raise your website's conversion rate by up to 200%.
Challenge
It may cost a fortune and take too much time to redesign the whole website from scratch, while the ready-made theme seems to be a workaround.

But most of the existing custom themes for Magento may cause compatibility conflicts, provoke errors and the performance slow down.

Besides, customization options of such themes leaves so much to be desired.
Solution
We aimed to create something that will help any store owner with any programming experience to be able to easily make a complete storefront upgrade without affecting store performance and avoiding conflicts with other extensions. That is how our Jet Theme for Magento 2 was created.

Our Magento 2 theme is the fastest, responsive, provides plenty of out-of-the-box functional improvements and several built-in Amasty extensions covered by universal design and compatibility with 50+ top Amasty extensions.
What makes Jet Theme a win-win?
Responsive design for all store pages
Compatibility with 50+ Amasty mods
Regular upgrades with new features
[Case Studies] Jet Theme at our customers' stores

check how the theme can look on the real stores
Great design married to smooth site speed
Proven code quality and stability
Created with Magento Coding Standards in mind, the theme supports all Magento functionality. Besides, Jet is compatible with Magento Commerce and B2B versions.
AJAX-optimization out of the box
Enable AJAX to reach a better performance. Avoid the full page reload or the specific product data only. Use AJAX for the 'Add to Cart', 'Wishlist', and 'Compare products'.
Asynchronous upload of custom JS files
We've managed to make valuable code adjustments resulting in better performance and indexation by Google.
| | | | | | | | | |
| --- | --- | --- | --- | --- | --- | --- | --- | --- |
| | | Layout switcher and 5 color scheme presets | | | Animated product widget with 3 tabs | | | Ready-made banner slider widget |
| | | AJAX cart and sticky mini cart | | | Sticky header and customizable footer | | | Sticky (floating) add-to-cart block |
| | | Сompatibility with Magento Enterprise (Commerce) and Magento B2B versions | | | H1/H2 titles included for SEO-optimization | | | Pre-built templates for all basic CMS pages (404 error, maintenance mode, cookies, etc.) |
Category and Product Pages
Benefit with the theme by using its UX enhancements, available out of the box. The Jet dev team has taken into account the challenges that Magento users most frequently face with.
Category layouts
Sticky header
Quick view
Customizable footer
Color schemes
Sticky compare button
Sticky header row of 'Compare'
Product Page
Sticky 'Add to Cart' block
Streamline shopping on Catalog Page
Easily adjust the layout of of your category pages using the layout style switcher settings. Set up quantity of the columns, visibility of the product description, 'Add to Cart' and 'Add to Compare' buttons display and many more.
Provide convenient navigation through your store
Bring the sense of control over the browsing experience to your site visitors by enabling the sticky header. Allow shoppers to navigate to any other section of your store any time they want.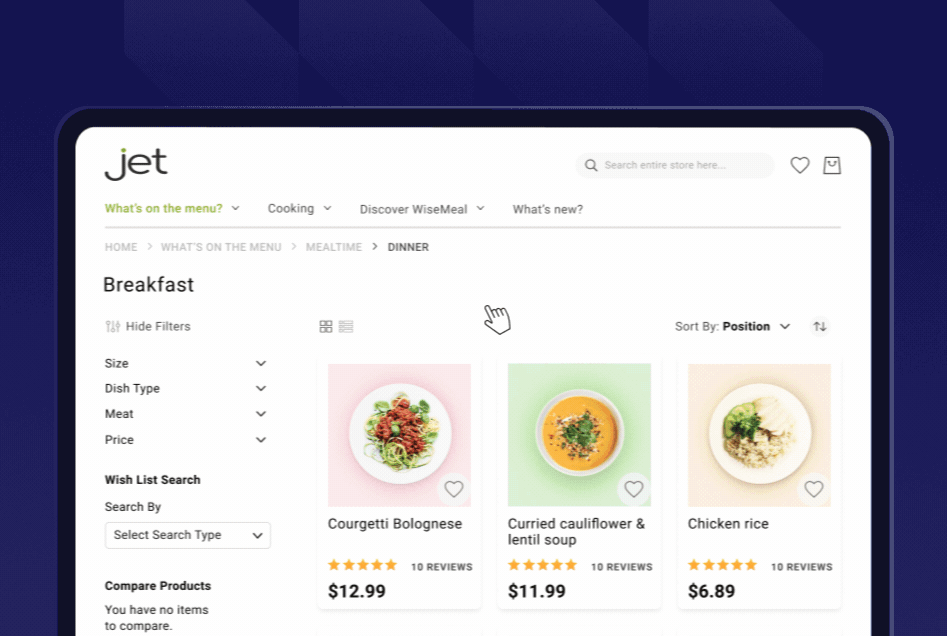 Preview products from category pages using a Quick View
Enable previewing product info without leaving a category page with the Quick View feature. Display key product details on a popup and speed up catalog browsing process to provide customers with faster shopping experience.
Adjust your footer info for your needs
Customize social links display, add newsletter subscription block and add custom blocks to the mini footer area. Make it 3-columned or just 2-columned up to your needs. Drag-n-drop elements to customize the footer content.
Provide shoppers with more user-friendly way for comparing products
Customers tend to compare several products before making a purchase. With the theme, shoppers can easily add items to the 'Compare Products' list by clicking a button on the top of the product image. The bright 'Compare' button is sticky and always visible, even if scrolling a long category page.
Upgrade your 'Compare' grid with sticky header
In case customers add multiple products to the Comparison list, Jet Theme allows them to scroll through the product list. The header row with product images and names is frozen, as well as the comparison parameters. They are visible at all times.
Enhance product presentation with modernized style for product pages
The theme allows you to change the layout of the image gallery, position of the 'Add to Cart' button, visibility of 'Wishlist' and 'Compare' buttons, add payment methods and more.
NB:
Jet Theme supports any product types: simple, configurable, bundled, grouped, virtual, and downloadable.
Boost conversions with sticky 'Add to Cart' and 'back-to-top' buttons
Increase revenue by enabling the sticky mini cart on your product pages to engage visitors into the shopping process. Help shoppers return to the top of the page in a split second with a built-in back-to-top button. Increase usability of the 'Related products' block.
Get an unlimited number of ways
to configure your catalog and product pages
with the layout switcher and global style switcher
Use the Storybook-based Style Guide to customize specific design elements (e.g. buttons, icons, etc.).
Home Page and other CMS Pages
We carefully designed each detail of the Jet Theme. Following the best UI and UX practices, we created an intuitive storefront for e-commerce websites. Customers can easily navigate the shop thanks to the neat and accessible interface.
3-tabs product widget
Mini banner slider
[Premium] Banner Slider
Newsletter subscription block
Web-safe fonts support
Non-latin fonts support
Social Links
'Page not found' (404)
'Maintenance' (503)
Engage visitors to exploring your store with premade product widget
Put any product categories into three tabs and embed the 3-tab product widget anywhere to your store. Use the widget to promote certain categories or simplify navigating through the store.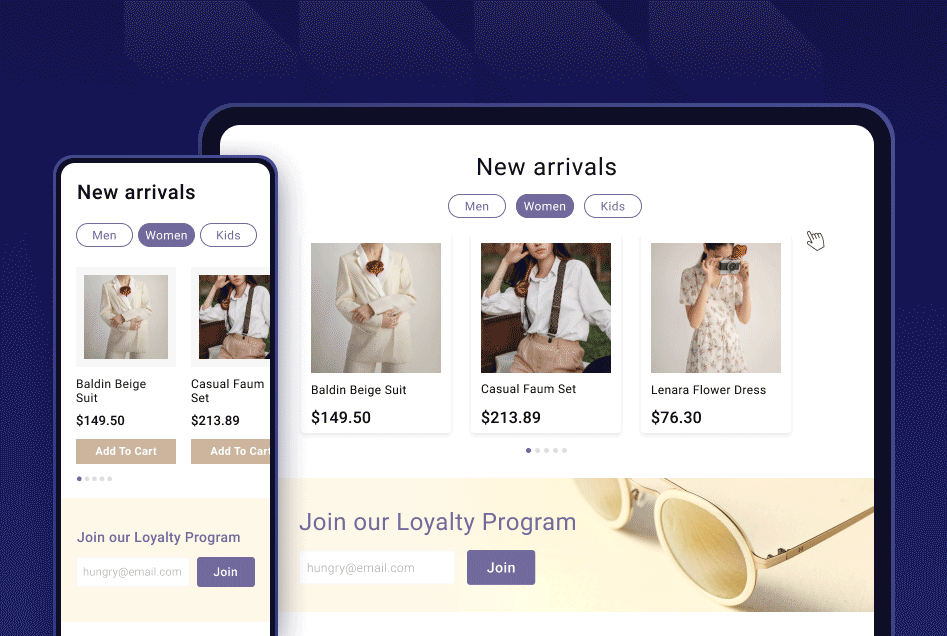 Promote your hottest deals with the banner slider widget
Enjoy simple configurations of the built-in banner slider widget to highlight your special offers, bestsellers and other products that need to be highlighted.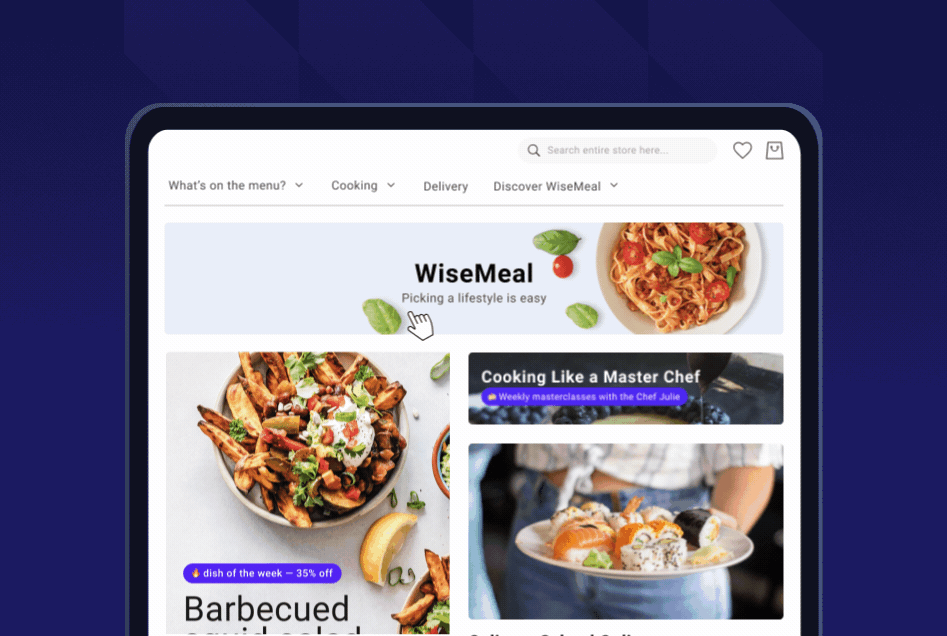 [Premium only] Convert visitors into leads with catchy banner sliders
Easily set up attractive animation for the slides and adjust their design, enable pagination and arrows. To help you to be sure that your promo campaigns with the sliders are going well, we've added the ability to check stats on how banners are performing.
Explore more premium features on our demo →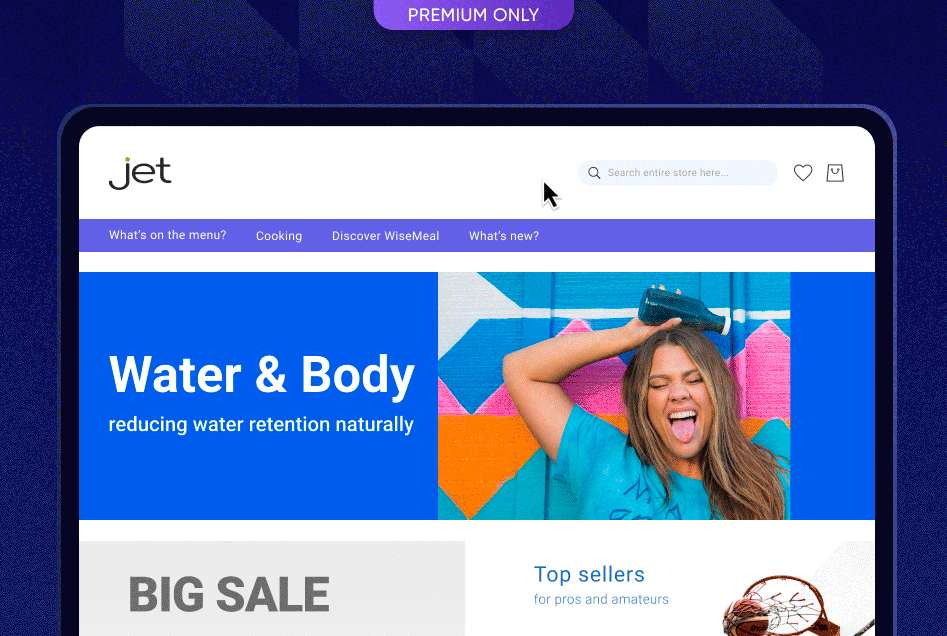 Gain new subscribers easier with outstanding newsletter block
Engage visitors by highlighting the newsletter subscription block via colorful design. Attach a custom image and enter custom text via the admin panel.
Choose from over web-safe 1000+ fonts and ready-made 'What's new' page
According to
Google
, Google Fonts
'makes products and web pages run faster by safely caching fonts without compromising users'
privacy or security'. Besides, with more fonts in your arsenal, you'll have more opportunities for theme customization upon your taste.
Feel comfortable on any market
Use the non-latin fonts support functionality of the theme to reach the audience from Asian and Arabian markets.
Get more returning visitors by enabling the Social Links widget
The footer allows you to add social links to involve customers into the social life of your store. Add as many social links as you need from the library or upload your own icons. Change the color of the icons so they meet the color scheme of your website.
Comfort shoppers with friendly 'Page not found' (404) page
Redirect customers back to your website smiling even if they haven't found what they're looking for. Stimulate further shopping by enabling custom design for the '404' page.
Keep in touch with site visitors with 'Maintenance' (503) page
Inform users that your site is timely out of service but you'll be back soon with some great new stuff using a custom template for the 'Maintenance' ('503') page.
Responsive design
Deliver seamless shopping
experience on any page
of your website.
Shopping Cart, Checkout and Payment methods
Payment methods
Sticky mini cart
Shopping Cart
Checkout
Customer Account
Product Wishlist
Rating & Reviews
Inform shoppers about the payment methods available
Use the built-in theme functionality to add the available in your store payment methods as a small widget to anywhere you need, e.g. to the product pages or sticky mini cart.
Make customers feel comfortable by instantly showing what's in their carts
Use a sticky mini cart on the right to bring more transparency to the shopping process. By always showing what products are already in the cart, you'll help shoppers trust your store more and shop with extra comfort.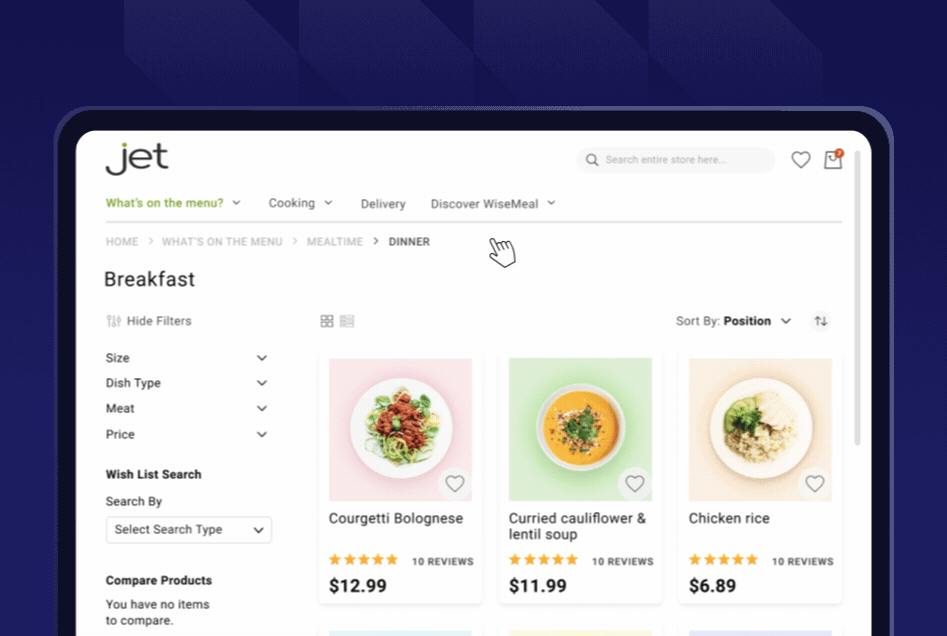 Renovate your Shopping Cart interface
On Shopping Cart pages, users can easily adjust product quantities using an enhanced controller controller. On default Magento 2, shoppers have to type in quantities by hand if they want to order a few more items.
Modernize your store design up to the Checkout
The Jet Theme fully supports Multiple Address checkout and smoothly works on any screen resolution. This way, customers can complete their shopping with ease.
Get clean and user-friendly Customer Account interface
The neat interface of the Customer Account is designed with minimalist trends in mind. We removed all possible distractions to ensure clients can easily access the required information. For example, users can see order details in one click on the order number.
Let users plan purchases with Wishlist
The wishlist can be an essential step when planning gifts or buying expensive goods. Allow customers to leave comments to products and edit product configurations right from the 'My Wish List' page. Jet Theme streamlines wish list sharing, as now by clicking on the 'Share Wishlist' button a user gets to a popup.
Make the process of leaving a review easier
The style upgrade also comes with the UX enhancement: now the experience of leaving feedback becomes more clear and pleasant. We moved the 'Write a review' button higher to highlight it, and by clicking on it a customer will see a nice popup to leave their review.
Compatibility with 50+ Amasty Top modules
Use theme-compatible extensions to add more functionality to your visuals.
Jet Theme Pro: Best choice
[Pro] Mega Menu Lite
[Pro] Layered Navigation Lite
[Pro] Thank You Page
[Pro] Custom Product Tabs
[Pro] Google Invisible reCaptcha
Ensure that nobody will get lost at your store
Use ready-made color schemes or create custom design for your enhanced menu. Enable a hamburger menu type and add custom menu items for the pages with special offers. Highligh menu items with eye-catching labels.
Provide user-friendly experience for exploring your website
Enable AJAX navigation and filters for your store. Let your shoppers enjoy smart vertical scrolling, customer filter size, multi-select filter option and more.
Build customer loyalty and increase repeat sales
Show order review and cross-sells blocks on your Thank You Pages, add there custom CMS blocks if necessary, offer coupons for the next purchase and enjoy many other vauable options relevant to thank-you pages.
Make product pages more informative
Drive shoppers to purchase faster with handy tabs providing all the information that can be necessary for making a decision. Save time with 6 pre-made tab templates, including FAQ and Size Charts. Freely add there photos, videos, animation and other content.
Protect your store from bots
Keep the security of your store up-to-date with Google Invisible reCaptcha. Choose whether to show Captcha only for the guest users or for everyone and protect froms of any kind on your website, including the checkout page.
Сhoose the feature set up to your business tasks
Other Features
100% Open Source — Easy To Customize
Follows Magento Code Architecture
Separated HTML/CSS/JS
Simple installation via Composer
* The name "Magento" and the logo are the trademarks of Magento, Inc.
Great theme for every store
Masta Aanhangwagens
The Amasty Jet theme should be the standard instead of the Magento Luma Theme. It's pretty much a finished webshop when you install this theme. You'll only have to customise really specific things for your site, which is very doable with his theme. Coming from the no longer supported and very bloated Ultimo Theme, this really is a great theme to work with. Also the compatibility with the other Amasty extensions is great.

There is room for improvement, mainly on the speed department. Some problems with jquery ui, but is assume this will be solved soon.

Overall great to use a theme with very active development!
Amasty answer
Mar 16, 2021
Alena Hamolka
/ Product Team Lead
Hi Martin, thank you so much for choosing our theme and for recommending it for all stores. We're happy to hear that you find it useful and easy to customize according to your individual needs. Thanks for highlighting performance as an area for improvement, we're definitely working on it and you will get enhancements with future versions of the theme. Please check the Change Log on our website to keep track of the latest version releases and feel free to share any ideas or suggestions you have at https://trello.com/c/4pAuQwTM/56-jet-theme-for-magento-2
Cool, but for the price you need more.
Jet Theme is very expensive for few changes compared to the Magento Luma theme. For that price you should add some extensions. The footer and product page could also be better worked. You need to do a better theme than Porto Theme. This has an excellent cost benefit. Waiting for more updates to buy your theme.
Amasty answer
Jan 06, 2021
Alena Hamolka
/ Product Team Lead
Hi Jon, thank you for your feedback, for considering Jet Theme for your Magento store, and for your great suggestions! Starting from version 1.3.0 released in December 2020, our theme includes our ILN Lite, Product Tabs, Thank You Page, and Google Invisible reCaptcha modules, and we hope that you have already had a chance to try this extra functionality. You can also explore our three Jet Packs for speed, navigation, and promos: https://promo.amasty.com/ecommerce-anti-crisis-solutions-for-magento#rec256003988. I'm also happy to tell you that our Product Development Team has plans for improving the header and footer in Q1 2021, so please stay tuned and check the next updates of the theme. If you have other Jet Theme feature ideas, please share them via this form, and we'll be happy to analyze them: https://products.amasty.com/amasty_product_roadmap#rec145691849
Great update!
Thanks for the Google Fonts support. Now, this theme is my favorite.
Amasty answer
Nov 23, 2020
Alena Hamolka
/ Product Team Lead
Hi Alan, thank you so much for your feedback and for choosing our Jet Theme! We're happy to hear that you find the new feature helpful, and we hope that you like the features that we'll be adding to the theme with further updates
a bit pricey
The theme works well, but for me, it has a too high cost. Hope it'll get more features with the upcoming updates.
Amasty answer
Nov 04, 2020
Alena Hamolka
/ Product Team Lead
Hi Nic, thank you for your feedback, it's great to hear that the theme has been working well for you! Absolutely, we'll be adding new features to the theme with free lifetime updates, and if you'd like to see any specific features added to the theme, please describe them via the feature request form, and we'll be happy to analyze them https://products.amasty.com/amasty_product_roadmap#rec145691849
finally!
I'm happy with the theme by Amasty! It's so much faster and easier to build a new store with this theme. I used to spend weeks dealing with compatibility issues and now I can offer my clients a ready package from plugins and theme.
Amasty answer
Oct 27, 2020
Natalya Chekanina
/ Head of Sales Team
Dear Anika, thank you for the kind words, it's wonderful to hear that you've been using the theme for your client's Magento sites in combination with plugins. If you're looking for any other ready-made functionality to speed up the development, please contact us, and we'll be happy to help you and recommend solutions to meet your needs!
well done
Good theme, but it took time to understand how to work with the Style Guide.
Amasty answer
Oct 14, 2020
Kira Pomaleyko
/ Lead Support Manager
Hi Lucas, thank you so much for your feedback. If you ever have any questions or come across any challenges when working with the Style Guide or the Jet Theme in general, please don't hesitate to create a support ticket from your Amasty account, we'll be happy to help you!
waiting worth it
I have waited for the theme by Amasty since August and bought it right after release. I was afraid that it would be a bit raw in its first version, but the theme has high quality. I'm waiting for the next updates to get new features.
Amasty answer
Oct 01, 2020
Alena Hamolka
/ Product Team Lead
Hi Jorge, thank you for the kind words about the quality of the theme, we truly appreciate your feedback! We hope you like the features that we'll be adding to the theme in the future, and if you have any specific ideas in mind, please share them via this feature request form: https://products.amasty.com/amasty_product_roadmap#rec145691849, our Product Management Team will be happy to evaluate them
Do you have any questions?
Schedule a demo and get all the answers you're looking for!
book a live demo
Are you looking to add specific functionality for this extension or want to acquire a reliable development partner altogether? With custom development services by Amasty, you will receive high quality and cost-effective solutions developed by Magento professionals according to industry's best practices.
2.4.2-p1, 2.3.7, 2.4.2, 2.4.1-p1, 2.3.6-p1
You can always download the recent version free of charge from your account
Installing an upgrade is easy — check now
My Downloads
Version 1.12.2
Last Update: Jul 19, 2021
Improvement we reviewed am-ajax-cart.js code
Fix we fixed the display of the Related Products, Up-Sells, and Cross-Sells widgets
Fix we solved the translation issue on the Shopping Cart page
New now our Jet Theme Pro and Premium versions come with Amasty Mega Menu Lite module
Compatibility we improved compatibility with Amasty Advanced Product Reviews
Fix we solved the problem with the error on the frontend after enabling the custom layout option for the custom footer
Fix we fixed the display of the Quick View popup after enabling Amasty AJAX Shopping Cart
Fix we eliminated the problem of the scroll image gallery thumbnails after choosing the Left option in the setting Show Image Gallery Thumbnails
New we added Non-Latin fonts to let you set up the custom fonts on your website
New we developed the new option (horizontal bar) for the Sticky Add to Cart feature
Improvement we enhanced the display of the New Address button on the Checkout Page
Improvement we stylized the Gift Card page in the customer account
Improvement we upgraded the Reward Points display on the Checkout Page for Magento Commerce
Fix we moved our Amasty Jet Optimizer from the composer require section to the suggested section to allow this module to be disabled freely
Fix we fixed the display of the Reviews tab on the Product Page
Fix we solved the problem with the New Return creation after adding the Return Attribute for Magento Commerce
Version 1.11.0
Last Update: May 26, 2021
New now the theme comes with a fully customizable footer, so you can use a builder in the admin area to configure the footer display.
New we added the Payment Method Blocks feature to let you add the available payment methods on your website
New we developed Amasty Tab Widget, so you can show several tabs with the specified products in one widget
New we added the Edit button for the items in the Mini Cart
Improvement we revised the settings for Sticky Header
Improvement we reviewed the core Magento styles
Improvement we enhanced the display of Magento Catalog New Products, Catalog Product List, Recently Viewed Products, and Recently Compared Products widgets on Jet Theme
Compatibility we enhanced the compatibility with Amasty Improved Layered Navigation
Compatibility we translation the compatibility with Amasty One Step Checkout
Bug we solved the problem with Show/Hide FIlters buttons translation
Version 1.10.0
Last Update: May 12, 2021
New we added the Global Style Switcher to let you apply different styles on your website
Improvement we enhanced the display of the Magento b2b Company Profile page
Improvement we enhanced the performance of Google Invisible reCaptcha
Compatibility now you can use our theme with Magento 2.4.2-p1, 2.3.7 versions
Compatibility compatibility with Amasty ILN Lite was improved
Version 1.9.0
Last Update: Apr 28, 2021
New now the extension comes with the Layout Switcher feature, so you can customize our theme on your website.
Improvement we added the new tooltips to the Color Scheme settings.
Improvement we enhanced the display of our Color Scheme Presets.
Fix we resolved the problem with the italic font style while using Google Fonts.
Fix we fixed the issue with the swatches from Shop by Brand module from Amasty.
Fix we solved the problem with the quick view icon when the 3 columns layout is set.
Version 1.8.1
Last Update: Apr 13, 2021
New we added the possibility to change the Copyright text via the Custom Footer configurations
Improvement we changed the display of the Quick View icon
Compatibility compatibility with Amasty Order Attributes was improved
Fix we enhanced the display of the Add to Wish List button on Category Page and in the Catalog Product List widget
New we added the Sticky Header feature to our Jet Theme
New we developed the possibility to customize the footer
New now our Jet theme goes with a separate setting to configure the background color for the social network link icons
New we added the Ajax to Multiple Wish List functionality on Magento Commerce
New we added the destination link to our image slider
Improvement we enhanced the work of our mini-cart
Improvement we added the display of the reviews block for the Cross-Sell products on the Shopping Cart page
Improvement we enhanced the display of our Jet theme on Quick Order, Request a Quote Print, and My Order pages for Magento B2B
Fix we fixed the issue with the error after disabling our Jet theme
Fix we resolved the problem with changing the logo width
Fix we fixed the issue with opening the Style Guide once Magento JS and CSS modifications are enabled
FIx we removed the duplicated scroll on the Share Wish List page
Version 1.7.0
Last Update: Mar 11, 2021
Improvement we enhanced the work of the modals
Compatibility we made our Jet Theme compatible with Magento B2B functionality
Version 1.6.2
Last Update: Mar 03, 2021
Fix we resolved the issue with the error message during the new social link creation in the admin panel
Fix we solved the problem with the error during the run of the setup:upgrade command
New we added our Lazy Load and Image Optimization to our Jet Theme to improve the theme performance
Improvement we enhanced the work of our Social Networks Link functionality, so now you can add any social links to your store
Compatibility we added the compatibility with Magento B2B functionality on the Requisition List and Company Account pages
Version 1.5.0
Last Update: Feb 10, 2021
New we made our theme completely compatible with Magento Enterprise Edition . Now you can experience all advantages of running our magnificent solution on your Magento Commerce instance.
New we have developed Quick View functionality that allows to bring forward popup with product details directly on category and search result pages without sending your customers to product details page.
New now Jet Theme goes with configurations for category and product pages so that you have control over these pages from one place in the back office.
Compatibility we ensured that our theme is compatible with fresh new Magento 2.4.2 version.
Compatibility we made Magento b2b wish lists compatible with our theme.
Fix we fixed tax value being cropped in Related/Up-Sell/Cross-Sell Products blocks.
Fix we fixed the layout for popup with adding grouped or bundle products to cart.
Version 1.4.1
Last Update: Jan 29, 2021
Fix we made the module compatible with Advance Search
New Now the extension comes with the Color Scheme Presets, so you can apply them to your store.
Improvement  We removed the code dedicated to supporting legacy Magento versions and refactored the rest to ensure maximal performance and improved stability with latest Magento versions.
Version 1.3.1
Last Update: Jan 14, 2021
Fix we moved our ILN Lite, Product Tabs, Thank You Page, and Google Invisible reCaptcha modules from the composer require section to the suggest section to allow these modules to be disabled freely
New now Jet Theme goes with our ILN Lite, Product Tabs, Thank You Page, and Google Invisible reCaptcha modules
New we added the possibility to apply Color Scheme and Fonts per store views
Compatibility we made the module compatible with the Gift Wrap feature for Magento Commerce
Fix we changed the font color for the Out of Stock field
Version 1.2.3
Last Update: Dec 08, 2020
New we added the Address Search feature for Magento Commerce
New now the extension comes with the full Gift Registry feature for Magento Commerce
New we added MFTF Tests
Fix we solved the issue with the z-index on forms from Amasty Google Invisible Recaptcha, GDPR extensions
Fix we fixed the display of the Wish List icon
Fix we removed the handling of all images in the media folder from the theme installation process
New now the extension comes with Gift Registry functionality for Magento Commerce, so you can create the gift registry and add items to the gift registry on the Shopping Cart Page
New we added the Gift Registry Search widget for Magento Commerce
New we added the Order By SKU feature in the customer account for Magento Commerce
New we added the possibility to display the Order By SKU widget in the sidebar for Magento Commerce
Fix we resolved the issue with the display of the Styleguide once the setting Allow Access to Style Guide at Frontend set No
Fix we fixed the display of the Apply Discount Code field on the Checkout Page
Fix we resolved the issue with the access to the Jet Theme configuration for a restricted user role in the admin area
Fix we fixed the compatibility with Magento Commerce Gift Card functionality on the Shopping Cart page on Magento 2.3.5
New we added Google Fonts for you to set up the custom fonts on your website
New the extension is compatible with Magento Commerce Gift Card functionality on Shopping Cart, Checkout, Account Information, and Product pages
Fix we resolved the problem with the installation of the Sample Data
Fix we eliminated the problem of the console errors on the Product Page
Fix we fixed the display of the Social Network links in the Emails
Fix we resolved the issue with adding product to Wish List after enabling the Ajax Add to Wishlist
Fix we solved the problem with work of the Ajax Add to Cart functionality with the Gift Card products
Version 1.1.0
Last Update: Oct 28, 2020
New now the extension comes with Ajax functionality, so you can easily select configurable options and edit items in the pop-up before adding product to Cart, Wish List, or Compare List
Improvement we enhanced the display of the View Order, Print Order, Send Invitations, and Order By SKU pages for Magento B2B
Improvement now you can edit the product on the My Wish List page
Improvement we added the Add to Cart button on the Compare Products Page
Fix we solved the problem of displaying the Instance Purchase button on the Product Page
Fix we resolved the problems that occurred during the Sample Data installation
Fix we fixed the display of the color scheme settings in the Admin Panel, once "Enable Custom Colors" is selected as No
Version 1.0.2
Last Update: Oct 13, 2020
New we added the less file to let you do customizations
Improvement we did the preload for the fonts to enhance the theme performance
Improvement we added the Add To Cart button on the Category Page on the mobile view
Improvement now you can add products from the Related Products/Up-Sell Products/Cross-Sell Products blocks to cart on the mobile view
Improvement we enhanced the work of the Color Schema setting
Improvement we added the View All button on the Recently Ordered block for the mobile and desktop views
Compatibility we made the Jet Theme compatible with Magento 2.4.1
Fix we solved the problem with the console errors after the theme installation
Fix we resolved the problem with the incorrect price display in the Related Products and Recently Viewed widgets
Fix we eliminated the problem of the View and Edit Cart link in the mini cart
Improvement now you can add Related/Up-Sell/Cross-Sell products to the cart directly from the corresponding block
Improvement we added the Add to Compare and Add to Wish List buttons to the products on the Category Page with the list view display
Improvement we added the ''before body end'' and async load for the custom js files to improve performance
Fix we resolved the problem with the error messages in the log files after the module installation via composer
Fix we solved the issue with adding the products with custom options to the cart on Magento 2.4.0 EE version
Fix we fixed the display of the quantity counter on the shopping cart page on the mobile view
Fix we solved the problem with displaying the custom colors in the shopping cart
Fix we resolved the problem with the filters on the Category Page
Fix we eliminated the problem of the warning messages regarding the allowed quantity increment on the Product Page
Fix resolved the issue with display of the Sample Data pictures on the Product Page